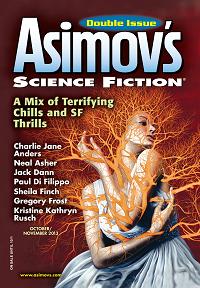 Asimov's, October/November 2013
"The Time Travel Club" by Charlie Jane Anders
"Memories of Earth" by Neal Asher
"When the Rain Comin" by Ian McHugh
"Grounded" by Meg Pontecorvo
"Adventures in Cognitive Homogamy: A Love Story" by Paul Di Filippo
"A Very Small Dispensation" by Sheila Finch
"Waiting for Medusa" by Jack Dann
"Quantum Orpheus, at the Light Cone's Apex" by Igor Teper
"No Others Are Genuine" by Gregory Frost
"The Wildfires of Antarctica" by Alan DeNiro
"Deep Diving" by Joel Richards
"Within These Well-Scrubbed Walls" by Ian Creasey
"Encounter on Starbase Kappa" by Kristine Kathryn Rusch
Reviewed by Chuck Rothman
The October/November issue of Asimov's is an impressive collection of stories by both established and up-and-coming authors.
Charlie Jane Anders starts out things with "The Time Travel Club," about a small group of misfits who, with the help of the mysterious Madame Alberta, are creating the first time machine. The group was originally made up of people who would talk about their fantasies about time travel adventures, but slowly discover that it's more than just fantasy. The story is less about the usual science fiction tropes about time travel and more about the importance of friends, and hits all the right notes to be a strong and satisfying tale.
"Memories of Earth" concerns itself with a terraforming crew who runs into disaster while landing on a new world. Alan Saul is the one in charge, mentally connected to the entire system as it tries to rebuild. Neal Asher's story is a situation that brings you right into the story, but the ending turns into a sort of a cheat that pretty much makes the rest of the story unimportant.
Ian McHugh contributes a fascinating tale in "When the Rain Comin," where we follow Gamman, an amphibian-like creature awakening from hibernation to the rain, and portraying life in this society. The revelation of this is fascinating, but it's not just a revelation story; it portrays a complete society left to fend in a harsh environment and continuing to live on in small triumphs.
Xam is a preteen girl who is butting heads with her mother on matters of discipline and safety in "Grounded." She gets into trouble by going outside when some mysterious petals fall; her mother reacts strongly, causing more bitterness and teenage rebellion. Meg Pontecorvo is portraying more than just that: the world in her story is a dangerous place, and Xan's mother has good reason to be paranoid. I liked much of this story: Xan is a great character and her reaction to and relationship with her mother is well realized, but I found the ending to be just a little bit silly.
Paul Di Filippo has always shown a wildly imaginative streak, and his "Adventures in Cognitive Homogamy: a Love Story" is definitely weird (in a good way). Kioga Matson is a scientist who travels the world from one Science Park to another for an endless series of conferences. He's in Colombia, going out on the town before meeting his fiancé Mallory Sloper, when he meets the beautiful Avianna Barranquilla and things make a wrong turn. The story is chock full of clever ideas, strange customs, a nice sense of humor and the type of logical surprise that always makes for a good story.
"A Very Small Dispensation" by Sheila Finch is the story of Pat, an old woman who is visited by Antonio, a very old friend who no one else can see. It follows the story of her long and adventurous life, which is richly drawn and emotionally deep. I'm sure everyone will guess Antonio's identity before the end, but that's beside the point: it's what he shows Pat that makes this story so moving.
Jack Dann starts out "Waiting for Medusa" with the dedication "Homage to Harlan," and proceeds to a story about a genetically engineered, immortal, and intelligent dog who journeys through a post-apocalyptic landscape and runs into Crash – an albino woman who had been tracking him. When they are attacked, he begins to bond with her. The story is a nicely accomplished reimagining of the original it's based on, though all these years have weakened the impact the original had.
"Quantum Orpheus, at the Light Cone's Apex" is the story of a man's reactions to discovering that a computer he is programming is becoming sentient, but that's only a part of it. Abe Kapelin discovers that the International Space Agency Quantum Computer, or Isaac, is now doing things not in his programming and has to reach out to his estranged daughter Jane for help in figuring it out. Igor Teper's story plays out against the background of how the two begin to reconnect, making this a fine example of how you can meld characterization and scientific ideas to make a great story.
Gregory Frost contributes "No Others Are Genuine," set in a turn-of-the-century boarding house. Eustace lives there with his mother, when one of the boarders, Miss Comuzzi, disappears and is replaced with Mr. Schulde, a man Eustace senses it up to no good. It becomes worse when he begins romancing Eustace's mother. It's a fairly good horror story, though he does play fast and loose with the timeline.
The narrator of "The Wildfires of Antarctica" is an art lover who has donated the work Roxy: Shark * Flower to the Antarctica Institute for the Arts. Roxy is a genetically engineered artwork, part shark, part flower and part other things. But Roxy finds she dislikes being in a museum and manages an escape. Alan DeNiro has a nifty idea and some good emotional content but it doesn't quite gel for me.
Joel Richards's "Deep Diving" follows Nystrom, a "diver," who dives into people's minds to find information about their past and their past lives. When someone is murdered aboard a starship, Nystrom is called in so that the authorities can figure out what he knows. The story raises some philosophical points about death while looking for the culprit, but overall did not impress.
"Within These Well-Scrubbed Walls" by Ian Creasey shows David returning to his mother's house after her funeral and discovering his old hologram set among her possessions. It was originally used to create a hologram dog for him, and now is there to show him something about his mother's feelings for him. It's mostly about reconciliation and how David manages to deal with understanding it all. A story that is very moving despite its short length.
"Encounter on Starbase Kappa" is traditional science fiction, done well. Captain "Coop" Cooper commands the Ivoire, a space ship that is suddenly sent 5000 years in his future. The science and the history of the Fleet are long lost, but there may be a way back, using the star drive/power source from the long abandoned Starbase Kappa. While there, though, they are discovered by troops from the Enterran Empire, who want the source for themselves. This plot sounds like something from the 40s, but Kristine Kathryn Rusch makes it all very fresh by portraying strong characters and solutions that are far evolved from that of the Golden Age.
This issue has plenty of good, solid reading of high quality stories. Even the ones that didn't grab me were honorable attempts, and the best of the stories are science fiction at its best.
---
Chuck Rothman's novels Staroamer's Fate and Syron's Fate were recently republished by Fantastic Books. He has short fiction upcoming in Best of Penumbra and in the Third Flatiron Anthology #3.