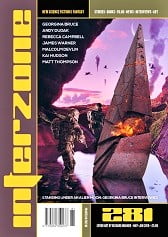 Interzone #281, May/June 2019
"The Realitarians" by James Warner
"Harmony" by Andy Dudak
"A Dreamer Arrives in the Occupied City" by Malcolm Devlin
"Scolex" by Matt Thompson
"Café Corona" by Georgina Bruce (
no
n-
genre,
not reviewed
)
"Our Fathers Find Their Graves in Our Short Memories" by Rebecca Campbell
Reviewed by Kevin P Hallett
The 281st issue of Interzone has seven original stories, including 1 novellete and 1 flash story that wasn't in the speculative genre.
"The Realitarians" by James Warner
This short SF horror story portrays Jacinta, a woman attracted to criminal men. And when Nestor, a Russian oligarch approaches her she quickly falls into his trap, becoming a pawn in his plan to kidnap a particle physicist.
That plan goes awry, and after gangster rivals have killed Nestor, she finds herself on the run, aided by two felines. Can this be true, she wonders, as the cats take her on a wild ride through the catacombs of Paris.
At times this was an engaging tale, and at others, a drawn out and choppy story with no discernible direction. Mostly, the latter won out.
"Float" by Kai Hudson
Rhiva's parents emigrated from Earth to find a new life in the colonies in this SF short. But zero gravity has changed the physical makeup of the second-generation colonists and Rhiva, with her thick Earth-appropriate limbs and body is the butt of many jokes.
On a vacation to Earth, Rhiva imagines herself back where her body will fit in. But her body strength has adapted to the colony's low gravity, and she struggles to fit in here until she finds an unexpected feature of Earth.
This short story explored the reality that as humanity evolved, it was easy to become out of place in both environments.
"Harmony" by Andy Dudak
He is an undercover agent, in this SF short, working against a government that controls its citizens through a ubiquitous song that soothes its people into a stupor. As he realizes his trained resistance to the song is weakening, he decides he must flee this frontier city.
Trying to escape, he finds the song is lulling him into making mistakes. When a priestess tries to help, he discovers a new truth about the song, but will it be enough to escape its clutches?
An interesting way to control the people in this dystopia. The story borrowed elements from 1984 and did a good job of hiding its outcome.
"A Dreamer Arrives in the Occupied City" by Malcolm Devlin
Mara has a new lover, Anton, in this short science fiction story of a distant future. For all her life, the people have been under the control of the Citadel. It provides soporific drugs and the people live tranquil lives. Except during the night-time curfew, when lopers pass out of the Citadel to take any malcontents.
Anton takes Mara to a hidden area where artists sit, smoke the drugs, and pontificate about life and the Citadel. Anton discovers that Mara is well known to this group. During the meeting, they see an artist that can dream, and it opens new ideas for Mara, but are these ideas dangerous?
An unusual story that was easy to read and engaged the reader in the various characters. However, the plot lacked a direction.
"Scolex" by Matt Thompson
Illicit drugs can be hidden in the blood of a carrier in this SF novelette depicting a disturbing future. The distributors have found a way to alter a persons DNA to hide a drug for later extraction. Tyner's ex-partners have taken it further, using a parasite to alter his DNA, creating a new kind of human. After tricking Tyner, they inject the parasite into his bloodstream. Now he has twenty-four hours to smuggle himself into Korea to get it removed before his altered DNA kills him.
His old accomplices want to extract what's eating him from the inside, but he can't trust them; after all, they tricked him into taking it. But is anyone else left who can help him as the authorities also track him through the old city, intent on burning him on sight?
Several interesting ideas were raised and explored in this story. The prose was slow at first, only picking up the pace in the last third.
"Our Fathers Find Their Graves in Our Short Memories" by Rebecca Campbell
Campbell's short SF tale shows the end of life through the Ossuary, an unknown entity that records humanity. As Earth's climate continues to swing toward the Venusian model, the count of living humans begins to drop along with almost all other life forms. The Ossuary steadfastly saves the records of humanity for some unknown purpose, even as the number continues to tick down.
Though not a new concept, this story was beautifully written and engaging. We can only wish it had a more encouraging end.