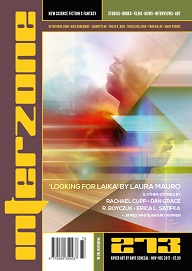 Interzone #273, November/December 2017
"Looking for Laika" by Laura Mauro
"After the Titans" by Rachael Cupp
"Fully Automated Nostalgia Capitalism" by Dan Grace
"The Big So-So" by Erica L. Satifka
"The Garden of Eating" by R. Boyczuk
"The Morrigan" by Steward Horn
Reviewed by Stephanie Wexler
In "Looking for Laika" by Laura Mauro, Peter fears the world will end in a nuclear holocaust. Peter's mother having little sympathy for his OCD, leaves Peter and his little sister Beverley in the care of her parents. What troubles Peter's mother is hinted at but never revealed. So we watch Peter manage his panic the best way he knows how; with a notebook and the responsibility of caring for Beverley. While the story of Laika is short it gives Peter a way to overcome his mental obstacles, especially when his fantastical disaster scenario becomes a real life–changing event. Get some tissues because Mauro will tug some heart strings with this bittersweet tale of finding the inner strength to keep those most dear, safe.
Little Flute in "After the Titans" by Rachael Cupp lives in a world dominated by gods, spirits and mortals. Little Flute and her mother (youngmother) spend their time preparing juice from a fruit. One night they get wind the earth spirits are having some fun and youngmother decides to go join them bringing a jug filled with blood of the fruit as an offering. It goes badly and youngmother forbids her daughter from going too. However, Little Flute ignores her warning and triggers events that will later curse everyone around her. Cupp's titans, spirits and god-like world is rich, full of lessons that almost get lost in the stunning prose. It is a story that needs to be read a few times to capture all the subtle nuances.
"Fully Automated Nostalgia Capitalism" by Dan Grace follows a young man as he weaves his way in a world totally immersed in fabricating past eras. Following him through his day as he works, we get a view of a very lackadaisical person who cares more about his cigs than society issues. Is it really surprising since society has surrounded him with the message to conform? So he utilizes "mites" (communication, health and etc.), keeps his head down and works. It is hard to feel anything for his dull and uninterested life, even when he meets Shirley. Grace's transient world is told in such a disjointed fashion, yet it presents the best display of the consequences of extreme capitalism and the loss of individualism and identity.
In Erica L. Satifa's "The Big So-So," Cygnians have arrived on Earth to capture human souls. The selection process is simple: get the humans high to run tests, pick the purist and then dial down the "pleasure juice" before halting it completely. Unaffected by the juice, Sylvia is left spending her days attempting to keep the "leftovers" grounded. Despite all Sylvia's efforts, humans would rather learn how to reproduce the juice than to reclaim what they lost—usually with devastating results. Satifa's alien takeover is so evasive that the slow, steady comeback from a drug addiction is like a revelation. However, what progress has been made becomes tarnished by Sylvia's closet friend, whose revenge against the Cygnians threatens everything Sylvia has accomplished.
Boy in R. Boyczuk's "The Garden of Eating" is hungry all the time. Living in a world where he is fed a constant stream of propaganda from his Tutor, nothing seems trustworthy. Boy doesn't even trust Tutor. When he encounters the Amerigun gathering food, her strange behavior spooks him and recalling how dangerous she is, goes back to report to Tutor. Even though he is charged with getting rid of her, he is unsure if he can stop her supposedly nefarious plan. Boyczuk's post apocalyptic Eden plays up an interesting version of Adam and Eve. Granted Amerigun's intent is larger–layered by what Tutor has said, Boy's bizarre interpretation of what he sees finally opens the path he has almost lost; free will.
"The Morrigan" by Steward Horn, a James White award winning story, is one of those wonky urban fantasy tales where a fairy disguises itself for its own ends before moving on. Be warned the accents are thick. The young toughs when not ditching school are raising a rabble. So much a part of their daily life is this activity, that the sudden presence of a strange woman egging them on doesn't even register. Baz, weakest of mind, embraces it. Though they have suspicions about the mysterious woman, her power to manipulate proves to difficult to ignore. Taking on different names she wraps them around her finger. It can be hard to follow at times, but continues the tradition of subtle primal acts of ancient beings on the human plane.