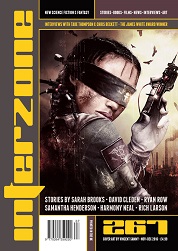 Interzone #267, November/December 2016
"Alts" by Harmony Neal
"Dogfights in Olympus and Other Absences
" by
Ryan Row
"The Hunger of Auntie Tiger" by Sarah Brooks
"You Make Pattaya
" by
Rich Larson
"Rock, Paper, Incisors" by David Cleden
"My Generations Shall Praise" by Samantha Henderson
Reviewed by Kevin P Hallett
The 267th issue of Interzone has six original short stories.
"Alts" by Harmony Neal
This short SF story introduces Cat, a woman altered from conception to have an enhanced olfactory sense. She, along with several other alts, must attend weekly support groups. Here, the group members are generally unhappy that StateCorp altered them and they sit through the sessions on the verge of open rebellion. Facing the continued uncaring treatment of StateCorp, Cat wishes that she were a fish. One that could swim away from all human contact.
This story lacked danger or intrigue to engage the reader. The story's plot revolved around genetic alterations. But it did little to expand this concept and in the end, it fizzled out.
"Dogfights in Olympus and Other Absences" by Ryan Row
"Dogfights in Olympus and Other Absences" is a short science fiction tale about a fighter pilot who lives to dogfight on Olympus (a planet that is almost all clouds). Between the three and four year tours, his wife has his daughter. He faces the loss of relationship as he is always away, plus the relativity of his travel means he ages slower than his wife does.
Finally, he has had his fill of fighting and returns home to be a father. But it's too late, his wife has divorced him, and his adult daughter has shipped off, a while ago, to Olympus to be a fighter too. He fears that he may have encountered her and even killed her.
The story had little drama to make it interesting. A few dogfight scenes scattered among long reflective sections that the author loaded with expansive emotional descriptions.
"The Hunger of Auntie Tiger" by Sarah Brooks
Two young children live on the edge of a city abandoned to the desert in this short SF story. They eke out an existence while imagining that a tiger is always trying to eat them. An old lady stops by from time to time and tries to teach them some part of their Chinese heritage; she laments the passing of real tigers from that region. One day a sand storm flies through the city, almost burying them, and when they resurface they find themselves face-to-face with a real tiger.
Before the tiger can attack, another wave of the sand storm sweeps it away. The harsh sand storms leave the city different, scoured by the abrasive sands, and the two children go into the city to explore and marvel at the new way it looks.
Told through the eyes of the elder girl, the story had an engaging charm to it, even though it was hard to fathom what it was really about. Maybe it was just a slice of life in a remote place that mankind had foolishly thought it could tame.
"You Make Pattaya" by Rich Larson
Larson's short SF story is set in a technically advanced future. A time where a grifter named Dorian thinks he's found a lucrative score. He enlists the help of a prostitute to get compromising footage of a celebrity that he can sell to magazines. Using a camera contact lens, the prostitute will circumvent all the celebrity's security. A good con artist is prepared in case things don't work out, but are Dorian's backup plans going to be good enough this time?
The author filled the story with insights on how technology may develop and how people will use it for the most universal of purposes, personal gain. The plot itself was less noteworthy as a variation on a frequently explored concept, turning the tables on a con man. At times, the rapid fire of new technology confused the story line, but overall the writing style made for a nice read.
"Rock, Paper, Incisors" by David Cleden
Silja is a twin, given to foster parents in another tribe by her mother in this short fantasy. Silja's fiancée uses a rigged lottery to select her to be her foster tribe's changeling in a battle with her native tribe for the hunting ground rights. As a changeling, she passes through quickening and hardening phases to transform into a fighting machine, losing almost all humanity in the process.
She transforms herself into a solid rock-like combatant, but the other tribe's changeling has picked a similar option and the fight ends in stalemate. Once again, she changes, this time to a speedy assailant, and once again, her opponent matches her choice producing another stalemate. Each combatant can only change one more time, but they make a pact and both change into fast but strong cats. Together they escape leaving their tribes to choose another way to decide which will have access to the hunting grounds.
Cleden's story had pace, mystery and suspense to pull the reader through. It was one of those stories that was a pleasure to read.
"My Generations Shall Praise" by Samantha Henderson
This is a short science fiction yarn. A death-row inmate gets an offer from a rich, but dying, cousin. The cousin wants to have her own mind, her memories and behaviors, mapped onto the inmate's mind – effectively replacing the death-row inmate's mind. In return, the rich cousin will set up a trust for the inmate's daughter and future grandchild.
At first, the inmate sees no reason to 'die' any sooner. But after a few days to think it over, she decides that maybe she can hold onto a part of her mind. So she agrees and signs the contract.
With just days to live, the inmate has second thoughts. She puts herself in her cousin's place and realizes she will use her daughter and future generations to live forever. She can keep breeding new vessels to transfer her mind into. As a death-row inmate she cannot escape the mind swap. Can she find another way to stop her cousin using her future generations?
This was a thought provoking tale that had a good pull. The author developed the character as a believable murderer, a hard case that had few redeeming qualities. And yet by the end you found some empathy for her plight. It was a nice story to read.