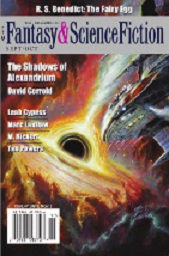 Fantasy & Science Fiction, September/October 2020
"The Shadows of Alexandrium" by David Gerrold
"Weeper" by Marc Laidlaw
"Do AIs Dream of Perfect Games? " by Angie Peng
"Of Them All" by Leah Cypess
"The Martian Water War: Notes Found in an Airlock" by Peter Gleick
"Little and Less" by Ashley Blooms
"My Name Was Tom" by Tim Powers
"The Cry of Evening Birds" by James Sallis
"The Dog and the Ferryman" by Brian Trent
"This World Is Made for Monsters" by M. Rickert
"The Fairy Egg" by R. S. Benedict

Reviewed by Chuck Rothman
David Gerrold starts out the September/October issue of Fantasy & Science Fiction with "The Shadows of Alexandrium," where a group of tourists are being guided through what seems to be a library, filled with all the possibilities of space and time. The tour leader—known as the Proctor—tries to explain things as the tour gets wildly awry. I suspected pretty quickly what Gerrold was hinting at and was delighted when my suspicions were confirmed. The story is fast-paced and a fun homage.
In "Weeper" by Marc Laidlaw, a creature by that name falls from the sky, and is found by Gorlen and Plenth. It insists that they pay it homage, even though neither of them has any idea what it is. Weeper has been shot out of the sky, in a setting where both magic and precious metals fall from it naturally to be claimed by wizards. In this case, Weeper was brought down by sky-poachers, who search for treasures before the wizards can find them, and who are ruthless in getting them. An interesting setup with a major shock, but I found the resolution too neat.
Angie Peng's "Do AIs Dream of Perfect Games?" tells the story of Marissa, a baseball fan who's especially enamored of pitcher Dusty Johnson, who, on the last start before he retires, is pitching a perfect game. Circumstances give Marissa the opportunity to help him out by hiding the lucky bat of one of the opponents. Johnson gets his perfect game, but her actions lead to serious problems with reality. It's not exactly a new concept, but Marissa has a lot of charm, and the way it plays out is quite entertaining, especially if you love baseball.
"Of Them All" goes into fairy tale territory to tell the story of Princess Margarete, who is blessed by her fairy godmother to be beautiful only to those who wish her harm. The concept is intriguing from the start as Leah Cypess deals with not only the implications of that, but with a realistic life for a fairy tale princess (a trope I wish I saw more of). Margarete has to deal with her younger sister Delsa, who was gifted with a voice sweet enough to summon sunlight, and who is the one who ends up with a prince. Margarete discovers that as people hate her, they become jealous of her beauty and hate her even more. This was a first-class story that takes its premises and goes in wonderful directions with them.
"The Martian Water War: Notes Found in an Airlock" by Peter Gleick is a diary written by a human settler on Mars after the colony begins to be threatened by shortages of water. It's a dry recounting of events and the narrator, Jiang Ying Yue, spends most of the time explaining things. I think the story would have been much better if it had actually shown the events instead of just recapping them.
Ashley Blooms contributes "Little and Less," set in a world where society has fallen apart. Laurel is trying to survive, but also takes in injured and wounded animals, bringing them into her house, and surviving on food her father had set aside in case of disaster. It's a story about hope in difficult times and manages to keep the tale from becoming a tedious read.
Tim Powers has always had a wild imagination and he shows it again with "My Name Was Tom." Set on what at first seems like an ocean liner, it shows Tom, who decides to visit Ruth, a woman who intrigues him, in her cabin. But then we learn that things are very different, with dimensions that don't make sense in reality, and with mysterious people hidden away who can only hint at what's actually going on. Lots of weirdness and a fascinating bit of worldbuilding.
"The Cry of Evening Birds" by James Sallis is a bit of flash fiction where a woman talks about ordering changes in her husband and only slowly reveals what they are. The story is subtle and requires close attention, but ultimately has to do with finding a way to move on. Nicely done.
Charon wakes after a very long sleep in Brian Trent's "The Dog and the Ferryman" seeing Buster, a dog who is looking for his owner. The situation is confusing, with Charon wondering why he had no one for ferry across the Styx for many years, so Hades sends him into the world to see what has happened. And the world has changed a lot. A fascinating mix of legend and science fiction and Buster is a terrific character as Trent gets the idea of a dog's thoughts just right.
"This World Is Made for Monsters" by M. Rickert shows what happens when an alien spaceship lands in a small town. The events are low-key, but have some strong long-term implications in how it affects the villagers. The story hints at the subtle ways that interaction with aliens might have long-term effects. Interesting idea that dramatizes its point cleverly.
"The Fairy Egg" by R. S. Benedict completes the issue on a strong note. The narrator is a woman struggling to make ends meet as a supermarket clerk after her husband Mike is in an accident and can't work. She raises eggs behind their trailer park and, one day, almost by accident, starts delivering them to the wealthy women in town. One of their hens is laying "fart eggs" without yolks and, forced to deliver one to fill out an order, she tells the customer that they are fairy eggs, and that they have magic in them. Meanwhile, her idle husband discovers a Dr. Dunne on the Internet, whose reactionary ideas of marriage appeal to him. The fantasy element comes in late, but it doesn't matter, since the characters are nicely drawn and the parallels between New Age and male "empowerment" madness make the story stand out.
Overall, an excellent issue, with some very powerful stories.
---
Chuck Rothman's novels Staroamer's Fate and Syron's Fate are available from Fantastic Books.