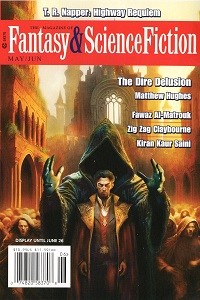 Fantasy & Science Fiction, May/June 2023
"On the Mysterious Events at Rosetta" by Fawaz Al-Matrouk
"The Dire Delusion" by Matthew Hughes
"Amrit" by Kiran Kaur Saini
"In Time, All Foxes Grieve Westward" by Lark Morgan Lu
"A Conjure Horse in San Ouvido" by Ferdison Cayetano
"Highway Requiem" by T.R. Napper
"The Lucky Star" by Dr. Bunny McFadden
"For the Benefit of Mr. Khite" by Zig Zag Claybourne
"Time and Art" by Barbara Krasnoff
"I Paint the Light with My Mother's Bones" by K. J. Aspey
"We are Happy to Serve You" by Margaret Dunlap
"Titan Retreat" by Ria Rees
"Knotty Girl" by Melissa A. Watkins
"A Truth So Loyal and Vicious" by Fatima Taqvi
Reviewed by Kevin P Hallett
F&SF's May/June issue has fourteen first-publication stories, including two novelettes and three flash stories. This storied publication's issue has many worthwhile tales to read.
"On the Mysterious Events at Rosetta" by Fawaz Al-Matrouk
The opening of a tomb near Rosetta, Egypt, triggers a curse in this short horror/fantasy. When two French archeologists open the sarcophagus, they unleash a phantom menace that kills them both. The sole witness is an Arabic guide.
Now the local French authorities wish to execute the guide, believing him to be the killer. Pleas come from Cairo to spare him long enough to hear his story, but the men in charge at the site want nothing to do with sparing this pagan who killed their friends.
This story was told through correspondence letters. But in the end, it wasn't so different than many other stories about pharaoh curses.
"The Dire Delusion" by Matthew Hughes
This fantasy novelette's setting is the city of Gephrire, where the various magical disciplines have guilds that are generally hostile toward each other. The ruling Duke has banned guilds from open warfare. In this environment, Cascor is a discriminator or private detective.
A thief engages Cascor to help with a robbery that went bad. The crook stole a religious artifact but mysteriously fell asleep while someone took his contraband. Cascor doesn't have much magical talent, but he does have a wizard, an apprentice, and a soothsayer on his staff. So he begins investigating the case.
He soon discovers that many thieves have had similar experiences, though none can recall what caused them to fall asleep. Cascor's helpers feel trancers could be involved, though the Duke's ancestors banned this magical discipline decades ago.
Cascor's investigation takes him to other cities and eventually brings him face-to-face with the Duke himself.
The story's pace varied but was eminently readable. The reader will enjoy this trip through Matt Hughes' new story.
"Amrit" by Kiran Kaur Saini
Fox Singh lives alone in this short SFstory. He's lonely and likes it that way; at least, that's how he acts. When a Senior Well-Being Unit knocks on his door, he treats it like all other intrusions by slamming the door in its robotic face. Fox had driven everything else out of his life, his neighbors, his only son, and now Amrit, the unit sent by Medicare to help him.
However, Amrit is programmed not to give up. Slowly it wheedles its way into Fox's life. It cooks for him, helps him wrap his turbans just right, and generally brings new life to the old man. But when Amrit suggests Fox try to rebuild the relationship with his son, Fox has him recalled as defective. Now Fox is alone again, but after a glimpse of what was possible, the loneliness is much harder to accept.
The character-based story was a joy to read.
"In Time, All Foxes Grieve Westward" by Lark Morgan Lu
Josephine agrees to pretend to be Todd's fiancée in this short fantasy. This wouldn't be such a big deal, except Todd is a fox, and they will visit his mother, who is almost a god. Todd has magical abilities and can pass himself off as a man.
Josephine has little idea of the dangerous situation as they approach the mother's palace. The place looks like a hoarder's paradise as the mother hangs onto everything from her incredibly long life. She quickly sees through Todd's fiancée's ruse but still allows him to begin clearing out the palace. However, it isn't long before Todd fights with his mother, while Josephine becomes trapped between them.
The author created a strange but workable mixture of ideas in the story that was a pleasure to read.
"A Conjure Horse in San Ouvido" by Ferdison Cayetano
Preacher Sneed is a buffalo soldier in this short fantasy set during the Phillipine-American War of 1899. Preacher brings his particular brand of magic from the Carolinas to the Philippines, which has its own form of the supernatural.
Stationed with an all-white regiment in San Ouvido, it isn't long before Preacher turns from the white soldier's hatred of him to the locals who marvel at his magic. Preacher sees the young woman who can transform into a blue-feathered bird. And she sees him. Soon their mutual respect turns deeper. Can Preacher find peace from bigotry at last?
The author masterfully blends history and racism into a compelling story.
"Highway Requiem" by T.R. Napper
Napper sets this short SF tale in Australia, where Kev is one of the last truck drivers. Most of the trucks are autonomous, making Kev a member of a dying culture. Still, he has to get his load three thousand kilometers across the Aussie desert and doesn't have enough time to do it.
The human world seems to be falling apart as AI programs take over, one job at a time. Kev's only companionship is Roxy, his old dog. Two outdated relics together. But Roxy has enough moxie to help fight off two hijackers desperate to rob anyone traveling the road. Only Kev and Roxy don't escape unscathed. And the clock is ticking on the delivery deadline.
This intriguing story was a true page-turner.
"The Lucky Star" by Dr. Bunny McFadden
Tess is a gay cartologist in this SF story set on Titan. She has become lost as she maps the shifting dunes. Luckily her tracker pack delivers her to the local watering hole called the Lucky Star. It wasn't where she expected to end up, but she fancied a screwdriver drink. But leaving her tracker pack outside proves to be a significant mistake.
This story didn't go anywhere or deliver any evident plot.
"For the Benefit of Mr. Khite" by Zig Zag Claybourne
On the giant spaceship New Tangier, in this short SF story, Mr. Khite is a clone created to be the intermediary between the humans, the Intelligences, and the ship. For the past two centuries, Mr. Khite has been the doctor to billions of people.
But Mr. Khite is curious why some Intelligences opt to leave the ship, announcing their departure seconds before they leave. There is much that Mr. Khite doesn't comprehend fully. Maybe a companion will help to make things clearer? So, he orders a synthetic being to provide some company.
Although the world-building was interesting, the story lacked mysteries or goals to pull the reader through.
"Time and Art" by Barbara Krasnoff
A customer enters a magical shop in this short fantasy, seeking more time to create what she's never had time to do. All her life, the customer has given her time to her parents, husband, children, and friends. But now she wants time for her own desire to create beautiful things.
The shopkeeper offers the customer a small bottle of pink liquid for the price of gifting the first work of art to the shopkeeper. The woman behind the counter warns the customer that she can only reallocate her time from the future to the present. After the customer leaves with the magical liquid, the shopkeeper never sees her again, though she does meet her daughter.
This was a charming snippet of a story that found the goldilocks length.
"I Paint the Light with My Mother's Bones" by K. J. Aspey
This flash fantasy describes a girl hidden away in a cellar. She's there because her magic is too dangerous for the world. Her father still searches for her, but her mother found her before and now rots on the cellar floor. The girl has light from a flickering screen but must try to leave when it goes out.
This was a disturbing snippet of a story that was hard to put down.
"We Are Happy to Serve You" by Margaret Dunlap
He works on a remote planet with others from various races, including humans, in this flash SF. The company provides a food replicator to meet the varied dietary needs, but only a dozen options work, so he orders ziti once again. The union had pushed for the replicator to keep the workers happy, but it wasn't working out that way.
This very short story was more of an opening than a full story.
"Titan Retreat" by Ria Rees
Denner is looking for a new place to live in this flash SF. He wants to escape the painful memories of his lost girls. But where in the now industrialized Solar System can he go to avoid seeing any stars which remind him of those country getaways with Julia and Georgia?
This flash fiction was quick and poignant.
"Knotty Girl" by Melissa A. Watkins
Uncle Buddy was the only human she'd known in this short fantasy. He had trapped her in a tall tower after her parents gave her to him as a newborn. He could conjure her hair to grow until it was long enough for him to climb in through the tower's only window. Over the years, she grew up with only books to keep her company when he was away.
Outside the window, she saw sand with a deserted road that only Uncle Buddy used. In time, her body grew into womanhood. It also brought different looks from her make-believe uncle; looks she didn't like. But what could she do? She couldn't climb down her own hair without falling. Then, one day, someone else came by.
The story was a variation on Rapunzel with enough mystery to pull the reader through.
"A Truth So Loyal and Vicious" by Fatima Taqvi
Dukh is one half of identical twin sisters in this fantasy novelette. At the birth of the twins, two Tayr prophesize that one girl will be fortunate in all things and the other unfortunate. The mother names the fortunate one Sukh and the other Dukh. However, the mother loses track and is no longer certain which child is which.
But in time, it became apparent which one was fortunate, so she became Sukh. Throughout their childhood, the girls are inseparable even though fortune always seems to shine on Sukh alone. Still, Dukh isn't jealous since she enjoys earning whatever she has, even though she has few friends because of her sharp tongue.
Then as teenagers, the royal couple saw the twins and took Sukh to join their court. Even as she left, Sukh was becoming confident of her good fortune. Sometime later, Sukh summons her sister, asking for help with her fiancée, the royal nephew, who has fallen deathly ill. The court sorcerers claim the only cure lies in the underworld if Dukh is brave enough to fetch it.
This story reads like a fairy tale with a moral twist. Overall it was a pleasant read.
---
You can follow Kevin P Hallett's writing on www.kevinphallett.com. There are links there to join his mailing list for a weekly newsletter on the recent release of his third novel, Journeyman Wizard.