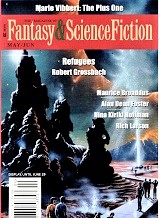 Fantasy & Science Fiction, May/June 2021
"A Father's Hand" by Stephanie Kraner
"Dontay's Bones" by Danian Darrell Jerry
"Goodwill Objects" by Nina Kiriki Hoffman
"The World, A Carcass" by Rich Larson
"Severed Fruit" by Pan Morigan
"Molly Whuppy" by Corey Flintoff
"Babylon System" by Maurice Broaddus
"Drunkard's Walk" by James Enge
"The Plus One" by Marie Vibbert
"Refugees" by Robert Grossbach
"When the Water Stops" by Eugen Bacon
Reviewed by Mike Bickerdike
This issue of Fantasy & Science Fiction contains 1 novella, 2 novelettes and 8 short stories. Of these eleven stories, 5 or 6 were not really to my liking, which might suggest a relatively weak issue; however, I enjoyed 3 of the last 4 stories a good deal, so it would be more accurate to call it 'hit-and-miss'.
"A Father's Hand" by Stephanie Kraner
In the desolate future of a blighted Earth, following a world war between humans and robots, a boy travels the land with his 'father', a teacher robot who was programmed to educate and keep children safe. But the boy is now trapped hand-in-hand in the damaging grip of the robot after its circuits failed and is therefore searching for someone who can fix his 'father'. The story is quite inventive and entertaining, though it doesn't ultimately explore the relationship between humans and machines with the depth and novelty one might wish.
"Dontay's Bones" by Danian Darrell Jerry
This is a grim modern-day urban tale, recounting a drama of idle young drug-dealers and their junky mothers. Young Dontay's mother is a drunk who's taken up with a local dealer, and he and his friends would rather compose rap and hang-out than deal drugs themselves. The appearance of a strange purple light seems to speak to Dontay, though the reason for this is not made clear. The tale therefore has a degree of the 'weird' about it, though it would be hard to pigeon-hole its genre. While the mysterious nature of certain story elements may appeal to some, I found the lack of clarity a little frustrating. It also suffers somewhat from overwriting, especially early on.
"Goodwill Objects" by Nina Kiriki Hoffman
Hoffman's short story tells of a young man, Cody, who receives in the mail the face and arms of a small plastic doll from his ex-girlfriend, who recently left him. The plastic doll parts are meant as a blunt and caustic message but turn out to be rather more fantastical for Cody. This weird tale is brightly told, and it's quite engaging. The ideas on show present a slightly different take on a fairly familiar trope in weird fiction, bringing some novelty and intrigue to the story.
"The World, A Carcass" by Rich Larson
In this novelette, Daxla, a fourteen-year-old princess, has just lost her father, the King, to sickness and begins a wretched life under the control of her uncle, who has assumed the throne. Set in a grim and inhospitable world, this is a dark fantasy marked by earthy superstition and treachery. Larson spends a lot of time on exposition and description and less on moving the plot forward with an engaging degree of pace. The plot does progress, however, albeit slowly, and the story ultimately resolves in a satisfying manner. The reader's enjoyment of the tale will be dictated by their patience with the detailed, descriptive style.
"Severed Fruit" by Pan Morigan
In this fantasy short story, a grandmother is dying (and welcomes the journey) but is pulled back to life to help her family and village who are beset by troubles. In her returned state she considers her past life, and how she hankered after a pretty embroidered apron of her cousin's and how this ultimately led to a lawless, murderous life. Having been pulled back from the afterlife, she realises she is haunted not by a stranger, but by her own ghost. This is a strange and rather opaque story; Morigan has preferred to leave much a mystery here, and there is a good deal that's ambiguous regards the plot, setting and outcome. Written in a 'wordy' style, overall, this wasn't to my taste.
"Molly Whuppy" by Corey Flintoff
A retelling of the traditional Scottish (or Celtic) fairy tale, "Molly Whuppie," this keeps to the style of a children's fairy tale, and tells of Molly, the youngest of three girls who are discarded in the woods to fend for themselves during a famine. Molly and her sisters soon encounter a dangerous giant, who plans to kill them in their sleep, but from whom they manage to escape through Molly's cleverness. When they arrive at a King's castle and tell him of their triumph in escaping from the giant, he makes several deals with Molly that she should steal trinkets from the giant. As a retelling of an old fairy tale, the tale is not new, but as few will perhaps know this particular tale, that shouldn't bother many. Fairy tales are of course typified by having childishly simple and fantastical plots, and this is certainly the case here. However, if you are in the mood for a fairy tale fantasy, it's a passable rendition. For those with a real interest in Celtic myths and tales, it would have added value.
"Babylon System" by Maurice Broaddus
In this novelette, a Rastafarian prophet, Lij Tafari, is sent to a dystopian future prison, where he manages, unlike his convict colleagues, to maintain his sense of freedom and purpose. Lij manages to survive attacks from tough convicts, avoid reprisals for his actions from the guards and warden, and orchestrate a riot and prison-break with seeming ease. These achievements are not entirely convincing; he seems to depend largely on charisma to do whatever he wants. To its credit, the story begins in a promising and engaging manner and some of the imagery is good. However, the story struggles to maintain credibility, and the SF/fantasy elements are somewhat arbitrary as the story would have worked as well without them.
"Drunkard's Walk" by James Enge
In this entertaining and unusual fantasy tale, the protagonist, a mysterious drunkard called Morlock, finds himself stuck in a poor village that is experiencing weird events (such as speaking cows, a prematurely setting sun, and a child's dice always landing on 'snake eyes'). After Morlock realises that he has helped drink the town dry of its meagre beer supply, he tries to leave but finds he cannot, as space seems to have become bent around the village. The tale is well crafted. In the manner by which bizarre events are initially explained in a way that really explains nothing, and in the jaunty style of prose, this story is reminiscent of stories by Lafferty. However, this story does resolve and make good sense at the end and it is likely to appeal to most fantasy readers.
"The Plus One" by Marie Vibbert
This is an entertaining and well-written short story. Blaine, a US Marshall based on a colonised Mars, investigates the death of a woman, Denise, on the red planet. The dead woman's wife had previously died of an illness on Mars, and as Denise was the dead woman's 'plus-one' and did not work herself, she lost any habitation rights at the corporation her wife had worked at. The story concerns the theme of how quickly life can turn against you as soon as you're no longer valued according to society's rules. It further explores the value of a 'supporting partner', be that a live-at-home spouse, or in this case a Mars-based 'plus-one'. If your value to society is based on someone else being essential, what happens to your value when they are gone? The unfairness of this position is clearly shown in an interesting SF situation. Recommended.
"Refugees" by Robert Grossbach
This entertaining novella uses a courtroom case to introduce the story which Grossbach spins in a lively and engaging way. An aging engineer made a 'business deal' many years ago with a representative of a tiny alien race—the Eep—who look like small orange toroids, and who live on a small planet circling a black dwarf star, out beyond Pluto. The deal was to provide marijuana to the Eep which they can use as a substitute compound to their native zzin as an aid for reproduction. But when the alien government outlaws marijuana on their home world, many of the tiny aliens abandon their planet, returning to the man's house on Earth, claiming asylum to live under his backyard. Problems that lead to the man's arrest ensue. This is an inventive, quirky and funny novella and is highly recommended.
"When the Water Stops" by Eugen Bacon
This probably qualifies as flash fiction, except that it isn't really fiction, but a short series of opaque ideas and scenarios on the theme of climate change. Presented in dense language, it's more akin to a prose poem than a short story, and with almost every sentence weighed down by metaphor and cryptic meaning this is only likely to appeal to a minority of readers. It's a miss for me.
---
More of Mike Bickerdike's reviews and thoughts on science-fiction can be found at https://starfarer-sf.com/