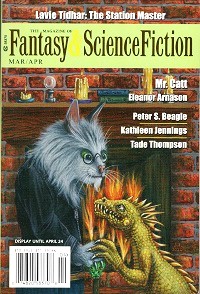 Fantasy & Science Fiction, March/April 2023
"The Sweet in the Empty" by Tade Thompson
"The Station Master" by Lavie Tidhar
"Spookman" by Jonathan Louis Duckworth
"The Weremouse of Millicent Bradley Middle School" by Peter S. Beagle
"Piggyback Girl" by M. H. Ayinde
"Mnemonic Longings" by Marlon Ortiz
"Moonlight, Wing-Wake in Fog" by Rick Hollon
"The Madding" by Nuzo Onoh
"Mr. Catt" by Eleanor Arnason
"Escape Velocity" by Amanda Dier
"Pantoum on a Generation Ship" by Lauren Bajek
"The Subway Algorithm is Half-Constructed" by Marie Vibbert
"Solar Boy" by K. C. Ahia
"Ouroboros" by Mathew Lebowitz
"The Five Lazy Sisters" by Kathleen Jennings
"Remembered Salt" by E. Catherine Tobler
Reviewed by Kevin P Hallett
F&SF's March/April issue has sixteen first-publication stories, including two novelettes and one flash story. This issue had many worthwhile tales as befits such a storied publication.
"The Sweet in the Empty" by Tade Thompson
The Sweet Oasis in the Empty Quarter is the focus of this short fantasy. The oasis is a thing of legends, but Jember is an old warrior who knew it to be real, though it only appears for one day each year. He travels from Ethiopia to Arabia to seek out his lost son, who was sold to a Bedouin tribe led by Munir.
When Jember finds the spot where the Sweet should be, he waits. Munir believes in the Sweet too, along with all its rules about not shedding blood. Finally, Munir's caravan appears, and Jember sets off on his old war horse to do battle. He wins bloody fights while the Sweet Oasis remains hidden, but what can he do to win back his son once it appears with its law against bloodshed?
This easy-to-read story zipped along, holding the reader's interest with African myths from more than a millennium ago.
"The Station Master" by Lavie Tidhar
This SF short is set on Mars, generations after humans first settled it. Djibril is the station master at Yaniv Town, a small dome-covered hamlet. Trains crisscross Mars, and some stop here on the way to or from the big city over the horizon.
As the last four trains of the day come through his station, Djibril meets several interesting characters. Each of them has a different story, making a potpourri of existences in this isolated town, cocooned in its dome against the harsh atmosphere of Mars.
Tidhar managed to bring to life Mars several generations after its initial exploration. It felt like a western town in the late 1800's.
"Spookman" by Jonathan Louis Duckworth
Rood is a Spookman in this short fantasy, which means he can see and help the dead. It's a lonely, thankless task, but it suits Rood, who avoids human contact. Still, he promises to go to the Painted Forest to find the runaway son of a powerful Zaamler.
The Painted Forest is a dangerous place, with a pack of wolves that neither sword nor arrow can defeat. Further hindering Rood is Nif, a member of the Woodland folk, who pesters Roon. When Rood hears a boy calling for help, he risks approaching the wolves' lair, only to find the wolves are mimicking the boy's voice. Now Rood is trapped.
The story struggled to find enough pace to be engaging.
"The Weremouse of Millicent Bradley Middle School" by Peter S. Beagle
Millicent Bradley Middle School has a witch teaching 8th grade math in this fantasy novelette. And she has an unforgiving nature. So when Lucia tells the witch off for putting a hex on the class math genius, Lucia is cursed to switch into a brown mouse at random times.
After the first few switches, Lucia should just apologize to get out of the curse, but she is obstinate too. So, it falls to her brother, Graham, to protect her from the cat whenever she switches. Finally, Graham visits a friend who knows something about witches. Graham doesn't believe in all this but is desperate to help his little sister.
A few days later, Lucia is ready to confront the witch with a potion to lift the curse. However, Lucia switches to the brown mouse on the way to school.
The author created a mysterious story that held the reader's attention until the end.
"Piggyback Girl" by M. H. Ayinde
Amber is an early pioneer of Piggyback Social in this SF short set in the future. Amber has a small disk surgically implanted at the back of her neck, allowing users to access and feel everything she senses. The invasion of her privacy is weird initially, but the contract is only for six months.
Amber also agrees to permit 'full profile' access, which allows a user to take over her body for a day. Of course, there are rules around sexual exploitation, but otherwise, almost anything is permitted. But then, someone hacks into the Piggyback system, changing Amber's life forever.
The author told a curious and chilling story about one direction future technology could take us, making for an interesting read.
"Mnemonic Longings" by Marlon Ortiz
This short SF story occurs in the future after the alien 'Tenants' take over human bodies leading to everyone's death. Orbiting Earth is a dormant spaceship named Ship. Onboard is Sparrow, a hibernating female soldier. Four thousand years after the last human died, a chance space rock causes Ship to awaken, and it then awakens Sparrow.
Needless to say, Sparrow isn't happy to discover she's awoken four millennia after the last of her species died. Still, she and Ship set out to find out what happened to the Tenants. The search takes them to Venus and a difficult voyage of self-discovery.
This intriguing story overflowed with mystery that made for a wonderful read.
"Moonlight, Wing-Wake in Fog" by Rick Hollon
Cornan is a silkie in this short fantasy and part of a village of silkies who can change into birds, rodents, or seals. But men in long boats plan to find their island hiding place to kill them. When Cornan wears his skin, he's a bird of prey, but he has no weapon beyond speed.
The members of the silkie village fight back, but when they discover one of their members is a traitor, their resistance wanes. Still, Cornan does what he can, but the odds are against him.
The author created an action-based story that moved at a frantic pace.
"The Madding" by Nuzo Onoh
Within an African hamlet, in this short fantasy, Dada is born with dreadlocks that won't be tamed. The village seer declares an ancestor with unfinished business possesses him. Unaware of his destiny, Dada grows into a normal-seeming young boy.
When Dada is six, his half-sister marries a son of the Uba clan. But the pretty young wife dies a week later, her entire life essence sucked from her body. Worse yet, she is the sixth young bride to be sucked dry after marrying into the clan. After the funeral, a boy from the Uba clan entices Dada to join him in a secret ritual. Dada is about to discover what his ancestor's unfinished business is with the Uba clan.
The author styled the story as a fantasy/horror story from Africa. It was an interesting dive into a different culture.
"Mr. Catt" by Eleanor Arnason
A six-foot talking cat is the protagonist in this light-hearted fantasy novelette. One day, Mr. Catt decides he wants a dragon but finds he can only get one through a shady dealer in the criminal part of the city. Against his better judgment, he takes a cab to the dealer's shop. There, he finds a talking dragon of the wingless variety. However, when he pays for the dragon, the dealer sets her three sons on Mr. Catt, hoping to pocket the fee and add a talking cat to her collection. With help from the dragon, Mr.Catt escapes.
Soon after his narrow escape, the cab driver warns him that the dealer's three sons will be coming to teach him a lesson. Mr. Catt decides to stay in the mountains where the talking dragon once lived with its family. But Mr. Catt was naive to think he could escape the consequences of his actions, and soon things begin to catch up to him.
The author told a curious and engaging story that provided light relief in these troubling times.
"Escape Velocity" by Amanda Dier
This short SF tale occurs in the future, just before the start of a colonization expedition to Mars. Demelza will be the ship's commander until she develops a neurological illness. But rather than be dismissed from her position, she convinces them to disembody her, placing her within the ship's controls where she can still be the commander.
When Demelza wakes up after the operation, she quickly learns how to control the ship, coupling her command experience with her new sensory abilities. She feels as if the ship is a part of her. But her role as commander also includes being a friend to some she knew before her illness.
"Escape Velocity" was a curious dive into cyborg-like science with an emphasis on human nature.
"Pantoum on a Generation Ship" by Lauren Bajek
She lives on a spaceship seeking a new home planet in this flash SF story. The ship is an enclosed ecosystem, and so is she, as she feels her baby moving inside her. The father doesn't even remember her, but she has friends to help bring her daughter into life, fulfilling the promise of a generational ship.
This nicely structured story snippet held the reader's attention with a hint of mystery.
"The Subway Algorithm is Half-Constructed" by Marie Vibbert
Kato is developing an AI program to write stories in this short SF story set in the near future. It's for a thesis, and his thesis advisor enrolls him in an experiment. It's an implant to help Kato with his hopeless social skills.
Kato meets a new student developing an AI program to find the optimum subway layouts. Kato uses the implant to help make friends, but the new student is unsure of himself. Still, after many failed relationships with other men, Kato tries to break the ice. Though it's clear the new student is interested in him, Kato makes a mistake that the implant couldn't protect him from.
The story was about developing relationships and the difficulties anyone can encounter.
"Solar Boy" by K. C. Ahia
Cam has an engineering degree but signs on as a spaceship's deckhand in this short SF story. The job pays well, and the trans captain looks great. Cam saw her checking him out; no doubt she saw that he was trans too.
After helping the crew clear the ship for departure from Mars, Cam sneaks into engineering to check out the engines. But when the ship engages the engines, nothing happens. The chief engineer doesn't have good answers to the captain's angry questions, but Cam does.
The author's plot was straightforward and unsurprising.
"Ouroboros" by Mathew Lebowitz
Garrett is the science sidekick for the brilliant Jens in this short SF story. Jens sees time as circular like the Ouroboros snake eating its tail. He has a vision of a headset that allows someone's mind to transport into the past. But after producing schematics for the headset, Jens dies.
For twenty years, Garrett partners with Jens' other assistant, Angela, to make sense of the schematics. In time they became more than partners. By the time Garrett has a prototype for the headset, Angela is expecting their first child. Garrett tries the headset, which wraps around his head, transporting him back to the day Jens died. Were the last twenty years part of Jens' plan? Garrett is about to find out.
This story was full of mystery with surprising twists, though it did read slower than expected.
"The Five Lazy Sisters" by Kathleen Jennings
In this short fantasy, the old woman runs a ferry across the river into the enchanted forest. She hopes to leave the ferry service to her five lazy granddaughters. But the five sisters have other plans, none of which include working for a living.
So the sisters decide to entice one of the charmed rocks to chase them down to the river. During a full moon, they cross the river into the enchanted forest. But the girls are too lazy to be fit, and one by one, they stop to rest, leaving the eldest by herself when she finally reaches the area of the enchanted rocks. Was she fast enough to outrun a rock intent on squashing her?
Told like a fairy tale from yesteryear, the story was entertaining, though too predictable.
"Remembered Salt" by E. Catherine Tobler
Tobler writes this short fantasy with a bewitched house as its protagonist. The house is flying from the birch forest where it lived with its witch. It flies toward the west, searching for the sea, and is drawn by the smell of salt.
Along the way, it has some adventures, crashing into a pine forest and helping a lost girl find her family. When it reaches the sea, it finds other enchanted houses. But each of these has a witch, making the house feel lonely.
The plot was unusual, but the prose labored, making for a slow read.
---
You can follow Kevin P Hallett's writing on www.kevinphallett.com. There are links there to join his mailing list for a weekly newsletter on the recent release of his third novel, Journeyman Wizard.