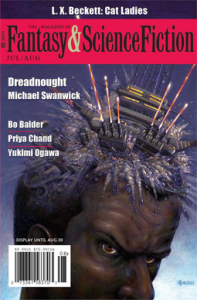 Fantasy & Science Fiction, July/August 2021
"Whatever Happened to the Boy Who Fell into the Lake" by Bob Costello
"Dreadnought" by Michael Swanwick
"Her Garden, the Size of Her Palm" by Yukimi Ogawa
"Tulip Fever" by Bo Balder
"(Emet)" by Lauren Ring
"Cat Ladies" by L. X. Beckett
"The Penitent" by Phoenix Alexander
"And For My Next Trick" by Chimedum Ohaegbu
"How to Train Your Demon" by Lisa Lacey Liscomb
"Woman, Soldier, Girl" by Priya Chand
"Bridge For Sale" by S. Cameron David
"Picass-O-Matic" by Paula Keane
"Minotaur" by Maia Brown-Jackson
"Perdition" by Rowan Wren
"Mamá Chayo's Magic Lesson" by Tato Navarrete Diaz
Reviewed by Kevin P Hallett
The July/August issue of F&SF has fifteen first publication stories, including three novelettes and one flash fiction. As befits such a storied publication, this issue had many worthwhile tales to read.
"Whatever Happened to the Boy Who Fell into the Lake" by Bob Costello
The young boy, Tick, accepts the abuses his father bestows on him in this short fantasy. Tick's mother drowned herself when he was a preschooler, and he still finds himself pulled toward any body of water. When in elementary school, he jumps into the nearby lake, letting the darkness pull him down in the hope of joining his mother. He loses consciousness and reappears days later, hundreds of miles away.
As a preteen, Tick finds a book of tales in the library, and one tells the story of a silkie trapped by a man and forced to give birth to a boy. The silkie's curse damns the father and the boy to eternal failure. The tale matches Tick's life, but could his mother be such a mythical creature, and if she is, how can he find her?
The author found a way to tell this tale from a new perspective. Its character-centric plot was hard to put down. And as the ending approached, it made a fishhook turn.
"Dreadnought" by Michael Swanwick
This short fantasy happens in current time where Luke is a dropout from society. He sees things others don't, including some of the worst aspects of humanity. And he is visited regularly by an old priest who is a Righteous Guardian intent on helping him before Judgement Day. But Luke is lethargic and finds the world too demanding, preferring to study the endless patterns of the clouds.
The priest has a helper, Cthulhu, who is not what he seems. And when Luke does engage him in conversation, Cthulhu claims he is a Recording Angel from Hell, waiting for humanity to become weak enough for Judgement Day. One day the priest has a heart attack, and Luke has an opportunity to turn his own life around and save humanity.
"Dreadnought" is a curious tale that hides its purpose in a familiar tale until the twists come fast at the end. It asks the question, will you be ready when you get a chance to make a difference?
"Her Garden, the Size of Her Palm" by Yukimi Ogawa
After her father squandered her college fund on gambling, she gets a job as a gardener in this short SF. Grandma owns the garden and fails to tell her that it was in another dimension. But then Grandma forgets to tell her many things.
Doing the various chores for Grandma exposes the girl to many dangers, and in time she gets a chance to escape if she wants to. The problem is, who can she trust in this alien dimension where nothing is what it seems to be at first?
This story recreated the protagonist's confusion in the prose, letting the reader discover the new world as the girl did.
"Tulip Fever" by Bo Balder
Jones is determined to get off an environmental slat in this SF short set over a century in the future. The slat collects micro-plastics from the Pacific, and her grandpa Opa rules the slat with an iron hand. Jones believes he plans to sell her either into slavery or medical research to extract her plastic-fever immunity.
When strangers come to visit the slat, Jones wonders if this is the end for her. She sees Opa negotiating with them. The visitors watch her closely, maybe too closely.
This tale was an interesting cli-fi story with a human element.
"(Emet)" by Lauren Ring
Chaya works at a company that builds face recognition software in this SF/Fantasy novelette. Chaya's mother gave her the ability to create golems she uses to do her household chores as she works to debug the surveillance programs.
New laws allow face recognition to eliminate undesirables, and Chaya's company is under contract to provide the latest version. Chaya is only a small cog in a big engine, or at least that's how she justifies her participation in this attack on human liberties.
Then she meets a targeted protestor. Now things aren't so removed from her sensibilities, and she remembers some of her mother's sage advice. But the software will be released in a few days, and she can't stop it. Chaya needs to think outside the box.
The author paced the story well, making it a pleasure to read.
"Cat Ladies" by L. X. Beckett
The author sets this SF novelette in a future where humanity is giving back the small towns and villages to nature. The world climate crisis has decimated the population, forcing drastic measures. Yet still, people are not always adjusting willingly.
Into this mix comes Zoey, a policewoman assigned to a mobile unit that uses advanced biology to de-urbanize towns. She wants to escape from this mobile unit but needs to improve her social scores first. The carbon cost determines every action. And this has meant that pets are not allowed without a medical need.
When evidence surfaces that someone is 'printing' cat food, Zoey begins an investigation. But her actions quickly run into complications that adversely impact her social scores.
This was an intriguing vision of the future with a society made up of women only. But the plot lacked direction at first, and the prose felt contrived rather than engaging.
"The Penitent" by Phoenix Alexander
The Middle Consciousness wants to correct a wrong in this peculiar short fantasy. In one of its manifestations, the Middle Consciousness destroyed someone. Now it reincarnates itself in the same dimension, trying to stop the murderous event of its own doing.
Time and again, it comes back as something; a bird, a plant, or a friend. Time and again, it fails. But it has all of time to try.
The story kept its intrigue until the end and made for an entertaining read.
"And For My Next Trick" by Chimedum Ohaegbu
Adachukwu is reminiscing about her friend Penny in this short fantasy. She wakes up on a bus with parts of her body slipping in and out of sight. Is she dreaming, or is her knee sliding into another dimension? While she struggles with what she perceives, she hopes for reconciliation with her estranged friend of three years.
As she tries to escape from the bus, all Adachukwu's memories of undergraduate studies with Penny plague her mind. Why did their close friendship end? Slowly she begins to see the genesis of why they drifted apart, and Adachukwu sees a way back. If only she can get off this bus.
This story was light on the speculative elements and tended to dwell on the same point for several paragraphs, tempting the reader to skim ahead to find the plot progression.
"How to Train Your Demon" by Lisa Lacey Liscomb
Liscomb sets this short fantasy in a typical home where Edie, a lonely widow, lives. Edie buys a rare book of the occult and summons a demon who she decides to call Gus. She didn't need a demon and didn't believe it would work. But here he is, and she asks him to move some boxes before feeding him tea and cookies.
Later, back in Hell, Gus finds himself perplexed. She didn't summon him to kill anyone or wreak mayhem like people usually did. When Edie summons him again, he rakes some autumn leaves, and she rewards him with apple cider and pumpkin pie—both new experiences for the Scourge of the Nine Hells.
Gus could not say why, but he was beginning to hope that Edie summons him again.
Every so often, a charming story comes along; one with a touch of humor and a dose of empathy. When it does, the reader can sit back and enjoy the entertainment.
"Woman, Soldier, Girl" by Priya Chand
Chand's short SF story describes a farm girl, Panaki, whose country is taken over by the Empire. Panaki fought in the special woman's division and saw many of her friends killed. To survive, she works as a cook for an Empire family, lying about her participation in the recent war.
Every day she does her work as diligently as she can. She hears rumors of rebels forming in the north to fight the Empire as the people starve. Still, she does her best. And then one day, her bosses discover her past, and they fire her. Now she is free to pursue other goals.
The plot did not have an ending. It was as if you joined a five-act play in the second act and walked out before the final act. Overall, it left a sense of incompleteness.
"Bridge For Sale" by S. Cameron David
Marcus encounters a woman who wants to buy the Brooklyn Bridge in this flash SF. Marcus is never one to look a gift horse in the mouth, and after setting a price and signing some fake deeds, he's a quarter-million richer. But when the bridge disappears the next day, Marcus is glad he used fake names and addresses; at least until he finds unexpected visitors in his kitchen.
This was a short and amusing snippet of a tale.
"Picass-O-Matic" by Paula Keane
This short SF describes a future where robots perform plastic surgery on a conveyer-belt setup. The robot does whatever it says on the docket regardless of the need. None of the patients are perfect coming in, or perfect going out. But at least they are more homogenized. After all, the robot isn't a Picasso.
And then it encounters one symmetrically perfect patient. The robot dithers; can it damage such beauty? It decides on a different change, and the patient is ecstatic. Maybe the robot is an artist after all.
This story was an unusual version of the all-too-common plot about the consciousness of AI.
"Minotaur" by Maia Brown-Jackson
Keket and Cassandra seem destined to come together in this short fantasy. Somewhere in the universe, in a place called Eden, they appear in different lifetimes. Sometimes alone, sometimes with others.
Then in one lifetime, they appear at the same time. Now, the two women must find each other in the maze before the Minotaur does.
Luckily the magazine included an explanation for the plot; otherwise it would be hard to fathom the purpose of this short story.
"Perdition" by Rowan Wren
She is the Devil's daughter in this short fantasy. Born from a slither of his rib bone, she is welcome in Hell, loves her father, and would do anything to please him.
One day, after her father sends her up to Earth, she falls in love with a woman. And though she feels fulfilled, she knows it cannot last. After all, she is immortal, and her girlfriend is good and not destined to reside in Hell.
The story's prose is good, making it easy to read, though its plot lacked depth.
"Mamá Chayo's Magic Lesson" by Tato Navarrete Diaz
Celestina has just come to realize her magical abilities in this short fantasy. The little girl can ask the wind and trees to help her, just so long as she doesn't demand it.
It is time for her to learn the rules of witchcraft, but her mother is no longer there to teach her. So it falls to her grandmother to tell her a story of a witch that forced nature to his will and the consequences he bore.
This was a quiet and unusual tale of witchcraft that left the reader hoping for more tales about this young witch.