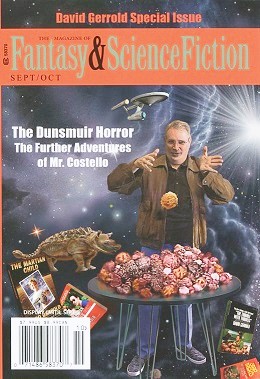 Fantasy & Science Fiction, Sept./Oct. 2016
"Those Shadows Laugh" by Geoff Ryman
"Talking to Dead People" by Sarah Pinsker
"The Green-Eyed Boy" by Peter S. Beagle
"The Voice in the Cornfield, The Word Made Flesh" by Desirina Boskovich
"A Melancholy Apparition" by Ian Creasey
"Anything For You" by Lisa Mason
"Cupid's Compass" by Leah Cypess
"The Sweet Warm Earth" by Steven Popkes
SPECIAL DAVID GERROLD SECTION
"The Further Adventures of Mr. Costello" by David Gerrold
"The Dunsmuir Horror" by David Gerrold
Reviewed by Clancy Weeks
Another of F&SF's feature issues, this one spotlighting David Gerrold, it comes with far more ups than downs. Like most issues, several of the stories share a common theme—though told from far different perspectives.
Dr. Valdez has just arrived on the island nation of Colinas Bravas to save the women there from extinction. In "Those Shadows Laugh" Geoff Ryman gives us an alternate universe where a previously unknown species of homo reproduce through parthenogenesis. Men not only aren't needed, they are not wanted, but there are dire genetic consequences for any species attempting to reproduce with such a limited gene pool. With this as a backdrop, Valdez finds she is attracted to Evie, her host for her stay on the island. What happens is almost inevitable.
Ryman does yeoman work exploring all the facets of such a society, presenting not just a rosy picture, but one with a distinct siren call. Life comes down to want vs. need, and in the society we know, want becomes own. Most often the things we want most are the things we can't have. A good story with a good message.
Gwen is very good at working with her hands, while her college roommate, Elizabeth Mint, is better at manipulation of people. What Eliza really excels at, though, is her study of unsolved murders. The two strike a business deal where Gwen builds models of "murder houses" and Eliza creates the AI software to answer any question about the crime in the character of those involved. It sounds complicated, but in "Talking to Dead People" Sarah Pinsker makes it remarkably clear. Everything is going great, until Eliza makes a special present for Gwen.
There's a lot under the hood here, and Pinsker explores a it in a relatively short space. Like the Lizzie Borden murders, though, we are left with more questions and no clear answers. Is it horror? Science Fiction? A murder mystery? Who cares? Very good stuff.
In "The Green-Eyed Boy" by Peter S. Beagle, we have the story of Nikos the local Wizard, who has been asked to take a young Schmendrick as his apprentice. The boy, though born with great power, lives up (or down, depending on your point of view) to his name. The difference is that the boy is far from stupid, and he will soon teach his master an important lesson.
This is a well-designed tale of what it takes to become great at something. Told by the old wizard himself, I kept expecting a payoff with the name of some uber-wizard the boy would become (Merlin was my first thought), but Beagle fools me and leaves it hanging. What he does instead is teach—the path to greatness is not lined with our successes, but our failures. Well-told.
"The Voice in the Cornfield, The Word Made Flesh" by Desirina Boskovich is another one of those stories I wish I had written. A creature has crash-landed on Earth, hurt and alone with no way home, it calls for help. The first person who hears it dies horribly, but others eventually heed the call. It doesn't go well, but, hey… third time's the charm, right? Keep hold of that number three as you read this tale of new beginnings.
The women in this tale are all broken in some way, but from their failures, greatness will be born. There's enough religious symbolism here to keep the reader looking for even deeper meaning. Good stuff.
Ian Creasey's "A Melancholy Apparition" is not your average ghost story, though it could certainly pass for one. Dr. Samuel Johnson and James Boswell (the real-life people upon whom Sherlock Holmes and Dr. Watson are based) discover a friend with a gambling problem also has a ghost problem. The story is told in first person in true Arthur Conan Doyle style by Boswell himself, and is one that never made it into the great man's biography. What is the going price for entry into Heaven?
The writing style of the story is what sold me, sounding every bit like the Holmes tales I remember reading in my youth. The plot, though thin and with little action, is buoyed by great storytelling. It's not often writing just feels right.
"Anything for You" by Lisa Mason is a near future SF story of Willem's obsession with Dr. Virginia Isley. She is not his wife—or even his girlfriend—but a fictional character in an interactive television show. For Willem love is all about control, but he soon finds that some people—real or not—refuse to be controlled.
Mason does a masterful job here telling this in the form of a television script, including the plot options Willem is allowed to choose. I kept expecting something a bit deeper, but it was an enjoyable read nonetheless.
"What's love got to do with it?" Apologies to Tina Turner, but with "Cupid's Compass" Leah Cypess makes a valiant attempt to answer it. Julie and Steve (with some prodding by Julie's sister) decide to fall in love. A quick trip to Cupid's Compass takes care of the messy emotional attachment part, but it seems planned obsolescence has made it even to the matchmaking game.
This is a cute story with a deep concept hiding in the weeds. I once had a boss tell me "perception is reality," and Cypess makes the case here better than he did. Are feelings real even if they've been implanted? Other stories have explored similar questions regarding memories, and we're left to wonder what's real and what's not. Well done.
Larry Mulcahey, an enforcer for the mob, makes a new friend in a business where friendships are both fleeting and dangerous. Antonio Bernardi has a special skill, and one which could get them both in trouble. Antonio, you see, can talk to horses—specifically racehorses. In "The Sweet Warm Earth" Steven Popkes explores an unlikely friendship that is tested beyond one man's breaking point.
I loved this story. Not because of the noir-style storytelling (which I happen to like) but for the underlying themes of promises made vs. promises broken. Every promise has a price, even if the promise is unspoken. The scene near the end was heartbreaking. Popkes makes me want to read more.
"The Further Adventures of Mr. Costello" by David Gerrold takes the villain from Theodore Sturgeon's novella "Mr. Costello, Hero" and uses him both as antagonist and plot device. Costello has come to Haven to hunt horgs, a particularly nasty beast that travels in herds, is omnivorous, and though as large as a rhinoceros is Haven's apex predator. The ecology of Haven, like any planet, is delicate and interconnected, and the same holds true for Haven's culture. What's the best way to restore balance? Tip the scales.
Told in a first person narrative (please, for the love of all that's holy—name the damn character up front!) our POV character is the new member of a contracted family, and while she knows there's something off about Costello, she doesn't feel comfortable speaking up. When she does find her voice, it is almost too late. The world Gerrold builds is detailed to the point of rococo, but all of that is necessary to get to the meat of the matter. I leave it to the reader to decide the true apex predator in this tale. Top-notch world building and storytelling. Recommended.
David Gerrold's second entry, "The Dunsmuir Horror," is a stream of consciousness fever-dream of a horror story told in the form of an extended personal letter from Gerrold to F&SF's publisher, Gordon Van Gelder, with an attachment by Dr. Morgan. Morgan is Gerrold's psychiatrist/keeper in the hospital where he is being held. The titular Dunsmuir is a haunted town on the way to Portland that disappears and reappears at will in an attempt to ensnare liars and thieves to consume. The letter is a plea for Van Gelder to investigate the place to see if it is real.
I could write another thousand words describing this story, and still not do it justice. Just know a master has been at work and leave it at that. On a personal note, I understand now why it is so difficult to break into the pages of F&SF, and am not sure (assuming the truth of Dr. Morgan's missive) I really want to. Just be sure to stay away from the color green.
---
Clancy Weeks is a composer by training, with over two-dozen published works for wind ensemble and orchestra—his most recent work, "Selene," was premiered in Houston on April 3rd, 2016—and an author only in his fevered imagination. Having read SF/F for nearly fifty years, he figured "What the hell, I can do that," and has set out to prove that, well… maybe not so much. His first short story, "Zombie Like Me," will appear in an upcoming issue of Stupefying Stories, and is currently writing a serialized novel, Sleepers, for Channillo.com. He resides in Texas with his wife and 9-year-old demon spawn, but don't hold that against him.