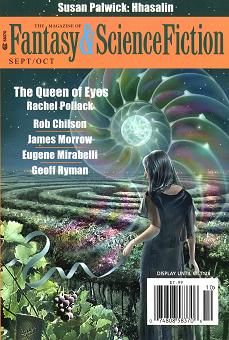 The Magazine of Fantasy & Science Fiction, Sept./Oct. 2013
"Hhasalin" by Susan Palwick
"Myphone20" by Robert Grossbach
"The Queen of Eyes" by Rachel Pollack
"Un Opera Nello Spazio" by Oliver Buckram
"The Collectors" by Albert E. Cowdrey
"The Shore at the Edge of the World" by Eugene Mirabelli
"Affirmative Auction" by James Morrow
"After The Funeral" by Daniel Marcus
"The Game Room" by KJ Kabza
"Rosary and Goldenstar" by Geoff Ryman
"Bemused" by Marc Laidlaw
"Half as Old as Time" by Rob Chilson
Reviewed by Chuck Rothman
Fantasy and Science Fiction has come up with a strong issue for its September/October offering.
Susan Palwick starts it off with "Hhasalin," the story of Lhosi, a member of a race of aliens with the ability to create things out of thin air. Lhosi is limited in what she can do, and is weak and childlike, but is part of a human family that took her in from the equivalent of an orphanage. Her family is kindly, but she starts to discover the dark secret under which her race has suffered. Lhosi is a fascinating character and very sympathetic; the slow unveiling of the situation and her reaction when she discovers the truth make this a strong beginning to the issue.
The mood lightens a bit with "myPhone20," where a grandfather struggles to keep up with his grandchildrens' technology. They have to have the latest and greatest, the myPhone20, which offers all the features they might want, and then tease their grandfather about his reluctance to move with the times. But then the phone begins to have problems. . . . Robert Grossbach expresses the "kids these days" mentality of some older people, and the story is light and entertaining and maybe just a little bit of vicarious revenge for the older generation.
Rachel Pollack contributes a first-class fantasy in "The Queen of Eyes," a story of Jack Shade, one of the Traveler's Aid Society – which, despite its mundane name, deals with supernatural events. He's something of a detective, and when a woman comes to him to report her mother is missing, he quickly realizes her mother is the Queen of Eyes, with the ability to see everything at once, and a major power in the world. The story describes Jack's search for her. It's filled with imaginative details and characters, treachery and mystery and is spellbinding from start to finish.
We next move to the purest space opera in "Un Opera Nello Spazio" – yes, an actual opera . It's a synopsis of an opera set on a spaceship, where Orlando the orangutan longs for Flora, a human. Arias are mentioned (I was especially tickled by Allarme Ross! (Red Alert). This is the type of story that is either a tour de force or which fails utterly, but Oliver Buckram avoids the potential pitfalls to create an entertaining diversion.
"The Collectors" is a story about a bit of Nazi war booty that makes its way to modern day New Orleans. It's a monstrance, stolen from a church by Hermann Goering, ends up in the hands of Alvin Hymel, who, years later, decides it's time to cash it in. Albert E. Cowdrey often writes of New Orleans, and this turns out to be a lighthearted horror story, as Alvin discovers that it's best to do the right thing.
I've known Gene Mirabelli for many years, taking a creative writing course from him in the 1980s. At the time, he was unsure of how the group would handle science fiction and fantasy, and I'm delighted that he's been publishing in the genre. "The Shore at the Edge of the World" is a quirky story about a man who shows up at a fishing village and who may be a messenger from the gods, warning the villager that the world is going to be round, not flat. He starts interacting with one of the families there in a story that is full of subtle wonders.
"Affirmative Auction" is typical Jim Morrow: a strange situation described with a deadpan matter-of-fact voice. This is about a spaceship that lands at a slave auction in Charleston in 1801 to lecture against slavery. The reaction is not what might be expected in a situation like this. It was a pleasure to read the story, and I enjoy Morrow's style, but I'm not really sure what he is trying to say here.
"After the Funeral" of her husband Robert, a college professor, Alice Osseuse goes home and tries to think about what to do next with her life, when she is visited by one of his students, Professor Sam. Sam is an uplifted dog, whose work Robert used to further his own career. Daniel Marcus writes about the weird relationship budding between the two. Good characterization and an ending that is ambiguous but funny and satisfying.
KJ Kabza's contribution, "The Game Room," deals with strange doings in a family's house: things start to happen. Rooms go missing, and strangers show up, confused that things have changed around them. Levi and his siblings try to make sense of it all. I thought there was a lot of imagination in the use of the random elements, and the story is generally about moving on and letting go of the past.
"Rosary and Goldenstar" starts out with some tenuous speculation. It appears that two relatives of Tycho Brahe visited England in 1592; their names were Rosenkrantz and Guildenstierne, and it's possible that Shakespeare knew of them. Geoff Ryman spins out a yarn from this thin cloth. The strongest part is the depiction of the confusion caused by a language barrier, but most is just philosophizing and playing games with the concept. Despite its attempts to say something, the story is very slight.
"Bemused" by Marc Laidlaw is a nice fantasy adventure, part of a series about Gorlen the musician and Spar, who's a type of gargoyle referred to as a Goyle. Gorlen is taken to a castle where he is asked to play, but beneath the merriment there is a dangerous threat. The story juggles its elements well and shows a good deal of imagination.
Rob Chilson shows a vision of far future humanity in "Half as Old as Time," where Wrann has journeyed long distances to the Last City to find Crecelius, the Last Man, an almost godlike immortal. The story slowly reveals the reason for the quest. I like the sense of hidden superscience and the personality of Crecelius, as well as the atmosphere of the city whose only inhabitant is an immortal who has seen it all.
The magazine, as usual, shows high quality throughout and the stories were all a pleasure to read.
---
Chuck Rothman's novels Staroamer's Fate and Syron's Fate were recently republished by Fantastic Books.