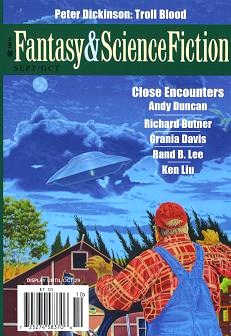 Fantasy & Science Fiction, September/October 2012
"Close Encounters" by Andy Duncan
"The Sheriff" by Chet Arthur
"12:03 PM" by Richard A. Lupoff
"The Goddess" by Albert E. Cowdrey
"Troll Blood" by Peter Dickinson
"Father Jupiter's Journey to the North" by Grania Davis
"A Diary from Deimos" by Michael Alexander
"Where the Summer Dwells" by Lynda E. Rucker
"Theobroma Valentine" by Rand B. Lee
Reviewed by Barbara Melville
This issue of F&SF offers an eclectic mix of fiction, ranging from the outright hilarious to the sombre and hard hitting. There are one or two stories that don't deliver on their promises, but overall the material is strong.
The issue opens with Andy Duncan's "Close Encounters," narrated by Buck Nelson, a 1950s contactee. Despite once sharing his uplifting stories of extra-terrestrials, Buck has since lost faith in doing so. He's stirred by the arrival of Miss Priss, a young reporter who convinces him to explore his experiences once again. The narrative weaves the frosty experiments of a research team with Buck's fun, playful recollections.
The story excels due to this playoff between the coldness of truth and the warmth of the preposterous. Duncan gets the balance spot on, and the result is a hopeful, intelligent, and authentic-sounding story. There is one disappointing caveat, however; Miss Priss has little motivation of her own, and alas, she falls shy of being as convincing as Buck. But this is a minor point I can forgive, and I'd urge you to do the same.
"The Sheriff" by Chet Arthur has a similar issue but with more unfortunate consequences. Living in the Old West, Jimson is a 10-year-old psychic who rightly predicts the death of the town sheriff. When another sheriff arrives in his place, Jimson assists in investigating the death of the predecessor. This story did nothing for me: while the prose isn't poor per se, the supernatural element is sparse and verging on pointless. Sadly this isn't the only problem. Extraneous characters and actions are scattered throughout; distracting particles which fail to enrich the world.
Richard Lupoff's "12:03 PM" follows on from the infamous "12:01 PM" and its sequel "12:02 PM." Myron Castleman lives his life trapped in a time loop. The story begins with him visiting a psychiatrist, and like many of his actions, it isn't the first time. The story explores the possibility of his time loops existing outside of him, as part of an unsettling bigger picture. This is light and entertaining and offers interesting food for thought surrounding free will and control. But while I enjoyed the plot, I found it difficult to care for Myron or his predicament.
"The Goddess" by Albert E. Cowdrey begins in 1859, before the abolition of slavery. It tells the story of two friends, Justin Lamarck and Canesh Srinavasan, and their quest to make their fortune. This is beautifully written with some clever touches, with all plot strands tying up into a strong, satisfying resolution. However, the idea of calling this fantasy troubles me somewhat. The fantastical element is thin on the ground and not really necessary.
I wish there were more stories in the world like Ken Liu's "Arc" – it is rich and soulful, resonating in both the mind and the heart. Lena Auzenne is one of the first to experience extended youth, keeping her at the physical age of 30 for decades. We learn her life story, through her teenage cravings for freedom, her unsettling work humanising corpses, and the loves and losses of a life lived long. It's impossible not to care for Liu's characters. This is a beautifully-written story about freedom, control, and the different ways we grow. Stunning.
Another story which will stay with me is Peter Dickinson's "Troll Blood." Mari is a young researcher of Old Norse, with a curious family history. She develops a friendship with her professor, marries the love of her life, and through these relationships she explores her ancestral connections. This is a heart-warming fantasy story of love, trust and honour, held together by lush, sophisticated prose. My one criticism is it jumps about geographically, making is a bit hard to follow at times, but overall this is a beautiful story.
I wanted to love "Give Up" by Richard Butner – after all, the concept of installing a virtual Everest dome in your garden is one of genius. But, I'll have to settle for liking it. The narrator, Jim, has bought himself the dome as a birthday present. He sets off on his journey, pushing himself through the various feats of extreme mountaineering. As his ascension progresses, his reality begins to warp, and the challenges come from within.
Butner explores the idea of mountains as cruel anomalies operating outside the rules. An example of this is the strewn unburied corpses of failed attempts, acting as warning markers to new climbers. This is a thought-provoking element, but it is touched on rather than fully explored in this story. The result is in a puzzling and unfulfilling conclusion.
A story that delivers as promised is "A Diary from Deimos" by Michael Alexander. The Martian colonies are at war with Earth over taxation: Mars attacks Earth, Earth attacks Mars, and so on. Imagine, if you can, Mary Chestnut's Civil War diaries… in space. Now make them witty and mischievous. This is well-crafted and paced, with a masterful handling of subtext – a tricky feat for a diary narrative. I dare anyone to read this without laughing from start to finish.
Lynda E. Rucker's contribution is dazzling and nostalgic. "Where the Summer Dwells" is a note-perfect story about the nature of friendships and time – and in the case of viewpoint character Charlotte, this is catalyzed by a striking supernatural idea. If I say anymore on the premise it could spoil it, so my lips are sealed, but rest assured this is worth reading.
And finally, "Theobroma Valentine" by Rand B. Lee is difficult to engage with. Set on a space station orbiting Theobroma – so named for its chocolate plantations – the story tells the tale of Tularoo, a therapist whose sessions are going awry. The story is world-driven, and doesn't make a great deal of sense. It's like the author picked every immiscible alien-sounding concept he could think of, forced them in a blender and forgot to close the lid. The result? A mess. It's not that this author can't write – he can. But with the gaping holes in the plot, an unfortunate stockpile of unnecessary characters, and other cosmetic inconsistencies, I'd have to say this story is a write off.