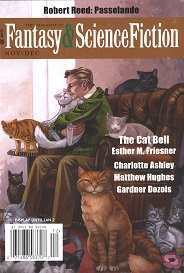 Fantasy & Science Fiction, November/December 2016
"The Cat Bell" by Esther M. Friesner
"The Farmboy" by Albert E. Cowdrey
"Between Going and Staying" by Lilliam Rivera
"The Vindicator" by Matthew Hughes
"The Place of Bones" by Gardner Dozois
"Lord Elgin at the Acropolis" by Minsoo Kang
"Special Collections" by Kurt Fawver
"A Fine Balance" by Charlotte Ashley
"Passelande" by Robert Reed
"The Rhythm Man" by James Beamon
"Merry Christmas from All of Us to All of You" by Sandra McDonald
Reviewed by Bob Blough
The final issue of F&SF for the year 2016 has a little bit of everything—writers who frequently appear in this magazine, such as Robert Reed, Matthew Hughes and Albert Cowdrey, newer writers such as Lilliam Rivera, Minsoo Kang, and James Beaumon, along with a sprinkling of those who you don't see as often in this venue such as Gardner Dozois, Sandra McDonald, and Esther M. Friesner. It turns out to be a good balance in many ways.
Esther M. Friesner starts it off with a fairy tale based on Puss n' Boots called "The Cat Bell." This concerns a famous actor at the end of the nineteenth century and his love of cats. It is told from the viewpoint of his pinched, mean cook who is in love with her master. She hates cats and hates having to feed them every night—all 19 of them. Each cat has a bell around its neck. But the cat bell is what the cook uses to gather the cats for a meal. Inevitably Puss n' Boots shows up and works his inevitable charm on the household. The cook receives her heart's desire in a way that gives her just desserts as well. Fun and a well-rounded main character make this most enjoyable.
An SF story is next with "The Farmboy" by Albert E. Cowdrey. It is a straight enough story of betrayal on an alien planet. A team of scientists land on a planet that is soon to be colonized. While doing their testing they find gold on the planet—enough to make them rich if only a few return with it. This leads to a fairly obvious plan to steal the gold, strand most of the team on the planet and then of course get rid of the conspirators. We have seen this plot in so many westerns—The Treasure of Sierra Madre comes to mind—and there is no interesting scientific details to suggest it even needs to be SF.
Fortunately the next story is fascinating. A look into the Mexican custom of having a weeper at a funeral. They weep at funerals and sometimes dress up like the person who is being buried. "Between Going and Staying" by Lilliam Rivera is set in a future when simulacrums can be taken off and put on at will. Dolores uses this technology to become one of the highest paid dolientes—or weepers—in the world. She is called back to perform at her ex-lover's funeral in the town she grew up in. The town and characters are deep and lovingly drawn. The complications between family members and the life making decisions made at a time of crisis are well presented. This is a very mature piece of work.
Matthew Hughes has been writing stories set at the end of the world since he started publishing many years ago. These are in the vein of Jack Vance and his Dying Earth Series. "The Vindicator" concerns a discriminator (private investigator) who is caught up in a situation with the thieves' guild, the vindicator guild and a young girl who has knowledge of both in a story that admirers of this series will enjoy.
Gardner Dozois is one of SF's greatest short fiction authors. He has written more stories that I hold close to my heart than almost anyone else. He hasn't written much in many years because of his editing work. So, I was very pleased to see a new story called "The Place of Bones" in this issue. It is a fantasy story (or perhaps a sly SF one) about the Dragonlands that can only be reached at a specific time of year through a specific pass in the Alps. This is a very short tale and not really too important. However, the writing is excellent and a doodle from a master is still pretty darn good.
The next story is literally about two people sitting down and talking to each other. The situation put forth in "Lord Elgin at the Acropolis" by Minsoo Kang is that a very famous painting has been replaced with a fake. At least according to the greatest art critic of the land. A detective and a novelist discuss what might have occurred. They come up with some interesting SFnal ideas but it is still just two talking heads.
Kurt Fawver is a new writer to me but what an excellent story to be introduced to him. "Special Collections" is set in a library that has an other-worldly special collections section on the third floor. The three rules of the special collections area are laid out for the reader throughout the story, beginning with: 1) don't go into special collections without a partner. It gets stranger and stranger from there as we see librarians becoming less than human in their desire to discover what this special branch if the library really is. Is it haunted? Is it a portal to another dimension? Is it aliens? Mr. Fawver has written a scary yet humorous story about an odd expedition into the unknown.
"A Fine Balance" by Charlotte Ashley is a twisting and turning political story where the politics are based upon duels. These duels–especially the best duelists in the two countries at war–determine which country is more powerful, richer and contented. However, a new idea is challenging this form of political decision- making as the two female duelists at the top of their form prepare to fight each other. This was well written and quite enjoyable.
Robert Reed writes a lot of short stories. Most of them of very high quality, but in "Passelande" he has outdone himself. This is a sneaky story concerning Lucas Pepper. Lucas lives in a time just years ahead of ours in which the world is falling apart outside the town of Passelande. The plot is complicated and concerns identity as people have backups who, if given a body, are almost as real as the progenitors themselves.
I read it twice. I thought it was excellent on the first read but the second solidified it as absolutely first rate. It has all the echoes of great Gene Wolfe stories but remains completely Reed's.
A well done deal with the devil story is next. A blues man in the change-over from the sound of blues to be-bop in the forties searches out and finds "The Rhythm Man." He is searching for his authentic song. The prose is thick like good stew and the ending is unexpected. James Baemon has written a fine short story using this worn out theme.
Satire doesn't always work. It is hard to maintain the correct tone all the way through a piece. Sandra McDonald has pretty much handled that trick in "Merry Christmas from All of Us to All of You" as we see a corporatized North Pole with only capitalistic dreams in its heart of coal. It is funny see how many stories, songs, and characters from beloved Christmas specials you can name, and incisive as Christmas becomes less and less about love and more and more about money. It is nothing new, of course, but this is a good addition to the argument.
So, a varied lot of stories this month. I'm sure there is something for everybody.