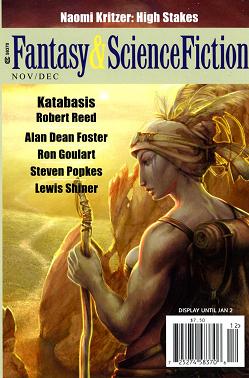 Fantasy & Science Fiction, November/December 2012
"Katabasis" by Robert Reed
"High Stakes" by Naomi Kritzer
"The Problem of the Elusive Cracksman" by Ron Goulart
"Claim Blame" by Alan Dean Foster
"Application" by Lewis Shiner
"Breathe" by Steven Popkes
"The Ladies in Waiting" by Albert E. Cowdrey
"If the Stars Reverse Their Courses, If the Rivers Run Back from the Sea" by Alter S. Reiss
"Waiting for a Me Like You" by Chris Willrich
Reviewed by Barbara Melville
Set in his Great Ship universe, "Katabasis" by Robert Reed confronts the perils of immortality. Katabasis is the central character, an immortal alien who guides hikers on extreme high-gravity treks. At first she is wary of Varid, a human hiker with extended life, and the survivor of a near-fatal accident. To Katabasis, this makes him neither mortal nor immortal – one of several intriguing themes in the story.
This novella is clever and touching, with excellent characterisation. Katabasis has several human traits despite her alien designation, and Varid is the opposite, resulting in a gripping dynamic.
The first of three novelettes in this issue is "High Stakes" by Naomi Kritzer. The narrator is Rebecca, a teenager living on an artificial island. A reality TV show starts filming there, casting light over the libertarian frameworks in operation, and resulting in a story about truth, lies and the loopholes in between. While this story is strong thematically, the writing is so-so. Rebecca's narration is overloaded by too much telling, reams of convenient dialogue, and zero style. I wanted to get inside Rebecca's head, but I didn't get to – instead I got an author's puppet, directing plot here and dialogue there.
The second of the novelettes is "The Problem of the Elusive Cracksman" by Ron Goulart. Set in 1901, detective Harry Challenge is hired to solve what appears to be a supernatural diamond theft. This is another story which cuts me in two – it's good but it's not great. The writing is competent, and Harry Challenge is an amusing character, but a predictable and unsatisfying ending lets it down.
The third and final of the novelettes is "Heaventide" by KJ Kabza, set in a fantastical alien world. The main character, Daybreak, lives in a village where females stay home to nurture, and males go out hunting and travelling. But Daybreak wants to travel too, and is prepared to suffer for her dreams. This story is intelligent and sublime – a powerful combination. Sophisticated prose and imagery are delivered through haunting, beautiful descriptions of Daybreak's attempts at freedom.
In Alan Dean Foster's "Claim Blame," miners Peter and Patrick are in dispute with some gnomes over ownership of a gold mine. The miners hire mountain man Amos Malone, a mysterious adventurer who has the power to call upon the supernatural. This is a cautionary tale full of adventurous fantastical language and clichés. This is funny in places but irritating overall – I'm surprised I managed to stick with it.
"Application" by Lewis Shiner offers a short dialogue between a computer and its former user, Sam, who is suffering at the hand of financial problems. This is a taut and powerful tale, but it's too short. A longer, richer narrative could've escalated it from good to brilliant.
"Breathe" by Steven Popkes is another of my favourites. Brothers Will and Brandon have inherited a form of vampirism from their father – the ability to steal physical qualities from others. Will has asthma, taking the breaths of others only when he must. Brandon is a doctor, and questions the rights and wrongs surrounding this trait. These questions become more significant when they learn their father is replenishing his life at the cost of others.
This is a brilliant premise, raising compelling philosophical questions. This story is also an exemplar for dialogue, with all conversations delivering character as well as plot.
"The Ladies in Waiting" by Albert E. Cowdrey is set in Mississippi, where a haunted B&B call upon the paranormal investigation services of Jimmy and Morrie. Thematically, this story is excellent, with the bigotries of the town's past providing the real ghosts. But I found the narrative stretched, even with its vivacious characters. Extraneous detail is the likely culprit – this story could've worked at half its length.
The penultimate story is "If the Stars Reverse Their Courses, If the Rivers Run Back from the Sea" by Alter S. Reiss. Colonel Andier uses magic to go back in time and take on an old rival – but his rival has the same idea. This is a well-executed story. The writing and plotting are intelligent and assured, but originality is where it shines – quite a feat when the subject matter is time travel.
The final story is "Waiting for a Me Like You" by Chris Willrich, and another of my favourites. Bob Mendezes attends a job interview for a multiparallel corporation. But in a multiverse, this isn't the first time this has happened, and so he must contend with his own worst enemy – his other selves. If you've ever managed to dig yourself into a hole during a job interview, you'll love this story. It offers a fun and quirky end to the issue.