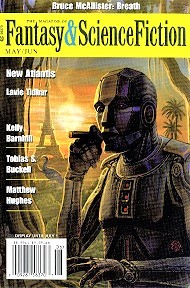 Fantasy & Science Fiction, May/June 2019
"The Abundance" by Andy Dudak
"Thirty-Three Wicked Daughters" by Kelly Barnhill
"Breath" by Bruce McAllister
"New Atlantis" by Lavie Tidhar
"The Moss Kings" by David Gullen
"How to Kiss a Hojacki" by Debbie Urbanski
"Second Skin" by Pip Coen
"Sternutative Sortilege" by Matthew Hughes (reprint, not reviewed)
"The Fourth Trimester Is the Strangest" by Rebecca Campbell
"Apocalypse Considered Through a Helix of Semiprecious Foods and Recipes" by Tobias S. Buckell
Reviewed by Jason McGregor
This issue of F&SF is markedly populated by familiar, ideological, misanthropic, underplotted stories which tend to focus on dysfunctional spouses and parents. One of the few exceptions (though a little cynical about human nature, itself) is a reprint of an obscure picaresque fantasy and it's also the best story in the issue, though a few others have their points of interest and elements of merit.
"The Abundance" by Andy Dudak
A man with many names and none is observing life on a remote world when some people show up. It turns out they're all veterans of an imperial war and the man with memory issues is running from his dark past, among other things, while the new arrivals may make that difficult. Meanwhile, there is much speculation on the spread of life.
This is a hard-to-follow story (or a story that didn't succeed in engaging me) despite the basic character and plot being overly familiar. Despite the editorial blurb talking about "optimistic visions" I think this is a problematic vision, at best. It shares some motifs with the author's own "Fool's Cap" (Clarkesworld #129, June 2017) including dealing with war criminals, having sympathy for devils, and not giving the warmest of welcomes to the reader, but the earlier story's challenges were much more bracing and rewarding.
"Thirty-Three Wicked Daughters" by Kelly Barnhill
A society is run almost exclusively by vicious and stupid men. The exception is the king, who is a kind and stupid man. He has thirty-three amazingly intelligent and beautiful daughters who improve society whenever it will let them, which isn't often. When the barons feel especially threatened, they seize the daughters. The king's feeble efforts, an army of street urchins and, of course, the daughters must work to turn the tables.
Even though we never get past a large contingent of "A"s, there are too many daughters who are too similar and very little plot is stretched out for too long (attaining novelette length with room to spare) with too ham-handed a delivery of its gender concerns (which apparently left no room for any truly fantastic elements). Its saving grace is an effort to deliver all this with a sort of humor though the success of even that will be in the eye of the beholder.
"Breath" by Bruce McAllister
This 1500 word follow-up to "DreamPet" (F&SF Nov./Dec. 2015) begins as a fishing story, transforms into fantasy, and then mutates into SF. Through it all, it's about an infertile couple seeking at least a partial solution. It's well-written but since "infertile couple substitution" stories are surprisingly common, it might have worked better as just a fantasy, and some may find the solution problematic. It could definitely work for others, though.
"New Atlantis" by Lavie Tidhar
To paraphrase Mai's own words, she receives a message, goes on a journey, encounters loss, finds love, and then comes back. "That is the story. Everything else, as the old poet once said, is just details." The message is that her historical talents are desired because a VR habitat has been found and the journey is across the Mediterranean and what was France to what was England in a post-collapse climate-changed world. Detailing the loss and love would be spoiling.
And, oh, what details. Twenty-three thousand words of them! I found the constant characterization of the human species and our technological society as, for examples, "weeds" and "hubris" and "litter" offensive and the story otherwise bored me to tears but, for those who appreciate the ideology and/or revel in these sorts of slow discursive tales (and don't mind them turning into fantasies at the end) they may enjoy this story quite a bit. As they may have enjoyed recent Finbarr O'Reilly stories in Clarkesworld or "Breakwater" in last year's Tor.com or countless other similar stories.
"The Moss Kings" by David Gullen
Alunan isn't sleeping on watch, no ma'am, when an emissary of the Moss Kings arrives with dire news which must be transported to a nearby village: the sacrifices have been chosen. Alunan is charged by the Abbess with carrying that news and learns about the battle between the mysterious tyrannical Moss Kings and the people whose well-being is dependent on satisfying them.
This is very nicely written on a line basis (elevated but still vigorous), the process of revealing the milieu always shows just enough to keep the reader oriented but wanting more, and it has a decent plot-skeleton of the observant boy's growth and implied future, but the skeleton is too much just that and isn't sufficiently fleshed out, leading to a slightly underwhelmed feeling after what had been a captivating read.
"How to Kiss a Hojacki" by Debbie Urbanski
People are changing and not fitting into previous categories. One wife is becoming a hojacki, which is to say an asexual strangely colored silent being. The husband is not pleased. We follow his attempts to have sex and hers to avoid it, played against the background of a gubernatorial election in the future which is, down to near-quotes, obviously partly the presidential election of 2016.
Other than the overt political addition to the obvious social metaphors which helps extend this to novelette length, this is exactly like the same author's "Some Personal Arguments in Support of the BetterYou (Based on Early Interactions)" (Strange Horizons, November 5, 2018) in being an overlong underplotted offputtingly narrated story of a repugnant asexual wife and a repugnant husband and their repugnant relationship.
"Second Skin" by Pip Coen
A retired farmer tells us the part-fantastic, part-horrific tale of how he took on a strange apprentice and how her powers were both manifested and thwarted. As nicely written as "The Moss Kings" and with more impact but overly confusing in its depiction of mental manipulation, yet overly transparent in its social messaging.
"The Fourth Trimester Is the Strangest" by Rebecca Campbell
The editorial blurb aptly describes this as "postpartum horror" and, if you're interested in such a thing and don't mind a lack of any Fantasy and Science Fiction, this tale of a mother's madness may seem effective (or unappealingly "swirly" and overly reminiscent of last issue's "Playscape") but, otherwise, it's very hard to slog through.
"Apocalypse Considered Through a Helix of Semiprecious Foods and Recipes" by Tobias S. Buckell
I don't recall Samuel R. Delany's "Time Considered as a Helix of Semi-Precious Stones" well enough to be certain but it appears this story has nothing to do with it beyond twisting its title. This short story depicts five "varieties of dystopian experience" (to twist another title) which we've all experienced before. The section headings list the food item each is centered on (a device probably most often found in Lightspeed), and is more of a mood piece with a message than a story with a plot.
---
More of Jason McGregor's reviews can be found at Featured Futures.