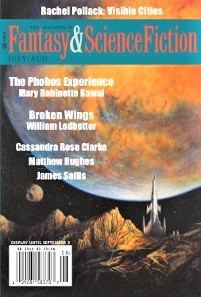 Fantasy & Science Fiction, July/August 2018
"The Phobos Experience" by Mary Robinette Kowal
"The Prevaricator
" by
Matthew Hughes
"The Queen of the Peri Takes her Time
" by
Corey Flintoff
"Freezing Rain, a Chance of Falling
" by
L. X. Beckett
"The Adjunct
" by
Cassandra Rose Clarke
"Visible Cities
" by
Rachel Pollack
"Bedtime Story
" by
James Sallis
"Morbier
" by
R. S. Benedict
"Hainted
" by
Ashley Blooms
"Broken Wings
" by
William Ledbetter
Reviewed by Kevin P Hallett
The July/August issue of F&SF has ten first publication stories, including one novella and four novelettes.
"The Phobos Experience" by Mary Robinette Kowal
Kowal's SF short is set in a neutral Martian colony. A visiting Air Force general recruits Darlene to be the launch expert for a mission to Phobos to explore the caves there for a possible military outpost.
Initially things go as planned as she and two others land on the small dusty moon. But when they enter the first cave they run into something they hadn't expected and quickly find themselves in a struggle for survival.
This was an interesting throw-back to the science fiction style of a few decades ago, though it was not long on thought-provoking ideas.
"The Prevaricator" by Matthew Hughes
This short fantasy tells the story of Alphronz, a successful conman. Alphronz learns at an early age that people made unhappy will pay to feel good again. As he grows up, his schemes grow in sophistication as well as in risk versus reward.
But, when he decides on a new scheme to impersonate a wizard's henchman, things begin to get too complex and eventually they spin out, well beyond his control.
An interesting plot that maintained a good pace until the end. Included in the story were some intriguing pieces with a pleasing touch of humor at the expense of the misguided Alphronz.
"The Queen of the Peri Takes her Time" by Corey Flintoff
A Formula One driver is the Queen's current lover in this short fantasy. After a short, but torrid, love tryst with her, he promises on his heart to remain faithful to her. Now, years later he realizes that he didn't keep his promise, and the Queen of Peri is coming back soon to claim her price.
The driver seeks the advice of a previous lover, Faiz, who is now a one-handed grandfather. Faiz's advice is to seek out a Djinni who can guide him. But can the F1 driver follow the Djinni's cryptic advice and preserve his heart?
This was an interesting tale that read easily and engaged the reader's imagination.
"Freezing Rain, a Chance of Falling" by L. X. Beckett
Beckett's science fiction novella is set in a future Toronto. Drow makes his living through social media points, the more 'likes' he gets the more he can spend those 'likes'. One day, his balance is wiped out when the public believes he's to blame for an attempted suicide by a popular female musician.
Drow is doing any menial task to help people, and earn back some points, when he encounters an old baby-boomer artist. She promises him a chance to get back into the good graces of the social network. All she asks is for him to be a part of her next artistic project.
But her art is only limited by what she can get away with, and she has a rather broad imagination. Soon, Drow finds himself in a cat and mouse tangle, where each side out-maneuvers the other for brief intervals. Can Drow survive this bizarre art of the counter-punch?
This was an intriguing take on what can happen when social prestige becomes the measure of influence. The novella had room for many twists and the author did not disappoint. Though slow in the early going, the story is well worth the effort to read to its final fast-paced climax.
"The Adjunct" by Cassandra Rose Clarke
This short fantasy describes an adjunct professor, Alina, struggling to teach her students a new research citation method her faculty chair requires students to follow. The citation rules are bizarre, even to the point of being intentionally obscure so nearly all students lose grade points.
The faculty chair admonishes Alina for not teaching the new method, telling her that all students must follow it or be given a zero grade. Later, a more seasoned adjunct professor suggests that she visit the college library's restricted area to learn the source of the citation rules. Here, Alina finds the original basis of the method and she also finds the demonic reasoning behind the insistence on using it.
This was a curious short story, nicely structured and engagingly written.
"Visible Cities" by Rachel Pollack
This is a fantasy novelette about Carolien, Jack Shade's partner. Carolien is recruited by the Travelers and meets her Teacher. For almost three years she is trained to be a Traveler, then suddenly her Teacher vanishes.
Carolien sets off to visit each of the Visible Cities to try and locate her beloved Teacher. It is a long journey of discovery and understanding, but in the end what she learns leaves her profoundly changed.
This was a prequel to the Jack Shade series but deals with another key character in the series. Knowledge of the series wasn't needed to enjoy this story with its own mysteries of the Travelers.
"Bedtime Story" by James Sallis
Jim returns to his old hometown in this SF short set in a forlorn future. An alien virus is killing all warm-blooded life and now Jim is coming home to pick up the body of his close friend Edgar.
Humanity's reaction to the Billybobs is critical to our chance to fend off this slow and relentless destruction.
This story nugget was well developed. The engaging plot left many questions for the reader to grapple with.
"Morbier" by R. S. Benedict
Benedict's SF short reveals a woman, Mara, who dreams she is from the future and even claims to have a dormant implant from that time. With no idea where she comes from, Mara gets a job as a waitress at a country club.
She becomes the favorite server of a difficult, but extremely rich, customer. Somehow, her fate is tied to this billionaire and his obnoxious son.
The story was difficult to penetrate at first, but then the pace picked up and the mysteries grew into a complex web that pulled the reader through the story.
"Hainted" by Ashley Blooms
Dallas, an eleven-year-old miner's daughter, the protagonist in this short and engaging fantasy, is searching for her father's haint in the coal mine where he works. The mine has changed her father into a meaner man who takes it out on her mother. Now Dallas is being helped by another miner who assures her that finding her father's haint will lead to the return of her loving dad.
Dallas and the miner travel two miles into the mine, and she must work to earn the right to find her father's haint. She perseveres, driven by what she learns from the haints of other miners. But what she finds in the end will change her perspective on both her father and what the mine does to those who work in it.
This was a story that grabbed the reader from the start, a delightful and unusual tale that had a thought-provoking end.
"Broken Wings" by William Ledbetter
This SF novelette is set on the Martian moon of Deimos where Marcie is a space traffic controller. It is the perfect job for her since she lost the use of her legs. When Bernard's ship swings around Mars in a hurry, Marcie fears that her friend is running from the local pirates.
She meets Bernard at a hanger, where he shows her a strange artifact he discovered in the asteroid belt. But before they can determine what to do, the local customs inspector surprises them, and soon events spiral out of control. Marcie must show her true feelings as she finds herself in a fight for her and Bernard's lives.
An interesting action-packed SF yarn that avoids all the clichés often associated with such stories.