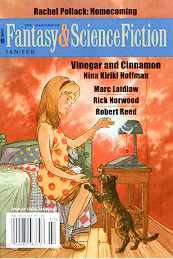 Fantasy & Science Fiction, January/February 2017
"Vinegar and Cinnamon" by Nina Kiriki Hoffman
"The Regression Test
" by
Wole Talabi
"A Gathering on Gravity's Shore
" by
Gregor Hartmann
"Homecoming
" by
Rachel Pollack
"One Way
" by
Rick Norwood
"On the Problem of Replacement Children: Prevention, Coping, and Other Practical Strategies
" by
Debbie Urbanski
"Dunnage for the Soul
" by
Robert Reed
"Alexandria
" by
Monica Byrne
"Wetherfell's Reef Runics
" by
Marc Laidlaw
"There Used to be Olive Trees
" by
Rich Larson
Reviewed by Kevin P Hallett
The January/February issue of F&SF has ten first publication stories, including one novella and four novelettes.
"Vinegar and Cinnamon" by Nina Kiriki Hoffman
Hoffman's fantasy novelette is set in a land of magic. Sam's little sister, Maura, is a young wizard protégé while Sam has no magical abilities. One day, in revenge for a prank he pulls on her, Maura transforms Sam into a rat. Too angry to remember her spell she can't transform him back and he escapes her attempts to hold him while she searches for the reverse spell.
Hiding in their home, Sam explores his new life as a rat. He discovers that he now has some magical abilities and uses them to make his life comfortable. But his parents and sister continue to search for him. Finally, their love pulls him out into the open and Maura is able to transform him back. However, he maintains a couple of interesting rat abilities.
This was a story that worked well told in the first person. Filled with humor and pathos the author pulls the reader quickly through the fantasy to the conclusion. It was an enjoyable novelette to read.
"The Regression Test" by Wole Talabi
This short SF story tells the story of Titilope, an elderly woman conducting a regression test of her mother's AI persona. Over the last forty years, her mother's AI may have deviated from the original and her daughter's job is to find this out. As she asks questions of the AI all seems normal until she finds an obscure line of questions that reveal tampering. But it isn't a safe discovery; billions are dependent on her finding nothing different.
An interesting plot that got a little bogged down in the middle with all the technical language. But the intrigue kept the interest going through to the end.
"A Gathering on Gravity's Shore" by Gregor Hartmann
Frandon returns in this science fiction story. Despite being an outsider to the elitist Uphelds, a friend invites him to an Upheld party. At the party, all the Upheld social groupings reject him. So he befriends a strange woman. Their conversation touches on the political pressures facing their planet.
Frandon finds himself revealing more than he learns. But when he shows his true concern over the excesses of the Upheld, she comes to his aid. Only then does he discover that she is an important member of the Uphelds and she invites him to a future Upheld soirée. Before leaving the party, Frandon leaves a subtle artistic jab at the excesses of the Uphelds.
Describing Frandon's situation mired the story's opening. It lacked the punch to engage a reader not familiar with this saga. For those following the adventures of Frandon, this story offers further insight to his character, for others the story may appear to be an insipid glimpse of another world.
"Homecoming" by Rachel Pollack
"Homecoming" is a fantasy novella that sends underworld traveller Jack Shade on a quest to rescue the missing part of a woman's soul. Unable to refuse the mission, Jack finds himself facing increasingly complex challenges. He fights through each level to reach the hidden place that contains the lost part of her soul. Along the way, people warn him many times to turn back, but he pushes on with a single-minded determination. At the last challenge, he discovers how much trouble he has caused. He has released an evil and ruthless being that is now walking the non-magical world because of him.
Jack needs time to find a way to reverse the damage, but in three days the unleashed monster will reach full power. Finding an ally isn't easy, he has a less than stellar relationship with his fellow travellers. Moreover, is there anyone that he can trust?
Finally, he pulls in some favours from those who owe him. However, along the way, he discovers that he is not in control. Someone is pulling the strings and more lives will need to be lost before he can restore order.
Pollack has written an interesting episode in the Jack Shade saga. The novella had room for many twists and the author did not disappoint. The writing craft had an easy flow so that the tale was hard to put down. Previous knowledge of Jack Shade was not required to enjoy the story.
"One Way" by Rick Norwood
This science fiction novelette describes a new discovery, a force field that only allows particles to pass through in one direction. Harvey, the theorist joins up with a practical physicist and an engineer to build the first unidirectional force field. The result is a small loop that constantly blows out air.
Flushed with his success, Harvey envisages a curved field, one that can be bent into a sphere. Too late, he realises that his creation is a sphere that allows particles to pass in, but none can pass out. Effectively a man-made black hole.
Uncontainable, it drops towards the Earth's center, eating its way through the dense layers. Gravity causes it to oscillate across the Earth's center, threatening to eat the entire planet. Harvey and his team have to find a way to stop the sphere when it returns, but how can you stop something that absorbs anything it touches?
This story raised some interesting ideas, though the SF genre has seen many of these doomsday discoveries. The action was engaging, but the description of their attempt to stop it was long and stopped the story's flow. The end was sudden and lacked punch.
"On the Problem of Replacement Children: Prevention, Coping, and Other Practical Strategies" by Debbie Urbanski
This is a short fantasy about unresponsive children replacing normal children overnight. No one knows where the original child goes or where the replacement comes from. The parents must find a way to reduce their expectations and do what they can for their replacement. Some abandon the child, others give them love, and nearly all shun public appearances. Rarely does the original child come back.
In this tale, it was easy to think of the replacement as a euphemism for autism. As such, the story can easily grab the reader as a way to see the challenges faced by a parent. However, the story dragged through the middle parts as it repeated similar habits in the replacement children and the sense of hopelessness in the parents. Not a bad story, but not very engaging either.
"Dunnage for the Soul" by Robert Reed
The story's protagonist is dunnage, as in he has no soul, as in he has no measurable PES. In this SF novelette, a scientist has discovered a way to 'see' Persistent Electrical Signatures that exist in most people. And that's the problem, because most people, means some people don't have PES.
When public opinion equates each person's unique PES with a soul, those without are labelled soulless, inadequate, or dunnage. After his PES-endowed girlfriend rejects him, the protagonist slides rapidly down the social scale. Working at a veterinarian hospital, where he has to euthanize PES-less dogs, he starts his plan for the revenge of the dunnage.
Reed's novelette introduced some thought provoking ideas. The story telling was engaging and made it a pleasant read.
"Alexandria" by Monica Byrne
Byrne's SF short shows a woman, Beth, who mourns her dead husband Keiji. Her friends and family can't understand why she married outside her culture, and they can't understand the quiet depth of their love. As naive newlyweds, they'd travelled to Egypt to see the great lighthouse at Alexandria, only to find it had been destroyed seven hundred years before.
Now, Beth is having a replica built. Like the Taj Mahal, it will be a memorial to her lover. Through the next few hundred years, it too becomes a wonder to anyone hearing of it. Near its top, Beth found a way to immortalize their love of fifty years.
The story moved along at a steady pace. It flowed easily and was an entertaining read. There was no great use of science or fantasy, nor much of a mystery. It was more of a warm story to read on an autumn porch or by a winter's fire.
"Wetherfell's Reef Runics" by Marc Laidlaw
Ambrose, the protagonist in this short mystery, receives a box of abandoned books from a local hotel. When he finds a strange book, written by a recent victim of a suspicious suicide drowning, he is intrigued to solve the mystery of this death. Digging deeper, he finds an ex-school chum turned local thief was the dead man's native guide, not a wise choice by the writer.
Returning to the location where the writer was chained to an underwater rock formation, Ambrose finds the evidence he needs to understand exactly what happened.
Laidlaw spins enough intrigue in this story to keep the reader engaged. The pace was good as the protagonist sorted through the evidence and his own biases to determine what had happened underwater at the hallowed rock site. A nice read.
"There Used to be Olive Trees" by Rich Larson
This SF novelette reveals a future world where advanced science looks more like magic, even to those who use it. Valentin is a prophet initiate, given one of the town's two precious implants that should allow him to communicate with the town's advanced computers–what the people believe to be gods. First, he must prove that he has the ability to make the god do something he wills.
After three failures, he fears the town will rip out the implant and give it to another, so he flees into the wilderness. Here a young wildling, Pepe, captures him. Pepe is looking for someone who can help his group activate a fabrication computer. After some trials, they become friends. Initially, Valentin is still unable to communicate with the fabrication machine. With encouragement from Pepe, he is able to crack the god's shield, and once inside learns secrets that change his entire outlook. He must decide if he is willing to defy the gods.
An interesting new look at a bleak future where advanced computers control humanity. The pace was fast and the mystery well developed. Throw in a few action scenes and the story flowed quickly. A well-written and engaging story.