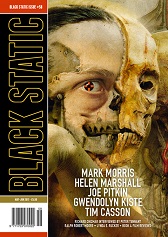 Black Static #58 (The 100th Issue), May/June 2017
"Holiday Romance" by Mark Morris
"
The Process of Chuddar
" by Tim Casson
"Nonesuch" by Joe Pitkin
"Survival Strategies" by Helen Marshall
"Songs to Help You Cope…" by Gwendolyn Kiste
Reviewed by Valerie A. Lindsey
Mark Morris' "Holiday Romance" has a title that belies the horror Skelton finds when he goes to a boyhood hotel at a beachside town to reassess his marriage and his life. The first inkling that something is wrong is when a town policeman questions his identity as body parts found on the beach match his DNA. Next, he meets a mysterious woman who has the same name as a girl he had a crush on when he first vacationed at the hotel as a boy. When he sees her throw herself off a cliff, he stumbles back to the town to alert the authorities. The policeman informs him that he's been hoodwinked as no such woman is checked into his hotel. The subtle horror gradually builds to a Night Gallery type ending that isn't entirely surprising, but still effective.
In "The Process of Chuddar" Tim Casson weaves a fascinating (though vaguely familiar) story about a young man who discovers a very unique fungus that initially leads to wealth, but eventually to his company being targeted for a hostile takeover by a shadow corporation. His company, the "process," and even his life come under attack by an elusive artist named Miya. Her most recent exhibit strikes close to the macabre secret of Chuddar. Fearful that the process will be exposed and his life ruined, the discoverer of Chuddar decides he has no choice but to accept the 'insulting offer' for his company, but first he writes a complete confession to "the only one I trust" and love…despite his realization that she was likely the mole who exposed his company. He ends his missal with a plea for her to rescue him from the final fate he has planned, so that they can begin their life together. This was an engaging and well-written story that is the second in a planned trilogy that uses the mysterious character of Miya.
"Nonesuch" by Joe Pitkin recounts the peculiar tale of how Jack discovers a quirky town and an old apple farm for sale when he gets lost on his way to a wedding. Looking for directions, he goes into a tavern, but none of the locals can recall how to return to the highway he needs. After attending the wedding, Jack cannot get the well-priced property out of his mind. He cashes in all his retirement savings to purchase the 100 acre apple farm and begins restoring the property on the weekends. He's vaguely troubled by a motley group of strangers who live in the woods on his property, but more disturbed by how his weekly drive back to the city becomes increasingly difficult as the return route keeps changing until Jack gives up and stays at the farm. This is an engaging story with excellent descriptions, but the ending seemed rushed and not as strong as it could have been.
Helen Marshall's "Survival Strategies" provides an excellent snapshot of modern unrest and current real-life horror as a London-based writer flies to New York to meet Lily Argo who discovered the famous horror writer, Barron St. John. Her boyfriend is fearful of her being in New York alone and taking what he perceives as the perilous subway system, but she's interested in learning just how bad the city has gotten. The unnamed narrator ruminates on St. John and deconstructs some of his stories and how one of them seems very relevant to the 2016 U.S. Presidential election. She is looking for a new angle about St John and finds it, but feels it is too personal to expose. The story climaxes when the protagonist discovers the reality of modern horror before boarding her plane. Marshall never provides the name of her protagonist, but does a good job of revealing her history and setting the story up for the sad and horrific ending.
"Songs to Help You Cope When Your Mother Won't Stop Haunting You and Your Friends" by Gwendolyn Kiste creates some of the best descriptions I've read in a long time. The day Leigh and her family bury her mother, she retires to the recreation room her mother, Maggie, made for her so she wouldn't party too hard outside of home. Her best friend, Naomi, arrives with beer and the handsome next door neighbor to keep her company. To her surprise and her friends' delight, her mother's spirit arrives before Leigh escapes too far into a bottle. Before long, the rec room becomes the most popular hangout as everyone wants to interact with Maggie. They liked her in life and like her in death, too. Leigh and her mother's favorite records weave throughout this charming story of a mother who knows what her daughter needs to move on and finally face her grief.