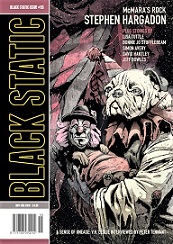 Black Static #55, November/ December 2016
"McMara's Rock" by Stephen Hargadon
"A Home in the Sky" by Lisa Tuttle
"Pigskin" by David Hartley
"Something Deadly, Something Dark" by Bonnie Jo Stufflebeam
"A Very Lonely Revolution" by Simon Avery
"Vaseline Footprints" by Jeff Bowles
Reviewed by Seraph
"McMara's Rock" by Stephen Hargadon
Given that this was the story chosen to headline #55, so to speak, I expected very great things from Mr. Hargadon. He did not disappoint. We are taken to Ireland, and while the year is indeterminate, it's not too far in the past, as cars are mentioned at several points. The titular rock, split in half in times far past, is a spectre, like that of death, shadowing the characters within the story like the Reaper himself: Always present, only occasionally seen or mentioned, and inevitably but a few steps behind.
The story follows two brothers, Jerome and Michael, on whose property the rock rests. There is a lengthy legend given to explain the presence of the rock, well executed, and while much of the story revolves around the brothers, never is the rock forgotten, and it haunts the lives of the two boys. Michael is a quiet, withdrawn boy, skirting the line between sanity and madness for much of his life. Jerome is the opposite, outgoing, constantly chasing after the ladies, lost in a different kind of madness that afflicts quite a few young men in their youth, or so I hear. However, it doesn't take long to find just how disturbed they both are. Ever more withdrawn, Michael clobbers a young girl Jerome had brought to their cottage, purely out of what can only be described as the result of a paranoid persecution complex. Jerome doesn't seem even to be bothered, suggesting Michael have his way with her while she is twitching half-unconscious on the floor. Were that not bad enough, when she wakes, and cries that she will go to the police, Jerome simply slips her some arsenic and buries her in the vegetable garden. Nonchalant. As if one does such labor every day. Michael is appalled, but only because he is afraid "his brother might make him do something he didn't know how to do."
Throughout, the references to Michael's texts, his strange prayers, his muttering, yield an impression of an incredibly disturbed individual, and yet we see not quite as disturbed as Jerome. Not yet. There is plenty of evidence later in the story that this event has catastrophic consequence. While Jerome spends their inheritance, eventually drinking himself out of his mind and into a ditch, Michael delves deeper and deeper into madness, devouring every book, kept company only by the droning of Mrs. Dolan, an elderly woman who takes care of him as best she is able, and the many feral cats that have made his cottage their home. It's during this time that the rock captures Jerome's mind, and in one of his many endless schemes decides to charge admission to viewing the rock. This of course goes over as well as it could, which is not at all. He finds himself shoveling manure for a circus, scheming to make a fake replica of the rock and take it on tour with the circus, and in his drink-addled delirium manages to force himself upon the daughter of the ringmaster, and gets soundly thrashed for his reprehensible conduct. While Jerome wakes up in yet another ditch, Michael is steadily losing his tenuous grasp on reality even further, and his mind is also captured by the rock. It twists and warps the fading sanity of his waking visions, and his desires turn towards the grotesque, fantasizing sexually about his dead mother and his elderly caregiver. It's not long after, as Jerome is cheating and bedding his way into the pocketbooks of women to make his way home, that Michael turns to far darker pursuits, slaughtering a goat and eating parts of it in a semi-ritualistic experiment, thinking to gain the virility of the goat fabled in arcane texts. Not long after, Jerome finally makes his way home, and after a drunken rage pounding on the cottage door, finds his way out to the field, to test the legend and curse of the rock. He passes out between the two halves, only to fall afoul of Michael's panicked madness. When Mrs. Dolan brings her daughter to visit him, the daughter finds not only Jerome's body with his brain scooped out, but any number of just as disturbing elements, such as the goat and the parental bedroom. She falls prey to his grotesqueries, and suffers the same fate as Jerome and the goat. Mrs. Dolan arrives just in time for Michael to offer her the brains of her daughter to eat, claiming it was all for her, so they could live together, forever. She flees, and when the authorities rush to the cottage, they find everything aside from Michael himself, who has vanished. The macabre story ends with another dash of legend about the rock, about how it is cursed. About how it curses anyone who sees it split in half, that it really may not be split at all, finishing on a chilling note. So, there you have it. For me, behavioral and abnormal psychology is not only fascinating, but my course of education. The most chilling part of the story for me is just how perfectly Michael's slide into madness is described. It's also rare to find an author who just takes their time with the story, not rushing it, letting it slowly build so that the mind of the reader does the work of horror. It doesn't rely on shock value or the supernatural to convey the fear, although there are elements of both present. It is the marching inevitability of death and insanity, building and building, that makes this a masterful stroke of the pen, much like the horror stories of Edgar Allen Poe. If you are a fan of horror/weird fiction, which I can only assume you are if you are reading a review of Black Static, this is a must read, and I heartily recommend it. It is by no means a short offering, but don't let that discourage you in the slightest. It is well worth your time.
"A Home in the Sky" by Lisa Tuttle
This offering is set in modern London, and focuses on the life of a middle-aged woman named Cara. The plot seems simple: Cara is desperately looking to buy a house. She laments the years of her youth spent partying and living well, noting that renting a property was a zero-sum endeavor, as fun as it had been. One night when she was out walking, as she often did in the evenings, she is stricken by the sight of a house in the sky, so to speak. There is a moment of dizziness as she strains to make out the details of this strange vision, and she resolves to solve this mystery. What she finds is a garden shed-sized house on stilts, a perfect replica, and yet it is even more special than that. It is an actual house, just smaller, at least on the outside. As she climbs up and sneaks into the house she discovers a young man inside, who tries to sell her the house, albeit poorly. He mostly just succeeds in creeping her out and she leaves. Only out of curiosity, Cara tries to track down the company who was advertising the house plots, only to discover they are no longer in business, and only just a month after her bizarre encounter. She travels back to where she first saw the house, only to find it smaller and less… real. As she pushed her way into it, she found that it was no longer bigger on the inside, and discovers the corpse of the young man she had spoken to before. As she tries to escape in terror, she finds that she is trapped, and cannot get out. Her last dizzy moments are spent frantically trying to call someone for help, as her phone dies. She is trapped in the totally dark wooden box as surely as if it were a coffin… and I suspect that is most likely the point, although I doubt that is the extent of it. It's one of the reasons I really enjoy stories like this: by keeping it mysteriously short and sweet, there are just so many ways this could be interpreted. There are echoes of both American Gods and Alice in Wonderland that blend seamlessly with the author's storytelling. I'd happily recommend this story.
"Pigskin" by David Hartley
This is aptly included in the genre of weird fiction. It starts with introducing Pig, whom the story follows, and then proceeds to detail the lives of Pig and the other animals from day to day, culminating in the sacrificial death of Pig to free the other animals from the predations of the vile and nearly maniacal humans. I admit to having trouble understanding much of the meaning of this offering, which is not a criticism of the writing, but merely an admission. As best as I can tell, it is the story of the animals trying to survive after the humans have abandoned their farm, but I feel that doesn't do the author justice. There are nuances within nuances within nuances, not the least of which seem to be commentary on not only humanity, but the realities of desperation and starvation. It seems to ask the question: "What do you do when everything you knew falls apart, and you are left to make sense of a world that no longer makes any sense?" If there is an answer that the story offers, I confess to missing it. It is nevertheless well-written, and I wish I understood more of it.
"Something Deadly, Something Dark" by Bonnie Jo Stufflebeam
This is a world of impossibilities. The very same unbreakable rule of our world, that all things must end, is merely a guideline of sorts in this world. The land of death has encroached upon the world of the living, and is hungry. The living can cross into it, but may never leave, unless of course they are invisible to the land itself. It has grand overtures to the Underworld of Greek mythology, if not direct references.
The story revolves around three musicians, visiting the land of the dead to cheer a departed relative. It seems that despite the great many things that are quite literally beyond the pale, the land of the dead has a way of making them seem normal, or at least stifle the shock reflex. There are fruits that Taj, the relative, literally grows from the corpses of dead things. These fruits grant those who eat them the experiences and memories of the dead beings, in the form of out-of-body hallucinations of startling clarity and intensity. But as with so many supernatural themes, it does not come without a cost. The fruit changes you, subtly at first, and then more so. It doesn't take long to see that Taj is no longer the same person, and as the story progresses, the question of whether she is even Taj at all is increasingly prevalent. There are even implications that perhaps something else has replaced her, something frightening. Even more frightening is the pull that the land of the dead has for the living. It seems paradoxical, except that anyone who has experienced the loss of a loved one almost always wishes desperately to see them just one more time, to tell them you love them, to hear their voice. It is a feeling beyond words, and one that carries enormous influence over those of us who have felt that loss. I don't know if there is any price we would not pay for that opportunity. Overall the story is slow-moving, but that is necessary to allow for the reader to fully take in all the implications and gravity of this world. There is no climactic moment, no profound revelation. The reader is simply left to ponder the deepest questions of life, death, and existence. In short, it wasn't an easy read, but some of the best ones never are. Definitely recommended to anyone who wants a deep read.
"A Very Lonely Revolution" by Simon Avery
Themes of I, Robot dance with echoes of Ann Rice's ancient vampires in this surprisingly relatable story about the realities of growing old, of missed opportunities and righting wrongs. The story revolves around Tom, whose friend Julian has just committed suicide, and how he deals with the aftermath. He finds a cryptic reference to a company named ISO, and investigates. He finds a woman who seems to understand precisely the kind of pain he feels deep down inside, and claims to be able to cure him of it, for a price. I suspect that he partly still wants to investigate the death of his friend, but the woman really gets under his skin, and he does seem to get lost in the sales pitch. Either way, he drums up the asking price, and ends up meeting four guys with bandages wrapped around their heads, as if they are mummies. There is a heavy possibility that they might just be. They are certainly immortal, and with strange powers. They dive right into his mind, feeling all the memories and pain that haunts him, and then just like that, it is over. He wonders if they even did anything, if his money was wasted. The woman assures him that they will fully refund his money if he is dissatisfied, but is supremely confident that it won't be necessary. Sure enough, he finds out quickly why. There is a woman waiting for him when he wakes up, brought to life by his memories and the power of the strange bandaged men. Apart from being as cold as marble, she is perfect in every way, flawless except for tiny cracks in her flesh, as if she truly was living marble. She is everything he wants and needs, even on levels he isn't fully capable of comprehending. It isn't long, though, before he realizes that something just isn't right, and begins to question things once again. She even becomes increasingly mysterious, disappearing in the night. He follows her, and finds a group of beings just like her. Created. His friend Julian had had a love from his youth created for him, and in the wake of his death, it is dying. Tom finds that many of these beings have been created over time, as the Four travel across the world, across time, fulfilling the "wishes" of lonely and desperate souls. When Audrey, the being created from his memories, realizes the truth of her existence, she becomes angry and finds that in her resolve she has found not only purpose, but Tom realizes that there are no cracks in her skin, and there is warmth in her body. She slips out after a night of passionate sex, so he follows her again, only to discover that she has indeed confronted her creators, and they were not benevolent. He buries her remains, and finds new purpose, resolving to do whatever he can for these beings. The final thought is one of hope, that hard times will always come, but so too will the sun the day after. This is an undeniably profound survey of the meaning of life and humanity, and it is the only story this year that receives my highest recommendation.
"Vaseline Footprints" by Jeff Bowles
If the preceding story was profound, this story is profoundly disturbing. It follows a day in the life of an unnamed, ubiquitously genderless person in a non-descript modern-ish era, who clearly suffers from not only a mental inadequacy, but also multiple diagnosable psychological disorders, not the least of which are evidenced in self-mutilation and schizophrenic grand-scale delusions. Not to mention murderous tendencies and the three dead victims kept in the closet where the individual hangs upside down from a cross, feet pierced.
The story more or less revolves around the nightly "penance" the person inflicts upon themselves, and of the pain caused by the holes in their feet. All in the name of love, and all at the behest of the "boss," which can only be assumed to be the Christian God, or more precisely some psychotic perversion of it. The title is a cruel mockery of a beautiful poem about footprints in the sand, which seems to be the trigger of the psychosis. This piece is, beyond any doubt in my mind, some form of commentary on the human mind and the nature of psychosis, which does have a habit of revolving around misunderstood and/or misappropriated religious ideology. There really isn't a lot to this story other than the perspective of the individual's mind, and I don't think that this is a commentary on the evils of religion as much as it is an exploration of a mind in the grips of psychosis, of which it does an incredible job, if that is indeed the case. It disturbed me thoroughly, but I do believe I would be concerned if it did not.