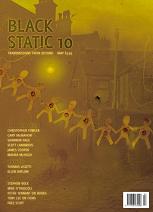 "Piano Man" by Christopher Fowler
"The Chair" by Gary McMahon
"Washer Woman" by Scott Lambridis
"Vic" Maura McHugh
"Because Your Blood is Darker Than Mine" by James Cooper
"Eastlick" by Shannon Page
Reviewed by Bill Ward
In "Piano Man" Christopher Fowler guides us with a sure hand through a post-Katrina New Orleans in which an out-of-town journalist stumbles upon an old grudge, and even older forms of black magic. This tale of voodoo revenge in The Big Easy achieves levels of suspense and an authenticity of voice that would not be out of place in the best noir thrillers, and it's a great way to kick off Black Static's tenth issue.
Gary McMahon's "The Chair" is the creepy, claustrophobic story of Ben; house-bound, medicated, and in thrall to a controlling mother. But the routine of waiting for a father who never returns home is suddenly broken when Ben notices a mysterious, and empty, chair sitting vacant in his neighborhood, a thing which fills him with dread and fires his imagination. A simple tale told with verve and attention to detail that achieves horror through psychological dislocation.
Fusing Irish folklore with the setting of the Vietnam War, Scott Lambridis' "Washer Woman" is a tale of men at the breaking point. But one among this group of beleaguered soldiers – a man obsessed with ancient Irish myth – seems to anticipate every enemy action with his singing. This story is a suspenseful update of the Gaelic folktale of the phantom woman who washes the armor of men who will be slain in a coming battle.
The melancholy horror of "Vic," by Maura McHugh, tells of the titular character's lonely, isolated childhood locked away in his room. Vic's health problems, and his many injuries, aren't at first explained, but the abnormality of his parents and his situation implies the worst. Sneaking out of his house to experience an afternoon of normalcy only reinforces the horror of the terrible trap of the existence to which he must return.
Yet another story from a child's perspective, James Cooper's "Because Your Blood is Darker Than Mine" centers on a pair of siblings in a bizarre family. The boy, Michael, collects dead animals (most often pet hamsters) in Ziploc bags and carries them around in his pockets, and Grandma has made a manikin doll of her long dead husband. While containing strong prose and imagery, the story felt rather shapeless and the whole effect was more one of squalor than of scare.
Finishing up what could almost be the partial theme for this issue, that of childhood and adolescence, is "Eastlick" by Shannon Page. It concerns Laura, a young girl just discovering womanhood – and her own hidden power. And on one Halloween – which also happens to be her birthday – when she finds herself subject to the unwelcome advances of a neighborhood teenager, she finds out just what she is capable of. A straightforward and well-told story of adolescent awkwardness and yearning, but with a dark slant.
Another strong issue, though one in which two of the best stories, Lambridis' and Fowler's, almost feel out of place surrounded as they were with tales of tortured childhoods that, admittedly, started to feel a bit repetitious to me. This issue also includes Black Static's excellent non-fiction in the form of several columns, new items, and a wealth of film and book reviews. Special mention should be made of interviews with horror heavy-weights Thomas Ligotti and Ellen Datlow, both of whom speak about their recent releases and their work in general.