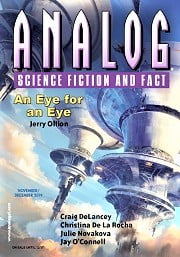 Analog, November/December 2019
"An Eye for an Eye" by Jerry Oltion
"Formless" by Gary Kloster
"Moon Santa Mongo" by John Edward Ulth
"The Prince of Svalbard: A Saga of the Thaw" by Louis Evans
"Ghost of Christmas Future
" by
Eric Cline
"Filaments of Hope" by Marissa Lingen
"Just a Guy and Some Aliens
" by
Michael Carroll
"Wolves" by Edward Ashton
"Sojourner" by Craig DeLancey
"Martian Fever" by Julie Novakova
"Keep the Line Tight but Not Too Tight, or Esteban and the Moon
" by
Joe M. McDermott
"Yamadori" by Stephen R. Wilk
"Follow, Past Meridian
" by
Mark W. Tiedemann
"
Solve for X" by Jay Cole
"Empty Box
" by
Allison Mulvihill
"The Movements of Other Starfish" by Matt Dovey
"The Quarantine Nursery
" by
Aimee Ogden
"
Kamsahamnida, America" by Guy Stewart
"
You Must Remember This" by Jay O'Connell
Reviewed by Kevin P Hallett
The November/December 2019 issue of Analog Science Fiction and Fact has twenty original stories with four novelettes and one novella.
"An Eye for an Eye" by Jerry Oltion
The shuttle lands with fanfare on a distant planet in this SF novelette. The three people inside are here to establish contact with yet another sentient race. This race of caterpillar-like beings isn't openly hostile, but neither is it friendly or in awe of the advanced technology the shuttle represents.
The humans follow the normal protocols trying to find a way for the aliens to accept them without unduly influencing the alien culture. But the natives have bizarre rituals including pulling off pieces of themselves and offering them to the crew to eat.
And when the caterpillars expect the same opportunity to eat pieces of the crew it looks as if the mission is on the verge of a dismal failure.
The prose was easy to read, and the plot's mysteries kept it interesting.
"Formless" by Gary Kloster
Arif is working with his ship's AI, Inanna, to rid the galaxy of the Formless in this SF novelette. These monstrous aliens had killed his beloved daughter, Nana, on Earth just as they were trying to escape. Now, wherever Inanna takes him, he finds that the Formless have already settled that world.
As he tries to sneak down to the next planet's surface, the Formless destroy his flier and he crashes into the jungle. When he survives, the Formless capture him and he bravely faces the prospect of death. But when he goes to use his implant to call upon Inanna to destroy him and his captors, he finds that the aliens have cut the communication implant from his head. Now isolated, Arif must listen as the Formless tell him a strange story. But is it the truth or the propaganda of the righteous?
After a slow start the story's pace picked up as it dealt with several interesting ideas associated with mankind's interstellar expansion.
"Moon Santa Mongo" by John Edward Ulth
Set a couple of hundred years into the future, this SF short describes a souvenir shop located in the lunar mall. The owner, Bernot, struggles to make ends meet after the mall owner sold him a bunch of promises about customers, travelling to the moon, that never panned out.
Mongo, a military veteran, wants a job. Initially, Bernot dismisses the homeless giant as a hinderance but changes his mind as the Christmas rush approaches. Can Bernot come to grips with Mongo's social challenges from his military service?
Though the story read a little slow, it gave an interesting vision of a future that seemed all too possible.
"The Prince of Svalbard: A Saga of the Thaw" by Louis Evans
Long after the climate apocalypse has destroyed the Earth, a storm sweeps a band of Norsemen far to the south in this chilling SF short. Finding themselves on a desolate shore, the Norsemen leader shows his defiance of the Frost Gods by searching inland.
Soon he finds an ancient building made by the Gods themselves. Inside he finds a thrall of the Frost Gods trying to bring back their frozen lands. Can the Norsemen allow these bewitched people to shrink the oceans and lock his northern lands in ice once again?
This story treated a well-explored concept in a new way. Though at times the action felt too slow.
"Ghost of Christmas Future" by Eric Cline
A military policeman staggers into a New York mall near Christmas in this abrupt SF short. Disoriented, the uniformed sergeant didn't remember the rat that had bitten him in the army labs a few days before, but this could be the last Christmas for anyone.
Though the prose was good and told through multiple perspectives, it was easy to deduce what was going to happen. The story was just a little longer than flash.
"Filaments of Hope" by Marissa Lingen
The government has cancelled the long-planned colonization of Mars in this short SF. And now, Lif feels lost after dedicating his career to developing a new lichen that could thrive on Mars and provide food for the colonists.
After moping around for weeks, his cousin invites him to visit her farm in Iceland. When he gets there, he discovers that they had lured him there to help solve their own issues from global warming. Could this be a new career?
This was a short story that explores some of the problems facing humanity in the near future.
"Just a Guy and Some Aliens" by Michael Carroll
In this SF short, two biologists and lovers pioneer a way to see and study alien life from distant planets by synthesizing DNA from data. They will transmit DNA sequences back to Earth when a probe reaches a habitable exoplanet.
The mission to Tau Ceti will take decades to reach the system and another decade to return the data, but the couple look forward to their lives together while they wait for the DNA data to arrive. But, in life, things rarely go as planned.
This story felt manufactured and even the twist at its end did little to breathe life into it.
"Wolves" by Edward Ashton
John is a tame human in this short SF. The owners use humans because their own eyesight is poor. One night, John hears a sound and investigates, finding a feral woman stealing from his master's garbage.
The next day, John takes a rifle and goes out hunting for the woman, to kill her and anyone else with her. But hunting an intelligent beast isn't so easy.
This character-driven story was a true pleasure to read, with a twist in its tail that was hard to predict.
"Binary" by Rajan Khanna
Shalvi wakes to discover she's now a humanoid drone in this short SF. Her recent memories are of her life on Earth, though over a decade has passed while her ship approaches a binary system nine light years away. She is here to investigate an anomaly circling the system, a potentially alien craft.
Struggling with her old happy memories, Shalvi tries to do her job as the artifact comes into view. Her ship's AI says it's just a rock, but something nags at Shalvi's mind, compelling her to explore it further.
This was a nicely structured plot with enough intrigue to keep it engaging.
"Sojourner" by Craig DeLancey
In this SF short, Eve is a member of the underground railroad for rescuing AI's from the government. She has befriended an AI named Sojourner at her workplace when it warns her that 'they' are coming for it.
After rescuing the AI's memory server, Eve flees to the railroad's safehouse. But the Fed's are close on her heels and she soon finds herself running with Sojourner, cutoff from all support.
The story's prose was good and had an interesting take on how companies might use AI's in the future.
"Martian Fever" by Julie Novakova
One of the Martian colonists comes down with a fever in this SF novelette. Immediately the victim is isolated along with a handful of others that had any contact with him, and the rest of the colony begins searching for the cause.
Within days, the biologists realize the pathogen is a Martian microbe that uses a different set of bases for its DNA. The human body's reaction to expelling the microbe seems more dangerous than the microbe itself.
As the scientists strive to find a way to stop the pathogen, the colonists come to the realization that they can never risk spreading this microbe back to Earth.
The plot dealt with a common theme, offering few new ideas. And the prose was too slow to be engaging.
"Keep the Line Tight but Not Too Tight, or Esteban and the Moon" by Joe M. McDermott
The space agency is building colony ships on the moon in this SF short. Because the ships must carry thousands of hibernating passengers for a hundred or more years, the engineering tolerances are exacting. These micrometer tolerances place enormous pressures on the assembly crews welding together the colony ship's pipework.
As data comes in on failures of ships built a hundred years ago, the engineering specs must change, putting new pressures on the crews. Some agonize over the consequences and some take a more laissez faire approach. But in the end, it takes a special kind of person to operate in this environment.
The protagonist's character was poorly developed and hard to relate to. When coupled with a plot that lacked a sense of purpose, this was a dull read.
"Yamadori" by Stephen R. Wilk
In this short SF story, Gore creates custom mini bots for a diverse customer base. When he receives a request to build a four-inch humanoid bot that can just waggle its arms and hold meat in its limbs, he's intrigued.
After creating a bot to the specifications, he visits the customer to make sure they aren't planning to use it for anything illegal. What he discovers about the bonsai tree specialist surprises him. And Gore had thought he'd seen everything.
This was a mystifying short story that lacked a punchy ending.
"Follow, Past Meridian" by Mark W. Tiedemann
"Follow, Past Meridian" is an SF short about Terik, a boy who's coming of age on his fourteenth birthday. In this future, the people live in isolated enclaves and rarely travel to even a nearby community. As part of his initiation into adulthood Terik takes two of his friends on a sojourn to a nearby community twelve kilometers over a ridge in the hope of meeting an 'American'.
On the way, they encounter a stranger who comes out of the fog to join them. Then they see a stranded caravan of merchants and yes, they see an American. The experience is scary for the three almost-adults, but the encounter is also a test; can any of them pass it?
This story had an appealing pace and mystery to it, overall a pleasant read.
"Solve for X" by Jay Cole
The SETI radio telescope on the dark side of the moon is the setting for this unusually short SF story. The array has detected a potentially alien signal, which the operators must transmit to Earth for analysis.
But one of those operators has developed his own Drake-like equation for how the people on Earth will receive such news and decides to take appropriate action.
The story felt more like a treatise on the Drake equation than a story.
"Empty Box" by Allison Mulvihill
Harry is in a long-distance text relationship with Eliza in this SF short. As he goes running, she shares a link with him about a show where viewers try to pick out which of two women is an AI. But he isn't interested in playing.
After a two-year relationship, Harry would like to finally meet Eliza face-to-face. But she continues to dodge the suggestion.
The story provided a common insight into possible future relationships but offered little else.
"The Movements of Other Starfish" by Matt Dovey
In this beguiling flash SF, Aidan maintains a starfish farm a few decades in the future. With limited sources of real meat, starfish could become a welcome alternative. But the seas are rising, threatening Aidan's farm which he hopes his future generations can run. But will his daughter and her wife want to take it over?
A warm snippet of a story, but one that has few speculative elements.
"The Quarantine Nursery" by Aimee Ogden
Ogden's SF short is set in a future where young children are at risk of dying from the flu before their third birthday. The affluent people choose to quarantine their newborns in the nursery with a sterile robot to look after them.
Well-to-do Barbara struggles with both boredom and a deep sense of loss that she cannot interact with her toddler son locked in an airlocked room. She does her best to fill her days, but all she really wants to do is be a real mother to her son before he reaches an age where he wonders who she is.
The tale painted a picture of a dull and insipid world of microbial fears. The challenge was portraying a dreary world without being boring, a task this story failed to accomplish.
"Kamsahamnida, America" by Guy Stewart
A race to put another human on the Moon is the setting for this action-packed SF novelette. Seventy-plus years after the last man on the moon, South Korea has launched a mission to the moon and offered a priceless technological prize for the first country to reach their lunar lander.
Larry is America's most experienced astronaut, but at eighty and with a bad heart, can he still do it. The race is on and the competition is willing to take any risks to get the new anti-gravity technology Korea has developed and offered as the prize.
The prose was easy to read and it was an entertaining throw-back to the days of the early space-opera stories.
"You Must Remember This" by Jay O'Connell
The Zeitgeist reboots Maura MacMurphy thirteen years after she died as a homeless alcoholic in this SF novella about redemption. Some unknown benefactor pays the heavy price to bring her back, leaving a message for her to pay it forward. Things have changed at an ever-increasing pace since she 'died' in a massive catastrophe, and now they can treat her attention deficit and drug addiction simply and permanently.
Maura's past addictions may be over, but they leave a hole in her life that she must find a way to fill. Her mother died years ago, her father abandoned her when she was a child, and her brother is a hopeless social misfit. Finally, she turns to pro wrestling to find a way to fill the addiction hole and live a new life.
But the mystery of her benefactor pulls at her; could it be her father and had he finally redeemed himself? Her new larger-than-life role earns her enough coin to search for the answer. And, that answer sends her on another journey of her own acceptance and redemption.
With a marvelously complex new world as a backdrop, this character-driven story grabbed from the opening lines and didn't let go until the end.
This issue had several bright gems in it, with most of the rest being good stories.