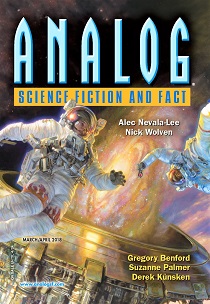 Analog, March/April 2018
"The Spires" by Alec Nevala-Lee
"The Streaming Man
" by
Suzanne Palmer
"Razzibot" by Rich Larson
"The Selves We Leave Behind" by Gwendolyn Clare
"An Incident on Ishtar" by Brian Trent
"The Tailgunner's Lament
" by
Brendon DuBois
"Sicko" by Jerry Oltion (not reviewed – not in genre)
"Car Talk
" by
Mary A. Turzillo
"Frog Happy" by Bruce McAllister
"Sun Splashed Fields and Far Blue Mountains" by Susan Forest
"Lab B-15
" by
Nick Wolven
"Physics Tomorrow" by Gregory Benford
"Big Thompson
" by
James Van Pelt
"The Camel's Tail" by Tom Jolly
Reviewed by Kevin P Hallett
The March/April 2018 issue of Analog Science Fiction and Fact has fifteen original stories with two novelettes. The review skipped one story because it was not in a speculative genre.
"The Spires" by Alec Nevala-Lee
The search for a mysterious city in the sky entices a writer to Alaska in this SF novelette. Russell, and his wife, hire Lawson to fly them to an island in Glacier Bay. Here, they plan to investigate a phenomenon that a prospector first identified a hundred years ago.
Russell sets off down the island while the pilot waits in a cabin with the wife. But a storm puts them all at risk and Lawson confronts Russell's wife over the true story behind the seeming apparition and Russell's quest to solve it.
The prose was easy to read, and the plot's mystery pulled the reader through the story. The speculative elements are light, but overall an engaging story.
"The Streaming Man" by Suzanne Palmer
Rohn is a conflicted man in this SF short. He has developed new implants that transmit sound signals as the body moves. Rohn shares, on social media, the sounds from thirty implants in his own body.
But in a world where everyone has an opinion, his feed develops a massive following and some extreme reactions. He finds his life is in danger as he becomes trapped between his followers needing the feed and others determined to stop him permanently.
This was a very topical plot that was interesting in its pertinence to today. A little slow, but also a nice take on the current state of social media.
"Razzibot" by Rich Larson
In this near future SF short, Marisol has just received a razzibot for her fourteenth birthday. The razzibot follows her all day and night, filming her and streaming the feed to social media.
At first the experience is uplifting for Marisol as her following grows slowly. But Marisol would prefer not to share her parents' marital struggles. Yet this is what her followers most crave. Is there a happy compromise between her need for attention and her need for privacy?
Larson's tale was a short and well-structured story that was easy to read.
"The Selves We Leave Behind" by Gwendolyn Clare
Clare's SF short is set on a distant planet inhabited by a hive civilization. When bipedal aliens arrive, the hive must scramble to understand their intent.
At first, the indigenous race tries to offer the invaders peace, but the aliens seem to rebuff the attempt. Can the hive find a way to avoid entering war with the more technologically advanced race?
The tale was a fresh and entertaining take on the well explored idea of alien invasion. Overall the story was a worthwhile read, though a little slow.
"Beek" by Tom Ligon
Louise is a beekeeper for the Whitehouse, in this SF short. When the President shows interest in how a hive works, she gives him a guided tour.
POTUS asks several penetrating questions and Louise describes how the Queen bee isn't the leader, but rather a servant of the hive. It is the unselfish work of all the bees that manage the hive for the better good of the hive. The President is amazed, realizing that his traditional view is wrong. But his interest has an important reason behind it.
This story revealed some interesting facts about bee hives and how they function. The prose was easy, but the speculative aspects were light and only revealed at the very end of the story.
"An Incident on Ishtar" by Brian Trent
People, and most other things, scare Melissa in this short SF tale. She flees the over-populated Earth to serve on Ishtar, a station floating in the clouds of Venus. Here, she tries to avoid any close human interaction.
That is, until a deadly Venusian storm creates havoc on the station, causing it to separate into several self-sufficient parts. Melissa develops a way to find a section of the station that is lost. She has her own reasons for rescuing the inhabitants of the lost section. But unknown to Melissa, or most of the other colonists, an advanced adversary is playing out a deadly plot.
The prose was okay, but the story lacked an engaging plot.
"The Tailgunner's Lament" by Brendon DuBois
In this SF short, Russell, a B-29 tailgunner, sees a strange and fast moving bright light following his bomber during a night mission over Tokyo. His report comes to the attention of Colonel Harmon, the intelligence officer.
The tailgunner finds a kindred spirit in the Colonel; they are both avid fans of SF pulp fiction. The Colonel confides in Russell that the bright lights are foo-fighters, visiting the Earth to study humanity's progress during the world war. The Colonel decides to get Russell transferred to a safe desk job. But can the tailgunner survive what may be his last combat mission as the war against Japan nears its fiery conclusion.
This was a story that was very hard to put down. It was a story that enthralled, but its premise wasn't a very original one.
"Car Talk" by Mary A. Turzillo
Hannah runs out on her boyfriend, in this SF short. They had argued over their choices for presidential candidate. And now Hannah finds herself in her autonomous car, determined never to go back.
Exasperated at her breakup, she gets into a conversation with the car's AI. Can a car be a good therapist or counselor?
This was a short and intriguing story that mixed some of today's polarizing concerns in a future setting.
"Frog Happy" by Bruce McAllister
Schoolboy Marcus can't wait to go hunting for frogs in this short SF story. He isn't mean to them, he just loves seeing them and catching some for his aquariums.
Marcus begins seeing some strange creatures, ones with similarities to the creatures he knows, but are somehow wrong. Slowly the news gets out about how people all over the world are finding unusual creatures. Where did they come from and why are they here?
This was an easily read story that left its central mystery until the very end.
"Sun Splashed Fields and Far Blue Mountains" by Susan Forest
In this SF short, Karen and her husband, Michael, must pay for an experimental liver transplant. The cost is prohibitive and Karen frets over paying the installments even as Michael balks at the burden it places on their finances.
Finally, Karen has pulled all the strings she can, and Michael undergoes the surgery. But when the doctor offers her an intriguing alternative to paying, should she take it, and if she does what will be the consequences?
The story packed intrigue and danger throughout. It was almost painful to read through the couple's struggles but impossible to put down as the reader waited for all the shoes to drop.
"Lab B-15" by Nick Wolven
Jerry Emery is the director of research in this SF novelette. His team is searching for a way to scan the brain of a deceased person into an electronic neural network. Jerry's rich sponsors pressure him for results, so they can live forever.
Today seems like any other as the research team fails to find the final solution. But today, one member of his team warns the director that something strange has happened in Lab-15. Others on his team echo the warnings, though none will expand on what it is. Finally, he visits the lab himself and what he finds there mystifies him though it could offer a solution to the problems.
The plot could not sustain this length of story. It was slow and offered very few innovative ideas in an oft-explored SF scenario.
"Physics Tomorrow" by Gregory Benford
Humanity has solved the problem of transmitting gravity waves in this SF short. And scientists can now modulate those gravity waves to communicate with other sentient beings across the galaxy and even the universe.
Being able to transmit means we can also receive messages. It is like being able to hear after being deaf, the universe seems to be full of benign messages or pleas for help.
Benford formulated this story as a scientific article. It was interesting to explore these ideas, but much of the material was hard to grasp and overall the story lacked any pull beyond revealing the consequences from being able to create gravity waves at will.
"Big Thompson" by James Van Pelt
In this SF short, a survivalist mother has several run-ins with the law and others when they trespass on her property. She is quick to anger and has a shotgun always at the ready by the door. What then will happen when newly arriving benign aliens choose to first visit her small cabin beside the Big Thompson river?
This was a short and easy story to read.
"The Camel's Tail" by Tom Jolly
"The Camel's Tail" is an SF short about a family owned space exploration enterprise. Struggling financially, the family has enough funds for one last trip to the L4 location to search for anything of value.
As they search, on the other side of the Solar System, an alien craft is diving towards the Sun, seemingly out of control. The strange craft emits evidence that it runs on antimatter, a technology far beyond Earth's capabilities. The chance for a massive payday seems out of the family's reach, until the alien craft begins to make some very unusual maneuvers.
This story started and maintained a fast pace. Overall an engaging tale.