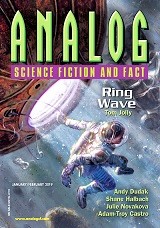 Analog, January/February 2019
"Ring Wave" by Tom Jolly
"Love in the Time of Immuno-Sharing" by Andy Dudak
"A Message from Our Sponsor" by J.T. Sharrah
"The Last Squirrel Keeper" by Shane Halbach
"All the Smells in the World" by Julie Novakova
"The Umwelt of the Shark" by John Alfred Taylor
"Forever" by Mary Soon Lee
"Clockwork Cataclysm" by Edward M. Lerner
"The Narrowest Eye" by Howard V. Hendrix
"Applied Linguistics" by Auston Habershaw
"A Civilization Dreams of Absolutely Nothing" by Thoraiya Dyer
"Lulu's Friends" by Aimee Ogden
"Temple Of Children" by Jennifer R. Povey
"Reboot" by Robert Reed
"Soft We Wake" by S. B. Divya
"Fingers " by Frederick Gero Heimbach
"The Fading Pages of a Short Story" by Bud Sparhawk
"A Place to Stand On" by Marie Vibbert
"The View from Proxima Centauri" by Susan Pieters
"The Savannah Problem" by Adam-Troy Castro
Reviewed by Chuck Rothman
Analog starts out the New Year with "Ring Wave" by Tom Jolly where Aleja Martinez is trying to survive after an asteroid strikes Earth. The impact sent things flying off into space and people try to survive in tiny escape pods designed to ride the wave, with hope they can get together and continue society in orbit. But there are many people who are not interested in cooperation and only want to take whatever they need. Aleja's adventure is nicely told, with an interesting concept, though I think the story gets bogged down in the engineering just a bit too much.
Andy Dudek's "Love in the Time of Immuno-Sharing" has a genuinely different idea, where sex has been replaced with sharing diseases instead of genetic material. Vedrum and his immune partners are contacted by Torquil, an outsider, who invites them to bring the new pathogens to him. The story keeps up the metaphor, intertwining sex and immuno-sharing, but I didn't really get involved in it.
In "A Message from Our Sponsor," psychologist Jason Willis has his dreams interrupted by a commercial. Waking, he realizes that the ballyhoos—powerful ad agencies—have discovered a method to do this and comes to the realization that it will have some serious drawbacks. J.T. Sharrah writes an expansion of the anti-Madison Avenue SF ideas from the 50s. The story didn't work for me because a large portion of it depended on misconstruing the legal principles it bases its conflict on. It was an arbitrary roadblock that doesn't exist, nor is the change explained.
"The Last Squirrel Keeper" by Shane Halbach describes Mutton, a human living among the Sstartel, years after a spaceship disaster. The animals who were on the terraforming ship had been rescued and the squirrel is the last of the creatures from Earth. Mutton, too, is alone, so when he is called to identify a new item found in the wreckage, he begins to wonder if it's a way back to Earth. The story is poignant, with a bit of hope at the end that makes it memorable.
Julie Novakova's "All the Smells in the World" is about a woman working on a new breakthrough in VR: the ability to add smells to the simulation. This opens a can of worms as she discovers that the VR creates smells even when she's not using it. It's an interesting problem, but I feel it ended a bit too abruptly and didn't explore the concept enough.
"The Umwelt of the Shark" by John Alfred Taylor postulates a new type of addiction, where people pay to become animals for a short time. It's illegal, and Santos takes part in a raid on one of the facilities where it happens. It mostly presents the idea, and also touches upon the mindset of the police toward the users. It focuses on one particular part of the idea, though I wish it had been expanded a bit more.
"Forever" is the story of Martin Taylor, a wealthy man who wanted to live forever. It's told from the perspective of his third husband, who divorced Taylor over his obsession and finds him returning. Mary Soon Lee's flash fiction story is strong on emotion and the choices we make in life.
Edward M. Lerner's very short "Clockwork Cataclysm" describes a type of invasion. Like most stories of this length, it depends on the ending twist, and the story is skillfully written to make everything clear with the final line.
"The Narrowest Eye" by Howard V. Hendrix is set in the time of the Sifters—where humanity has developed a type of utopia. The protagonist is looking into an attempt by Martin Hanlan to commit suicide. Hanlan is brought back and what follows is a philosophical travelogue of the society. I found it too talky and wanted more of a story to go with this sort of philosophical speculation.
Auston Habershaw writes from the point of view of an alien in "Applied Linguistics." The narrator is a Tohrroid, a shapeshifting scavenger living secretly inside an asteroid that's being used as a prison colony and who survives by eating the corpses of the dead. When a humanoid Varian starts giving him stale food and other things to eat, it begins to learn about language and soon is able to communicate and is persuaded to help the prisoners. I liked the perspective and the final revelation about the war that led to the situation.
"A Civilization Dreams of Absolutely Nothing" by Thoraiya Dyer is set on an alien world on the edge of the "widegulf," a part of the universe that is nothing but dark matter. A dark matter planetoid is heading for their world and Jade is trying to find a way to save their world. Much of the story deals with the family dynamics of Jade and her children as she works to carry out a plan to save them. I did find the world a bit confusing, but the story is a good one.
"Lulu's Friends" by Aimee Ogden is a short vignette describing the title character, who is shown playing with a little girl named Michaela. Lulu's true identity is a revelation, but the story is more than that, dealing with the question of the ethics of experimentation. The idea doesn't overpower the story, but is well-dramatized by it.
"Temple Of Children" is about contact between humans and the Xlan. Pauline is part of a delegation there, when a major problem arises: The Xlan, who have multiple sexes, are kidnapping children and can't explain why. Jennifer R. Povey delves into the issues of alien sexual behavior and the misunderstandings that happen in ignorance.
"Reboot" by Robert Reed is a conversation between two computers, one telling the other to reboot. It seems that nuclear missiles have been launched and the computer doesn't want to reboot because of that. The rest is a Socratic dialog that's not particularly deep or interesting.
S. B. Divya's "Soft We Wake" follows Hikaru, who is awakening after being frozen for centuries. Transitioning to the new world is difficult and is complicated by the fact that her partner, who was supposed to join her in the deep freeze, did not make it. Hikaru meets Annika, another person in the same situation. The story is mostly about the development of their friendship, which I found real and quite touching.
"Fingers " by Frederick Gero Heimbach is set in a society transformed by runaway nanotechnology. The fingers are nanotech let into the wild, tubes that come to hunt down humans in scary ways. Valley is a boy whose father moved to avoid them, but it's an impossible task. And when he goes to work for a neighbor, he begins to learn more about them than he imagined. This is a nice story that starts out like horror, but evolves into talking about how our fears affect our perceptions. Nicely done.
Bud Sparhawk's "The Fading Pages of a Short Story" shows David, a science fiction writer who is beginning to show signs of mental deterioration, forgetting stories he had written. His son Bill is looking to help, including a new device that can be implanted to help with his memory. The story covers the difficult task of caring for an elderly loved one and realistically deals with the ups and downs of aging, including the unpredictability of the effects.
"A Place to Stand On" is set on a high-tech dirigible floating 50 kilometers above Venus, the only way to colonize the planet. Hortensia is doing work on it when she finds out there's a leak that could potentially cause the whole project to plummet down to disaster, and that she's the only one near enough to prevent it. Marie Vibbert describes the dangers with trying to fix the problem. Technically, it's a bunch of roadblocks that should make the story more intense, but I found it a bit lacking in suspense.
"The View from Proxima Centauri" by Susan Pieters starts with Rosemary and Cheng waking up from cryo sleep on a planet orbiting that star system. Earth had been picking up signals from there that seemed to be a language, and their mission is to make a first contact. The story contrasts how the two were chosen for the mission with what they find. Good relationship building between the two, with an ending that isn't what you might expect.
Adam-Troy Castro's novella "The Savannah Problem" finishes the issue. It's one of a series of his stories about Draiken, something of an idealist mercenary. In this case, he is capturing Jathryx, a dangerous fighter and killer. Draiken's goal is to bring him back alive, and, with his partner Stang, convince Jathryx to help on a mission. The details make the story alive, and I really like a battle between two smart and competent adversaries. Because I hadn't read any of the previous stories, I did find the ending a bit confusing, since the revelation meant nothing to me. That aside, though, it's a first-class story from start to finish.
---
Chuck Rothman's novels Staroamer's Fate and Syron's Fate are available from Fantastic Books. He blogs on movies and TV at: http://greatbutforgotten.blogspot.com