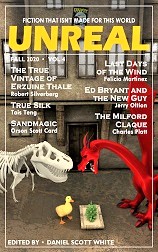 Unreal, Vol. 4, Fall 2020
"True Silk" by Tais Teng
"Sandmagic" by Orson Scott Card (reprint, not reviewed)
"Last Days of the Wind" by Felicia Martinez
"The True Vintage of Erzuine Thale" by Robert Silverberg (reprint, not reviewed)
Reviewed by C.D. Lewis
In the fourth volume of Unreal, editor Daniel Scott White offers two new stories, two reprints, and two nonfiction accounts of new writers' experience with established authors (the first experience awful, the second delightful). Each piece of fiction is fantasy and all are uniformly dark, with three of the four involving personal wrongs and their revenge. All feature privation: inhospitable environments, dwindling mundane or magical resources, time running out on the world, or all of the above. Gritty fantasy readers will want a copy.
In "True Silk" Tais Teng sets a 3,200-word fantasy short in a desert caravan traveling through a valley of ancient mausoleums while beset nightly by corpse-eating predators. The titular artifact—the "true silk"—allows one blindfolded with it to see the souls of those nearby rather than their physical forms. Teng employs the artifact to affect characters' hearts and decisions and shape their choices, ultimately enabling enough of the characters' actions that the story is difficult to imagine without it. Unlike the deceits and betrayals in Silverberg's "The True Vintage of Erzuine Thale," whose problems and reversals could be reworked readily into a Space Opera or Western by renaming the scenery and props, "True Silk" intertwines its fantasy elements with the characters' problems and their solutions the way good hard SF must with its science; consequently, it's difficult to imagine "True Silk" without its fantasy elements. "True Silk" provides both a coming-of-age story and a tragedy: the protagonist's final decision shows her concerns and outlook are not those of the child narrating from page one. Recommended to fans of dark stories, fantasy, and Middle Eastern settings.
At under 600 words, Felicia Martinez' "Last Days of the Wind" is flash fiction. Like Silverberg's "The True Vintage of Erzuine Thale," the work is set in a dying world—but in "Last Days of the Wind" it's about the death of magic, and the time-frame isn't over the horizon in some unascertainable future, it's right now. The protagonist makes a bittersweet decision how to employ the one power the protagonist is allowed to keep.
---
C.D. Lewis lives and writes in Faerie.