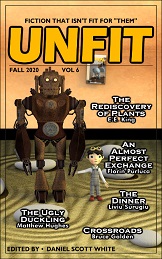 Unfit, Volume 6, Fall 2020
"An Almost Perfect Exchange" by Florin Purluca
"The Rediscovery of Plants" by E.E. King (reprint, not reviewed)
"The Dinner" by Liviu Surugiu
"The Ugly Duckling" by Matthew Hughes (reprint, not reviewed)
"Crossroads" by Bruce Golden
Reviewed by Victoria Silverwolf
Three stories with a total of four first person narrators appear in the latest issue of this biyearly publication.
The protagonist of "An Almost Perfect Exchange" by Florin Purcula has an unusual function in a spacefaring military. His job is to record the last thoughts of recently killed soldiers. On a special assignment to Titan, he witnesses an attack by the alien inhabitants of that moon, and learns the real reason why he and the other fighters are there.
After introducing the idea of obtaining information from the brains of the newly dead, the story evolves into a more familiar example of military science fiction. There are vivid descriptions of Titan, and intense scenes of battle. The way in which the human soldiers deal with the aliens may strike some readers as distasteful.
The narrator of "The Dinner" by Liviu Surugiu is a priest who is ready to leave the Church in order to marry the woman he loves. An automobile accident nearly kills her. In exchange for keeping her in suspended animation until she can be revived, the priest agrees to take part in a voyage to Saturn. The purpose of the mission, a joint effort between NASA and the Vatican, is to retrieve an object located in the planet's rings. The nature of the object, and what becomes of it during the long journey back to Earth, provide a provocative, darkly ironic conclusion.
As in the first story, this combination of science fiction and theological speculation provides colorful, striking images of the region of space near Saturn. There are some implausible aspects to the plot. For example, the priest is able to function as an astronaut, despite being severely injured by the automobile accident. The reader must also accept the fact that the members of the crew know nothing about the reason for the mission.
"Crossroads" by Bruce Golden alternates the points of view of a robot, trained to fight others for the entertainment of humans, and a dog with genetically enhanced intelligence, who lives with an elderly farmer. Circumstances bring them together, leading to an idyllic relationship among man, animal, and machine.
The author does a fine job writing in the voice of the two narrators. The story has strong emotional appeal, although the ending may seem overly sentimental.
---
Victoria Silverwolf had some delicious homemade apple/beet/carrot/ginger juice today.