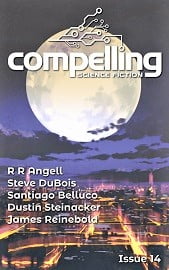 Compelling Science Fiction #14, Winter 2019
"A Dog's Life" by R R Angell
"Cravings" by Steve DuBois
"The Engineering of Alyssa Langley" by Santiago Belluco
"Envoy in the Ice" by Dustin Steinacker (reprint, not reviewed)
"Our 500 Year Plan" by James Reinebold
Reviewed by Seraph
While this is my only exposure to Compelling SF as a reviewer, I can safely say I am sad to see that this is its final issue. "Compelling" truly is the best word to describe the stories chosen, perhaps even "thoughtful," and it is truly appreciated. Please join me in wishing all the best to editor Joe Stech in his future endeavors!
"A Dog's Life" by R R Angell
You might think from the title that this is just a story about a dog, but that would be short-selling a thoughtful offering that maybe hits a little too close to life with a beautiful ending. It is set sometime in the future when cryogenic technology is prevalent enough to be available for domesticated pet applications, in what could be best described as the non-descript suburbs of America. The trials and struggles of marriage and family are on prominent display, and the cost of interpersonal strain between parents and their children is a central theme. The titular dog's name is Buck, but don't expect too many appearances until that happier ending.
"Cravings" by Steve DuBois
To be honest, I couldn't tell whether this was a condemnation of a post-"New Green Deal" type society, or merely an exploration of the society it would create, and maybe it doesn't matter. It takes place in Kansas City in the indeterminate near future, exploring the aspects and consequences of such sweeping societal changes from the perspective of those who must enforce it. Questions like "what will we gain" and "what might it cost us as a society" are central to any thoughtful discussion of these policies, and this short story is quite thorough at addressing those. Somehow it manages to remain charming and mostly light-hearted without shying away from any of the darker sides of society, an impressive balancing act.
"The Engineering of Alyssa Langley" by Santiago Belluco
Eugenics and genetic manipulation are taboo for a reason. Ignoring all the ethical and societal implications for a moment, you are irrevocably altering the course of a life before it begins, and this short story follows the course of Alyssa as she seeks to undo those changes that so profoundly affect her. Set in America, clearly in the future due to the advanced genetic technology, it is as much a commentary on subjects like the autism spectrum and the desire for "normalcy" as it is about genetics. Now, to be fair, in this particular story, all does seem to end well, but as with many stories, there is a twist to achieve that end. Thought-provoking and highly relevant to current times, take your time to really give this one the attention it deserves, because the value isn't immediately as obvious at surface level.
"Our 500 Year Plan" by James Reinebold
This short story is not the easiest to get into. I found a few parallels to various mental issues like Alzheimer's or dementia, but it's a real stretch. It's probably better to just take it at face value. Set on a spaceship 2,500 years into a 500 year mission, this story takes place far into the future, but some things really haven't changed. Nothing lasts forever, and someone, or some thing, must be on hand to maintain and keep up important systems. What better than artificial intelligence? No body to feed, no need for sleep, reliant only on the same systems they maintain. But as resources dwindle, their "resolution" decreases, and by the end, the existences of vibrant holograms are reduced to little more than ASCII characters on a screen. It is, despite appearances, a deep-space survival story, and there are a number of deeper messages to be found within, if you take the time to really let it all sink in. Specifically, this story has a number of similarities to the first one of the issue, and it is a nice synergy to end on a similar note to that on which it began.