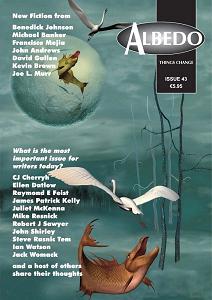 Albedo One #43, Spring 2013
"Tokyo Haze" by Michael Banker
"Death in Life Songs" by Joe L. Murr
"Swamp Harvest" by Francisco Mejia
"Tooth and Claw" by David Loel
"The Time of Birds" Benedick Johnson
"The Final Float" by Kevin Brown
"Where the Sun Shines Brightly" by David Gullen
Reviewed by Chuck Rothman
Better late than never would seem to be the theme of Albedo One's Spring 2013 issue, which only became available for review recently, and contains the first publication of the winners of their 2011 Aeon Awards. The magazine – based in Ireland – seems to specialize in fantasy and science fiction of high literary value and downbeat scenarios.
"Tokyo Haze" is set in a future time when the people of the city have mysteriously vanished, replaced by a haze of their movements in the past. Tom is an android trying to make sense of it all when he bumps into Eiko, who somehow is still present, though attenuated through time. Michael Banker creates an intriguing setting, but the story seems to be an excuse for poetic sadness. This was the Aeon award winner, but it just didn't appeal to me.
Joe L. Murr contributes "Death in Life Songs," a fantasy that features Arto, a type of shaman who talks to crows and heals the sick. He is called in to cure a farmer, who had been cursed by Sten, a man with designs on his wife, Liisa. Arto is a memorable character and the story's ending – neither happy nor sad – fits well. Probably the best story in the issue.
"Swamp Harvest" by Francisco Mejia is set in a prison camp where the prisoners are kept busy preparing the noxious ground for planting, even though it's unlikely anything might grow. Peñero Montalban works through the drudgery and bad smells, wondering what it's all for. The story tries to be horrific, but I didn't find the revelation all that surprising, and there is an ugliness to it all that is very offputting.
David Loel's "Tooth and Claw" is relatively lighter fare, where Davy comes upon a trio of homeless kittens they name Rikki, Tikki, and Tavi and one night, come back covered in blood. Davy goes out to figure out what they were doing, and discovers some truly unusual prey. The story is slight but satisfying, but, as Damon Knight would say, when the story finished, it's the end of the mystery, but the beginning of the story.
Aeon Award runner up "The Time of Birds" is told from the point of view of a man looking back on his youth and his friend Jonathan, who taught him how to turn into a bird. But Jonathan dies – falling from a building as though trying to fly – and the story has the narrator musing on death and lost childhood. Benedick Johnson's story is filled with nostalgia and reminiscence but not much else, and undercuts its own premise.
"The Final Float" by Kevin Brown follows Kyson and Brodie as they rent a canoe to explore a river. The canoe is old and decrepit, but they go down the river in it anyway. The story is by-the-numbers horror that tries to hold attention by mysterious hints, but which is ultimately just futility. The characters aren't very likeable, either.
David Gullen was the third place winner for the Aeon Awards with "Where the Sun Shines Brightly." Tomas is a young man living in a small village that is a tourist destination, where the tourists seem to wreck things every year – odd, because it seems to be in the middle of a war. He meets Pagan, a tourist woman about his age who wants to go with him to see the village's ruined airport. Of course, a relationship develops. I did like that part of the story: Pagan is extremely lively and attractive, one of the few cheerful characters in the magazine. However, the rest of the story is pretty "so what?"
The stories here are almost all relentlessly dark; in six of them one or more of the characters die and there's plenty of doom, sadness, regret, and ugliness to go around.
---
Chuck Rothman's novels Staroamer's Fate and Syron's Fate were recently republished by Fantastic Books.