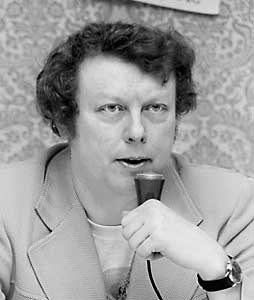 Exploring Tomorrow aired Gordon R. Dickson's story "Telepathic" on May 7, 1958. Exploring Tomorrow lasted but a short while, from December 4, 1957 through June 13, 1958. Unfortunately, time has not been kind to its episodes, as a number are considered "lost," and of those that remain many are scratched or otherwise in relatively poor condition.
I believe that "Telepathic" was written by Dickson (1923-2001) specifically for this radio show, as I can find no evidence of it listed as first appearing in a magazine. The story involves the only pair of telepaths in the world — one man and one woman — and how one tries to be the conscience of the other, a conscience from which there is seemingly no escape. But there is much more to the story than this, as the incomparable and sadly underrated Gordon R. Dickson adds a few twists of his own, making this a truly human story.
Grodon Dickson was President of the Science Fiction Writer's of America (SFWA) from 1969-71. He won a Nebula award for his novelette "Call Him Lord" which appeared in the May 1966 issue of Astounding (now Analog). He would also win two Hugo awards in 1981 for his novella "Lost Dorsai" (from the February 1980 issue of Destinies), and his novelette from the August 1980 issue of Analog, "The Cloak and the Staff." Best known for his Childe Cycle series of novels featuring perhaps his most enduring characters–the Dorsai–mercenary soldiers of the highest order, a blend of the physical, philosophical, and mental abilities making them sought throughout the colonized worlds for their fairness, Gordy Dickson died much too soon. He was one of the very best.
One of the highlights of each and every Exploring Tomorrow show was the narration and commentary by the legendary editor of Astounding/Analog, John W. Campbell, Jr. "Telepathic" is no exception.
Play Time: 19:43