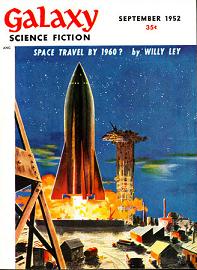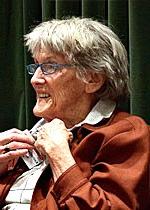 X Minus One aired Katherine MacLean's "The Snowball Effect" on August 14, 1956 as its 64th episode, the week following its presentation of Fredric Brown's "The Last Martian," which we ran last week.
"The Snowball Effect" originally appeared in the September 1952 issue of Galaxy. This witty satire involves issues still with us today, as a college President lets the head of the sociology department know in no uncertain terms that the sociology department must pull its own weight financially, much as do other more lucrative departments whose money comes from outside patrons and rich benefactors.
Given six months to prove that his applied theory of dynamic exponential growth as it relates to organizations will prove productive–if allowed to be put into practice in his sociology department–the professor uses flattery and smooth talk to use a local ladies sewing circle as guinea pigs to test his theory. The results soon swirl out of control much too successfully, and Maclean (1925– ) uses built-in absurdity common to all good satires to great effect, to make her point. It's a wonderful exercise in how mathematical constructs and analysis applied to one of the "soft" sciences–in this case sociology–can work to great positive advantage. Sort of.
MacLean's first published story, "Defense Mechanism," appeared in the October 1949 issue of Astounding. "Kiss Me," her last published story to date, saw print in the February 1997 issue of Analog (formerly Astounding). Her first collection appeared in 1962 from Avon and was titled The Diploids. Among the title story and seven others, it contains both "The Snowball Effect" and "Defense Mechanism." "Snowball Effect" was picked up for Tor's massive 1994 historical collection The Ascent of Wonder: The Evolution of Hard SF, edited by David G. Hartwell and Kathryn Cramer. "Kiss Me" was reprinted in David G. Hartwell's Year's Best SF 3 for 1998, reprinting the best SF stories from 1997. MacLean won a Nebula award in 1971 for her novella "The Missing Man," which was subsequently expanded into the "fix-up" novel with the same name in 1975. In 2003 SFWA honored her as its latest Author Emeritus. Although there is only one Katherine MacLean, would there were more with her intelligence and talent. The SF field sorely needs more like Katherine MacLean.
Play Time: 23:57
{Below are representative examples of publications featuring Katherine MacLean's work.}
[Left: Astounding SF for October 1949 with her first published story, "Defense Mechanism." — Center: Analog for March 1971 featuring the Nebula winning novella "The Missing Man." — Right: Analog for February 1997 containing her last story to date, "Kiss Me."]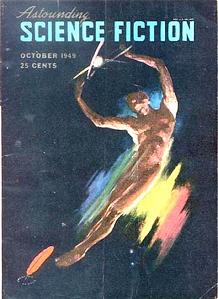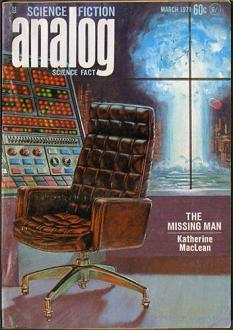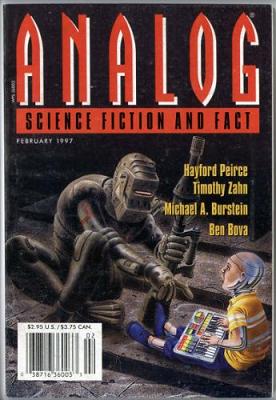 [Left: The Diploids, her first collection (Avon, 1962). — Center: "The Snowball Effect" chosen as one of the stories in the 1994 landmark historical collection from Tor, The Ascent of Wonder. — Right: Her 1997 story "Kiss Me" reprinted in Year's Best SF 3 (HarperPrism, 1998).]