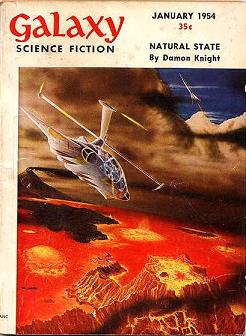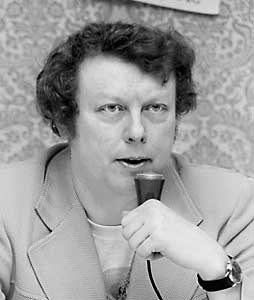 X Minus One (1955-58) aired Gordon R. Dickson's novelette "Lulungameena" on May 29, 1956 as its 53rd episode. It appeared in the January 1954 issue of Galaxy and is the first story where Dickson's soon to be famous Dorsai mercenaries are mentioned (though it is not technically a Dorsai story–those would come much later).
"Lulungameena" takes place on Station 563 of the Sirius Sector, a frontier outpost, and centers on a group of 20 long-term spacers maintaining the station–and a newbie youngster with a big mouth and an even bigger attitude. The brash young punk needles one of the grizzled veterans who is the only one refusing to gamble with him, and this leads to a major confrontation involving an alien Hixabod–that race who is renowned for its reputation for always telling the absolute truth–and a resolution to the claim (and the eventual bet, with $10,000 on the line) that Lulungameena is the most beautiful planet in the galaxy. Dickson not only demonstrates the folly of the youngster who thinks he knows it all, but how ignorance of other cultures and languages can lead to unfortunate results–in this case on a personal level and involving but one sorry young spacer.
Gordon R. Dickson (1923-2001) is sorely overlooked these days by newer generations of fans who probably haven't read him, or even heard of him, much to their literary detriment. Dickson won three Hugo awards: in 1965 for the novelette "Soldier, Ask Not" which was later expanded into the 1967 novel; two in 1981, one for the novelette "The Cloak and the Staff," and one for the novella "Lost Dorsai." He also won one of the first ever Nebula awards in 1966 for the novelette "Call Him Lord." In 1977 he was awarded the British Fantasy Society's August Derleth Award for his novel The Dragon and the George, and in 2000 was inducted into the Science Fiction and Fantasy Hall of Fame.
Extremely prolific, Dickson's first genre sale was the short story "Trespass!" written in conjunction with best friend and future collaborator on many a story and novel (most notably the Hoka series, begun in 1951), Poul Anderson. The story first appeared in the Spring 1950 issue of Fantastic Stories Quarterly.
Gordon R. Dickson's major claim to fame was his proposed 12-volume series of works known as the Childe Cycle. In Dickson's own words from his introduction to Three to Dorsai! (which contains the first three SF novels): "The three books that make up this volume belong to a Cycle of novels called the Childe Cycle, which, when finished, will consist of three historical novels, three contemporary novels, and six science fiction novels, the twelve books in all covering a thousand year period from the fourteenth century to the twenty-fourth. As a completed unit they will chronicle an evolutionary development in the human race, beginning in the thirteen hundreds and completing itself in the twenty-three hundreds.
"The twelve books are designed to be read as independent stories, although as a whole they combine to tell the larger, overall narrative."
The six science fiction novels tell the story of generations of the Dorsai, those highly skilled mercenaries with rigid moral and ethical standards, who are respected as well as feared throughout the galaxy, and through their actions and Dickson's masterful storytelling form one of the most sophisticated and intriguing chronicles of military science fiction ever written. There are many very good military SF novels and series being written today, but no one can legitimately call him or herself a well-read military science fiction fan without having read Gordon Dickson's Dorsai novels. Along with Robert A. Heinlein's Starship Troopers and Joe Haldeman's Forever War, Gordon Dickson's Dorsai novels are the standard by which all other military SF novels should be measured.
Here are the six Dorsai novels in published (not internal) order: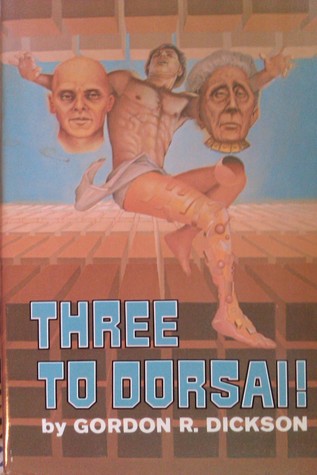 1. Dorsai! (1959) – 2. Necromancer (1962) – 3. Soldier, Ask Not (1967) – 4. Tactics of Mistake (1971) – 5. The Final Encyclopedia (1984) – 6. The Chantry Guild (1988) — Soldier, Ask Not began as a novelette and was later expanded to novel length, but was not originally part of the projected 6 Dorsai novels, but as a story set within the Dorsai universe. Therefore, only five of the planned Dorsai novels were written at the time of Dickson's death on January 31, 2001. The sixth and final Childe Cycle/Dorsai novel was never completed. And even more sadly, Dickson's friend and decades-long collaborator Poul Anderson also passed away in 2001, six months to the very day of Gordy's death, on July 31, 2001. 2001 was not a good year for obvious reasons and not a good one on which to kickstart the 21st century.
The aforementioned (now classic) omnibus Three to Dorsai! combines the first three Childe Cycle novels in internal "action sequence" as Dickson puts it and includes Necromancer, Tactics of Mistake, and Dorsai!. Any reader interested in military science fiction dealing with a philosophical or ethical code of conduct imprinted on generations of highly educated mercenaries and military geniuses cannot afford to miss the Dorsai novels of Gordon R. Dickson. Many genre novels today are routinely well over 5-600 pages as stand alone works; Three to Dorsai!, while containing the first three core Childe/Dorsai novels, comes to but 532 pages. Fortunately, copies of the original 1975 SFBC edition in excellent condition are still available, and clicking on the cover at right will take you to Amazon where copies for less than a dollar may be purchased. It is surely one of life's great bargains.
Play Time: 28:28
{The first story to reference Gordon R. Dickson's legendary "Dorsai" mercenaries, "Lulungomeena" appeared as a novelette in the January 1954 issue of Galaxy. The entire issue, including illustrations, can be read online here, with a flip-the-page feature.}