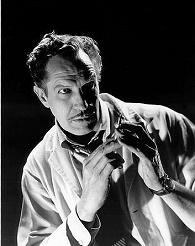 Tonight, Monday, October 26th, 2009, Tangent Online brings you the second of its week long "Halloween Week 2009" Old Time Radio classic horror tales. It is one of the most famous and highly regarded in all of Old Time Radio.
"Three Skeleton Key" was written by French author George Toudouze and first appeared in Esquire magazine. Adapted for radio by James Poe, it was first broadcast on November 15, 1949 on the immensely popular dramatic-adventure radio show Escape (1947-1954). It failed to make the expected impact, however, and so was recast with Vincent Price and reprised (again on Escape) on March 17, 1950. This "golden" version, as it has come to be known, was an overwhelming success, with the obvious addition of Vincent Price (1911-1993) in the lead role making all the difference. A shorter version, again featuring Price, aired November 11, 1956 on Suspense (1942-1962), another top-shelf, classily produced, and even more revered show. Notwithstanding Price's equally harrowing performance in this later, shorter version, his performance in the "golden" version remains the popular and critical favorite, and is the version we present to you below.
"Three Skeleton Key" has been judged by several critics as one of Old Time Radio's top 60 shows of all time, and remains one of the most famous and well-remembered radio plays among horror fans. It takes place in a lonely lighthouse where one quiet night one of the three lighthouse keepers spots a derelict "ghost" ship in full sail, heading for the reef dead-ahead of the lighthouse. Peering through binoculars, one of them questions why such a grand ship has been abandoned by its crew. Upon closer inspection, they see, to their horror, that the deck of the ship is carpeted with…RATS! Closer and closer comes the ship, until it breaks up on the rocks and hundreds–no thousands–of rats begin to swim ashore…toward the lighthouse. The three terrified men scramble to secure the lighthouse from every quarter. In fear for their lives as the starving rats swarm the lighthouse searching madly for the tiniest breach (perhaps a large-enough section of crumbling mortar will admit one rat and then more–or by sheer weight of numbers a window will shatter), the ever-anxious listening audience wonders who, if any, will survive this maniacal, mindless onslaught of carnivorous vermin.
Vincent Price is excellently cast as the lead character and narrator of "Three Skeleton Key." For truly loving parents with a warped sense of humor and who delight in giving their little crumb-crunchers (or rug-rats, if you prefer) nightmares, we heartily recommend listening to this one together, curled up on the couch with the lights down low…just before bedtime (especially on Halloween). What better way to bond with those you've spawned.
Play Time: 29:31