Tonight, Saturday, October 31st, 2009, is Halloween. Tangent Online has, for the past week, showcased an Old Time Radio horror classic each night. We end this nightly week of horror, terror, the macabre and the supernatural with an early episode from the very first all-original horror series on radio, The Witch's Tale, which takes us to the voodoo-laden, superstitious haunts of cajun Louisiana, awash in swamps and mysterious goings-on. …And following this tale of gossiped ghosts, abandoned mansions, and something even more chilling, we offer you, dear listener, a little respite from the dark and deadly with a closing bit of levity.
The Witch's Tale was radio's first serial all-horror show, paving the way for the likes of Lights Out, Inner Sanctum, Weird Circle, and a host of others. It began as a regional offering from radio station WOR in New York and ran from 1931-1938. It was syndicated nationally by the Mutual network in October of 1934. The host, "Old Nancy,"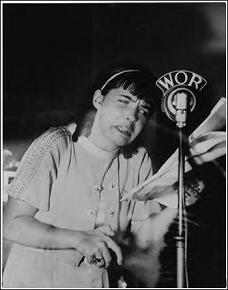 portrayed a witch from Salem, whose black cat, Satan, was her familiar. Old Nancy became a hit with her creaky old crone voice and laugh, and was originally played by Adelaide Fitz-Allen (1855-1935) until her death at 79. The voice of Old Nancy was then taken over by a 13-year-old child radio star by the name of Miriam Wolfe, whose eerie cackling (belying her tender years) immediately landed her the job. Old Nancy was such a hit with children that they would imitate her endlessly; older siblings–as they are forever prone to do–scaring and tormenting their younger brothers and sisters at every opportunity.
Miriam Wolfe (top photo at age 13 as "Old Nancy," and bottom photo as an adult) went on to become a talented and respected actor, writer, producer, and director, and to do notable work on Broadway theater and in television, as well as her various other radio roles. She was born on January 2, 1922 and died of breast cancer on September 22, 2000.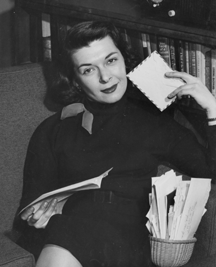 Alonzo Deen Cole was the show's sole writer, penning all 332 weekly scripts. During a move to California in 1961, Cole destroyed all of his personal recordings of The Witch's Tale, convinced they held no commercial value. As a result, only about thirty episodes are now known to exist. The program's influence, however, was widespread, for nearly all radio, tv, and comic books in the horror genre that came after The Witch's Tale borrowed heavily from its original conventions. Bill Gaines, of EC Comics fame, took Cole's witch "Old Nancy" as the idea for the Old Witch in his horror comic The Haunt of Fear, for but one example.
This episode, "Graveyard Mansion," aired on March 6, 1933. It tells the story of two brothers who have inherited a plantation in Louisiana, only to find that, standing upon that land, is a century-old, long-deserted mansion. No one dares go near it, for as they are told by various local folk, it is a haunted mansion, full of ghosts–a mansion where only the living dead remain. Laughing off the local warnings as mere superstition, they soon discover much more than they bargained for, and an evil far deadlier than mere ghosts.
Listen now as Old Nancy (played here by the original witch, Adelaide Fitz-Allen) guides you through the dark and deadly swamps of southern Louisiana and onto the unholy ground of the "Graveyard Mansion."
[Note that the musical interludes are inserted as commercial breaks while radio stations insert local advertising, a time-honored tradition for Old Time Radio sponsors as well as those of today's commercial radio and television sponsors.]
Play Time: 30:18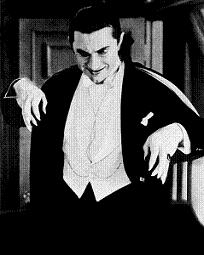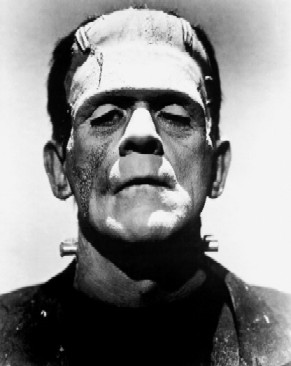 As a bonus, to put the lid back on the coffin, as it were, to this week's marathon series of Halloween terror tales, but mostly to leave you in the proper spirit, we hope you'll enjoy this offering from Bobby (Boris) Pickett. Time for mom and dad to flap and swirl their vampire capes with toes-a-tapping on the living room rug (with your wannabe little blood-suckers, home from pillaging the neighborhood) in time to the "Monster Mash," the 1962 hit that reached Billboard's Hot 100 chart on October 20, 1962, and has gone on to become a seasonal classic. The master of terror himself, Boris Karloff, actually performed "Monster Mash" in October of 1965, on a special Halloween episode of ABC's popular music and dance show Shindig!. After listening to "Graveyard Mansion," we just couldn't resist this ditty that is indeed a "graveyard smash." Happy Halloween!
Play Time: 3:04