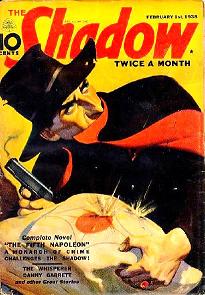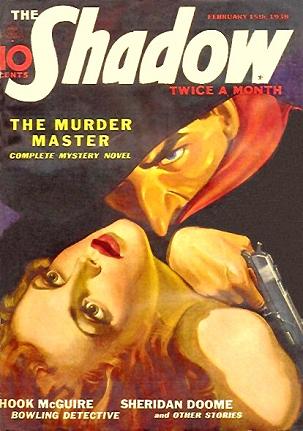 "What evil lurks in the hearts of men? The Shadow knows!"
The Shadow (1937-1954) aired "The Plot Murder" on February 27, 1938 as its 23rd episode. With a remarkably prescient SF premise, it tells the story of a military officer wrongly accused of treasonable sabotage, of working with the enemy concerning the testing of a newly invented "flying torpedo" that is able to pinpoint its target via guided radio beams sent from a specially equipped airplane. We're talking about remote controlled military drones, but in 1938–76 years ago! Of course, the Shadow gets involved (at the urging of his lovely assistant Margot Lane) and must unravel the truth before the framed army lieutenant is dishonorably discharged and sentenced to life in prison.
From its inception in September of 1937 until October of 1938 the Shadow was played by the young genius Orson Welles (1915-1985) and Margot Lane was played by the incomparable Agnes Moorehead (1900-1974). Thus, "The Plot Murder" features both radio and silver screen icons in one of the Shadow's earliest adventures.
A most curious set of circumstances has led to my choice of this particular episode of The Shadow. Allow me to explain. The April 2013 issue of John Joseph Adams's online horror magazine Nightmare included a story titled "Gravitas." Written by someone unknown to me, one Weston Ochse, I enjoyed it enough to include it in Tangent Online's 2013 Recommended Reading List. Among the story's other attractions, a crucial element toward a total understanding of the tale rested on a familiarity with certain aspects of the Shadow mythos. I was unsure of my interpretation of "Gravitas" based on a tenuous reference to the Shadow, however, and recently sought out Mr. Ochse for confirmation (which I was relieved to receive). One thing led to another, naturally, and during our correspondence I discovered that after nearly three decades in the military he is now a retired staff sergeant working as a civilian officer for the DIA (Defense Intelligence Agency), and has recently returned from Afghanistan.
Having run a previous The Shadow episode as recently as late November of last year, I nevertheless decided to run another this week having met another Shadow fan. After screening several candidates I ran across "The Plot Murder" and knew instantly this would be the perfect episode. For, as stated above, it revolves around a wronged military officer, an experimental, radio-controlled, "flying torpedo" in testing for military use, and of course depends on the Shadow to set things right in an exciting tale of intrigue and espionage. As perfect a Shadow episode as this might be with my new found knowledge of who Weston Ochse is, besides that of successful novelist and short story writer, it gets even better. You see, in "The Plot Murder" the Police Commissioner (along with the Shadow, of course) is instrumental in thwarting the bad guys, and it just so happens that his name is Police Commissioner…Weston. You just can't make this stuff up.
Without further ado, I hereby dedicate this episode of The Shadow, "The Plot Murder," to author and Shadow lover Weston Ochse. I hope he, and all other fans of the Shadow, enjoy it as much as I have.
"The weed of crime bears bitter fruit." –The Shadow
{The Shadow covers above: Left, Feb. 1, 1938 — Right, Feb. 15, 1938}
Play Time: 29:20
{After rushing home from the corner drugstore with an armful of magazines just in time to listen to the above The Shadow episode, youthful imaginations on fire with radio beams and remote-controlled flying torpedos and eager for more, the following magazines were among many devoured by fans in February of 1938, less than a year before the 1939 New York World's Fair and first World SF Convention, also held in New York.}
{Below Left: Amazing, Feb. 1938 — Center: Thrilling Wonder, Feb. 1938 — Right: Weird Tales, Feb. 1938}