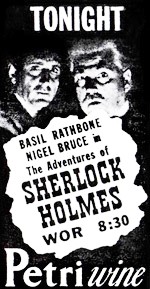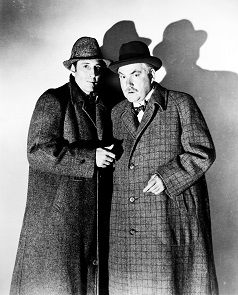 The New Adventures of Sherlock Holmes (1939-47) aired "Murder in the Casbah" on December 3, 1945. During this incarnation of Sherlock Holmes on radio (the first coming in the early 1930s and the last running to 1959), Basil Rathbone and Nigel Bruce reprised their Universal studio film roles of Sherlock Holmes and Dr. Watson for close to 220 episodes. Afraid of being typecast–and following the cancellation of further Holmes films–Rathbone wanted out of his radio role. Though the show's sponsor at the time, Petri Wines, offered him a generous bump in compensation if he would continue, Rathbone declined. Following his final episode as Holmes at the end of May 1946, the Holmes character was played by popular British actor Tom Conway (who was superb), with Bruce staying on until the series end in 1947. For several years during this series, scripts were written by the team of future F&SF co-founder Anthony Boucher, and Denis Green. Boucher, a diehard Holmes fan, would pen the outlines of scripts and Green would supply the details. They worked well together and the show flourished.
"Murder in the Casbah" takes our detective duo to Algiers, Algeria and the legendary district known as the Casbah. On the pleadings of a young woman to find her long lost fiancé wrongly accused of murder and now cleared, they search for this heir to an English estate which he has now inherited but of which he is unaware. Tracking him down isn't easy after several years in hiding, and the trail leads Holmes and Watson on a journey rife with deceit and murder, ending with a nifty bit of observation on Holmes's part to set things right–and all in the exotic Casbah district, where bribery, thievery, and murder (not to mention cafés and women) are a way of life.
Unfortunately, time has not been good to the Casbah, with its colorful past as a place of mystery and adventure, as well as the inspiration for many a tale now little more than a faded mirage of its former self–the bustling trade center of Algiers and regular port of call for the infamous Barbary pirates, and the city where Cervantes of Don Quixote fame spent five years in prison before he was ransomed and returned to Spain in the 1500s. An Algeria.com news article says this of the Casbah: "A "Casbah", in its traditional meaning, is the center of a city, usually walled in and fortified to some extent. As such, the Casbahs of cities and towns stretching from Morocco in the west to Damascus in the east are often living museums, a time capsule of the way life used to be centuries ago. Algiers has been one of Algeria's leading cities for hundreds of years, and its Casbah is home for tens of thousands of people. The problem, however, is that the Algiers Casbah is rapidly decaying due to an assortment of factors: age, neglect and over-population being the worst culprits.
"Conditions in the Algiers Casbah have become so decrepit that the government authorities are not sure at this point exactly how many people are living there. Estimates range from 40,000 up to 70,000 with families living in single rooms and illegal squatters camping out in condemned or abandoned buildings. The government has been moved to action not only by the need to reverse the aesthetic decline of the Algiers Casbah, but to stop it from further becoming a hideout for criminals and terrorists."
Below: Paintings depicting slices of life in Algiers' Casbah — Then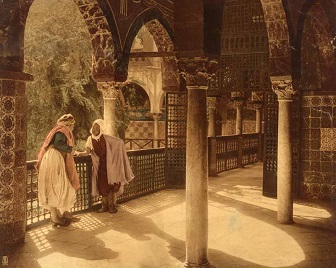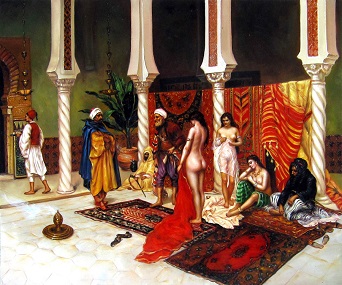 Below: Photos of Algiers' Casbah — Now
Left: An example of the Crumbling Casbah before approved renovations – Right: A current photo of crowded buildings and hodge podge mosque towers.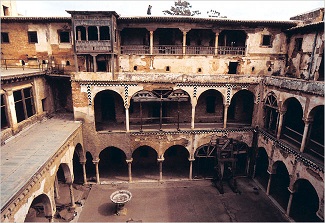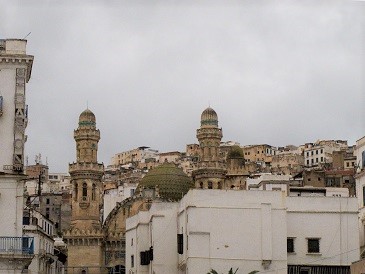 Travel now to the Casbah of old as Dr. Watson recounts the tale of how he and Holmes shared the adventure he calls "Murder in the Casbah."
Play Time: 27:59
(After listening to this Sherlock Holmes episode in December of 1945, and with a spring in their step anticipating the first post-WWII Christmas, the rowdy neighborhood gang made their way laughing and joking to the corner newsstand in search of their favorite reading, a few examples of which are shown below. Swayed by Holmes' powers of deduction in "Murder in the Casbah," one of the gang broke ranks and went for Dime Detective with its creepy cover of potions, a skull, and an evil-looking guy clearly up to no good. Dime Detective ran from 1931-53 and in 1945 was a monthly. fantastic Adventures published from 1939-53 and experienced an up and down schedule over its run, though it was monthly for nearly half of its 14 years. During 1945 it managed only 5 issues but in 1948 would return to a solid monthly schedule until its demise in March of 1953. Startling Stories ran mostly as a bi-monthly from 1939-55, hitting a few speed bumps during the war years (as did many another pulp magazine due to the paper shortage). In 1947 it returned to its bi-monthly schedule and in 1952 tried going monthly. Alas, this lasted but a year. 1953 saw only 8 issues, and both 1954 and 1955 dropped to 4 issues, the final issue being cover dated Fall 1955.}
[Left: Dime Detective, Dec. 1945 – Center: fantastic Adventures, Dec. 1945 – Right: Startling Stories, Fall 1945]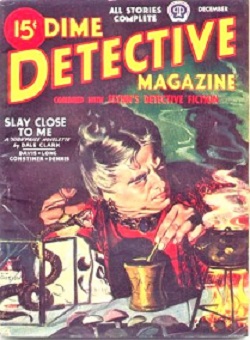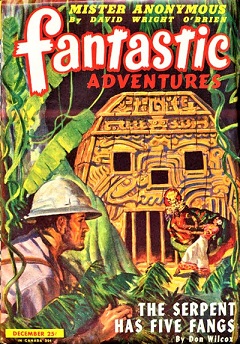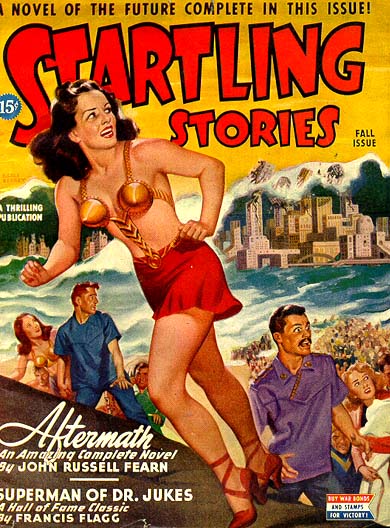 To view the entire list of weekly Old Time Radio episodes at Tangent Online, click here.