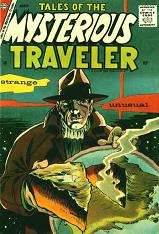 The Mysterious Traveler ran for almost nine years during the golden age of radio, from 1943 to 1952, when for controversial political reasons it was forced off the air (remember this was during the Eugene McCarthy era). "The Haunted Trailer" aired on June 3, 1952 as episode 359 of the series' 370 shows. Written, directed, and produced by Robert Arthur and David P. Kogan, the show ran the gamut from mystery, fantasy, horror, and science fiction. Spinoffs included a magazine (published by Arthur) and comic book. None other than Ray Bradbury contributed at least one story to the magazine. Sadly, of MT's 370 shows only about 85 are known to have survived.
"The Haunted Trailer" features, as the title indicates, a ghost who haunts a trailer owned by an unsuspecting young man about to be married. This particular ghost, however, isn't your usual garden variety spook, for he claims to have "rights" as would any living citizen. His shenanigans prove troublesome to the trailer's owner (ghosts are a pesky lot, whether malevolent or simply jerks), and the script is written with humor and wit, as we learn along the way a bit about werewolves and vampires as well as a certain radio show the ghost listens to.
While SF fans were listening to "The Haunted Trailer" in 1952, the science fiction magazines were producing some great work by Ray Bradbury ("The Pedestrian" and "A Sound of Thunder"), Alfred Bester ("Hobson's Choice"), Isaac Asimov ("The Martian Way"), Edmond Hamilton ("What's It Like Out There?"), Philip Jose Farmer ("Sail On! Sail On!"), Katherine MacLean ("The Snowball Effect"), Robert Sheckley ("The Impacted Man" and "Cost of Living"), and many more. Among others, 1952 saw debut stories by Frank Herbert, Ron Goulart, Daniel Keyes,, Robert Sheckley, Philip K. Dick, Philip Jose Farmer, and Algis Budrys. And can we ever forget one of the worst films ever from 1952, Bela Lugosi Meets a Brooklyn Gorilla?
Play Time: 32:25