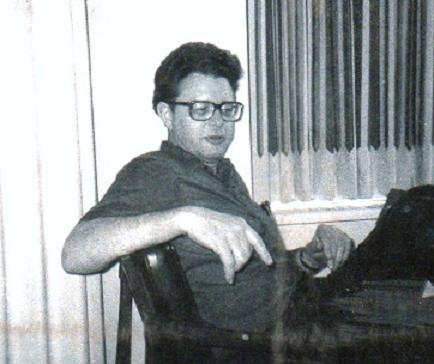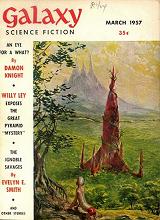 Poul Anderson's short story "The Light" appeared in the March 1957 issue of Galaxy. X Minus One dramatized it for radio on October 24th of the same year. It concerns one member of a three-man crew sent to the Moon by the United States in hopes of being the first men to arrive there. Anderson must have been keeping abreast of current scientific papers, articles, or journals at the time he was writing the story, for there is a reference to the Soviets being the first to launch a satellite (which wouldn't happen until October 4, 1957); or perhaps the radio adaptation took some liberties with the original story (which I have not read), and decided to include the reference, since the event occurred a scarce three weeks prior to this episode's airing.
In any event, once the crew arrives on the Moon they discover a strange, unearthly light. Of unkown origin, the mystery of just what this light is, where it comes from, and what it means, leads finally to the unexpected revelation and what the narrator believes may bring an end to the Cold War. (One can't help but wonder if Dan Brown got at least the concept for a certain best-selling and controversial novel from this Poul Anderson story, as you will soon hear. Sometimes science fiction stories work in mysterious ways.)
Not as well known as some of his more popularly reprinted or award-winning stories, "The Light" has nonetheless been reprinted more than a dozen times, most often in several editions of 13 Great Stories of Science Fiction, edited by Groff Conklin (1960). To the best of my knowledge it has not been reprinted in a U.S. edition since 1984's Past Times (Tor).
Poul Anderson–along with Gordon R. Dickson and Clifford D. Simak–holds great affection for me, dating from my early immersion in SF as an earnest reader and convention goer. I met this triumvirate several times at Minicons in the mid-1970s, and their personalities as well as their fiction left a lasting impression on me. All three were among the science fiction field's finest practitioners and deserve to be rememberd fondly. Poul's fiction and accomplishments are far too numerous to list here, but suffice to say he was the sixth President of the Science Fiction Writers of America (1972-73), won 7 Hugo awards and 3 Nebula awards, and was named SFWA Grand Master in 1997.
Along with "The Light," other stories to appear in the March 1957 issue of Galaxy were "The Ignoble Savages" (novelette) by Evelyn E. Smith, "The Other Celia" (short story) by Theodore Sturgeon, "The Deep One" (short story) by Neil P. Ruzic, "Survival Type" (novelette) by J. F. Bone, and "An Eye for a What?" (novelette) by Damon Knight.
(Poul Anderson photo top left from Minicon 10, April 1975. Photo taken in his hotel room during an interview, published in the May 1975 issue [#2] of the original Tangent. It has never been reprinted and will appear in our Classic Interviews section in the future. Photo below from World Fantasy Convention, October 29th-November 1st, 1998, Monterey, California. Poul Anderson was born November 25, 1926 and died July 31, 2001. His long-time friend, Gordy Dickson, had passed away six months earlier to the very day, on January 31, 2001. Needless to say, 2001 was not a good year, inside or outside of the SF community.)
Play Time: 19:56