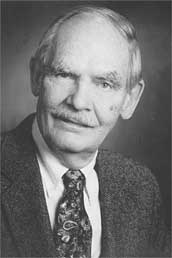 Frederik George Pohl, Jr. was born November 26, 1919. Over his seventy-two year professional career (he saw his first work, a poem, published in the October, 1937 issue of Amazing Stories under the name of Elton Andrews), he has been an agent (for nearly half the existing early SF writers in the 1940's and 50's for a short time, including Isaac Asimov), editor (two SF magazines in his teens, and the very first editor in SF history of an all-original paperback series, the Ballantine six-volume Star Science Fiction series in the mid-50s), and writer. While editing both Galaxy and If from the late 1950's to the late 1960's, he won three Hugo Awards as Best Editor of If three years in a row (1966-68). He also received three Hugo and two Nebula Awards for his writing, and was honored as the Science Fiction and Fantasy Writers of America's twelfth Grand Master in 1993. Pohl served as SFWA's eighth president in 1974, is a long-standing member of the all-male club, the Trap Door Spiders (made famous in the late Isaac Asimov's mystery stories), and was the 2008 recipient of the second Eaton Lifetime Achievement Award.
Fred Pohl's remarkable individual accomplishments as an author, not to mention his tremendous influence on generations of SF writers in so many personal, as well as professional endeavors, are legion (and barely skim the surface here), and acknowledging him as one of science-fiction's true Renaissance Men is surely an understatement. A few of his many notable novels include The Space Merchants (1953, with Cyril Kornbluth), Man Plus (1975, Nebula winner), Gateway (1977, Hugo, Nebula, and John W. Campbell Memorial Award winner, and the first of his popular Heechee series, comprised of six novels through 2004), and most recently (in collaboration with the late Sir Arthur C. Clarke) The Last Theorem (2008). His latest (among many) brilliant short story collections is the absolutely essential Platinum Pohl: The Collected Best Stories (Tor/Orb, December, 2005).
Pohl's story "The Haunted Corpse" appeared in the January, 1957 issue of Galaxy, and was adapted for radio and broadcast by NBC's X Minus One on July 25, 1957. He takes a single premise–based on a theoretical, future scientific breakthrough–and ingeniously works through one possible ramification in a taut thriller. In this instance, the premise involves the What If? of taking a good (or great) mind from a decrepit or otherwise feeble body and placing it in a healthy body whose mind is in some way enfeebled or incapacitated. What if a brilliant mind like world-renowned physicist Stephen Hawking's, for example, could be placed in a normally functioning, otherwise healthy body–whose mind has been rendered irreversibly non-functioning by stroke, catastrophic injury, or decayed by Alzheimers? Volunteers anyone?
Pohl takes the "mind-switch" idea in a cynical direction (or is it objectively realistic, given the darkside of human nature?) by speculating that the Military, working with an eccentric scientist, might seek to switch the minds of low-ranking military personnel (through intimidation and duress, and against their will) into the bodies of powerful movers and shakers for its own ends. For any others who may be willing, not necessarily in the military as Pohl imagines, why not switch the mind of a visiting ambassador from a hostile country with one of our best spies, for example? Would a better world be the end result, or would some uncalculated, unforeseen consequence rear its ugly head? Pohl–interjecting the human X-factor–and realizing that the individual ego and personal agenda of a certain individual who is aware of the potential power of this revolutionary "mind-switch" breakthrough–and before any such grand scheme has the opportunity to develop, for good or for ill–reveals the self-centered mindset of one who places his individual longevity over anything greater than himself, regardless of any potential outcome in the world at large. Is this a selfish act, if the greater-world outcome is an unknown? Regardless of how dramatically spun, is the presumed Bad Guy really a bad guy, if his intentions were for his own preservation? Do his means (as you will hear) justify his (self-interested) ends? There may be more than one "bad guy" in this one, or none at all if you consider "intent" a positive, and discount the means leading to the "results"; both parties, conceivably, having noble ends (self-preservation, and the preservation of the country) but with less than kosher means. Means and Ends. Intent and Results. Listen closely, and make your own decision.
X Minus One aired 125 shows from April 22, 1955 to January 9, 1958, Fred Pohl's "The Haunted Corpse" being episode 104.
Play Time: 21:32