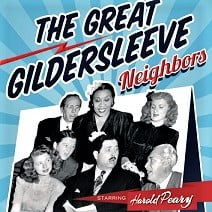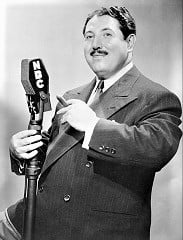 The Great Gildersleeve (1941-58) aired "The Jolly Boys 4th of July Picnic" on June 9, 1946. It was their last show of that season and the nearest to the Fourth of July before the show would take its summer break between June and August. Each new season would begin again in September. The character of Throckmorton P. Gildersleeve had its beginning on the vastly popular radio sitcom Fibber McGee and Molly program (1935-59) in a supporting role, but in 1941 was given his own radio program, the very first spinoff in broadcast radio history.
Gildersleeve was played by Harold Peary (1908-1985, photo top right). He was born José Pereira de Faria in San Leandro, California, the son of Portuguese parents and was known for his trademark laugh, which he put to good use not only in radio but in many television appearances (The Dick Van Dyke Show, Perry Mason, My Three Sons, The Addams Family, Love, American Style, and others) and besides the four Gildersleeve films (Gildersleeve's Ghost, June 1944, photo below left, was the fourth), in which he starred as the title character, he had parts in movies such as Walt Disney's A Tiger Walks (1964) and the 1967 Elvis Presley film Clambake. Peary's radio portrayal of Gildersleeve endeared him to a large and appreciative nationwide audience with the show being sponsored throughout by Parkay oleomargarine.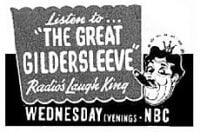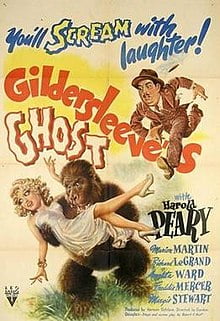 During his Gildersleeve run, Peary was given his own radio program called, as you might expect, The Harold Peary Show. Peary's wikipedia page supplies a remarkable bit of trivia: "On the March 21,1951 broadcast of The Harold Peary Show, California governor, Earl Warren (later to become Chief Justice of the United States Supreme Court) honored native son, Harold Peary, on live radio, with the only award ever issued up to that time, for having completed his ten thousandth (10,000th) radio broadcast. Peary's record remains unsurpassed in the annals of radio."
Shows like Fibber McGee and Molly and The Great Gildersleeve (two of the longest running radio programs in the history of radio) show us that well conceived, written, and performed situation comedies serve as necessary emotional lifts regardless of any real world troubles. They reveal the common, unpretentious man, his family and circle of friends and neighbors, with all of their innocent kind-heartedness in day to day situations (along with the occasional flaws), and in doing so show us a bit of ourselves now and then (whether we like it or not). Such can be found in this episode of The Great Gildersleeve and "The Jolly Boys 4th of July Picnic" wherein Throckmorton P. Gildersleeve and his pals from their local club, the Jolly Boys, take us on a trip back to a simpler time when friends would get together to celebrate the founding of our country in a positive way, with a picnic. And where the boys inside the men still tried to show off for their girlfriends or wives by performing silly antics in the lake, and where a simple hayride was all that was needed to refresh the soul.
Happy 4th of July!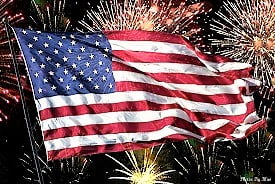 Play Time: 29:19
[The first three of the four Gildersleeve films, from December 1942, May 1943, and October 1943.]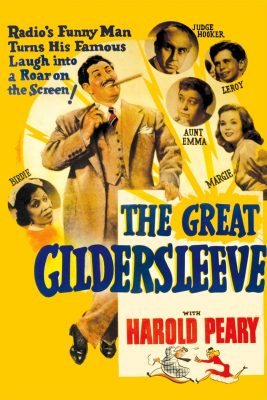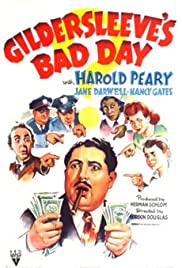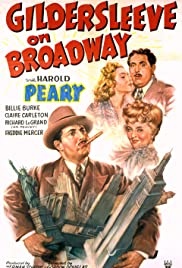 To view the entire list of weekly Old Time Radio episodes at Tangent Online, click here.