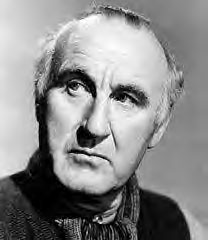 One of golden age radio's classiest and longest running shows was Suspense. Captivating audiences from 1942 to 1962, it featured–with rare exception–musical scores from the incomparable Bernard Hermann who would later enjoy much fame for his work on some of Hollywood's finest films. "Banquo's Chair" aired on June 1, 1943 as episode 44 of the show's approximately 968 episodes. As with last week's Mysterious Traveler episode "S.O.S.," it deals with a criminal element and a surprise ending that is difficult to see coming–though with an entirely different scenario and nature of crime than that of "S.O.S."–but which ending moves it definitely within the realm of the genre tale.
"Banquo's Chair" is the story of the ex-chief of England's Criminal Investigative department, one William Brent, and the unusual method he devises to extract a confession from a murderer some 20 years after his being set free for lack of evidence. It was the only case in Brent's case file where his quarry had escaped his clutches. Brent, much like Sherlock Holmes in many ways, is brilliant, cold, and calculating, with an ego that prevents him from letting go this one stain on his otherwise perfect crime-solving career.
Playing the part of Inspector Brent is none other than famed English character actor Donald Crisp (1882-1974). Crisp appeared in close to 150 films during his career, nearly 100 being silent pictures, sharing billing with many of the silver screen's greatest actors, among them Spencer Tracy, Errol Flynn, Henry Fonda, Gregory Peck, Clark Gable, Maureen O'Hara, Katherine Hepburn, Bette Davis, and countless others. He is perhaps best remembered for his roles in Lassie Come Home (1943) with Roddy Mcdowell, National Velvet (1944) with Elizabeth Taylor, and How Green Was My Valley (1941), starring Walter Pidgeon, Maureen O'Hara, and Roddy McDowell. The film won the Oscar for Best Picture, beating out such classics as Citizen Kane, The Maltese Falcon, Suspicion, and Sergeant York. For his role in the film Crisp was awarded an Oscar for Best Supporting Actor. He served in the Boer War and in both World War I & II, attaining the rank of colonel in the latter.
Listen now as Donald Crisp plays the relentless inspector William Brent, out to entrap a murderer's confession in a scheme that works–all too well and in a fashion no one quite expects.
Play Time: 28:27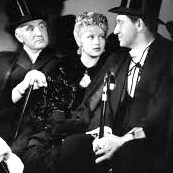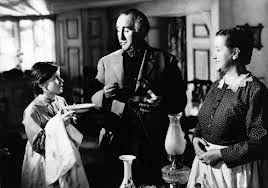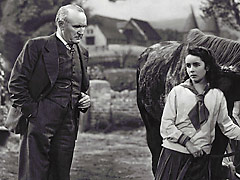 (Photo at left: Donald Crisp, Lana Turner, and Spencer Tracy in Dr. Jekyll and Mr. Hyde, 1941. Center: Roddy McDowall and Donald Crisp in How Green Was My Valley, 1941. Right: Donald Crisp and Elizabeth Taylor in National Velvet, 1944.)