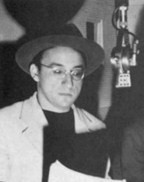 Lights Out, Old Time Radio's premiere horror show (1934-1947), aired Arch Oboler's "The Author and the Thing" on September 28, 1943. I ran across it by accident but instantly knew it would strike a strong chord among the many writers among you. We've all heard stories about the inner demons with which writers must deal, and how too often they end up destroying the author in any number of ways (drugs, alcohol, madness, etc.). With "The Author and the Thing" Oboler brings this theme to radio in a humorous — yet horrifying — bit of recursive meta-fiction. With his last weekly show at hand, and the deadline drawing very near, Oboler is stuck for a plot, a storyline, and is wracking his brains to come up with one. A comment from his secretary sparks in him a strange thought and his writer's block is a thing of the past. But even Oboler the writer has no idea what he is about to spawn as he begins banging the typewriter. Writers beware…this could happen to you!
Arch Oboler (1907-1987) took over the reins of Lights Out from its creator, Wyllis Cooper, shortly after the series began, when Cooper was lured to Hollywood. (Among many other projects, Cooper was responsible for the less than stellar script for 1939's Son of Frankenstein.) Oboler soon made the show his own, not without initial controversy, as some of his scripts were deemed to horrific for children, or to political in content (he was a rabid anti-Nazi, his Jewish parents emigrating from Latvia to the U.S.). Extremely talented and rather precocious (as wikipedia has it), he sold his first story to the pulps at age ten and continued to write for the pulps throughout his teens. Briefly attending the University of Chicago he was expelled for telling a professor he didn't know what he was talking about. He would go on to be one of radio's most innovative, respected, and dynamic forces, writing many highly acclaimed scripts for more "serious" radio shows, focusing primarily on social and political issues.
While he took his Lights Out scripts seriously, making it one of Old Time Radio's most memorable (and in general gruesome) horror shows, it was the money he made from the show that helped to finance his more serious efforts. Thus, though "The Author and the Thing" certainly is a horror story, it is also one of Oboler's most light-hearted, tongue-in-cheek efforts and one with which every writer worth his or her salt can readily identify.
Play Time: 24:12