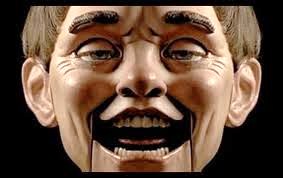 Inner Sanctum aired "The Deadly Dummy" on January 24, 1949 as episode 406 of its 500+ episodes. The series was extremely popular, running from 1941-1952. After its first few years the sponsor became Lipton Tea. The male host and female co-host became almost as iconic as the show itself for their lively banter and horrible puns during commercials for Lipton Tea, for they helped lighten the mood of this ofttimes gruesome radio show.
"The Deadly Dummy" takes a hoary trope, that of the ventriloquist's dummy, and gives it its own unique twist. The dummy, of course, is at the center of this otherwise familiar tale of love, deception, and murder, and steals the show. No wooden performance here.
Anyone know why ventriloquist dummies seem to look so scary? It's almost enough to drive one mad. Listen now to "The Deadly Dummy" and pay heed to the host's words of wisdom when he intones that "the ends justify the screams."
Play Time: 28:05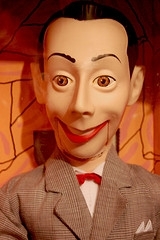 See what I mean? Now this is scary.