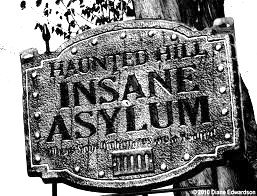 The incomparable Boris Karloff (1887-1969) stars in this week's Old Time Radio episode "Birdsong for a Murderer." Inner Sanctum (1941-1952) aired it on June 22, 1952 near the end of its decade-plus run, which would end a few months later in October. By now, Karloff was famous for his role in Hollywood's 1931 horror classic Frankenstein. Born William Henry Pratt, his early self-adopted stage name of Boris Karloff would be the name by which he would forever be known. As to his getting the role of the Frankenstein monster, the story goes that the film's director, James Whale, saw Karloff eating lunch in some Los Angeles diner, noticed his large, misshapen head, and proclaimed that Hollywood had found its Frankenstein. The rest is history.
Of Karloff's seven performances on Inner Sanctum, "Birdsong for a Murderer" would be his next to last. Without revealing too much — for there is a truly surprise ending — it has to do with an escaped patient from an insane asylum, and the fact that the chirping songs of birds seem to keep the patients calm, a well-laid bit of business crucial to the surprise denouement.
While previewing several of Karloff's roles in classic radio episodes from numerous shows, I was struck once again how his voice, the softly spoken, carefully inflected phrases add immensely to his performances, as many of his lines are loaded with double entendres, the surface meaning seemingly harmless, while the buried meaning quite horrific — ofttimes laced with black humor.
While not listening to weekly episodes of Inner Sanctum on the radio in 1952, youngsters were blessed with such alternate venues for their love of horror and the macabre as Weird Tales magazine, and on the comics front Tales from the Crypt, The Vault of Horror, and a host of others, until they fell victim to Dr. Fredric Wertham's assault via his book Seduction of the Innocent, and with the aid of Congress the Comics Code Authority was founded in 1954, when graphic depictions of gore, horror, and sex (or sexual innuendo) in comics were banned. When William Gaines, publisher of Crypt and Vault decided to kill the magazines, he went in another direction and founded Mad Magazine (with its iconic cover character Alfred E. Neuman), which proved a stroke of genius, for Mad would far outsell his stable of horror magazines and become a classic of humor and biting satire as much revered and collectable today as are his horror comics.
But in 1952 horror, sex, and violence were still enjoyed by youngsters wherever the little devils could find it, and what better place than the dark, often gruesome tales of murder and the macabre (not so much sex) featured on Inner Sanctum — whether their parents approved or not! Case in point is "Birdsong for a Murderer" starring Boris Karloff.
Play Time: 22:23