Today, Sunday, October 25th, 2009, Tangent Online begins its once-a-year week long celebration of the Halloween season with the first of this week's Old Time Radio horror classics. Beginning today, we will present one classic OTR episode every day, culminating on Saturday, October 31st–All Hallows Eve–where we have planned, in addition to that evening's horror tale, a little something extra. While some of these tales will be familiar to Old Time Radio buffs, a few we imagine might be more obscure. We open, if you will, this week's seasonal coffin of horrors with a pair of horror tales. The first, with Boris Karloff, is an SF horror tale, though those down the line you'll find will arouse in you terror and horror in any number of more traditional ways. After all, as H. P. Lovercraft once wrote (and we loosely and generously paraphrase), horror is an emotion, a feeling, an atmosphere. We hope that you enjoy them.
Englishman Boris Karloff (born William Henry Pratt, 1887-1969) stars in this grisly episode of Lights Out (1934-1947). "Death Robbery" aired on July 16, 1947, and shows Karloff at his well-intentioned yet misguided and chilling best. Karloff needs no introduction to film fans (or anyone else for that matter), as he is perhaps the most well known horror film actor in the world even forty years after his death. His legendary performance as the Frankenstein monster has become irrevocably imbedded as part of our world-wide culture.
Where the 1944 radio adaptation of Curt Siodmak's Donovan's Brain dealt with maintaining a living brain, "Death Robbery" employs the same general front-story setup depicted in Frankenstein (both the 1818 Mary Shelley novel, and the 1931 James Whale-directed film)–that being the reanimation of dead tissue. In this case, the resurrection of an entire corpse, fresh from the grave. The down-and-dirty surgical aspect is more graphically depicted than in the relatively glossed-over sequences in "Donovan's Brain," and stresses even more the moral and ethical dimensions of reviving the dead.
Shelley's Frankenstein monster was stitched together from several corpses in an attempt at revivication; "Death Robbery" has scientist Karloff (who has performed his reanimation experiments on rabbits and monkeys some 714 times, successfully) attempt the same feat from a recently deceased, intact, single corpse. What adds an extra layer to this treatment involves just who the embalmed corpse is.
Will Karloff and his ethically-minded but reluctant assistant, a surgeon, succeed in bringing back to life one of the dead–soul and all–as the surgeon believes there to be? Or will they reanimate only the physical body and the already rotting remains of the brain, that integral and master organ which made this once-precious creation of flesh and blood, now a decaying corpse, fully human–and bring to life naught but its unholy shell–a gibbering, fiendish, murderous ghoul? …And after you listen in silent shock to Karloff's final line, who is to say that only the living dead can lay claim to the title of soulless ghoul?
This one is great fun, but make no mistake–if you are in the least bit faint of heart and don't wish to turn your lights down low while listening to this creepy story in order to relish its full effect, then by all means do not turn your Lights Out!
Play Time: 29:53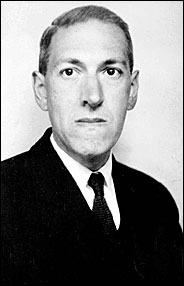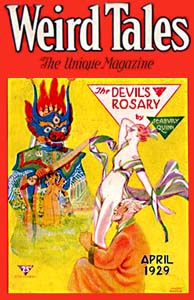 Our second offering is a superb adaptation of one of legendary horror icon H. P. Lovercraft's (1890-1937) most famous stories. "The Dunwich Horror" aired on Suspense on November 1, 1945. The story itself first saw print in the April, 1929 issue of Weird Tales and is a seminal work in Lovecraft's Cthulhu mythos. It takes place in the mythical town of Dunwich, Massachusetts, and concerns the strange and depraved goings-on of the macabre Whately family. Son of a deformed mother and an unknown father, Wilbur Whately seeks information from the ancient book of evil, the Necronomicon, for he desires to summon the Old Ones for purposes made clear in the tale. What ensues is a horrific misadventure into nightmare, with tentacled creatures from an ethereal place beyond our comprehension, invocations of the dread Yog-Sothoth, and much more. Listen now, if you dare, to this dark journey into madness as narrated by the incomparable English star of film, Ronald Colman. "The Dunwich Horror" might be inappropriate for younger listeners with vivid imaginations.
Play Time: 26:09