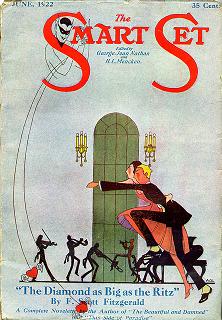 Escape aired "The Diamond as Big as the Ritz" on July 21, 1947. This F. Scott Fitgerald (1896-1940) story first appeared in the June 6, 1922 issue of Smart Set, and was later included in his 1922 collection Tales of the Jazz Age. The setting is somewhere in the mountainous wilds of Montana. A wealthy man and his family live isolated lives in a secret sanctuary of immense proportions, the stern father filling it with (for the time) advanced scientific wonders. The father revels in their isolation while he conducts scientific experiments. A horrific dark side to this superficial utopia is uncovered, however, when a handsome young stranger is brought to the hidden retreat, falls in love with one of the daughters, and learns he will never be allowed to escape, his execution being secretly planned for the following day. How it all plays out and the true significance of "The Diamond as Big as the Ritz" frames one of a pair of tales Fitzgerald labeled as his "fantasies," stories he wrote for his own amusement. The half hour radio adaptation captures the spine of the original story, though certain minor changes were necessary due to time contraints, notably the closing scene.
Escape (1947-54) aired the story twice more, once each in 1948 and 1949. Kraft Theatre aired it as a teleplay in 1955, starring Lee Remick and Elizabeth Montgomery as the two sisters, Kismine and Jasmine. And SF award-winning author Jack Dann wrote an imaginative homage titled "The Diamond Pit" for the June 2001 issue of F&SF. It would win the Australian Ditmar Award for Best Short Fiction in 2002, and was nominated in 2001 for the Aurealis Award and in 2002 for a Nebula Award.
It is my pleasure to dedicate Escape's initial adaptation of "The Diamond as Big as the Ritz" to Jack Dann.
Play Time: 29:30