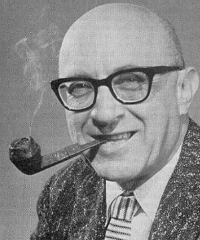 Curt Siodmak (1902-2000) was born in Dresden, Germany and emigrated to the United States in 1937 alarmed at the growing anti-Semitic rhetoric issuing from his homeland. After acquiring his citizenship he became an O.S.S. (Office of Strategic Services–the U.S. intelligence agency formed during WW II) operative in 1943. Siodmak worked in the propaganda department in Washington, D.C. writing leaflets denouncing Nazi Germany. A screenwriter at heart, and following some early film writing work in England, his first big break came when he wrote the screenplay for the horror classic The Wolf Man (1941). (He credited Boris Karloff for giving him the title.) His numerous science-fiction and horror film screenwriting credits are far too numerous to mention them all, but a few include Son of Dracula, I Walked with a Zombie, Frankenstein Meets the Wolfman (all from 1943), Tarzan's Magic Fountain (1949), The Creature with the Atom Brain (1955), the classic Earth vs. The Flying Saucers (1956) and the German language Sherlock Holmes und das Halsband des Todes (Sherlock Holmes and the Deadly Necklace). He also not only wrote, but directed, among several other low-budget films of the 1950's, such drive-in fare as 1957's Love Slaves of the Amazon.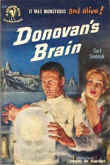 Siodmak's novel Donovan's Brain was published in 1942 and was rewarded with immediate commercial success. I remember reading it in a tattered paperback reissue some thirty-five years or more ago and finding it an engrossing, page-turning read. (Of course, I have no idea how it might hold up now, but back then…!) Three movies have been made from the story: The Lady and the Monster (1944), Donovan's Brain (1953) and the German Ein Toter sucht seiner Murder (A Dead Man Seeks His Murderer) filmed in America as The Brain (1962). Siodmak wrote the sequel to Donovan's Brain entitled Hauser's Memory in 1968. It became a made-for-tv movie in 1970 (coupling contemporary scientific plausibility with decidedly more political intrigue and overtones–an early politico/techno-thriller if you will), starring the Scots-born David McCallum in the updated scientist role. (McCallum co-starred with Robert Vaughn in the 1960's hit tv series The Man from U.N.C.L.E. as Illya Kuryakin, and currently co-stars as coroner Dr. Donald "Ducky" Mallard in the hit tv series N.C.I.S.).
Donovan's Brain was the first of its kind in that it dealt with the subject of the "living brain" kept alive artificially, a subject which, since the novel's appearance, has been explored and reworked endlessly in countless stories, comic books, television dramas, and on radio. Which brings us to this two-part adaptation of Donovan's Brain which first aired on Suspense (1942-1962) on the consecutive Monday evenings of May 18th and 25th of 1944. (Part One was re-aired the following Thursday, May 21st, it should be noted.) The story tells of a scientist who has been experimenting with keeping alive the brains of small monkeys…with limited success. Fortune is kind to him when a financial genius (William H. Donovan) has been critically injured in an airplane crash near the scientist's laboratory/home in the mountains near Phoenix, Arizona, where the dying tycoon is quickly transported; and since it has been determined that Donovan cannot be saved and will die very soon anyway…well, you can guess what next transpires. (…Imagine, if you will, my following colorful description of the removal of Donovan's brain, which is–but not entirely!–skipped over in its details, and remember that this is radio, the theater of the imagination, which is the medium's greatest strength–the imagination of the listener). So…imagine the electrically powered, whizzing, circular surgeon's saw (that mentioned in the story with its technical name–think round pizza-slicer with a razor-sharp, serrated edge) slowly circumnavigating its hand-held way horizontally around, and then carefully and completely through the upper half of the skull, exposing the (still alive, and vein-pulsing) brain, that which is then to be carefully removed following the severing of the brain stem–not forgetting to detach the eyes and then meticulously replace them in their sockets, and then finally re-attaching the skull cap, hair and all carefully smoothed over–for the certain-to-be superficial, rubber-stamped official coroner's report. And last but not least the naked, exposed brain lowered into a large jar full of (some kind of, unnamed) liquid and attached to numerous tubes of bubbling nutrient fluids and electrical wires, and…this is just the beginning of what quickly evolves into a macabre series of events leading to the horrific and unexpected conclusion. The opening, stage-setting "scientific" sequences of Part I are all terrific, dramatically portrayed good fun (along with some timeless philosophical questions thrown in for good measure), and are not to be cavalierly dismissed out of hand for they lend color and background for what is to follow. Though the experimental (and obviously crude) medical science is charmingly, nostalgically hokey, who really cares how "Donovan's Brain" is removed and then transplanted into its new home, when the real story is what happens after it is?
Curt Siodmak died in his sleep on September 2, 2000 at his 50-acre Three Rivers, California ranch, where he had lived since 1958. He had come a long way since his first big break with 1941's The Wolf Man (starring Lon Chaney, Jr., pictured at right), and we can't help but recall his famous rhyme that no one who has ever seen the movie can forget: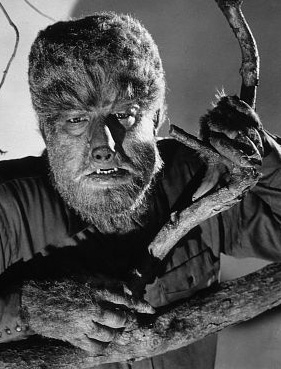 Even a man who's pure in heart
And says his prayers by night,
May become a wolf when the wolfbane blooms
And the autumn moon is bright.
The CBS radio network thought so highly of Donovan's Brain (i.e. it fully recognized the popularity of the recent book and was not adverse to cashing in on its commercial appeal) that not only did it decide to flesh it out, grant it the justice it deemed deserving by running it in two installments, it brought in one of the heaviest hitters in all of radio (and film) to play the lead role of the mad scientist, Patrick Corey: Orson Welles.
Herewith, the radio adaptation of Curt Siodmak's Donovan's Brain, Parts I and II.
(Part I) Play Time: 28:54
(Part II) Play Time: 28:59