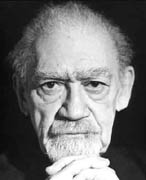 William Tenn (1920- ) is the pen name of Philip Klass, one of the most respected short story writers in the SF field, known primarily for his biting, satirical short stories. Tenn sold his first genre story to Astounding Science Fiction in 1946. His six collections of short stories and only novel (Of Men and Monsters, 1968) are must reads for the true science-fiction devotee and serious student of the genre. He was duly honored in 1999 with the Science Fiction and Fantasy Writers of America's Author Emeritus award for his significant contributions to the field. His "Child's Play" first appeared in the March, 1947 issue of Astounding Science Fiction, and has been reprinted often over the succeeding decades. X Minus One aired the following dramatization on October 20, 1955. While on the surface "Child's Play" seems a simple entertainment wherein a child's toy-set is mistakenly delivered 200 years into the past by an errant time-traveling delivery service–1955 for this dramatization–its philosophical as well as real-world ramifications run much closer to home.
While America gave a collective sigh and began to prosper once more following the Korean "conflict" and entered a welcome time of peace, SF fans also relaxed with their favorite SF magazines and delighted in such stories as Cordwainer Smith's terrific and innovative "The Game of Rat and Dragon" (Galaxy Science Fiction, October), and Arthur C. Clarke's brilliant short story "The Star" (Infinity Science Fiction, November).
Two of the more notable novels from 1955 include Isaac Asimov's The End of Eternity and John Wyndham's Re-Birth.
A familiar SF favorite of Old Time Radio buffs, it is primarily for the first time listener that we showcase this adaptation of William Tenn's classic story "Child's Play."
(For more in-depth, personal information on William Tenn, go to the Classic William Tenn Interview from 1975 posted under the Interviews link on our home page.)
Play Time: 23:08