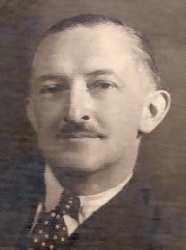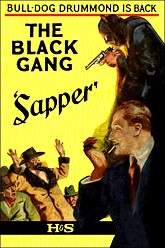 Bulldog Drummond (1941-49) aired "First American Adventure" on September 26, 1941. Actually, this was the audition record creator Himan Brown took to radio stations along with two other shows in hopes of selling them to radio stations. More about Bulldog Drummond in a moment, but what draws our attention to this audition record is that while it includes a full blown episode, it instructs the prospective buyer how to insert his local radio station ads (in-house and sponsored), and how to tailor them to his station's local market. It also explains to the prospective station executives why this method of syndication–where small markets who can't compete with large market advertising dollars nationally–is profitable for them. It's a nice job of salesmanship, and a good sales model. Another bit of trivia associated with this auditon record is that, as mentioned above, it was one of three new shows creator Himan Brown was hoping to interest radio stations into carrying. One of the other two shows happened to be a little something Brown called Inner Sanctum, and while Brown's lead product was Bulldog Drummond, it was Inner Sanctum that sold first, leaving Brown to pound the pavement in search of a home (which he obviously eventually found) for Bulldog Drummond.
Now to Bulldog Drummond for those not familiar with this popular English proto-James Bond. Coincidentally it was January 17th of 2015 when we ran our one and only Bulldog Drummond episode, and wrote a capsule history of his origins in print, film, and radio. Rather than rewriting the whole fascinating story again, we will reuse that material, and end with a little bit about this soldier-of-fortune's "First American Adventure."
If you like James Bond you'll find a lot to like in Hugh "Bulldog" Drummond's adventures. Bulldog Drummond was the character created by Englisman H. C. McNeile (1888-1937, photo top right), who wrote under the pseudonym of "Sapper," Sapper being the official term for those serving in the Royal Engineers during World War I, and the name suggested by McNeile's publisher in order to lend the stories an air of authenticity. None other than Ian Fleming, creator of James Bond, wrote of Bulldog Drummond's author that he was "Sapper from the waist up and Mickey Spillane below."
McNeile, who fought on the Western front in WWI and retired as a major in 1919, wrote a few stories during the war about Drummond as a detective but to no great success. With his first Drummond novel in 1920 (he would pen a total of ten until his death in 1937), Bulldog Drummond, Captain Hugh Drummond, DSO, MC, and ex-British army, was a detective no longer, but would become an adventurer bored with civilian life and, seeking excitement, would place an ad in the newspaper which read: "Demobilised officer, finding peace incredibly tedious, would welcome diversion. Legitimate, if possible, but crime, if of a comparatively humorous description, no objection. Excitement essential. Would be prepared to consider permanent job if suitably impressed by applicant for his services. Reply at once Box X10."
After rejecting the first few responses to his ad, Drummond accepts one from a distraught "damsel in distress" by the name of Phyllis Benton, whom he would end up marrying by the end of the novel. Phyllis' problem, that for which she has enlisted Drummond's aid, soon involves him in a deadly adventure with his soon-to-be recurring nemesis Carl Peterson, an evil genius and megalomaniac bent on world (and Communist) domination, his first conquest being Great Britain. The book is full of action and graphic violence, including a scene where a sociopathic torturer is shoved into an acid bath he has used on others. Not wishing to make certain he dies a quick death, Drummond allows him to throw himself out of the acid bath with his clothes smoking and his flesh bubbling and in agony, only to meet a terrible death a short while later. Sapper has Drummond pull no punches in his encounters with the truly evil. Through circumstance–and the bumbling police–Peterson escapes to commit evil another day, which he does for three more novels until his fitting demise.
The third Bulldog Drummond novel, The Third Round (1924), gets into Bond territory (and SF) with some pseudo-science involved in the creation of synthetic diamonds. Arch nemesis, and identity-chameleon Peterson is back, whose only desire is to exploit the discovery. Sapper is getting the hang of how to write these books by this time, and it shows. These first four Drummond novels are known as the Carl Peterson Quartet, and are recommended for their action, plotting (in most cases), wild adventure, and a hero who knows good from evil, is smart, but hardly handsome, and is definitely a product of his time (that of post-WWI England, with its prejudices and views of those nations from which it has just emerged from a devastating war), and of Sapper himself, who puts much of his own military experience into the books, and surrounds Drummond with fictional army pals including his best friend Algy Longworth, his manservant James Denny, army buddy Peter Darrell, and other series regulars Toby Sinclair and Ted Jerningham. The Carl Peterson quartet of novels are collected in one volume by Wordsworth Editions (2007, 768 pp., though Amazon incorrectly has it at 320 pp., cover above right) and can be purchased via Amazon here.
From the 1920s through the 1960s Bulldog Drummond was featured in 23 films. The first two (1922, 1925) were silent, but the third in 1929 with the eponymous title Bulldog Drummond starred Ronald Colman in his first talkie. The period of 1930-47 saw 17 Drummond films, a fair number including one of the famed Barrymore family, John, while Ray Milland would star in 1937's Bulldog Drummond Escapes. The pair of Drummond films in 1948 would star no less than Tom Conway, and in 1951 Walter Pidgeon would star as Drummond in Calling Bulldog Drummond. An attempt to cash in on the James Bond movie craze in the 1960s saw two more Drummond films (Deadlier than the Male, 1967, and Some Girls Do, 1969), but with little success. The Bulldog Drummond character and adventures were so popular in Britain that in his early days while living in England, young up-and-coming film director Alfred Hitchcock sought the rights to the Drummond character for a film he was set to make titled Bulldog Drummond's Baby. British International Pictures would not release the rights, so Hitchcock turned his film into the now classic The Man Who Knew Too Much (1934, starring Peter Lorre) without the Bulldog Drummond character. Hitchcock would remake the film in 1956 starring James Stewart and Doris Day.
1937-39 would prove arguably the best years for Bulldog Drummond films, when Paramount would make nine of the short B films, most running to around 60 minutes give or take. For anyone wishing to introduce themselves to these fun, suspenseful action forays I recommend picking up the 2006 Mill Creek Entertainment boxed set titled Mystery Classics. It's one of those "100 Movie Pack" sets reasonably priced with some real gems (along with a few easily forgotten pictures), but including a majority of interesting, entertaining films including six Bulldog Drummond titles: Bulldog Drummond's Revenge (1937), Bulldog Drummond Escapes (w/Ray Milland, 1937), Bulldog Drummond Comes Back (1937), Bulldog Drummond in Africa (1938), Bulldog Drummond's Peril (1938), and Bulldog Drummond's Secret Police (1939). These films stick pretty close (in general) to the original Drummond world as depicted in the novels, save for one striking departure; in the first novel, Bulldog Drummond (1920), Drummond marries Phyllis Benton, while in the movies he's always about to be married–just at the altar, as it were–when something inevitably happens to postpone or otherwise thwart the ceremony, thus making poor dear Phyllis always the understanding, long-suffering bride-to-be whom Drummond is always promising to marry as soon as the current adventure is concluded. It's a humorous bit replayed in several of the films, and the actress plays the bit to great advantage.
So the 1920s and 30s were the heyday of the Drummond novels and films, but American radio would catch up in the 1940s with the Bulldog Drummond radio series, where now Drummond has moved to the United States to continue his adventures, of which "First American Adventure" is the aptly titled debut episode. In this one, Captain Drummond and trusty valet Denny encounter hijackers on the highway, and are given the dangerous task of stopping the thefts and discovering who the mastermind is behind the seemingly well-oiled operation.
Play Time: 31:13
[Left: Bulldog Drummond, 1929 – Center: Bulldog Drummond at Bay, 1937 – Right: Bulldog Drummond Escapes, 1937]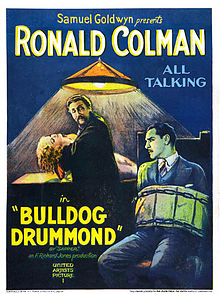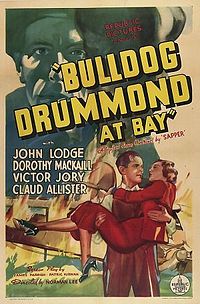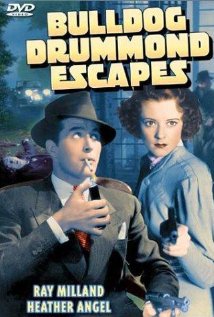 To view the entire list of weekly Old Time Radio episodes at Tangent Online, click here.