Tangent Online 2016 Recommended Reading List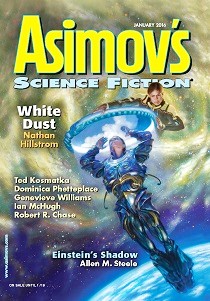 As with previous years, this list is not meant as comprehensive, there being a number of items we didn't see. As was the case with the last several years we narrowed our focus (with a few exceptions) to those stories published in professionally paying markets as defined by SFWA. While SFWA changed its pro-market requirements in 2014 to 6c/wd., we will continue to cover those markets paying the former rate of 5c/wd.
There are 379 stories on this year's list (down from last year's 416): 296 short stories, 65 novelettes, and 18 novellas.
As is our custom, there are four sections to each length category. Those making the list in the short story, novelette, and novella lengths but having no stars, and those with either one, two, or three stars, according to how well the reviewer or reviewers valued a particular story. Quite often you will see more than a single reviewer's initials following a given entry. We have placed the story in the category receiving the most stars. Thus, it is possible that while one reviewer placed a story on the list without any stars, another also placed it on the list but with one or more stars, thus elevating that story to the higher ranking. Where there are more than one reviewer's initials following a story recommendation, they appear in no particular order, thus making it impossible to determine which of the reviewers provided this higher ranking. Conversely, it is also possible that each reviewer held the same opinion of any given story. Some reviewers were quite generous with their recommendations, while others were prohibitively stingy. While seemingly giving praise to stories they had reviewed (sometimes high praise), there were one or two reviewers who have chosen not to provide recommendations, much to my dismay. While I disagree with this decision I understand and respect it. Therefore, while valued members of the review staff, their names do not appear below in the list of reviewers who have recommended stories for this annual list.
If a story is placed in an incorrect length category, please let us know and we'll be happy to correct the oversight. Reviewers are free to place stories on this list from any of their reading during the year, and are not restricted to those venues covered here, nor to publications they have personally reviewed.
If you would like to review for Tangent Online, knowledge of the SF/F/H genres is a must, and reviewing experience is highly preferred. You may contact the editor here. Please note that Tangent Online is a fanzine (eligible for Hugo award consideration in the fanzine category) and does not pay its contributors.
(Cover above for the January 2016 Asimov's. Cover art by Donato Giancola.)
Reviewer names and initials
Christos Antonaros (CA), Bob Blough (BB), Richard Cartwright (RC), Colleen Chen (CC), Kat Day (KD), Jody Dorsett (JD), Kevin P Hallett (KPH), Alex Hurst (AH), Eric Kimminau (EK), C. D. Lewis (CDL), Nicky Magas (NM), Jason McGregor (JM), Michelle Ristuccia (MR), Chuck Rothman (CR), Seraph (S), Herbert Shaw (HS), Dave Truesdale (DT), Robert L Turner III (RLT3), Clancy Weeks (CW).
I wish to thank the reviewers for the time and energy they have devoted to reading and reviewing this year's offerings. Without them, no Tangent Online and no Recommended Reading List; they're the ones who make it all work. Thanks are also due those who sent material for review, and of course our loyal readership throughout 2016—our 23rd year since that first, slim July/August 1993 print issue was mailed out.
Below are covers from original anthologies, or reprint collections which included an original story making the list. Magazine covers (print and online) are interspersed throughout the list in no particular order.
Short Stories
"My Sister's Keeper" by Sarah A. Hoyt (Worst Contact, 1/16) SF (DT)
"Chasing Ivory" by Ted Kosmatka (Asimov's, 1/16) SF (JM)
"Finnegan's Field" by Angela Slatter (Tor.com, 1/16) F (BB)
The Maiden Thief" by Melissa Marr (Tor.com, 1/16) F (BB)
"Vortex" by Gregory Benford (F&SF, 1-2/16) SF (DT)
"Smooth Stones and Empty Bones" by Bennett North (F&SF, 1-2/16) H (DT)
"Touch me All Over" by Betsy James (F&SF, 1-2/16) F (NM, DT)
"Farmer" by Joe M. McDermott (Analog, 1-2/16) SF (CW)
"While I Wait" by Layla Al-Bedawi (Fantastic Stories, 1-2/16) DF (EK)
"Girl in Blue Dress (1881)" by Sunil Patel (Fantastic Stories, 1-2/16) DF (EK)
"Heavy Weather" by Rev DiCerto (Conspiracy!, 2/16) SF (JM)
"The Mermaid Club" by Cat Rambo & Mike Resnick (Conspiracy!, 2/16) F (JM)
"The Iron Man" by Max Gladstone (The Grimm Future, 2/16) SF (CDL)
"For Want of a NAIL" by Sandra McDonald & Stephen D. Covey (The Grimm Future, 2/16) SF (CDL)
"Long Term Employment" by Mike Resnick (The Grimm Future, 2/16) SF (CDL)
"Swan Dive" by Nancy Holder (The Grimm Future, 2/16) SF (CDL)
"The Three Snake-Leaves" by Jeffrey Ford (The Grimm Future, 2/16) SF (CDL)
"The Grocer's Wife [Enhanced Transcription]" by Michael Libling (Asimov's, 2/16) SF (RLT3, DT)
"In Equity" by Sarah Gallien (Asimov's, 2/16) SF (DT)
"Exceptional Forces" by Sean McMullen (Asimov's, 2/16) SF (DT)
"The Four Gardens of Fate" by Betsy Phillips (Apex #81, 2/16) DF (EK)
"The Fixer" by Paul McAuley (Clarkesworld #113, 2/16) SF (BB)
"Charlotte Incorporated" by Rachael K. Jones (Lightspeed #69, 2/16) SF (KPH)
"Told By An Idiot" by K. J. Parker (Beneath Ceaseless Skies #192, 2-4/16) F (KD)
"The Perfect Bracket" by Howard Hendrix and Art Holcomb (Analog, 3/16) SF (NM)
"The Ship Whisperer" by Julie Novakova (Asimov's, 3/16) SF (CDL, DT)
"A Little Bigotry" by R. Neube (Asimov's, 3/16) SF (CDL)
"Listen" by Karen Tidbeck (Tor.com, 3/16) SF (BB)
"Cities of Emerald, Deserts of Gold" by Sofia Samatar (The Revelator, Vol. 139. No. 1, 3/16) F (CR)
"The Law and the Profits" by John Chu (The Revelator, Vol. 139. No. 1, 3/16) F (CR)
"Call and Answer, Plant and Harvest" by Cat Rambo (Beneath Ceaseless Skies #194, 3–3/16) DF (EK)
"The Silver Strands of Alpha Crucis-D" by N. J. Schrock (F&SF, 3-4/16) SF (JM)
"To Catch a Comet" by Sylvia Spruck Wrigley (Galaxy's Edge #19, 3-4/16) SF (MR)
"Screaming Without a Mouth" by Travis Heermann (Apex #82, 3/16) H (KPH)
"The Window" by Denny E. Marshall (Sci Phi Journal #11, 3/16) SF (CR)
"The Wind at His Back" by Jason Kimble (Clockwork Phoenix 5, 4/16) F (NM)
"The Fall Shall Further the Flight in Me" by Rachael K. Jones (Clockwork Phoenix 5, 4/16) F (NM)
"The Games We Play" by Cassandra Khaw (Clockwork Phoenix 5, 4/16) F (NM)
"Sleep Factory" by Rich Larson (Analog, 4/16) SF (CC)
"Reaper's Rose" by Ian Whates (Nightmare #43, 4/16) H (DT)
"Straight Lines" by Naru Dames Sundar (Mothership Zeta #3, 4/16) SF (MR)
"Flame Trees" by T. R. Napper (Asimov's, 4-5/16) SF (BB)
"Define Symbiont" by Rich Larson (Shimmer #31, 5/16) SF (KD)
"A Dead Djinn in Cairo" by P. Djeli Clark (Tor.com, 5/16) F (NM)
"How High Your Gods Can Count" Tegan Moore (Strange Horizons, 5-2/16) F (EK)
"They Said the Desert" by A. T. Greenblatt (Beneath Ceaseless Skies #199, 5-12/16) SF (KPH)
"Laws of Night and Silk" by Seth Dickinson (Beneath Ceaseless Skies #200, 5-26/16) F (KPH)
"Rambunctious" by Rick Wilber (Asimov's, 6/16) SF (DT)
"Rats Dream of the Future" by Paul McAuley (Asimov's, 6/16) SF (DT, CC)
"Unreeled" by Mercurio D. Rivera (Asimov's, 6/16) SF (DT)
"Hold the Moment" by Marie Vibbert (Analog, 6/16) SF (KPH)
"A Partial Inventory of Things I Have Loved" by Michelle Ann King (Flash Fiction Online #33, 6/16) F (JM)
"Lullaby for a Lost World" by Aliette de Bodard (Tor.com, 6/16) F (KPH)
"Blood Reckonings" by Alec Austin (Beneath Ceaseless Skies #201, 6-9/16) F (DT)
"The Nature of Ghosts and the Fate of Shadows" by Luke Nolby (Beneath Ceaseless Skies #202, 6-23/16) F
(MR)
"Seeds of War" by Tommi Virtanen (Compelling SF #2, 6-7/14) SF (CR)
"Forlorn" by Bret Carter (Mysterion, 7/16) H (DT)
"Siren Seeking" by Kelly Sandoval (Sirens, 7/16) F (CR)
"Homecoming" by Tabitha Lord (Sirens, 7/16) F (CR)
"Filtered" by Leah Cypress (Asimov's, 7/16) SF (CR)
"Nuclear Daughter" by Lora Gray (Flash Fiction Online #34, 7/16) SF (KD)
"Lazarus and the Amazing Kid Phoenix" by Jennifer Giesbrecht (Apex #86, 7/16) SF (CR)
"The One Who Isn't" by Ted Kosmatka (Lightspeed #74, 7/16) SF (RLT3)
"The Singing Soldier" by Natalia Theodoridou (Shimmer #32, 7/16) F (KPH)
"A Right to the Cerebellum" by Richard Zwicker (Sci Phi Journal #15, 7/16) SF (KPH)
"An Open Letter to the Person Who Took My Smoothie from the Break Room Fridge" by Oliver Buckram
(F&SF, 7-8/16) F (NM)
"Trustworthy, Loyal, Helpful" by Gregor Hartmann (F&SF, 7-8/16) SF (NM)
"The Words on My Skin" by Caroline M. Yoachim (Uncanny #11, 7-8/16) F (NM)
"The Vampire's New Clothes" by Martin L. Shoemaker (Galaxy's Edge #21, 7-8/16) F (CW)
"A Deeper Green" by Samantha Murray (Beneath Ceaseless Skies #205, 8/16) SF (KPH)
"Toppers" by Jason Sanford (Asimov's, 8/16) SF (MR)
"The Time Cookie Wars" by Benjamin C. Kinney (Flash Fiction Online #35, 8/16) SF (KD)
"In Our Rags of Light" by Shira Lipkin (Strange Horizons, 8/15/16) DF (EK)
"The Patchwork Procedure" by Claude Lalumière (Beneath Ceaseless Skies #206, 8-18/16) SF (MR)
"Deep Waters Call Out To What Is Deeper Still" by Sarah Frost (Analog, 9/16) SF (CR)
"Muse" by Nicola Belte (Flash Fiction Online #36, 9/16) H (KD)
"The Sweet Warm Earth" by Steven Popkes (F&SF, 9-10/16) F (CW)
"A Molten Metal Thread" by Nina Kiriki Hoffman (Fantastic Stories #236, 9-10/16) F (KD)
"The Witch of Orion Waste and the Boy Knight" by E Lily Yu (Uncanny #12, 9/16) F CDL
"Dragon-Smoked Barbeque" by M. K. Hutchins (Strange Horizons, 9/12/16) F (KPH)
"The Old Man and the Phoenix" by Alexandria Baisden (Apex #88, 9/16) F (CW)
"The Boy Who Would Not Be Enchanted" by A. M. Dellamonica (Beneath Ceaseless Skies #209, 9/16) F
(MR)
"An Endless Series of Doors" by David Walton (Humanity 2.0, 10/16) SF (JM)
"EH" by Alvaro Zinos-Amaro (Humanity 2.0, 10/16) SF (JM)
"Not Fit to Print" David Jón Fuller (On Spec #103, Vol. 27, #4, 2016) F (RLT3)
"Teatime with Mrs. Monster" by James Aquilone (Weirdbook #33, 10/16) H (EK)
"A Cure for Unrequited Love" by Donald W. Schank (Weirdbook #33, 10/16) H (EK)
"October's Wedding of the Month" by Emma McDonald (Diabolical Plots #20, 10/16) H (CA)
"Fade to Red: Three Interviews about Sebold's Mars Trilogy" by Stephen S. Power (Lightspeed #77, 10/16) SF
(RLT3)
"My Enemy, the Unicorn" by Bill Ferris (Unidentified Funny Objects #5, 10/16) F (CW)
"If I Could Give This Time Machine Zero Stars, I Would" by James Wesley Rogers (Unidentified Funny Objects #5, 10/16) SF (CW)
"Prophet Margins" by Zach Shephard (Unidentified Funny Objects #5, 10/16) F (CW)
"The Mayoral Stakes" by Mike Resnick (Unidentified Funny Objects #5, 10/16) SF (CW)
"Customer Service Hobgoblin" by Paul R. Hardy (Unidentified Funny Objects #5, 10/16) F (CW)
"meat+drink" by Daniel Polansky (Tor.com, 10/16) H (JM)
"A Winter Scourge" by Tamsin Showbrook (Tales of Krampus, 10/16) F (CDL)
"He Sees You When You're Sleeping" by Lisa Marie Redmond (Tales of Krampus, 10/16) F (CDL)
"Santa's Little Helper" by Beth Mann (Tales of Krampus, 10/16) F (CDL)
"Breaking News Involving Space Pirates" by Brian Trent (Galaxy's Edge #23, 11–12/16) SF (KPH)
"In the Absence of Instructions to the Contrary" by Frank Wu (Analog, 11/16) SF (KPH)
"Mice Among Elephants" by Gregory Benford & Larry Niven (Bridging Infinity, 11/16) SF (JM)
"Seven Birthdays" by Ken Liu (Bridging Infinity, 11/16) SF (JM)
"Obsidian River" by Annika Howells (Aurealis #96, 11/16) F (KD)
"The Old Man in the Mountain" by Tom Howard (SQ Mag #29, 11/16) SF (CW)
"Rock, Paper, Incisors" by David Cleden (Interzone, 11-12/16) F (KPH)
"Sister: Loki" by Arlan Andrews, Sr. (Analog, 12/16) SF (CR)
"Fermi Meets Sagan" by Robert Scherrer (Analog, 12/16) SF (CR)
"Every Day Is the Full Moon" by Charlie St. George (Lightspeed #79, 12/16) H (NM)
"Uncontainable" by Helen Stubbs (Apex #91, 12/16) F (KPH)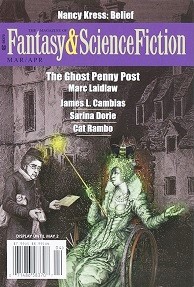 Short Stories One Star

"The Visionaries" by Albert E. Cowdrey (F&SF, 1-2/16) H* (NM, DT)
"Theories of Mind" by Conor Powers-Smith (Analog, 1-2/16) SF* (CW)
"The Bone-Runner" by Jennifer Campbell-Hicks (Galaxy's Edge #18, 1-2/16) SF* (CR)
"The Press of the Infinite Black" by Rene Sears (Galaxy's Edge #18, 1-2/16) SF* (CR)
"A Right Jolly Old…" by James L. Cambias (Conspiracy!, 2/16) F* (JM)
"Be Still, and Listen" by Seanan McGuire (The Grimm Future, 2/16) SF* (CDL)
"The White Rat" by Dana Cameron (The Grimm Future, 2/16) SF* (CDL)
"Zel and Grets" by Maura McHugh (The Grimm Future, 2/16) SF* (CDL)
"Love Letters on the Nightmare Sea" by Rachael K. Jones (Flash Fiction Online #29, 2/16) F* (CR)
"Sister Margo's Heart" by Raven Jakubowski (Flash Fiction Online #29, 2/16) F* (CR)
"That Which Stands Tends toward Free Fall" by Benjanun Sriduangkaew (Clarkesworld #113, 2/16) SF* (BB)
"Princess" by Dennis Etchison (Nightmare, 2/16) H/SF (RLT3)
"The Beast at the End of Time" by Benjanun Sriduangkaew (Apex #81, 2/16) SF* (EK)
"And the Blessing of the Angels Came Upon Them" by Dean Wells (Beneath Ceaseless Skies #193, 2-18/16) F*
(KD)
"Elderjoy" by Gregory Benford (Analog, 3/16) SF* (DT)
"Pretty Pictures at War" by Larry Hodges (Galaxy's Edge #19, 3-4/16) SF* (MR)
"The Right Bright Courier" by Anaea Lay (Beneath Ceaseless Skies #194, 3-3/16) SF* (EK)
"The Mountains His Crown" by Sarah Pinsker (Beneath Ceaseless Skies #195, 3-17/16) F* (EK)
"Sea of Dreams" by Alter S. Reiss (Beneath Ceaseless Skies #196, 3-31/15) F* (NM)
"Mwah" by S. Marston (SQ Mag #25, 3/16) SF* (MR)
"The Sorcerer of Etah" by Gray Rinehart (Clockwork Phoenix 5, 4/16) F* (NM)
"The Days of Hamelin" by Robert Reed (Asimov's, 4-5/16) SF* (BB)
"Three Points Masculine" by An Owomoyela (Lightspeed #72, 5/16) SF* (NM)
"All the Colors You Thought Were Kings" by Arkady Martine (Shimmer #31, 5/16) SF* (KD)
".subroutine:all///end" by Rachael Acks (Shimmer #31, 5/16) SF* (KD)
"O What Freedom, This Great Steel Cage" by Shane Halbach (Analog, 5/16) SF* (NM)
"Stiches" by Nick DiChario (Galaxy's Edge #20, 5-6/16) SF* (CR)
"This is Home. You are Well" by Tina Gower (Galaxy's Edge #20, 5-6/16) SF* (CR)
"The Nult Factor" by J. T. Sharrah (Analog, 6/16) SF* (KPH)
"Things With Beards" by Sam J. Miller (Clarkesworld #117, 6/16) SF* (CW)
"Life in Stone, Glass, and Plastic" by José Pablo Iriarte (Strange Horizons, 6-13/16) F* (DT)
"Mortal Eyes" by Ann Chatham (Beneath Ceaseless Skies #202, 6-23/16) F* (MR)
"Crinkles" by Michael Ryder (Compelling SF #2, 6-7/14) SF* (CR)
"Future Fragments, Six Seconds Long" by Alex Shvartsman (Diabolical Plots #17, 7/16) F* (KPH)
"Golgotha" by David Tallerman (Mysterion, 7/16) H* (DT)
"Cutio" by F. R. Michaels (Mysterion, 7/16) H* (DT)
"Siren's Odyssey" by Tamsin Showbrook (Sirens, 7/16) F* (CR)
"The Fisherman's Catch" by Adam L. Bealby (Sirens, 7/16) F* (CR)
"Webs" by Mary Anne Mohanraj (Asimov's, 7/16)* SF (CR)
"Starpower" by Christopher Shultz (Apex #86, 7/16) SF* (CR)
"Sic Semper, Sic Semper, Sic Semper" by Douglas F. Warrick (Tor.com, 7/16) SF* (NM)
"Last One Out" by K. B. Rylander (F&SF, 7-8/16) SF* (NM)
"Mathematical Certainty" by Andrew Neil Gray (IGMS #51, 7-8/16) SF* (MR)
"The World That You Want" by Laurie Tom (Galaxy's Edge #21, 7-8/16) F* (CW)
"President John F. Kennedy, Astronaut" by Sandra McDonald (Asimov's, 8/16) SF* (MR)
"The Mutants Men Don't See" by James Alan Gardner (Asimov's, 8/16) SF* (DT)
"Gorse Daughter, Sparrow Son" by Alena Indigo Anne Sullivan (Strange Horizons, 8–1 & 8-8/16) DF* (EK)
"You Are Not a Metaphor" by Marina J. Lostetter (Flash Fiction Online #35, 8/16) F* (KD)
"Those Brighter Stars" by Mercurio D. Rivera (Lightspeed #75, 8/16) SF* (BB)
"Adventures in Family Bonding" by W. Michael Beachy (Analog, 9/16) SF* (CR)
"To Rise No More" by Marie Brennan (Beneath Ceaseless Skies #207, 9-1/16) F* (KD)
"Jericho" by Joy Kennedy-O'Neill (Flash Fiction Online #36, 9/16) SF* (KD)
"Not a Miracle But a Marvel" by Tim Pratt (Uncanny #12, 9/16) F* (CDL)
"Four Haunted Houses" by Adam-Troy Castro (Nightmare #48, 9/16) H* (EK)
"A Courtship of Beasts" by Michael Anthony Ashley (Beneath Ceaseless Skies #209, 9/16) F* (MR)
"Three Love Letters from an Unrepeatable Garden" by Aliya Whiteley (Interzone #266, 9-10/16) SF* (KPH)
"The Bag Lady" David Gerrold (Galaxy's Edge #22, 9-10/16) F* (RLT3)
"Zayinim" by Adam Roberts (Apex #89, 10/16) SF* (CR)
"The Troll Who Hid Her Heart" by Jenn Grunigen (Strange Horizons, 10/10/16) SF* (S)
"The Right Place to Start a Family" by Caroline M. Yoachim (Humanity 2.0, 10/16) SF* (JM)
"The Business of Christmas" by Anya J. Davis (Tales of Krampus, 10/16) F* (CDL)
"The People in the Building" by Sandra McDonald (Asimov's, 10-11/16) SF* (CR)
"The Undertow Jackpot" by Karl El-Koura (Compelling SF #3, 10-11/16) SF* (CR)
"TrashureIsland" by Rich Larson (Compelling SF #3, 10-11/16) SF* (CR)
"Esmeralda" by Tamara Romero (Strange Horizons, 10/31/16) F* (S)
"Perfectly Not Normal" by Alexis A. Hunter (Flash Fiction Online #38, 11/16) SF* (MR)
"Migration" by Tananarive Due (Nightmare #50, 11/16) H* (DT)
"I've Come to Marry the Princess" by Helena Bell (Lightspeed #78, 11/16) F* (CR)
"Of Sight, of Mind, of Heart" by Samantha Murray (Clarkesworld #122, 11/16) SF* (NM)
"Between Going and Staying" by Lilliam Rivera (F&SF, 11-12/16) SF* (BB)
"A Home in the Sky" by Lisa Tuttle (Black Static #55, 11-12/16) H* (S)
"Number One Personal Hitler" by Jeff Hemenway (Shimmer #34, 11-12/16) SF* (CW)
"Spirit Tasting List for Ridley House, April 2016" by Rachael Acks (Shimmer #34, 11-12/16) F/H* (CW)
"Jewels from the Sky" by Brendan DuBois (Analog, 12/16) SF* (CR, DT)
"In Boonker's Room" by Eliot Fintushel (Analog, 12/16) SF* (CR, DT)
"Crowdfinding" by Eric James Stone (Analog, 12/16) SF* (CR, DT)
"I Was a Teenage Werewolf" by Dale Bailey (Nightmare #51, 12/16) H* (EK)
Short Stories Two Stars
"Braid of Days and Wake of Nights" by E. Lily Yu (F&SF, 1-2/16) F** (NM)
"The Soul Mate Requirement" by Kelly Sandoval (IGMS #49, 1-2/16) SF** (RC)
"The Osteomancer's Husband" by Henry Szabranski (Diabolical Plots #11, 1/16) DF** (EK)
"Secondhand Bodies" by JY Yang (Lightspeed #68, 1/16) SF** (BB)
"Angel, Monster, Man" by Sam J. Miller (Nightmare #40, 1/16) H** (NM)
"The Caretakers" by David Nickle (Tor.com, 1/16) F** (BB)
"The Godbeard" by Lavie Tidhar (Strange Horizons, 1-11/16) F** (KD)
"The Little Robot's Bedtime Prayer" by Robert T. Jeschonek (Galaxy's Edge #18, 1-2/16) SF** (CR)
"Thuindergod in Therapy" by Effie Seiberg (Galaxy's Edge #18, 1-2/16) SF** (CR)
"Confidence Game (Sargasso)" by Laurie Tom (Galaxy's Edge #18, 1-2/16) SF** (CR)
"Origins" by Carlos Hernandez (The Grimm Future, 2/16) SF** (CDL)
"The Madman's Ungrateful Child" by Peadar Ó Guilín (The Grimm Future, 2/16) SF** (CDL)
"Between Dragons and Their Wrath" by An Owomoyela and Rachel Swirsky (Clarkesworld #113, 2/16) F**
(BB)
"The Virgin Played Bass" by Maria Dahvana Headley (Uncanny #8, 1-2/16) F** (MR)
"The Creeping Women" by Christopher Barzak (Uncanny #8, 1-2/16) F** (MR)
"Anabaptist" by Daniel Rosen (Apex #81, 2/16) SF** (EK)
"The Three Dancers of Gizari" by Tamara Vardomskaya (Beneath Ceaseless Skies #192, 2-4/16) F** (KD)
"Snowbird" by Joe M. McDermott (Analog, 3/16) SF** (NM)
"That Game We Played During the War" by Carrie Vaughn (Tor.com, 3/16) SF** (BB)
"Shattered Vessels" by Kary English and Robert B. Finegold, M. D. (Galaxy's Edge #19, 3-4/16) F** (MR)
"May Our Voices Sing Like Blood from Open Wounds" by Jason Sanford (IGMS #50, 3-4/16) SF** (RLT3)
"Death Flowers of a Never-Forgotten Love" by Jason Sanford (Apex #82, 3/16) SF** (KPH)
"A Salvaging of Ghosts" by Aliette de Bodard (Beneath Ceaseless Skies #195, 3-17/16) SF** (EK)
"The Trinitite Golem" by Sonya Taaffe (Clockwork Phoenix 5, 4/16) SF** (NM)
"Innumerable Glimmering Lights" by Rich Larson (Clockwork Phoenix 5, 4/16) SF** (NM)
"Rabbit Grass" by Kelly Stewart (Beneath Ceaseless Skies #197, 4-14/16) F** (NM)
"Images Across a Shattered Sea" by Stewart C Baker (Writers of the Future 32, 5/16) SF** (RC)
"The Language of Flowers" by Ian Creasey (Analog, 5/16) SF** (NM)
"Wednesday's Story" by Wole Talabi (Lightspeed #72, 5/16) F** (NM)
"Lord of the Cul-de-Sac" by Auston Habershaw (Galaxy's Edge #20, 5-6/16) F** (CR)
"Fork Points" by Sheila Finch (Galaxy's Edge #20, 5-6/16) SF** (CR)
"How Do You Solve a Problem Like Grandpa?" by Michael Z. Williamson (Black Tide Rising, 6/16) SF** (RC)
"And Then, One Day, the Air was Full of Voices" by Margaret Ronald (Clarkesworld #117, 6/16) SF**
(CW)
"Wilson's Singularity" by Terence Taylor (Lightspeed #73, 6/16) SF** (AH)
"Personal Trainer" by Meg Elison (Compelling SF #2, 6-7/14) SF** (CR)
"Green on the Inside" by Star Spider (Flash Fiction Online #34, 7/16) F** (KD)
"Experience" by Sandra Wickham (Sirens, 7/16) F** (CR)
"Threshold" by K. T. Ivanrest (Sirens, 7/16) F** (CR)
"One More Song" by Eliza Chan (Sirens, 7/16) F** (CR)
"Masked" by Rich Larson (Asimov's, 7/16) SF** (CR)
"Helio Music" by Mike Buckley (Clarkesworld #118, 7/16) SF** (BB)
"Under She Who Devours Suns" by Benjanun Sriduangkaew (Beneath Ceaseless Skies #204, 7-21/16) F**
(AH)
"Spells Are Easy If You Have The Right Psychic Energy" by Dominica Phetteplace (F&SF, 7-8/16) F** (NM)
"El Cantar of Rising Sun" by Sabrina Vourvoulias (Uncanny #11, 7-8/16) F** (NM)
"Love out of Season" by Caroline M. Yoachim (Fantastic Stories #235, 7-8/16) SF** (KD)
"Creation" by Sara Norja (Flash Fiction Online #35, 8/16) F** (KD)
"Reclamation" by Ryan Row (Clarkesworld #119, 8/16) SF** (BB)
"Taste the Singularity at the Food Truck Circus" by Jeremiah Tolbert (Lightspeed #75, 8/16) SF** (BB)
"The Patchwork Procedure" by Claude Lalumière (Beneath Ceaseless Skies #206, 8/18/16) SF (MR)
"Scent" by Maria Haskins (Flash Fiction Online #36, 9/16) F** (KD)
"Under One Roof" by Sarah Pinsker (Uncanny #12, 9/16) F** (CDL)
"Little Widow" by Maria Dahvana Headley (Nightmare #48, 9/16) DF** (EK)
"The Wind Shall Blow" by Gregory Norman Bossert (Beneath Ceaseless Skies #209, 9/16) F** (MR)
"The Vampire's Stepdaughter" by José Pablo Iriarte (Fantastic Stories #236, 9-10/16) F** (KD)
"Bookmarked" Martin L. Shoemaker (Galaxy's Edge #22, 9-10/16) SF** (RLT3)
"Rusties" by Nnedi Okorafor & Wanuri Kahiu (Clarkesworld #121, 10/16) SF** (S)
"Bad Faith" by Will Blinn (Weirdbook #33, 10/16) H** (EK)
"The Screams at the Keyhole" by Garrett Cook (Weirdbook #33, 10/16) DF** (EK)
"Weapons of Last Resort" by James Milton (Aurealis #95, 10/16) F** (KD)
"La Corriveau" by K.T. Bryski (Strange Horizons, 10/3/16) F** (S)
"Wish You Were Here" by Nadia Bulkin (Nightmare #49, 10/16) H** (NM)
"Memo from Santa" by Jude Tulli (Tales of Krampus, 10/16) F** (CDL)
"Lucite" by Susan Palwick (Asimov's, 10-11/16) F** (CR)
"The Law of Diminishing Returns" by Dominic Teague (Compelling SF #3, 10-11/16) SF** (CR)
"Special Collections" by Kurt Fawver (F&SF, 11-12/16) F/SF** (BB)
"Don't You Worry, You Aliens" by Paul Cornell (Uncanny #13, 11-12/16) SF** (BB)
"The Green Knight's Wife" by Kat Howard (Uncanny #13, 11-12/16) F** (BB)
"Turncrowe" by Michael Meyerhofer (IGMS #53, 11-12/16) F** (MR)
"The Venus Effect" by Joseph Allen Hill (Lightspeed #79, 12/16) SF** (NM)
"The Orangery" by Bonnie Jo Stufflebeam (Beneath Ceaseless Skies #214, 12-8/16) F** (JD)
"The True and Otherworldly Origins of the Name 'Calamity Jane'" by Jordan Kurella (Beneath Ceaseless
Skies #215, 12-22/16) H** (JD)
Short Stories Three Stars
"Two's Company" by Joe Abercrombie (Tor.com, 1/16) F*** (BB)
"Upgrade" by Axel Schwarz (Sci Phi Journal #9, 1/16) SF*** (CA)
"Souls are Like Livers" by Aurelia Flaming (IGMS #49, 1-2/16) SF*** (RC)
"Pair of Ugly Stepsisters, Three of a Kind" by Garth Nix (The Grimm Future, 2/16) SF*** (CDL)
"A Partial List of Lists I Have Lost Over Time" by Sunil Patel (Asimov's, 3/16) SF*** (CDL)
"A Fist of Permutations in Lightning and Wildflowers" by Alyssa Wong (Tor.com, 3/16) F*** (BB)
"One's Company" by Davian Aw (Diabolical Plots #13, 3/16) SF*** (KD)
"Welcome to the Medical Clinic at the Interplanetary Relay Station/Hours Since the Last Patient Death: 0"
by Caroline M. Yoachim (Lightspeed #70, 3/15) SF*** (BB)
"The Perfect Happy Family" by Patricia Russo (Clockwork Phoenix 5, 4/16) F*** (NM)
"Squeeze" by Rob Cameron (Clockwork Phoenix 5, 4/16) H*** (NM)
"Woman in the Reeds" by Esther M. Freisner (Asimov's, 4-5/16) F*** (BB)
"Möbius" by Christoph Weber (Writers of the Future 32, 5/16) SF*** (RC)
"Swords Like Lightning , Hooves Like Thunder" by K. D. Julicher (Writers of the Future 32, 5/16) F*** (RC)
"Up on the Roof" by Eric Flint (Black Tide Rising, 6/16) SF*** (RC)
"Not in Vain" by Kacey Ezell (Black Tide Rising, 6/16) SF*** (RC)
"A Good Home" by Karin Lowachee (Lightspeed #73, 6/16) SF*** (AH)
"After the End" by Damien Angelica Walters (Daily Science Fiction, 6-9/16) SF*** (BB)
"Jesus Has Forgiven Me, Why Can't You?" by Betsy Phillips (F&SF, 7-8/16) F*** (NM)
"The Night Bazaar for Women Becoming Reptiles" by Rachel K. Jones (Beneath Ceaseless Skies #203,
7-7/16) F*** (AH)
"First Light at Mistaken Point" by Kali Wallace (Clarkesworld #119, 8/16) SF*** (BB)
"Rubble People" by Matthew Sanborn Smith, (Aliterate #1, Fall/16) SF*** (RLT3)
"Rooms Formed of Neurons and Sex" by Ferrett Steinmetz (Uncanny #12, 9/16) F*** (CDL)
"Breathing" by Leife Shallcross (Aurealis #95, 10/16) SF*** (KD)
"Natural Skin" by Alyssa Wong (Lightspeed #78, 11/16) SF*** (CR)
"When Grandfather Returns" by S.N. Dyer (Asimov's, 10-11/16) F*** (CR)
"Trance Junkie" by Bruno Lombardi (Weirdbook #33, 10/16) DF*** (EK)
"Our Talons Can Crush Galaxies" by Brooke Bolander (Uncanny #13, 11-12/16) F*** (BB)
"The Loud Table" by Jonathan Carroll (Tor.com, 11/16) SF*** (BB)
"A Pest Most Fiendish" by Caighlan Smith (Tor.com, 11/16) F*** (BB)
"A Very Lonely Revolution" by Simon Avery (Black Static #55, 11-12/16) F*** (S)
"The Continuing Saga of Tom Corbett: Space Cadet" by James Van Pelt (Analog, 12/16) SF*** (CR)
"The Schismatic Element Aboard Continental Drift" by Lee Budar-Danoff (Diabolical Plots #22, 12/16) SF***
(CA)
"A Menagerie of Grief" by Kelly Sandoval (Flash Fiction Online #39, 12/16) F*** (KD)
"The Story of Kao Yu" by Peter S. Beagle (Tor.com, 12/16) DF*** (EK)
"The Jeweled Nawab Jungle Retreat" by Priya Sridhar (Beneath Ceaseless Skies #214, 12-8/16) F*** (JD)
"Where She Went" by Linden A. Lewis (Beneath Ceaseless Skies #215, 12-22/16) H*** (JD)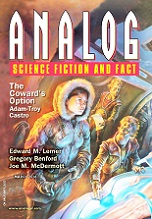 Novelettes
"In the Midst of Life" by Nick Wolven (Clarkesworld #113, 2/16) SF (BB)
"Drummer" by Thomas R. Dolski (Analog, 3/16) SF (NM)
"Unlinkage" by Eric Del Carlo (Analog, 3/16) SF (NM)
"The Bewilderness of Lions" by Ted Kosmatka (Asimov's, 3/16) SF (CDL)
"I Married A Monster From Outer Space" by Dale Bailey (Asimov's, 3/16) F (CDL, DT)
"Middle Child Syndrome" by Scott M. Roberts (IGMS #50, 3-4/16) F (RLT3)
"Project Synergy" by Dominica Phetteplace (Asimov's, 4-5/16) SF (BB)
"Of the Beast in the Belly" by C. W. Johnson (Asimov's, 4-5/16) SF (BB)
"Jonas and the Fox" by Rich Larson (Clarkesworld #116, 5/16) SF (RLT3)
"Orphan Pirates of the Spanish Main" by Dennis Danvers (Tor.com, 5/16) SF (NM)
"The Infinite Maniqué" by Howard V. Hendrix (Analog, 5/16) SF (NM)
"The Judgment of Gods and Monsters" by Kameron Hurley (Beneath Ceaseless Skies #200, 5-26/16) SF
(KPH)
"The Stone War" by Ted Kosmatka (F&SF, 5-6/16) SF (KPH)
"Nothing But the Sky" by Gwendolyn Clare (Beneath Ceaseless Skies #201, 6-9/16) F (DT)
"Oelinium" by Steve Rodgers (Compelling SF #2, 6-7/14) SF (CR)
"Ten Poems for the Mossums, One for the Man" by Suzanne Palmer (Asimov's, 7/16) SF (CR)
"The Monastic" by Daniel Southwell (Mysterion, 7/16) SF (DT)
"Vishnu Summer" by David Prill (F&SF, 7-8/16) F (NM)
"Snow Day" by Catherynne M. Valente (Uncanny #11, 7-8/16) F (NM)
"Her Scales Shine Like Music" by Rajnar Vajra (Tor.com, 8/16) SF (JM)
"Unauthorized Access" by An Owomoyela (Lightspeed #76, 9/16) SF (MR)
"The Apologists" by Tade Thompson (Interzone #266, 9-10/16) SF (KPH)
"The Leaning Lincoln" by Will Ludwigsen (Asimov's, 10-11/16) F (CR)
"Project Extropy" by Dominica Phetteplace (Asimov's, 10-11/16) SF (CR)
"Cold Comfort" by Pat Murphy & Paul Doherty (Bridging Infinity, 11/16) SF (JM)
"They Have All One Breath" by Karl Bunker (Asimov's, 12/16) SF (JM)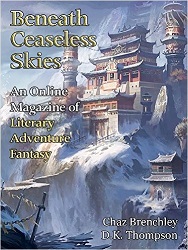 Novelettes One Star
"Telltale" by Matthew Hughes (F&SF, 1-2/16) F* (NM, DT)
"Playthings" by Stephen L. Burns (Analog, 4/16) SF* (CC)
"The Long Fall Up" by William Ledbetter (F&SF, 5-6/16) SF* (KPH)
"The Fisherman and the Golem" by Amanda Kespohl (Sirens, 7/16) F* (CR)
"Pure Beauty and the Beast" by Mike Resnick (Galaxy's Edge #21, 7-8/16) F* (CW)
"Dreams of the Rocket Men" by C. Stuart Hardwick (Analog, 9/16) SF* (CR)
"The Whole Mess" by Jack Skillingstead (Asimov's, 9/16) SF* (BB)
"Those Shadows Laugh" by Geoff Ryman (F&SF, 9-10/16) SF* (CW)
"Something Deadly, Something Dark" by Bonnie Jo Stufflebeam (Black Static #55, 11-12/16) H* (S)
"Black Orbit" by Martin L. Shoemaker (Analog, 12/16) SF* (CR)
"The Autobiography of a Traitor and a Half-Savage" by Alix E. Harrow (Tor.com, 12/16) DF* (EK)
Novelettes Two Stars
"Project Empathy" by Dominica Phetteplace (Asimov's, 3/16) SF** (CDL, DT)
"The Desolated Orchard" by John F. D. Taff (Cutting Block Books, 6/16) F** (CR, DT)
"We Are Sirens" by L. S. Johnson (Sirens, 7/16) F** (CR)
"Nobody Like Josh" by Robert Thurston (Asimov's, 7/16) SF** (CR)
"The Art of Space Travel" by Nina Allan (Tor.com, 7/16) SF** (NM)
"Detroit Hammersmith, Zero-Gravity Toilet Repairman [Retired]" by Suzanne Palmer (Analog, 9/16) SF**
(CR)
"The Mind Is Its Own Place" by Carrie Vaughn (Asimov's, 9/16) SF** (BB)
"The Book of How to Live" by Rose Lemberg (Beneath Ceaseless Skies #209, 9/16) F** (MR)
"The Ruby Palace" by Jessica Amanda Salmonson (Weirdbook #33, 10/16) DF** (EK)
"Gracia" by Susana Vallejo (Strange Horizons, 10/31/16) H** (S)
"Western Heaven" by Chen Hongyu (Clarkesworld #122, 11/16) SF** (NM)
"The Cat Bell" by Esther M. Friesner (F&SF, 11-12/16) F** (BB)
Novelettes Three Stars
"The White Piano" by David Gerrold (F&SF, 1-2/16) H*** (NM, DT)
"Foxfire, Foxfire" by Yoon Ha Lee (Beneath Ceaseless Skies #194, 3-3/16) SF*** (EK)
"Blood Grains Speak Through Memories" by Jason Sanford (Beneath Ceaseless Skies #195, 3-17/16) SF***
(EK)
"Matilda" by Kristine Kathryn Rusch (Asimov's, 4-5/16) SF*** (BB, DT)
"Flight from the Ages" by Derek Kunskin (Asimov's, 4-5/16) SF*** (BB)
"Lost:Mind" by Will McIntosh (Asimov's, 7/16) SF*** (CR)
"The Big Bah-Ha" by C.S.E. Cooney (Apex #86, 7/16) F*** (CR)
"Teenagers from Outer Space" by Dale Bailey (Clarkesworld #119, 8/16) SF*** (BB)
"Alone, on the Wind" by Karla Schmidt (Clarkesworld #119, 8/16) SF*** (BB)
"The Visitor from Taured" by Ian R. MacLeod (Asimov's, 9/16) SF*** (BB)
"The Green Man Cometh" by Rich Larson (Clarkesworld #120, 9/16) SF*** (BB)
"George & Frank Tarr, Boy Avencherers, in 'Beeyon the Shours We Knowe!!!!'" by Thomas M. Waldroon
(Beneath Ceaseless Skies #207, 9-1/16) SF*** (KD)
"Everyone from Themis Sends Letters Home" by Genevieve Valentine (Clarkesworld #121, 10/16) SF*** (S)
"Train to Nowhere" by Adrian Cole (Weirdbook #33, 10/16) DF*** (EK)
"Wretched the Romantic" by Michael Libling (Asimov's, 10-11/16) F*** (CR)
"Passelande" by Robert Reed (F&SF, 11-12/16) SF*** (BB)
"Prodigal" by Gord Sellar (Analog, 12/16) SF*** (CR)
"The Thing About Growing up in Jokertown" by Carrie Vaughn (Tor.com, 12/16) F*** (EK)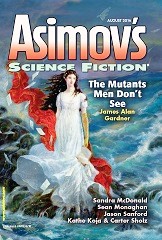 Novellas
"Wyatt Earp 2.0" by Wil McCarthy (Analog, 1-2/16) SF (CW)
"Einstein's Shadow" by Allen M. Steele (Asimov's, 1/16) SF (DT)
"The Liar" by John P. Murphy (F&SF, 3-4/16) F (JM)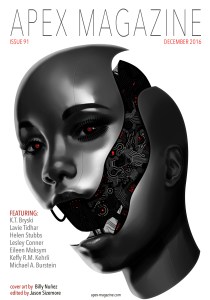 Novellas One Star
"The Tomato Thief" by Ursula Vernon (Apex #80, 1/16) SF* (KPH)
"Everybody Loves Charles" by Bao Shu (Clarkesworld #112, 1/16) SF* (KPH)
"The Coward's Option" by Adam-Troy Castro (Analog, 3/16) SF* (NM)
"The Snow of Jinyang" by Zhang Ran (Clarkesworld #117, 6/16) SF* (CW)
Novellas Two Stars
"The Devil You Know" by K. J. Parker (Tor.com Press, 3/16) F** (BB)
"The Further Adventures of Mr. Costello" by David Gerrold (F&SF, 9-10/16) SF** (CW)
"The Dunsmuir Horror" by David Gerrold (F&SF, 9-10/16) H** (CW)
"The Forgotten Taste of Honey" by Alexander Jablokov (Asimov's, 10-11/16) F** (CR)
"McMara's Rock" by Stephen Hargadon (Black Static #55, 11-12/16) H** (S)
Novellas Three Stars
"Chimera" by Gu Shi (Clarkesworld #114, 3/16) SF*** (CA)
"Touring with the Alien" by Carolyn Ives Gilman (Clarkesworld #115, 4/16) SF*** (BB)
"Lazy Dog Out" by Suzanne Palmer (Asimov's, 4-5/16) SF*** (BB)
"Purytans" by Brad R. Torgersen (Analog, 7-8/16) SF*** (RC)
"The Vanishing Kind" by Lavie Tidhar (F&SF, 7-8/16) SF*** (BB)
"Progress Report" by Rajnar Vajra (Analog, 9/16) SF*** (CR)
"A Taste of Honey" by Kai Ashante Wilson (Tor.com Press, 10/16) SF*** (BB)

{Below: two InterGalactic Medicine Show covers.}