Tangent Online 2015 Recommended Reading List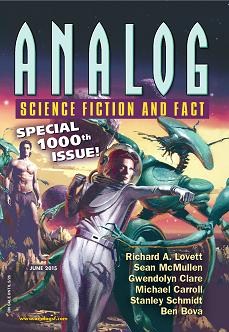 As with previous years, this list is not meant as comprehensive, there being several items we didn't see. As was the case with the last several years we narrowed our focus (with rare exception) to those stories published in professionally paying markets as defined by SFWA. While SFWA changed its pro-market requirements in 2014 to 6c/wd., we will continue to cover those markets paying the former rate of 5c/wd.
As is our custom, there are four sections to each length category. Those making the list in the short story, novelette, and novella lengths but having no stars, and those with either one, two, or three stars, according to how well the reviewer or reviewers valued a particular story. Quite often you will see
more than a single reviewer's initials following a given entry. We have placed the story in the category receiving the most stars. Thus, it is possible that while one reviewer placed a story on the list without any stars, another also placed it on the list but with one or more stars, thus elevating that story to the higher ranking. Where there are more than one reviewer's initials following a story recommendation, they appear in no particular order, thus making it impossible to determine which of the reviewers provided this higher ranking. Conversely, it is also possible that each reviewer held the same opinion of any given story.
There are 416 stories on this year's list: 352 short stories, 48 novelettes, and 16 novellas. We didn't get to as many original anthologies as we would have liked this year. We received a few more than last year but simply didn't have the staff numbers to get them covered. Hopefully, the situation will improve in 2016. Due to an unfortunate family situation I fell behind on short fiction reading this year, thus my own recommendations are few and far between. 2016 will see me hard at it once again.
If a story is placed in the incorrect length category, please let us know and we'll be happy to correct the oversight. Reviewers are free to place stories on this list from any of their reading during the year, and are not restricted to those venues covered here, nor to publications they have personally reviewed.
If you would like to review for Tangent Online, knowledge of the SF/F/H genres is a must, and reviewing experience is highly preferred. You may contact the editor here. Please note that Tangent Online is a fanzine (eligible for Hugo award consideration in the fanzine category) and does not pay its contributors.
(Cover above for the June 2015 Analog. Cover art by Vincent DiFate.)
Reviewer names and initials
Anonymous (Anon), Christos Antonaros (CA), Stevie Barry (SB), Harlen Bayha (HB), Joshua Berlow (JDB), Jerard Bretts (JB), Bob Blough (BB), Martha Burns (MB), Richard Cartwright (RC), Colleen Chen (CC), Lillian Csernica (LC), Kat Day, KD), David W. Hill (DWH), Ryan Holmes (RH), Eric Kimminau (EK), C. D. Lewis (CDL), Nicky Magas (NM), Jason McGregor (JM), Charles Payseur (CP), Michelle Ristuccia (MR), Chuck Rothman (CR), Kris Rudin (KR), Herbert Shaw (HS), Douglas W. Texter (DWT), Dave Truesdale (DT), Robert L. Turner (RLT), Clancy Weeks (CW).
I wish to thank the reviewers for the time and energy they have devoted to reading and reviewing this year's offerings. Without them, no Tangent Online and no Recommended Reading List; they're the ones who make it all work. Thanks are also due those who sent material for review, and of course our loyal readership throughout 2015—our 22nd year since that first, slim July/August 1993 print issue was mailed out.
Below are covers from original anthologies, and single author reprint collections which included an original story making the list. Magazine covers (print and online) are interspersed throughout the list in no particular order.
♣ ♣ ♣
Special Announcement for All SF/F Fans
If you are a science fiction or fantasy fan and are looking for a place to let others know what you think is Hugo Award worthy from 2015, now you have such a place. Sad Puppies 4 is helmed this year by Kate Paulk, with able assistance from Amanda Green and Sarah A. Hoyt. As many groups and individual fans do every year, they will be posting a list of suggestions, possible recommendations for the Hugo Award in each of its numerous categories. What makes it special this year is that the recommendations will come from anyone who chooses to visit the Sad Puppies 4 web page and enters a recommendation. It's that simple. Read a great short story or novel this year? Follow a terrific tv show or have seen a fantastic movie? All you need to do to share your favorite choices is to enter your recommendations at the SP4 web page, which you can find here.
Sad Puppies was the name given to a small group of fans four years ago who had become disgruntled after seeing many of the same names on the final Hugo ballot, year after year. It was spearheaded that first year by SF author Larry Correia, who decided to put forth a list of authors and works he believed were being overlooked. He eventually (after the first year) recused himself from being recommended or being nominated. No one was obligated to vote for any author or work on his recommended list, but he found that he was not the only fan grumbling about the general sameness of the final Hugo ballot (grumbling about this aspect of the Hugo awards had been going on for many years, it should be noted). A handful of names kept cropping up for several years (in one category or another) and though fans continued to grumble (conventions, blogs, etc.) nothing ever seemed to change, so Larry Correia decided it was time for a wake up call. Thus, Sad Puppies was born. As one might imagine, it raised hell among those satisfied with the status quo (those voters obviously liked those who kept winning awards, and why not?). I won't recount every detail of the back and forth since then (it would take forever), but the situation came to a head last year with Sad Puppies 3. One side saw nothing wrong with the way things were working in regards to the Hugo award nominating process, while the other side tried to get fresh names on the ballot while at the same time increasing the voting base. Encouraging more fans to get involved was a core goal, for from either lack of interest or lack of knowledge many fans weren't participating in either the nominating or final ballot voting; thus, all it took for some categories to produce a winner was decided by a miniscule 40-50 votes out of (in some cases) only a few hundred (depending on the category). To nominate or vote on the Hugo awards one must be a paid member. That's how it works and is fine. What has been troubling is that many fans, paid members of any given worldcon, had no idea they could nominate or vote. A positive side-effect of the Sad Puppy "movement" is that now awareness has been raised and many more eligible voters, SF fans of all stripe, are actively participating. That in itself is a Good Thing. Fresh perspectives, new fan involvement in their own awards, and a more representative slice of "fandom." And possibly different (and hopefully worthy) names on the final Hugo ballots. Or maybe not. Maybe all of these fresh new voters would cast their ballots for the names they'd already seen on the ballot many times in recent years, because they liked what or who they saw, affirming the prior voters' choices as the best. After all, it's well known that short story writers or novelists "get on a roll" for any number of years and produce some of their finest work in spurts lasting years. So why not recognize their achievements for several years in a row? That's only fair in my book. Point being is that there would be no guarantee how fans would cast their ballots, but at least there would be a larger number involved and participating in the process.
Sad Puppies 2 & 3 also produced a list of recommendations, though the selection process, frankly, left a lot to be desired. They were not open to the public (the fans) but selected by one or two (or maybe a few more) individuals. And add to the mix that a certain individual not affiliated with Sad Puppies and with a decidedly different (and purposely destructive) agenda co-opted the name and changed the first word from "Sad" to something similarly associated with the canine species, placing some of the same recommendations on his list, and it was low-hanging fruit for those siding against the Sad Puppy list to merge the two, trying to smear Sad Puppies with posts and personal views the unwelcome outsider had made or espoused. And thus the sides became even more divided into what became more a fight over social and political ideologies (fiction where social or political ideology—message fiction—was taking over many of the Hugo awards voted on by a relative few; and SF/F where story came first and any "message," political or otherwise, came second) than what the original, core purpose was to have been: increasing awareness of overlooked authors whose work was well written and well received by readers (in a few cases for years or decades), but who were not getting their just due. The nasty intrusion of politics led to the Hugo awards being blown to hell and back last year, with a certain faction gaining enough votes to cast NO AWARD for any category in which a Sad Puppy nomination had made the final ballot. Thus, in several important categories (regardless of how many innocent final nominees were hurt by the tactic), no Hugo award was presented in more categories than ever in the history of the awards. What a shame. Were the illustrious fan awards, the Hugos, broken beyond repair? What, if anything, could be done to avoid a repeat at 2016's Worldcon, MidAmericon II and its Hugo Awards, to be held in Kansas City, MO for the second time, and the first since the groundbreaking worldcon it held in 1976, affectionately dubbed BigMac?
Sad Puppies 4 has taken a giant step forward to insure that the original, core, at-the-bottom-of-it-all purpose now buried beneath all of the nasty politics—that of increasing SF/F fan interest and perhaps, just maybe, seeing a few overlooked authors getting a shot at a Hugo—is once more front and center. Kate Paulk and crew have opened the doors wide this year. Any fan may cast their recommendation for anything or anyone. You don't have to pay for a membership, you don't have to be a member of a publication where only critics or reviewers provide suggestions or recommendations for further reading (Locus or Tangent Online, for instance)—or a possible Hugo nomination. Regardless of race, gender, sexual orientation, economic status, age, or political persuasion the Sad Puppy 4 website is open to all. Again, it can be found here, where you will find a drop down menu in the lower right corner of the Sad Puppies IV banner/title. Clicking on it will show all the available categories in which you may enter a recommendation.
To provide proper perspective on just what fans are casting their recommendations for, it is not for a final ballot Hugo nomination. That step in the process is way down the road. The SP4 final recommendation list will simply provide (once the votes are tabulated) a list of the top 10 vote getters in each category which will then be placed on a large recommendation list for possible consideration for those paid members of worldcon who can actually cast a valid nomination for the Hugo. There is no guarantee that anything on the final SP4 list of recommended works will even end up on the final 2016 Hugo ballot. But it is a start. It will hopefully get more fans involved who believed they had no voice in the Hugos at any stage in the process. If this effort sparks individual interest maybe some will spring for a worldcon membership for the first time in their lives, and eventually become more involved in some aspect of fandom beyond reading or watching it (and be eligible to actually vote on the Hugos—we all had to start sometime as neofans, remember? So maybe this will lead to a few more fans who catch the fanac [fan activity] bug and who will, in time, become the new blood every organization needs, replenishing the ranks of fandom as older fans bow out or pass away. This cycle of fannish renewal is a Good Thing).
I think there is reason to be optimistic this year. There have been calls from both sides for fans to vote for the best work, and not a specific work or author purely on grounds of the work's or author's political viewpoint. Outspoken anti-puppy proponent of last year, past SFWA President and multiple award winning author John Scalzi, stated recently on his blog that he was removing himself for any 2016 award consideration, and asked his many followers to give other worthy writers the spotlight this year. This is also what Sad Puppies are seeking and have made abundantly clear. Scalzi writes on his blog: "I've decided I'd like to sit out the year, awards-wise." And further along, "But for work that was put out in 2015, please look past me. Find the other writers whose work deserves the spotlight you can put on them with your attention, nomination and vote. Find the works that move your heart and your mind. Find the writers whose work you love and who you feel a nomination can help in their careers and their lives. Look past your usual suspects — including me! — and find someone new to you whose stories and effort you can champion to others. Put those people and works on your ballots. 2015 has been a genuinely great year for science fiction and fantasy; it won't be difficult to find deserving work and people for your consideration." —John Scalzi, from a blogpost dated November 18, 2015. The entire post is here.
George R. R. Martin (GRRM)—another outspoken and highly influential critic against last year's SP3 efforts—finds hope after viewing the SP4 growing recommendation list this year, when he writes on his blog: "Call me naive. Call me an innocent. Call me too trusting by half, too nice a guy to see how things really are… but, really, I am starting to have some hope. All over the internet, people are already talking about the Hugo Awards, making recommendations, discussing the work… the WORK, the things we love, the stuff that unites us instead of the stuff that divides us. I've been trying to do my part, here on my Not A Blog, and will continue to do so." And further on, returning from viewing the SP4 recommendation page, George writes: "As of a few minutes ago, there were 159 'thoughts' in the Best Novel section, which suggests a healthy level of participation. And, I am pleased to say, almost all of what follows seems to be honest and enthusiastic discussion of the work." George continues a bit later with, "…people are recommending books. A very wide range of books. Sure, new works by familiar Puppy favorites like Larry Correia, Mike Williamson, and John C. Wright are being recommended (no surprise there)… but so are works by Neal Stephenson, James S.A. Corey, Naomi Novik, Victor Milan, Terry Pratchett, S.M. Stirling, Ian Tregillis, Ernie Cline, Elizabeth Bear, Gene Wolfe, Michael Moorcock, Orson Scott Card, Greg Bear, Kate Elliott, and many others… including the latest Marko Kloos, and… wonder of wonder… novels from N.K. Jemisin and Anne Leckie!
"There are some really good names on that list. Some really good books. (And many I have not read yet, but will look up now). And there's an amazing range of literary styles, subgenres, and… yes… political and religious views. And all this is to the good." And to wrap up George's comments we have: "For decades now, LOCUS and NESFA and other fan groups have produced reading lists at year's end, long lists generated by recommendations from their editors/ members/ etc. If at the end of this process, Sad Puppies 4 puts forth a similar list, one that has room for BOTH Larry Correia and Anne Leckie, I don't think anyone could possibly object. I won't, certainly. A list like that would not be a slate, and the whole "slate voting" thing will become moot.
"And that would be great. That would mean no Puppygate II. That would mean a spirited literary debate about writers and books without the acrimony and the name-calling. From that debate a truly democratic and diverse ballot could emerge, one that represents all tastes. That would mean no 'No Awards' at Big MAC II, and the Hugo ceremony could once again become a joyous celebration of the best and brightest in our field." —George R. R. Martin, from his blog post of December 24, 2015, the full text of which is here, and the title of this particular blog entry is "Puppies at Christmas" for those wishing to read the complete post.
Though I appreciate and agree with George's comments, I would like to make a fine distinction, a clarification if you will, concerning something he wrote. To wit: "If at the end of this process, Sad Puppies 4 puts forth a similar list, one that has room for BOTH Larry Correia and Anne Leckie, I don't think anyone could possibly object." In truth, Sad Puppies 4 will have no say, or control, on what makes their list—the fans who contribute and participate will define what makes the list. It will be up to the fans, not SP4, for SP4 merely provides the means for the fans to speak and be heard. The final list will reflect the views of the fans—and no one else.
All of that said, and with outspoken SP critics John Scalzi and George R. R. Martin either calling for fresh names on the final Hugo ballot, or observing (cautiously) that, so far, the SP4 plan seems to be working quite well, there will always be those on both sides of the issue who wish to dwell on the past, who continue to stoke the flames of discord by posting inflammatory pieces on the internet, or who troll the internet looking for individual posts against whatever side they are on, and then collecting them on their own websites to somehow show how idiotic the other side is, and then purposely misinterpreting or distorting what was originally said—and then attempting to label one side or the other as indicative of the entire opposition based on their own spin on what someone else said with which they disagree. Well, as we all know, anyone can find anything on the internet supporting or disagreeing with any side of any issue. It's easy to do. For those who do so, I would call into question your true motives for doing so. Are you of the opinion that only "trufans" (in large measure, those fans who have been involved with fandom for a long time, or who run conventions, or are otherwise involved) as some have narrowly defined them, are somehow privileged, and thus their opinions count more than those of other fans who enjoy fandom on their own terms? That including these not-trufans (new fans, or "neofans," those attending their first convention, or worldcon or who have otherwise found SF fandom for the first time through film or magazines or tv or any other entry point) would be harmful to fandom? Please to remember that each and every one of us was at one time a raw, stumbling neofan just happy and grinning from ear to ear to have found other friends of like mind—and try to recall how we were treated by more experienced fans. In my case I was welcomed with open arms. Those who believe in the narrow and self-serving definition of "trufan" might wish to revisit their roots, and then begin to welcome any and all to the ranks of science fiction fandom. It's not a closed club for those who believe they are of some privileged elite class simply because they've been involved in SF fandom long enough to receive a gold watch. That attitude is insular, elitist, and divisive, and dishonors one of fandom's finest, most cherished, and longest-standing traditions—that of a large tent and a welcome-to-the-party drink and metaphorical hug.
In closing:
1: Sad Puppies 4 welcomes anyone to their recommendation page. It is non-partisan and a-political. It is aligned with no other group and stands steadfastly in opposition to any individual or group trading off of its name or logo.
2: The Sad Puppies 4 recommendation list is but a preliminary list of suggestions and recommendations from fans from all walks of life who choose to participate. Any work or author ending up on the list is guaranteed nothing, for it will be paid, voting members of worldcon whose votes select all final Hugo nominees.
3: The final Sad Puppies 4 list of recommendations will consist of 10 recommendations in each category. That is quite a large pool of suggested reading or viewing for the interested SF/F fan, but serves the purpose of providing exposure to new, or unknown authors or their work. If nothing on the SP4 2015 recommended list is to your liking and your favorite author or work is not in the top 10 (and you are a paid worldcon member eligible to vote), then by all means nominate your own favorites when MidAmericon II opens the doors to Hugo nominations in the near future. No one is bound by any recommendation on the SP4 list. This seems obvious, but needed to be said.
4: The Sad Puppies 4 nominating and final selection process will be open and above-board on all counts. Though stated on the SP4 website, I asked Kate Paulk about the number of selections in each category, to which she replied (and with permission to quote): "I'll be posting the top 10 in each category, and linking to the full list—which will contain every recommendation made."
With the SP4 format and process now explained, I quote again from George R. R. Martin:
"If at the end of this process, Sad Puppies 4 puts forth a similar list, one that has room for BOTH Larry Correia and Anne Leckie, I don't think anyone could possibly object."
Who indeed?
♣ ♣ ♣
Short Stories
"Headwater LLC" by Sequoia Nagamatsu (Lightspeed #56, 1/15) F (CP)
"History's Best Places to Kiss" by Nik Houser" (F&SF, 1-2/15) SF (DT)
"The Chart of the Vagrant Mariner" by Alan Baxter (F&SF, 1-2/15) H (DT)
"The Man from X" by Gregor Hartmann (F&SF, 1-2/15) SF (DT)
"The Gazelle Who Begged for Her Life" by Francis Marion Soty (F&SF, 1-2/15) F (DT)
"The Lion God," by Benjamin Blattberg (Crossed Genres #25, 1/15) SF (CR)
"Robert Fairweather and the Wrong Ticket" by Mark Rookyard (SQ Mag #19, 1/15) SF (CR)
"You Can Do It Again" by Michael Ian Bell (Shimmer #24, 3/15) SF (CP)
"Discarded Pieces" by David Coleman (Aurealis #78, 3/15) SF (CC)
"The Badges of Her Grief" by Andrew Barton (Analog, 3/15) SF (DT)
"Transfer Point" by Barry N. Malzberg & Bill Pronzini (Analog, 4/15) SF (CR)
"Paul and His Son" by Joe N. McDermott (Asimov's 4-5/15) SF (BB)
"Shriek Season" by Wes Smiderle (On Spec #100, Spring 2015) SF (MR)
"The Petals Abide" by Benjanun Sriduangkaew (Clarkesworld #103, 4/15) SF (BB)
"The Garden Beyond Her Infinite Skies" by Matthew Kressel (Clarkesworld #104, 5/15) SF (BB)
"The Shadows of Gods" by Mary-Jean Harris (Wrestling with Gods: Tesseracts 18, 4/15) F (JM)
"Burnt Offerings" by Mary Pletsch (Wrestling with Gods: Tesseracts 18, 4/15) SF (JM)
"Good Girls" by Isabel Yap (Shimmer #25, 5/15) F (DWT)
"The Membranes in the Centering Horn" by KG Johansson (Waiting for the Machines to Fall Asleep, 5/15) SF (CR)
"The Punctuality Machine, Or, A Steampunk Libretto" by Bill Powell (Beneath Ceaseless Skies #173, 5-14/15) SF (NM)
"The Warriors, The Mothers, The Drowned" by Kay Chronister (Beneath Ceaseless Skies #174, 5-28/15) F (NM)
"Very Long Conversations" by Gwendolyn Clare (Analog, 6/15) SF (CC)
"The Kroc War" by Ted Reynolds and William F. Wu (Analog, 6/15) SF (CC)
"Rubbing is Racing" by Charles Payseur (Lightspeed #61, 6/15) SF (Anon)
"In the Dawns Between Hours" by Sarah Pinsker (Lightspeed #61, 6/15) SF (Anon)
"I Found Solace in a Great Moving Shadow" by Bronte Christopher Wieland (Flash Fiction Online, 6/15) SF (JM)
"Raven No More" by Adria Laycraft (Corvidae, 7/15) DF (EK)
"Bazyli Conjures a Blackbird" by Mark Rapacz (Corvidae, 7/15) DF (EK)
"Super Bugs" by Robert Lowell Russell (Only Disconnect: Third Flatiron Anthologies, Summer 2015) SF (Anon)
"Evermore I Told the Raven" by Ken Scholes (IGMS #46, 7-8/15) F (JM)
"Cease and Desist" by Jay Werkheiser (Analog, 7-8/15) F (CDL)
"In the Mix" by Arlan Andrews, Sr. (Analog, 7-8/15) SF (CDL)
"Pincushion Pete" by Ian Creasey (Analog, 7-8/15) SF (CDL)
"Do Not Fear to Touch Flesh" by Leena Likitalo (Galaxy's Edge #15, 7-8/15) SF (CR)
"A Mild Case of Death" by David Gerrold (Galaxy's Edge #15, 7-8/15) SF (CR)
"A Bottle of Red Zinfandel" by Bev Vincent (Sci Phi Journal #6, 7/15) SF (CR)
"And We Were Left Darkling" by Sara Pinsker (Lightspeed #63, 8/15) F (CDL)
"The Smog Society" by Chen Quifan (Lightspeed #63, 8/15) SF/F (CDL)
"Security Check" by Han Song (Clarkesworld #107, 8/15) SF (EK)
"It Is Healing, It Is Never Whole" by Sunny Morain (Apex #75, 8/15) F (DWH)
"Where Do You Go to, My Lovely?" by Yusra Amjad (Crossed Genres #32, 8/15) F (NM)
"Skin Map" by Kim Goldberg (Scarecrow, 8/15) DF (EK)
"Waking from His Master's Dream" by Katherine Marzinsky (Scarecrow, 8/15) DF (EK)
"Black Birds" by Laura Blackwood (Scarecrow, 8/15) DF (EK)
"Engines Rarely Seen" by N. G. Lancaster (Heroic Fantasy Quarterly #25, 8/15) F (RH)
"Probably Definitely" by Heather Morris (Strange Horizons, 8-3/15) H (NM)
"Greenhouse" by Kelli Trapnell (Terraform, 8-10/15) H (NM)
"20/20" by Arie Coleman (Strange Horizons, 8-17/15) SF (NM)
"Shell Game" by Kieran Sterling Holmes (Sci Phi Journal #7, 9/15) SF (RLT)
"All in a Hot and Copper Sky" by Megan Arkenberg (Lightspeed #64, 9/15) SF
"Cremulator" by Robert Reed (Clarkesworld #108, 9/15) SF (BB)
"Preserve Her Memory" by Bao Shu (Clarkesworld #108, 9/15) SF (BB)
"Breaking Windows" by Tracie McBride (Aurealis #84, 9/15) H (CW)
"Ten Stamps Viewed Under Water" by Marissa Lingen (F&SF, 9-10/15) F (JB)
"The Sisters' Line" by Liz Argall and Kenneth Schneyer (Uncanny #6, 9-10/15) F (NM)
"My Time on Earth" by Ian Creasey (Asimov's, 9-10/15) SF (CC)
"Armed for You" by Anaea Lay (UFO 4, 10/15) F (CDL)
"Please Approve the Dissertation Research of Angtor" by Caroline M. Yoachim (UFO 4, 9/15) SF (CDL)
"Keeping Ahead" by Mike Resnick (UFO 4, 10/15) F (CDL)
"The Unfortunate Problem of Grandmother's Head" by Karen Haber (UFO 4, 10/15) SF (CDL)
"When the Fall is All That's Left" by Arkady Martine (Apex #77, 10/15) SF (NM)
"All things to All People" by D. K. Thompson (Apex #77, 10/15) F (NM)
"Hold-Time Violations" by John Chu (Tor.com, 10/15) SF (NM)
"The Grave Can Wait" by Thomas Berubeg (Diabolical Plots #8, 10/15) F (CR)
"Dispatches from a Hole in the World" by Sunny Moraine (Nightmare #37, 10/15) H (NM)
"The Thirteen Tuesdays of Saint Anthony" by Julie C. Day (Farrago's Wainscot #16, 10/15) F (RLT)
"The Great Wizard, Cabbage" by David Drake (Onward, Drake! 10/15) F (CDL)
"Hell Hounds" by Tony Daniel (Onward, Drake! 10/15) F (CDL)
"The Village of Yesteryear" by Sarah Van Name (Onward, Drake! 10/15) SF (CDL)
"A Cog In Time" by Sarah A. Hoyt (Onward, Drake! 10/15) SF (CDL)
"Here is My Thinking on a Situation That Affects Us All" by Rahul Kanakia (Lightspeed #66, 11/15) SF (EK)
"Rock, Paper, Scissors, Love, Death" by Caroline M. Yoachim (Lightspeed #66, 11/15) SF (EK)
"When We Were Giants" by Helena Bell (Lightspeed #66, 11/15) F (EK)
"The Beacon and the Coward" by Day Al-Mohamed (Apex #78, 11/15) SF (RLT)
"The Mood Room" by Paul Di Filippo (Galaxy's Edge #17, 11/15) SF (EK)
"From the Moment I Laid Eggs in You" by Josh Vogt (Galaxy's Edge #17, 11/15) SF (EK)
"Kill Me!" by Sabina Theo (Galaxy's Edge #17, 11/15) SF (EK)
"Out of Africa" by David Drake (Galaxy's Edge #17, 11/15) DF (EK)
"Fugue in a Minor Key" by Stewart C. Baker (Galaxy's Edge #17, 11/15) SF (EK)
"If on a Winter's Night a Traveler" by Xia Jia (Clarkesworld #110, 11/15) SF (EK)
"DreamPet" by Bruce McAllister (F&SF, 11-12/15) SF (RLT)
"The Thirteen Mercies" by Maria Dahvana Headley (F&SF, 11-12/15) SF (RLT)
"Like a Thief in the Night" by Alethea Kontis (IGMS #48, 11/15) DF (EK)
"Orpheus' Engines" by Christopher McKitterick (Mission: Tomorrow, 11/15) SF (RC)
"Bidding War" by Rich Larson (Asimov's, 12/15) SF (BB)
"Come-From-Aways" by Julian Mortimer Smith (Asimov's, 12/15) SF (BB)
"To the Havens" by Ariel Bolton (Flash Fiction Online #27, 12/15) DF (EK)
"Yuanyuan's Bubbles" by Liu Cixin (Clarkesworld #111, 12/15) SF (JM)
"Tomorrow When We See the Sun" by A. Merc Rustad (Lightspeed #67, 12/15) SF (CC)
"Ex Libris Noctis" by Jay Lake (Lightspeed #67, 12/15) F (CC)
"The Phantom in the Maze" by Michael Swanwick (Tor.com, 12/15) SF (RLT)
"Aspects" by Gregory Benford (Meeting Infinity, 12/15) SF (BB)
"The Rest Will Blur Together" by John Wheeler (Beneath Ceaseless Skies #188, 12-10/15) F (BB)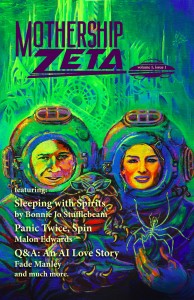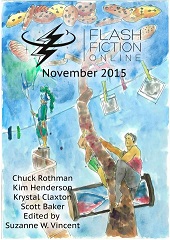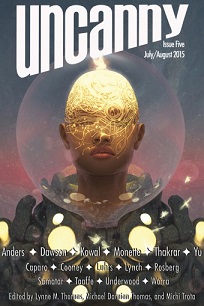 Short Stories One Star
"Time is a Twisting Snake" by Richard Bowes (Farrago's Wainscot #13, 1/15) SF* (CP)
"The Heat of Us: Notes Toward an Oral History" by Sam J. Miller (Uncanny #2, 1/15) F* (CP)
"Telling Stories to the Sky" by Eleanor Arnason (F&SF, 1-2/15) F* (DT)
"Distant Gates of Eden Gleam" by Brian Trent (Crossed Genres #25, 1/15) SF* (CR)
"For Lost Time" by Therese Arkenberg (Beneath Ceaseless Skies #165, 1-22/15) F* (KR)
"These Eyes Are Not My Own" by Jennifer Nestojko (Crossed Genres #26, 2/15) SF* (CP)
"Foreknowledge" by Mary E. Lowd (Apex #69, 2/15) SF* (CR)
"The Scavenger's Nursery" by Maria Dahvana Headley (Shimmer #24, 3/15) F* (CP)
"Small Wishes" by Carol Otte (Flash Fiction Online, 3/15) F* (CR)
"Blood, Ash, Braids" by Genevieve Valentine (Operation Arcana, 3/15) F* (DT)
"Daily Teds" by Ron Collins (Analog, 4/15) SF* (CR)
"Down Please: the Only Recorded Adventure of Lars Fouton, Captain's Lift Operator on the Starship Magnificent" by Adam-Troy Castro (Analog, 4/15) SF* (CR)
"The Last Days of Dogger City" by Mike Wood (Analog, 4/15) SF* (CR)
"The Empress in Her Glory" by Robert Reed (Clarkesworld #103, 4/15) SF* (BB)
"Where the Scorched Man Walks" by Megan Fennell (Wrestling with Gods: Tesseracts 18, 4/15) F* (JM)
"The Cloaca Maxima" by Rob Steiner (IGMS #45, 5-6/15) F* (RH)
"The Species of Least Concern" by Erica L. Satifka (IGMS #45, 5-6/15) SF* (RH)
"Lost and Found" by Christian Heftel (IGMS #45, 5-6/15) H* (RH)
"The Pieces" by Teresa Milbrodt (Strange Horizons, 5/4/15) SF* (SB)
"Between Screens" by Zach Chapman (Writers of the Future 31, 5/15) SF* (DT)
"Wikipedia Abduction Myth" by Oliver Buckram (Flash Fiction Online, 5/15) SF* (RH)
"The Cormorant in the Glass-Bottomed Cage" by Rebecca Birch (Flash Fiction Online, 5/15) F* (RH)
"Prototype" by Sarah Langan (The End Has Come, 5/15) SF* (BB)
"Acts of Creation" by Chris Avellone (The End Has Come, 5/15) SF* (BB)
"One Last Kiss Goodbye" by Oskar Källner (Waiting for the Machines to Fall Asleep, 5/15) SF* (CR)
"The Road" by Anders Blixt (Waiting for the Machines to Fall Asleep, 5/15) SF* (CR)
"Quadrillennium" by AR Yngve (Waiting for the Machines to Fall Asleep, 5/15) SF* (CR)
"Loyalty" by Mitchell Edgeworth (Aurealis #77, 5/15) SF* (SB)
"Outside World" by Steve Cameron (Aurealis #77, 5/15) SF* (SB)
"The Counselor" by Robin Sloan (Terraform, 5/25/15) SF* (RH)
"Luck of the Chieftain's Arrow" by Stuart Hardwick (Galaxy's Edge #14, 5-6/15) F* (CW)
"The Restaurant at the End of the Universe" by Anna Wu (Galaxy's Edge #14, 5-6/15) SF* (CW)
"Three Bodies at Mitanni" by Seth Dickinson (Analog, 6/15) SF* (CC)
"Trigger" by Courtney Alameda (Tor.com, 6/15) F* (HB)
"Violation of the TrueNet Security Act" by Taiyo Fujii (Lightspeed #62, 7/14) SF* (CR)
"The Frankenstein Project" by Ellen Denton (Sci Phi Journal #6, 7/15) SF* (CR)
"Visiting Hours" by Michael S. Pack (Corvidae, 7/15) DF* (EK)
"The Rookery of Sainte-Mère-Église" by Tim Deal (Corvidae, 7/15) DF* (EK)
"The Cruelest Team Will Win" by Mike Allen (Corvidae, 7/15) DF* (EK)
"Knife Collection, Blood Museum, Birds" by Sara Pul (Corvidae, 7/15) DF* (EK)

"Flying the Coop" by M.L.D. Curelas (Corvidae, 7/15) SF* (EK)
"Seven for a Secret" by Megan Engelhardt (Corvidae, 7/15) DF* (EK)
"Wandering Swallows" by Jennifer Crow (Triangulation: Lost Voices, 7/15) F* (HB)
"Offering" by Kathryn Yelinek (Triangulation: Lost Voices, 7/15) F* (HB)
"Moving Metal" by Joann Oh (Triangulation: Lost Voices, 7/15) F* (HB)
"Last Night at the Café Renaissance" by D. Thomas Minton (IGMS #46, 7-8/15) F* (JM)
"Tumbling Dice" by Ron Collins (Analog, 7-8/15) SF* (CDL)
"Guns Don't Kill People" by Jacob A. Boyd (Analog, 7-8/15) SF* (CDL)
"Midnight Hour" by Mary Robinette Kowal (Uncanny #5, 7-8/15) F* (MR)
"The Star Maiden" by Roshani Chokshi (Shimmer #26, 7-8/15) F* (KR)
"The Colossal Death Ray" by Ron Collins (Galaxy's Edge #15, 7-8/15) SF* (CR)
"Saul's Diary" by Lawrence Person (Galaxy's Edge #15, 7-8/15) SF* (CR)
"Survival Horror" by Seanan McGuire (Press Start to Play, 8/15) SF* (MB)
"<end game>" by Chris Avellone (Press Start to Play, 8/15) SF* (MB)
"The Roofnight" by Amanda C. Davis (Scarecrow, 8/15) DF* (EK)
"A Fist Full of Straw" by Kristina Wojtaszek (Scarecrow, 8/15) DF* (EK)
"Scarecrow Progressions (Rubber Duck Remix)" by Sara Puls (Scarecrow, 8/15) DF* (EK)
"Truth About Crows" by Craig Pay (Scarecrow, 8/15) DSF* (EK)
"White Elephants" by Linda Donahue (Heroic Fantasy Quarterly #25, 8/15) F* (RH)
"The Superhero Registry" by Adam Gaylord (Diabolical Plots #6, 8/15) F* (HB)
"Beyond Sapphire Glass" by Margaret Killjoy (Strange Horizons, 8-10/15) SF* (NM)
"Find Me" by Isabel Yap (Apex #76, 9/15) SF* (NM)
"The Occidental Bride" by Benjanun Sriduangkaew (Clarkesworld #108, 9/15) SF* (BB)
"The Forgotten" by D.C. Lozar (Weirdbook #31, 9/15) F* (EK)
"The Music of Bleak Entrainment" by Gary A. Braunbeck (Weirdbook #31, 9/15) H* (EK)
"Missed it by That Much" by Gregg Chamberlain (Weirdbook #31, 9/15) H* (EK)
"Into the Mountains with Mother Old Growth" by Christian Riley (Weirdbook #31, 9/15) DF* (EK)
"Wolf of Hunger, Wolf of Shame" by J. T. Glover (Weirdbook #31, 9/15) DF* (EK)
"Zucchini Season" by Janet Harriett (Weirdbook #31, 9/15) DF* (EK)
"Princess or Warrior?" by S.W. Lauden (Weirdbook #31, 9/15) DF* (EK)
"A Clockwork Muse" by Erica Ruppert (Weirdbook #31, 9/15) F* (EK)
"The Adjunct Professor's Guide to Life After Death" by Sandra McDonald (Asimov's, 9–10/15) H* (CC)
"The Law of the Conservation of Hair" by Rachael K. Jones (Shimmer #27, 9-10/15) F* (KR)
"Murder Goes Hungry" by Margaret Ronald (Beneath Ceaseless Skies #182, 9-17/15) F* (CR)
"The One That Got Away" by Eric S. Brown (Onward, Drake! 10/15) F/H* CDL
"All That's Left" by Mark L. Van Name (Onward, Drake! 10/15) SF* CDL
"Save What You Can" by David Drake (Onward, Drake! 10/15) SF* CDL
"The Philistine" by Ted White (Analog, 10/15) SF* (CR)
"The Spurned Bride's Tears, Centuries Old, in the Rain" by Gord Sellar (Lontar: the Journal of Southeast Asian Speculative Fiction #5, 11/15) F* (CR)
"Champions of Breakfast" by Zach Shephard (UFO 4, 10/15) F* (CDL)
"Board Meeting Minutes" by Oliver Buckram (UFO 4, 10/15) F* (CDL)
"The Time-Traveling Ghost Machine of Professor Jaime Pelligrosa" by Andrew Kaye (UFO 4, 10/15) F* (CDL)
"Confessions of an Interplanetary Fraud" by Michael J. Martinez (UFO 4, 10/15) F* (CDL)
"Daisy" by Paul DesCombaz (Flash Fiction Online #25, 10/15) H* (KR)
"Sleeping with Spirits" by Bonnie Jo Stufflebeam (Mothership Zeta #1, 10/15) F* (CR)
"Tales of a Fourth Grade Shoggoth" by Kevin Whitmore (Mothership Zeta #1, 10/15) F* (CR)
"The Hexagonal Bolero of Honeybees" by Krista Hoeppner Leahy (Clarkesworld #110, 11/15) SF* (EK)
"Rockets Red" by Mary Robinette Kowal (Word Puppets, 11/15) SF* (NM)
"The Plausibility of Dragons" by Kenneth Schneyer (Lightspeed #66, 11/15) F* (EK)
"The Curie Priest" by Chris Phillips (IGMS #48, 11/15) SF* (EK)
"Life With Slug" by Paul Eckheart (IGMS #48, 11/15) SF* (EK)
"Elizabethtown" by Eric Cline (Galaxy's Edge #17, 11/15) SF* (EK)
"Winter of the Scavengers" by David G. Blake (Galaxy's Edge #17, 11/15) DF* (EK)
"My First Duty" by Eric T. Reynolds (Galaxy's Edge #17, 11/15) SF* (EK)
"I Seen the Devil" by Alex Bledsoe (Uncanny #7, 11-12/15) DF* (EK)
"The Race For Arcadia" by Alex Shvartsman (Mission: Tomorrow, 11/15) SF* (RC)
"In Panic Town, On The Backward Moon" by Michael F. Flynn (Mission: Tomorrow, 11/15) SF* (RC)
"MALF" by David D. Levine (Mission: Tomorrow, 11/15) SF* (RC)
"Fibonacci" by Eleanor R. Wood (Flash Fiction Online #27, 12/15) SF* (EK)
"Memory Tree" by Jess Rausch (Apex #79, 12/15) SF* (CR)
"Reconstituted" by Marlee Jane Ward (Apex #79, 12/15) SF* (CR)
"Cocoons" by Nancy Kress (Meeting Infinity, 12/15) SF* (BB)
"Emergence" by Gwyneth Jones (Meeting Infinity, 12/15) SF* (BB)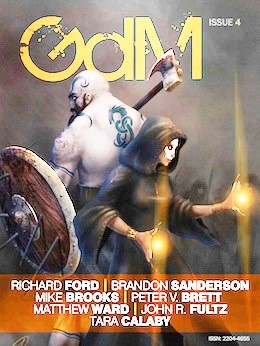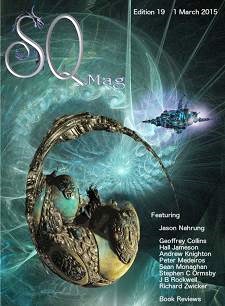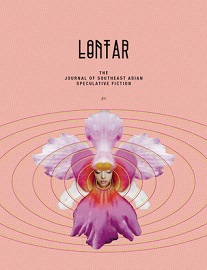 Short Stories Two Stars
"Love Letters to Things Lost and Gained" by Sunny Moraine (Uncanny #2, 1/15) SF** (CP)
"The Best Little Cleaning Robot in All of Faerie" by Susan Jane Bigelow (Apex #69, 2/15) SF/F** (CR)
"Houdini's Heart" by Thoraiya Dyer (Apex #70, 3/15) SF** (BB)
"Where I'm Bound" by Nina Kiriki Hoffman (Apex #70, 3/15) F** (BB)
"Sing Me Your Scars" by Damien Angelica Walters (Apex #70, 3/15) H** (BB)
"No Other City" by Ng Yi-Sheng (Lontar: The Journal of East Asian Speculative Fiction #4, Spring 2015) Spec Fic** (NM)
"Partible" by K. J. Zimring (Analog, 4/15) SF** (CR)
"All the Lovely Brides" by Kelly Sandoval (Grimdark Magazine #3, 4/15) F** (HB)
"Gemma Barrows Comes to Cooperstown" by Jamie Todd Rubin (IGMS #45, 5-6/15) SF** (RH)
"Margin of Survival" by Elizabeth Bear (The End Has Come, 5/15) SF** (BB)
"Punch Card Horses" by Jonas Larsson (Waiting for the Machines to Fall Asleep, 5/15) SF** (CR)
"The God Whisperer" by Daniel J. Davis (Writers of the Future #31, 5/15) F** (CR)
"Twelve Minutes to Vinh Quang" by Tim Napper (Writers of the Future #31, 5/15) SF** (CR, DT)
"Rules for Ordinary Heroes" by Sandra McDonald (Nightmare #32, 5/15) H** (LC)
"Cloth Mother" by Sarah Pauling (Strange Horizons, 5-11/15) SF** (SB)
"Nothing is Pixels Here" by K.M. Szpara (Lightspeed #61, 6/15) SF** (Anon)
"Going Endo" by Rich Larson (Apex #74, 7/15) SF** (CW)
"When Your Child Strays from God" by Sam J. Miller (Clarkesworld #106, 7/15) SF** (BB)
"Whistles & Trills" by Kat Otis (Corvidae, 7/15) F** (EK)
"The Valravn" by Megan Fennell (Corvidae, 7/15) DF** (EK)
"A Mischief of Seven" by Leslie Van Zwol (Corvidae, 7/15) DF** (EK)
"The Dragoon of the Order of Montesa, or the Proper Assessment of History" by Sue Burke (Triangulation: Lost Voices, 7/15) SF** (HB)
"Love at the End of the World" by Frank Oreto (Triangulation: Lost Voices, 7/15) SF** (HB)
"Humane Resources" by James Mitchell (Terraform, 7-20/15) SF** (EK)
"In the Cave of the Delicate Singers" by Lucy Taylor (Tor.com, 7/15) H** (MB)
"Fabulous Beasts" by Priya Sharma (Tor.com, 7/15) H** (MB)
"Dixon's Road" by Richard Chwedyk (F&SF, 7-8/15) F** (MB)
"This Quintessence of Dust" by Oliver Buckram (F&SF, 7-8/15) SF** (MB)
"Paradise and Trout" by Betsy James (F&SF, 7-8/15) F** (MB)
"Delivery" by Bud Sparhawk (Analog, 7-8/15) SF** (CDL)
"The Rainbow Flame" by Shveta Thakrar (Uncanny #5, 7-8/15) F** (MR)
"Serein" by Cat Hellisen (Shimmer #26, 7-8/15) F** (KR)
"Miss Darcy's First Intergalactic Ballet Class" by Dantzel Cherry (Galaxy's Edge #15, 7-8/15) SF** (CR)
"The Straw Samurai" by Andrew Bud Adams (Scarecrow, 8/15) DF** (EK)
"Edith and I" by Virginia Carraway Stark (Scarecrow, 8/15) DF** (EK)
"Ghosts of Home" by Sam J. Miller (Lightspeed #63, 8/15) F** (CDL)
"NPC" by Charles Yu (Press Start to Play, 8/15) SF**(MB)
"Respawn" by Hiroshi Sakurazaka (translated by Nathan Collins) (Press Start to Play, 8/15) SF**(MB)
"Desert Walk" by S.R. Mastrantone (Press Start to Play, 8/15) SF**(MB)
"Roguelike" by Marc Laidlaw (Press Start to Play, 8/15) SF**(MB)
"Stats" by Marguerite K. Bennett (Press Start to Play, 8/15) SF**(MB)
"Gamer's End" by Yoon Ha Lee (Press Start to Play, 8/15) SF**(MB)
"Milagroso" by Isabel Yap (Tor.com, 8/15) F** (MB)
"That Seriously Obnoxious Time I Was Stuck at Witch Rimelda's One Hundredth Birthday Party" by Tina Connolly (Tor.com, 8/15) F** (MB)
"Endless Forms Most Beautiful" by Alvaro Zimos-Amaro (Analog, 9/15) SF** (BB)
"Duller's Peace" by Jason Sanford (Asimov's, 9/15) SF** (BB)
"The Grimlorn Under the Mountain" by James Aquilone (Weirdbook #31, 9/15) H** (EK)
"Dolls" by Paul Dale Anderson (Weirdbook #31, 9/15) H** (EK)
"The Twins" by Kevin Strange (Weirdbook #31, 9/15) H** (EK)
"It's Going to Be Okay" by David Axe (Terraform, 9-17/15) SF** (EK)
"Homesick" by Debbie Urbanski (Terraform, 9-24/15) SF** (EK)
"Give Your All" by Leena Likitalo (Galaxy's Edge #16, 9-10/15) SF** (MR)
"And Never Mind the Watching Ones" by Keffy R. M. Kehrli (Uncanny #6, 9-10/15) SF** (NM)
"My Father's Crab" by Bruce McAllister (Analog, 10/15) SF** (CR)
"Me and Jasper, Down By the Meth Shack" by Aaron Saylor (Apex #77, 10/15) H** (NM)
"No Man Is" by Ng Yi-Sheng (Lontar: the Journal of Southeast Asian Speculative Fiction #5, 11/15) F** (CR)
"Siren 68" by Amanda Lee Koe (Lontar: the Journal of Southeast Asian Speculative Fiction #5, 11/15) F** (CR)
"Bob's No-Kill Monster Shelter" by Ian Creasey (UFO 4, 10/15) F** (CDL)
"Department of Death Predictions, Final Notice" by Tina Gower (UFO 4, 10/15) SF** (CDL)
"So You've Metamorphosed Into a Giant Insect. Now What?" by James Aquilone (UFO 4, 10/15) F** (CDL)
"Texts from my Mother About the Alien Invasion" by Tina Connolly (UFO 4, 10/15) SF** (CDL)
"Conversation Topics to Avoid on a First Date With Yourself" by Jonathan Ems (UFO 4, 10/15) F** (CDL)
"The Crate Warrior, the Doppelgänger, and the Idea Woman" by Mur Lafferty (Onward, Drake! 10/15) F** CDL
"The Trouble with Telepaths" by Hank Davis (Onward, Drake! 10/15) F/H** CDL
"Golden Hair, Red Lips" by Matthew Bright (Nightmare #37, 10/15) H** (NM)
"Variations on an Apple" by Yoon Ha Lee (Tor.com, 10/15) F** (NM, BB)
"Who's a Good Boy" by Marlee Jane Ward (Terraform, 10-8/15) SF** (EK)
"Let's Tell Stories of the Deaths of Children" by Margaret Ronald (Strange Horizons, 10-12/15) F** (EK)
"Demon in Aisle 6" by Matthew Kessler (Nightmare #38, 11/15) H** (LC)
"A Call to Arms for Deceased Authors' Rights" by Karin Tidbeck (Uncanny #7, 11-12/15) DF** (EK)
"Iron Pegasus" by Brenda Cooper (Mission: Tomorrow, 11/15) SF** (RC)
"The Museum of Modern Warfare" by Kristine Kathryn Rusch (Analog, 12/15) SF** (CW)
"A Letter to Santa" by Melanie Rees (Apex #79, 12/15) SF** (CR)
"The Cold Inequalities" by Yoon Ha Lee (Meeting Infinity, 12/15) SF** (BB)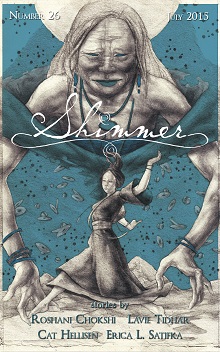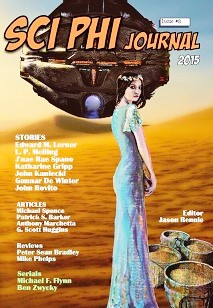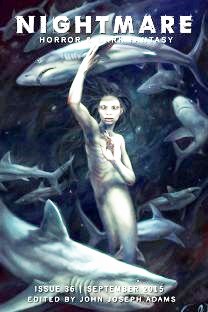 Short Stories Three Stars
"American Golem" by Weston Ochse (Operation Arcana, 3/15) F*** (DT)
"A Beautiful Memory" by Shannon Peavey (Apex #70, 3/15) F*** (BB)
"Electricity Bill for a Darkling Plain" by H. G. Parry (IGMS #45, 5-6/15) F*** (RH)
"The Robot Who Couldn't Lie" by Sunil Patel (IGMS #45, 5-6/15) SF*** (RH)
"The Order of Things" by Lupina Ojala (Waiting for the Machines to Fall Asleep, 5/15) SF*** (CR)
"The Publisher's Reader" by Patrik Centerwall (Waiting for the Machines to Fall Asleep, 5/15) SF*** (CR)
"Half Past" by Samantha Murray (Writers of the Future 31, 5/15) F*** (DT, CR)
"Poseidon's Eyes" by Kary English (Writers of the Future 31, 5/15) F*** (DT)
"Wildcat (from the Secret Diary of Donna Hooks)" by David Bowles (Apex #72, 5/15) F*** (DWT)
"The Cellar Dweller" by Maria Dahvana Headley (Nightmare #33, 6/15) H*** (LC)
"Sanctuary" by Laura VanArendonk Baugh (Corvidae, 7/15) DF*** (EK)
"Flight" by Angela Slatter (Corvidae, 7/15) DF*** (EK)
"The Frykstadbanan" by Michael Nayak (Triangulation: Lost Voices, 7/15) F*** (HB)
"The First and Second Offerings" by H.L. Fullerton (Triangulation: Lost Voices, 7/15) F*** (HB)
"Pacific Standard" by Anita Dolman (Triangulation: Lost Voices, 7/15) F*** (HB)
"Snakes" by Yoon Ha Lee (Clarkesworld #106, 7/15) SF*** (BB)
"The Rewilding" by Ben Goldfarb (Terraform, 7-6/15) SF*** (EK)
"The Visitor" by Karen Myers (Strange Horizons, 7-20/15) SF*** (NM)
"The Silicon Curtain: A Seastead Story" by Naomi Kritzer (F&SF, 7-8/15) F*** (MB)
"Into The Fiery Planet" by Gregor Hartman (F&SF, 7-8/15) SF*** (MB)
"Today I Am Paul" by Martin L. Shoemaker (Clarkesworld #107, 8/15) SF*** (EK)
"Rat Catcher's Yellows" by Charlie Jane Anders (Press Start to Play, 8/15) SF*** (MB)
"1Up" by Holly Black (Press Start to Play, 8/15) SF*** (MB)
"Twarrior" by Andy Weir (Press Start to Play, 8/15) SF*** (MB)
"Two Steps Forward" by Holly Schofield (Scarecrow, 8/15) DF*** (EK)
"Only the Land Remembers" by Amanda Block (Scarecrow, 8/15) DF*** (EK)
"If I Only Had an Autogenic Cognitive Decision Matrix" by Scott Burtness (Scarecrow, 8/15) DSF*** (EK)
"Judge & Jury" by Laura VanArendonk Baugh (Scarecrow, 8/15) DF*** (EK)
"Kakashi & Crow" by Megan Fennell (Scarecrow, 8/15) DF*** (EK)
"Boxes of Dead Children" by Darrell Schweitzer (Weirdbook #31, 9/15) H*** (EK)
"Chivaine" by John R. Fultz (Weirdbook #31, 9/15) DF*** (EK)
"Educational Upgrade" by Bret McCormick (Weirdbook #31, 9/15) DF*** (EK)
"The Jewels that were Their Eyes" by Llanwyre Laish (Weirdbook #31, 9/15) DF*** (EK)
"Bodies Are the Strongest Conductors" by James Robert Herndon (Strange Horizons, 9-21/15) H*** (JDB)
"The Transformation of Prince Humphrey" by Brent C. Smith (UFO 4, 10/15) F*** (CDL)
"In the End, You Get Clarity" by Laura Pearlman (UFO 4, 10/15) F*** (CDL)
"Broken-Winged Love" by Naru Dames Sundar (Strange Horizons, 10-5/15) F*** (EK, CA)
"The Game of Smash and Recovery" by Kelly Link (Strange Horizons, 10-17/15) SF*** (EK)
"The Events at Callan Park" by Erol Engin (Aurealis #85, 10/15) F*** (CA)
"Your Right Arm" by Nin Harris (Clarkesworld #110, 11/15) SF*** (EK)
"In the Queue for the Worldship Munawwer" by Sara Saab (Clarkesworld #110, 11/15) SF*** (EK)
"Rare (Off) Earth Elements" by Ben Bova (Mission: Tomorrow, 11/15) SF*** (RC)
"The Rose is Obsolete" by Alvaro Zinos-Amaro (Galaxy's Edge #17, 11/15) SF*** (EK)
"Wooden Feathers" by Ursula Vernon (Uncanny #7, 11-12/15) DF*** (EK)
"Christmas is Coming" by Gina L. Grandi (Apex #79, 12/15) H*** (CR)
"The Falls: A Luna Story" by Ian McDonald (Meeting Infinity, 12/15) SF*** (BB)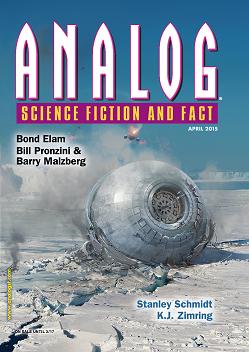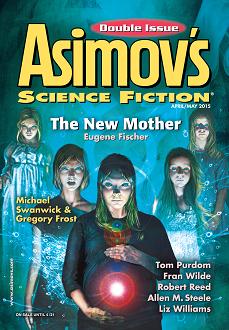 Novelettes
"Brigas Nunca Mais" by Martin L. Shoemaker (Analog, 3/15) SF (DT)
"Twelve and Tag" by Gregory Norman Bossert (Asimov's, 3/15) SF (CP)
"Ghost of a Chance" by John C. Bodin & Ron Collins (5 Days in May, 5/15) SF (DT)
"The Philosopher's Stone" by Tora Greve (Waiting for the Machines to Fall Asleep, 5/15) SF (CR)
"Unrefined" by Martin L. Shoemaker (Writers of the Future 31, 5/15) SF (DT)
"Acres of Perhaps" by Will Ludwigsen (Asimov's, 7/15) F (CW)
"Like Native Things" by Mary Robinette Kowal (Asimov's, 7/15) SF (CW)
"Mountain" by Liu Cixin, translated by Holger Nahm (Apex #76, 9/15) SF (NM)
"Monsieur" by David Gerrold (F&SF, 9-10/15) H (JB)
"We're So Very Sorry for Your Tragic Loss" by Nick Wolven (F&SF, 9-10/15) SF (JB)
"The Hard Woman" by Ian McDowell (Asimov's, 9-10/15) F (CC)
"Geometries of Belonging" by Rose Lemberg (Beneath Ceaseless Skies #183, 10-1/15) F (MR)
"So Much Cooking" by Naomi Kritzer (Clarkesworld #110, 11/15) DF (EK)
"Tomorrow is a Lovely Day" by Lisa Mason (F&SF, 11-12/15) SF (RLT)
"A Case of Identity" by Edward M. Lerner (Analog, 12/15) SF (CW)
"Morrigan in Shadow" by Seth Dickinson (Clarkesworld #111, 12/15) SF (JM)
"Rates of Change" by James S. A. Corey (Meeting Infinity, 12/15) SF (BB)
"Body Politic" by Kameron Hurley (Meeting Infinity, 12/15) SF (BB)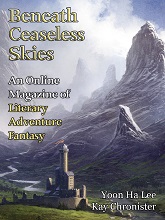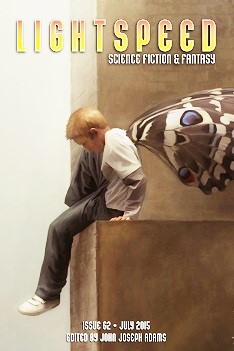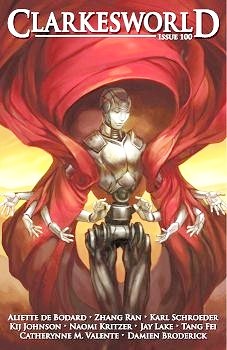 Novelettes One Star
"Portrait of a Witch" by Albert E. Cowdrey (F&SF, 1-2/15) H* (DT)
"Farewell Blues" by Bud Webster (F&SF, 1-2/15) H* (DT)
"Day Job" by Tom Purdom (Asimov's, 4-5/15) SF* (BB)
"The Eighth Iteration" by Bond Elam (Analog, 4/15) SF* (CR)
"A Revolutionary's Guide to Practical Conjuration" by Auston Habershaw (Writers of the Future #31, 5/15) F* (CR, DT)
"Planar Ghosts" by Krystal Claxton (Writers of the Future #31, 5/15) SF* (CR)
"The Graver" by Amy M. Hughes (Writers of the Future #31, 5/15) SF* (CR)
"Islands in the Sargasso" (Sargasso Containment) by Alex Shvartsman (Galaxy's Edge #15, 7-8/15) SF* (CR)
"The Curse Of The Myrmelon" by Matthew Hughes (F&SF, 7-8/15) F* (MB)
"Caisson" by Karl Bunker (Asimov's, 8/15) SF* (JM)
"It Was Educational" by J.B. Park (Clarkesworld #107, 8/15) SF* (EK)
"Stonebrood" by Alec Nevala-Lee (Analog, 10/15) SF* (CR)
"And the Balance in Blood" by Elizabeth Bear (Uncanny #7, 11-12/15) DF* (EK)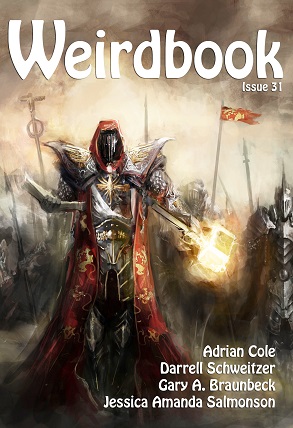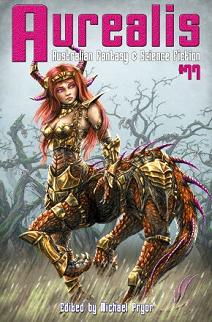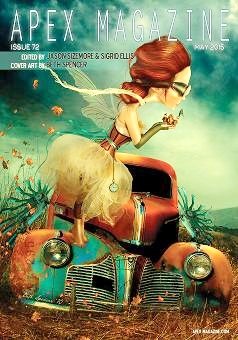 Novelettes Two Stars
"Wisteria Melancholy" by Michael T. Banker (Writers of the Future #31, 5/15) SF** (CR, DT)
"Switch" by Steve Pantazis (Writers of the Future #31, 5/15) SF** (CR)
"Adult Children of Alien Beings" by Dennis Danvers (Tor.com, 8/15) F** (MB)
"The Molenstraat Music Festival" by Sean Monaghan (Asimov's, 9/15) SF** (BB)
"Give Me the Daggers" by Adrian Cole (Weirdbook #31, 9/15) F** (EK)
"Of Apricots and Dying" by Amanda Forest (Asimov's, 12/15) SF** (BB)
"Outsider" by An Owomoyela (Meeting Infinity, 12/15) SF** (BB)
"I Had No Head and My Eyes Were Floating Way Up in the Air" by Clifford D. Simak (I Am Crying All Inside and Other Stories, 10/15) SF** (BB)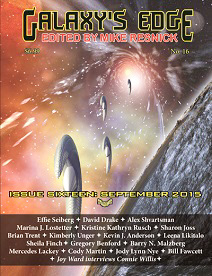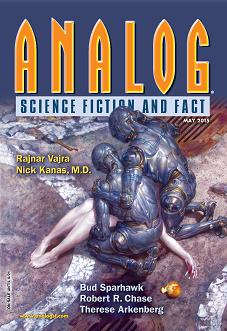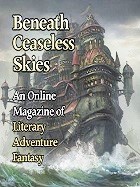 Novelettes Three Stars
"Ambiguity Machines: An Examination" by Vandana Singh (Tor.com, 4-29/15) SF*** (BB, CP)
"Our Lady of the Open Road" by Sarah Pinsker (Asimov's, 6/15) SF*** (JB)
"Grandmother-nei-Leylit's Cloth of Wind" by Rose Lemberg (Beneath Ceaseless Skies #175 6-11/15) F*** (BB)
"Islands off the Coast of Capitola, 1978" by David Herter (Tor.com, 7/15) F*** (MB)
"The Servant" by Emily Devenport (Clarkesworld #107, 8/15) SF*** (EK)
"The Deepwater Bride" by Tamsyn Muir (F&SF, 7-8/15) F*** (MB)
"Breeding True" by Orson Scott Card (IGMS #48, 11/15) SF** (EK)
"Empty" by Robert Reed (Asimov's, 12/15) SF*** (BB)
"In Blue Lily's Wake" by Aliette de Bodard (Meeting Infinity, 12/15) SF*** (BB)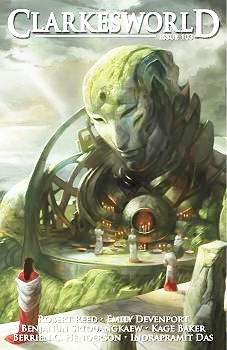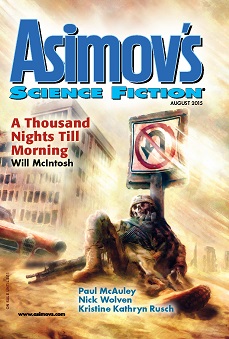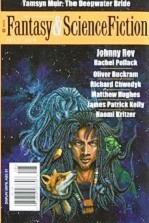 Novellas
"On the Night of the Robo-Bulls and Zombie Dancers" by Nick Wolven (Asimov's, 2/15) (DT)
"The Pauper Prince and the Eucalyptus Jinn" by Usman Malik (Tor.com, 4/15) F (CP)
"Fingerbones" by Erzebet Yellowboy (Masque Books, 5/15) F (CC)
"Pollen From a Future Harvest" by Derek Künsken (Asimov's, 7/15) SF (CW)
"A Thousand Nights Till Morning" by Will McIntosh (Asimov's, 8/15) SF (JM)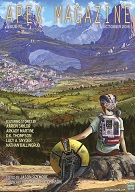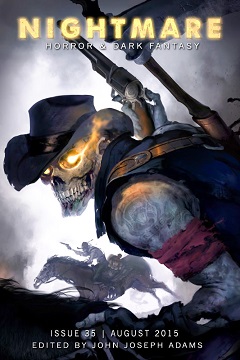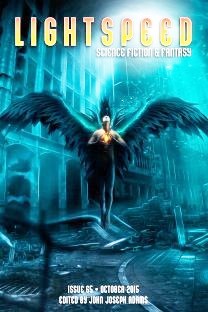 Novellas One Star
"Paranoia and the Destiny Programme" by Richard Godwin (Black Jackal Books, 3/15) SF* (KR)
"The Children of Gal" by Allen M. Steele (Asimov's, 4-5/15) SF* (BB, DT)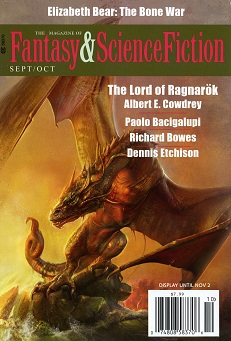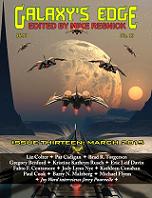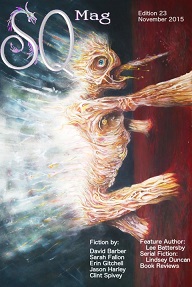 Novellas Two Stars
"Waters of Versailles" by Kelly Robson (Tor.com, 6/15) F** (HB)
"Stars That Make the Dark Heaven Light" by Sharon Joss (Writers of the Future 31, 5/15) SF** (DT, CR)
"The Citadel of Weeping Pearls" by Aliette de Bodard (Asimov's, 9–10/15) SF** (CC)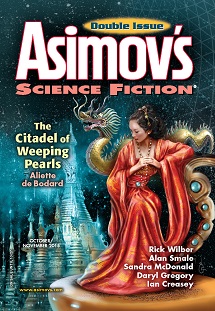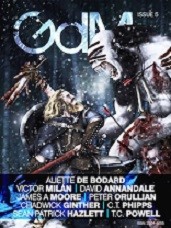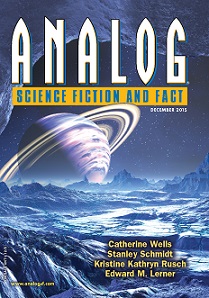 Novellas Three Stars
"The Long Wait" by Allen M. Steele (Asimov's, 1/15) SF*** (DT)
"The New Mother" by Eugene Fischer (Asimov's, 4-5/15) SF*** (BB)
"Entrepreneurs" by Robert Grossbach (F&SF, 5-6/14) SF*** (JB)
"Slow Bullets" by Alistair Reynolds (Tachyon, 6/15) SF*** (BB)
"The Sunken Cathedral" by John F. D. Taff (Grey Matter Press, 8/15) DF*** (SB)
"The Four Thousand, the Eight Hundred" by Greg Egan (Asimov's, 12/15) SF*** (BB)