Tangent Online 2014 Recommended Reading List
As with previous years, this list is not meant as comprehensive, there being several items we didn't see. As was the case with the last several years we narrowed our focus (with rare exception) to those stories published in professionally paying markets as defined by SFWA. While SFWA changed its pro-market requirements in 2014 to 6c/wd., we will continue to cover those markets paying the former rate of 5c/wd.
As is our custom, there are four sections to each length category. Those making the list in the short story, novelette, and novella lengths but having no stars, and those with either one, two, or three stars, according to how well the reviewer or reviewers valued a particular story. Quite often you will see more than a single reviewer's initials following a given entry. We have placed the story in the category receiving the most stars. Thus, it is possible that while one reviewer placed a story on the list without any stars, another also placed it on the list but with one or more stars, thus elevating that story to the higher ranking. Where there are more than one reviewer's initials following a story recommendation, they appear in no particular order, thus making it impossible to determine which of the reviewers provided this higher ranking. Conversely, it is also possible that each reviewer held the same opinion of any given story.
There are 493 stories on this year's list: 364 short stories, 100 novelettes, and 29 novellas, up 72 from last year's total of 421. I suspect a goodly number of this increase is due to our having seen quite a few more original anthologies this year, along with our coverage of several new online magazines.
If a story is placed in the incorrect length category, please let us know and we'll be happy to correct the oversight. Reviewers are free to place stories on this list from any of their reading during the year, and are not restricted to those venues covered here, nor to publications they have personally reviewed.
If you would like to review for Tangent Online, knowledge of the SF/F/H genres is a must, and reviewing experience is highly preferred. You may contact the editor here. Please note that Tangent Online is a fanzine (eligible for Hugo award consideration in the fanzine category) and does not pay its contributors.
(Cover above for the July/August issue of Fantasy & Science Fiction. Cover art by Maurizio Manzieri.)
Reviewer names and initials
Cyd Athens (CA), Stevie Barry (SB), Harlen Bayha (HB), Martha Burns (MB), Colleen Chen (CC), Alicia Cole (AC), Lillian Csernica (LC), Wayne Harris (WH), Ryan Holmes (RH), Jamie Lackey (JL), C. D. Lewis (CDL), Nicky Magas (NM), Charles Payseur (CP), Michelle Ristuccia (MR), Chuck Rothman (CR), Kris Rudin (KR), John Sulyok (JS), Dave Truesdale (DT), Clancy Weeks (CW), Louis West (LW).
I wish to thank the reviewers for the time and energy they have devoted to reading and reviewing this year's offerings. Without them, no Tangent Online and no Recommended Reading List; they're the ones who make it all work. Thanks are also due those who sent material for review, and of course our loyal readership throughout 2014–our 21st year since that first, slim July/August 1993 print issue was mailed out.
Below are covers from original anthologies, and single author reprint collections which included an original story making the list. Magazine covers (print and online) are interspersed throughout the list in no particular order.
Short Stories
"The Scrivener" by Eleanor Arnason (Subterranean Online, Winter 2014) F (CR)
"The Young Necromancer's Guide to Re-Capitation" by Marissa Lingen & Alec Austin (On Spec #95, Winter 2013/14) F (CP)
"A Perfect Day Off the Farm" by Patty Jansen (Extreme Planets, 1/14) SF (DT)
"Daybreak" by Jeff Hecht (Extreme Planets, 1/14) SF (DT)
"In the Dying Light, We Saw a Shape" by Jeremiah Tolbert (Lightspeed #44, 1/14) SF (CR)
"Mousunderstanding" by Carl Frederick (Analog, 1-2/14) SF (LW)
"This Is as I Wish to be Restored" by Christie Yant (Analog, 1-2/14) SF (LW)
"Racing Prejudice" by John Frye III (Analog, 1-2/14) SF (LW)
"Technological Plateau" by Michael Turton (Analog, 1-2/14) SF (LW)
"The Call of the Benu" by Carol Hollard March (Penumbra #29, 2/14) F (CP)
"Flood Samaritan Law" by Jennie A. Rix (Aurealis #67, 2/14) SF (CA)
"The Price of Doing Business" by DB Jackson (Tor.com, 2/14) F (LW)
"The Avalon Missions" by David Brin (Analog, 3/14) SF (LW)
"In a Green Dress, Surrounded by Exploding Clowns" by Robert T. Jeschonek (Galaxy's Edge #7, 3-4/14) SF (CR)
"Outmoded Things" by Nancy Kress (Multiverse: Exploring Poul Anderson's Worlds, 4/14) SF (DT)
"The Lingering Joy" by Stephen Baxter (Multiverse: Exploring Poul Anderson's Worlds, 4/14) SF (DT)
"Bloodpride" by Gregory Benford (Multiverse: Exploring Poul Anderson's Worlds, 4/14) SF (DT)
"Dolores, Big and Strong," by Joe M. McDermott (Asimov's, 4-5/14) SF (LW)
"What Moves the Sun and Other Stars" by K. C. Norton (Writers of the Future 30, 5/14) SF (DT)
"Photon Girl Ascending" by Rachael K. Jones (Penumbra #32, 5/14) F (CR)
"Attitude" by Linda Nagata (Reach for Infinity, 5/14) SF (DT)
"Invisible Planets" by Hannu Rajaniemi (Reach for Infinity, 5/14) SF (DT)
"Fifteen Percent" by Jody Lynn Nye (Bad Ass Faeries: It's Elemental, 5/14) F (CDL)
"Cryptids" by Alex Nevala-Lee (Analog, 5/14) SF (LW)
"Repo" by Aaron Gallagher (Analog, 5/14) SF (LW)
"Wrecked" by Ephiny Gale (Aurealis #70, 5/14) SF (LW)
"The Earth and Everything Under" by K. M. Ferebee (Shimmer #19, 5-6/14) F (CP)
"#rising" by Cynthia Ward (Weird Tales #362, Spring 2014) H (RH)
"Little Knife" by Leigh Bardugo (Tor.com, 6/14) F (RH)
"Ormonde and Chase" by Ian Creasey (Asimov's, 6/14) SF (DT, CR)
"Forgiveness" by Bud Sparhawk (Analog, 6/14) SF (DT)
"Dim Sun" by Maria Dahvana Headley (Lightspeed #49, 6/14) F (CA)
"Vest of the Pecos" by David Sherman (Trouble on the Water, 6/14) F (CR)
"Tomorrow, We'll Go Yak Herding" by Michelle Ann King (Strange Horizons, 6/2/14) SF (CA)
"How Do I Get to Last Summer from Here?" by M. Bennardo (Asimov's, 7/14) SF (CW)
"The Woman from the Ocean" by Karl Bunker (Asimov's, 7/14) SF (DT)
"Only Make-Believe" by Lauren Liebowitz (Fae, 7/14) F (CDL)
"F.C.U." by Jon Arthur Kitson (Fae, 7/14) SF (CDL)
"Possession" by Rhonda Eikamp (Fae, 7/14) F (CDL)
"The Fairy Midwife" by Shannon Phillips (Fae, 7/14) F (CDL)
"Stone Hunger" by N. K. Jemisin (Clarkesworld #94, 7/14) SF (CW)
"Witch, Beast, Saint: an Erotic Fairy Tale" by C.S.E. Cooney (Strange Horizons, 7/21/14) F (LW)
"Crimson Sky" by Eric Choi (Analog, 7-8/14) SF (DT)
"Hot and Cold" by Alvaro Zinos-Amaro (Analog, 7-8/14) SF (DT)
"End of the World Community College" by Sandra McDonald (F&SF, 7-8/14) F (CDL, DT)
"Testimony of Samuel Frobisher Regarding Events upon His Majesty's Ship Confidence, 14–22 June, 1818, with Diagrams" by Ian Tregillis (F&SF, 7-8/14) F/H (CDL)
"The Wings The Lungs, The Engine The Heart" by Laurie Tom (Galaxy's Edge #9 7-8/14) F (CR)
"Homo Floresiensis" by Ken Liu (Solaris Rising 3, 8/14) SF (DT)
"Wet Fur" by Jeremiah Tolbert (Asimov's, 8/14) SF (CW)
"The Saint of the Sidewalks" by Kat Howard (Clarkesworld #95, 8/14) F (CR)
"Landscapes of the Martian Heart" by Stephen Gaskell (Albedo One #45, Fall 2014) SF (CW)
"The Pageant" by Kelly Rede (Albedo One #45, Fall 2014) F (CW)
"Patterns" by James Gunn (Asimov's, 9/14) SF (DT)
"Everyone Will Want One" by Kelly Sandoval (Asimov's, 9/14) SF (LW)
"Herd Immunity" by Tananarive Due (The End is Now, 9/14) SF (CP)
"Twilight of the Music Machines" by Megan Arkenberg (The End is Now, 9/14) SF (CP)]
"Singing with All My Skin and Bone" by Sunny Moraine (Nightmare #24, 9/14) H (LC)
"No Sweeter Art" by Tony Pi (Beneath Ceaseless Skies #155, 9-4/14) F (MR)
"Periapsis" by James L. Cambias (Hieroglyph, 9/14) SF (DT)
"A Prayer at Noon" by John M. Shade (Triangulation: Parch, 9/14) SF (LW)
"Dust Storm" by Chuck Rothman (Triangulation: Parch, 9/14) SF (LW)
"Dream Warriors: Ramayan Redux," by Rochelle Potkar (Triangulation: Parch, 9/14) F (LW)
"The Straw-Mother" by Jamie Lackey (Triangulation: Parch, 9/14) F (LW)
"The Way We Were" by Fruma Klass (Triangulation: Parch, 9/14) F (LW)
"The Fiddle Game" by Alex Shvartsman (IGMS #41, 9-10/14) F (CW)
"When I Had Eyes, I Didn't See" by Anna Yeats (Penumbra #37, 10/14) F (CR)
"Extra Innings" by José Iriarte (Penumbra #37, 10/14) F (CR)
"Safe House" by K J Parker (Fearsome Magics, 10/14) F (DT)
"On Skybolt Mountain" by Justina Robson (Fearsome Magics, 10/14) F (DT)
"Where Our Edges Lie" by Nina Kiriki Hoffman (Fearsome Magics, 10/14) F (DT)
"The Nursery Corner" by Kaaron Warren (Fearsome Magics, 10/14) F (DT)
"Master of Business Apocalypse" by Jakob Drud (UFO 3, 10/14) F (CP, CDL)
"Carla At The Off-Planet Tax Return Helpline" by Caroline M. Yoachim (UFO 3, 10/14) SF (CDL, WH)
"The Discounted Seniors" by James Beamon (UFO 3, 10/14) F (CDL)
"Notes To My Past And/Or Alternate Selves" by Sarah Pinsker (UFO 3, 10/14) SF (CDL, WH)
"The Choochoomorphosis" by Oliver Buckram (UFO 3, 10/14) F (WH)
"If You Want" by Luc Reid (Flash Fiction Online, 10/14) SF (CR)
"Lovecraft" by Helena Bell (Clarkesworld #97, 10/14) H (CC)
"Pithing Needle" by E. Catherine Tobler (Clarkesworld #97, 10/14) SF (CC)
"The Nevermaw" by Miles Hurt (Aurealis #75, 10/14) F (CW)
"Decaying Orbit" by Robert R. Chase (Asimov's, 10-11/14) SF (DT)
"The Old Science Fiction Writer" by David Gerrold (F&SF, 11-12/14) SF (CDL, DT)
"Conquest" by Bud Sparhawk (Analog, 11/14) SF (DT, LW)
"Rules for Killing Monsters" by David Sklar (Nightmare #26, 11/14) H (LC)
"Targeted Strike 2: Judgment Database" by Adam Rothstein (Terraform, 11/17/14) SF (CDL)
"Raw Recruits" by Mark Mills (Krampusnacht: The Twelve Nights of Christmas, 11/14) H (MB)
"Zombies at Work" by Leena Likitalo (Galaxy's Edge #11, 11-12/14) SF (MR)
"Fate and Other Variables" by Alex Shvartsman (Galaxy's Edge #11, 11-12/14) SF (MR)
"Twist of Coil" by Miki Dare (Analog, 12/14) SF (CR, DT)
"Wake-Rider" by Vandana Singh (Lightspeed #55, 12/14) SF (CA)
"Anthracite Weddings" by John Zaharick (Apex #67, 12/14) H (CW)
"Keep Talking" by Marie Vibbert (Apex #67, 12/14) SF (CW)
"Habilis" by Howard Hendrix (Carbide Tipped Pens, 12/14) SF (DT)
"Disconnect" by Cassandra Khaw (Terraform, 12/15/14) SF (CDL)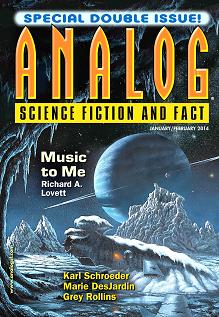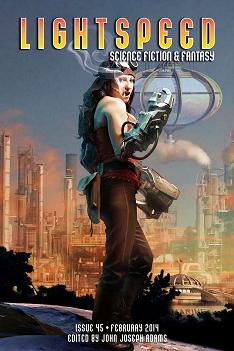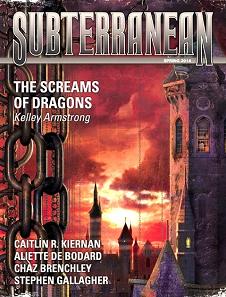 Short Stories One Star
"The Prelate's Commission" by Jeffrey Ford (Subterranean Online, Winter 2014) F* (CR)
"Nanny Anne and the Christmas Story" by Karen Joy Fowler (Subterranean Online, Winter 2014) F* (CR)
"The Clockwork Soldier" by Ken Liu (Clarkesworld #88, 1/14) SF* (JL)
"Pale Skin, Gray Eyes" by Gene O'Neill Adcock (Apex #56, 1/14) F* (SB)
"Elsa's Spheres" by Marina J. Lostetter (IGMS #37, 1-2/14) SF* (MR)
"This Quiet Dust" by Karl Bunker (Analog, 1-2/14) SF* (LW)
"The Carl Paradox" by Steve Rasnic Tem (Asimov's, 1/14) SF* (DT, CC)
"For All of Us Down Here" by Alex Irvine (F&SF, 1-2/14) F* (CR)
"Antumbra" by Lucy A. Snyder (Apex #57, 2/4) SF* (KR)
"Maria and the Pilgrim" by Rich Larson (Apex #57, 2/4) SF* (KR)
"The Transdimensional Horsemaster Rabbis of Mpumalanga Province" by Sarah Pinsker (Asimov's, 2/14) SF* (MR)
"So Sharp That Blood Must Flow" by Sunny Moraine (Lightspeed #45, 2/14) F* (JL)
"Coma Kings" by Jessica Barber (Lightspeed #45, 2/14) F* (JL)
"The Tallest Doll in New York City" by Maria Dahvana Headley (Tor.com, 2/14) F* (LW)
"Morrigan in the Sunglare" by Seth Dickinson (Clarkesworld #90, 3/14) SF* (MR)
"Human Strandings and the Role of the Xenobiologist" by Thoraiya Dyer (Clarkesworld #90, 3/14) SF* (MR)
"Heaven is a Place on Planet X" by Desirina Boskovich (The End Is Nigh, 3/14) SF* (JS)
"Removal Order" by Tananarive Due (The End Is Nigh, 3/14) SF* (JS)
"In the Air" by Hugh Howey (The End Is Nigh, 3/14) SF* (JS)
"Goodnight Moon" by Annie Bellet (The End Is Nigh, 3/14) SF* (JS)
"Enjoy the Moment" by Jack McDevitt (The End Is Nigh, 3/14) SF* (JS)
"Pretty Soon the Four Horsemen Are Going to Come Riding Through" by Nancy Kress (The End Is Nigh, 3/14) SF* (JS)
"Spores" by Seanan McGuire (The End Is Nigh, 3/14) SF* (JS)
"She's Got a Ticket to Ride" by Jonathan Maberry (The End Is Nigh, 3/14) SF* (JS)
"Agent Unknown" by David Wellington (The End Is Nigh, 3/14) SF* (JS)
"The Firefly Girl" by Miranda Suri (Penumbra #30, 3/14) H* (KR)
"Death Warrant" by Michael Haynes (Penumbra #30, 3/14) H* (KR)
"The Skin Stealer" by Daniel Ausema (Penumbra #30, 3/14) H* (KR)
"The River Does Not Run" by Rachel Sobel (Beneath Ceaseless Skies #142, 3-6/14) F* (SB)
"A Stretch of Highway Two Lanes Wide" by Sarah Pinsker (F&SF, 3-4/14) F* (JL)
"Collar" by Leo Vladimirsky (F&SF, 3-4/14) SF* (DT)
"Extinct Fauna of the High Malafan" by Alter S. Reiss (IGMS #38, 3-4/14) F* (MR)
"Holland: 1944" by Steve Cameron (Galaxy's Edge #7, 3-4/14) SF* (CR)
"The Nechronomator" by Brad R. Torgersen (Galaxy's Edge #7, 3-414) F* (CR)
"A Candle" by Raymond E. Feist (Multiverse: Exploring Poul Anderson's Worlds, 4/14) SF* (DT)
"Like a Wasp to the Tongue" by Fran Wilde (Asimov's, 4-5/14) SF* (LW, DT)
"Robot Mothers" by Adam Gaylord (Penumbra #31, 4/14) SF* (CA)
"Passage of Earth" by Michael Swanwick (Clarkesworld #91, 4/14) SF* (CR)
"Whaliens" by Lavie Tidhar (Analog, 4/14) SF* (LW)
"Something Going Around" by Harry Turtledove (Tor.com, 4/14) SF* (CW)
"Pavlov's House" by Malcolm Cross (Strange Horizons, 4/21/14) SF* (AC)
"Corbin's Gore" by Clint Smith (Ghouljaw and Other Stories, 5/14) H* (KR)
"The Old Slow Man and his Gold Gun from Space" by Ben H. Winters (Dead Man's Hand, 5/14) SF* (CDL)
"La Madre del Oro" by Jeffrey Ford (Dead Man's Hand, 5/14) H* (CDL)
"Neversleeps" by Fred Van Lente (Dead Man's Hand, 5/14) F* (CDL)
"Long Jump" by Oleg Kazantsev (Writers of the Future 30, 5/14) SF* (DT, CDL)
"These Walls of Despair" by Anaea Lay (Writers of the Future 30, 5/14) SF* (DT)
"The Shaadi Exile" by Amanda Forrest (Writers of the Future 30, 5/14) SF* (DT)
"Memories Bleed Beneath the Mask" by Randy Henderson (Writers of the Future 30, 5/14) SF* (DT, CDL)
"Paperclips and Memories and Things That Won't Be Missed" Caroline M. Yoachim (Apex #60, 5/14) SF* (SB)
"Not Smart, Not Clever" by E. Saxey (Apex #60, 5/14) SF* (SB)
"The Saviors" by Jon Lasser (Penumbra #32, 5/14) F* (CR)
"The Flying Rock" by James Chambers (Bad Ass Faeries: It's Elemental, 5/14) F* (CDL)
"Melia's Best Wave" by NR Brown (Bad Ass Faeries: It's Elemental, 5/14) F* (CDL)
"In Perpetuity" by Ellis Morning (Analog, 5/14) SF* (DT)
"Bodies in Water" by Sarah Frost (Analog, 5/14) SF* (LW, DT)
"Snapshots" by Kristine Kathryn Rusch (Analog, 5/14) SF* (LW, DT)
"Amicae Aeternum" by Ellen Klages (Reach for Infinity, 5/14) SF* (DT)
"Trademark Bugs: A Legal History" by Adam Roberts (Reach for Infinity, 5/14) SF* (DT)
"In Babelsberg" by Alastair Reynolds (Reach for Infinity, 5/14) SF* (DT)
"The Madonna of the Abattoir" by Anne M. Pillsworth (Tor.com, 5/14) H* (HB)
"The Insects of Love" by Genevieve Valentine (Tor.com, 5/14) SF* (HB)
"Nennorluk Goes Down Deep" by Chris Tarry (On Spec #96, Spring 2014) SF* (CR)
"Ink" by Bob Fingerman (Weird Tales #362, Spring 2014) H* (RH)
"Darkling I Listen" by Keris McDonald (Weird Tales #362, Spring 2014) H* (RH)
"Therapeutic" by Tim McDaniel (Weird Tales #362, Spring 2014) H* (RH)
"The Game of Bear" by M. R. James completed by Helen Grant (Weird Tales #362, Spring 2014) H* (RH)
"Moron" by Davyne DeSye (On Spec #96, Spring 2014) SF* (CR)
"The Stain on the Lake" by Matthew J. Morrison (Aurealis #70, 5/14) H* (LW)
"Pocket Full of Mumbles" by Tina Gower (Galaxy's Edge #8, 5-6/14) F* (MR)
"They Tell Me There Will Be No Pain" by Rachel Acks (Lightspeed #49, 6/14) SF* (CA)
"Chapter Six" by Stephen Graham Jones (Tor.com, 6/14) H* (RH)
"Combustion Hour" by Yoon Ha Lee (Tor.com, 6/14) F* (RH)
"The Color of Paradox" by A. M. Dellamonica (Tor.com, 6/14) SF* (RH)
"The Philosopher Duck" by Kara Dalkey (Asimov's, 6/14) SF* (CR)
"A Star to Steer By" by Jennifer R. Povey (Analog, 6/14) SF* (CW, DT)
"Silver and Seaweed" by Greg Linklater (Beneath Ceaseless Skies #149, 6-12/14) F* (CP)
"Ascension" by Michael Grey (Aurealis #71, 6/14) SF* (WH)
"Murmuration" by Jennifer Noelle Welch (Penumbra #33, 6/14) F* (KR)
"Story of our Lives" by Sandra McDonald (Asimov's, 7/14) SF* (CW)
"Snake Wine" by Jeffrey Thomas (Children of Old Leech, 7/14) H* (LC)
"Rosie Red Jacket" by Christine Morgan (Fae, 7-14) F* (JS)
"Faerie Knight" by Sidney Blaylock, Jr. (Fae, 7-14) F* (JS)
"A Fairfolk Promise" by Alexis A. Hunter (Fae, 7-14) F* (JS)
"Solomon's Friend" by Kristina Wojtaszek (Fae, 7/14) F* (CDL)
"Voices in the Black" by Jeff Stehman (Penumbra #34, 7/14) SF* (MR)
"Age" by Ashley Jade (Aurealis #72, 7/14) SF* (SB)
"Ballard and Ballard: A Biopunk Detective Novel of 2080 AD" by Steven HK Ma (Aurealis #72, 7/14) SF* (SB)
"The Only Known Law" by William Alexander (F&SF, 7-8/14) SF* (CDL)
"Honey, Plums and Cinnamon" by Andrea G. Stewart (Galaxy's Edge #9 7-8/14) F* (CR)
"Matial" by Lou J. Berger (Galaxy's Edge #9 7-8/14) F* (CR)
"The Golem of Deneb Seven" by Alex Shvartsman (IGMS #40, 7-8/14) SF* (HB)
"Five Stages of Grief after the Alien Invasion" by Caroline M. Yoachim (Clarkesworld #95, 8/14) SF* (CR)
"La Signora" by Bruce McAllister (Tor.com, 8/14) F* (RH)
"Seven Commentaries on an Imperfect Land" by Ruthanna Emrys (Tor.com, 8/14) F* (RH)
"Restraint" by Bruce Pratt (Trust and Treachery: Tales of Power and Intrigue, 9/14) F* (MB)
"Survival" by Edward Folger (Trust and Treachery: Tales of Power and Intrigue, 9/14) F* (MB)
"Under the Scab" by Mathew Hughes (Lightspeed #52, 9/14) F* (RH)
"Vegan" by Diane Turnshek (Triangulation: Parch, 9/14) SF* (LW)
"Bitter Waters" by Julia August (Triangulation: Parch, 9/14) F* (LW)
"A Long-Forgotten Memory" by Elizabeth Spencer (Triangulation: Parch, 9/14) F* (LW)
"No Lonely Seafarer" by Sarah Pinsker (Lightspeed #52, 9/14) F* (RH)
"Anna Saves Them All" by Seth Dickinson (Shimmer #21, 9/14) SF* (CP)
"Soul Partner" by Imogene Cassady (Aurealis #74, 9/14) F* (CR)
"Windows" by Susan Palwick (Asimov's, 9/14) SF* (DT, LW)
"King Rook" by Martin McGrath (Albedo One #45, Fall 2014) H/F* (CW)
"The Shaping Man" by David Conyers (Albedo One #45, Fall 2014) SF* (CW)
"Selfies" by Lavie Tidhar (Tor.com, 9-17/14) F* (MB)
"Chrysalis" by David Brin (Analog, 10/14) SF* (CW, DT)
"On the Efficacy of Supervillain Battles In Eliciting Therapeutic Breakthroughs" by Jim C. Hines (UFO 3, 10/14) SF* (CDL, WH)
"The Right Answer" by James A. Miller (UFO 3, 10/14) SF* (CDL, WH)
"That Must Be Them Now" by Karen Haber (UFO 3, 10/14) F* (CDL)
"Live At The Scene" by Gini Koch (UFO 3, 10/14) SF* (CDL, WH)
"Sideshow" by Catherine MacLeod (Nightmare #25, 10/14) H* (LC)
"The Liar" by David Austin (Flash Fiction Online, 10/14) F* (CR)
"Because I Prayed This Word" by Alex Dally MacFarlane (Strange Horizons, 10/27/14) F* (LW)
"Bringing Home Major Tom" by Leigh Kimmel (Forging Freedom: Dimensions, 10/14) SF* (RH)
"A Brief Biography of Baron Otto von Korek (1717-1783)" by Donald J. Bingle (Forging Freedom: Dimensions, 10/14) SF* (RH)
"Why Can You Never Escape with Escape?" by A. J. Kirby (Forging Freedom: Dimensions, 10/14) SF* (RH)
"No Body" by John P. Murphy (Penumbra #37, 10/14) F* (CR)
"Taxidermist in the Underworld" by Maria Dahvana Headley (Clarkesworld #97, 10/14) H* (CC)
"Coins for Their Eyes" by Kris Millering (Apex #65, 10/14) SF* (CP)
"Superior Sapience" by Robert R. Chase (Analog, 11/14) SF* (LW, DT)
"Mercy, Killer" by Auston Habershaw (Analog, 11/14) SF* (DT, LW)
"A Moon for the Unborn" by Indrapramit Das (Strange Horizons, 11/10/14) SF* (CP)
"Drones Don't Kill People" by Annalee Newitz (Lightspeed #54, 11/14) SF* (CP)
"Monoceros, Ptolemy Cluster" by Steven W. Johnson (Flash Fiction Online, 11/14) SF* (CP)
"Ring, Little Bell, Ring" by Caren Gussoff (Krampusnacht: The Twelve Nights of Christmas, 11/14) H* (MB)
"Song of the Sargasso" by Marina J. Lostetter (Galaxy's Edge #11, 11-12/14) SF* (MR)
"The Burden of Triumph" by Samuel Marzioli (IGMS #42, 11-12/14) SF* (MR)
"We Were Once of the Sky" by Yosef Lindell (Beneath Ceaseless Skies #161, 11-25/14) SF* (CR)
"Sweet Death" by Margaret Ronald (Beneath Ceaseless Skies #161, 11-25/14) SF* (CR)
"Summer Home" by Sue Burke (Asimov's, 12/14) SF* (JL)
"Citizen of the Galaxy" by Evan Dicken (Analog, 12/14) SF* (CR)
"The Secret Life of Sea Monsters" by Cislyn Smith (Flash Fiction Online, 12/14) F* (CP)
"No Vera There" by Dominica Phetteplace (Clarkesworld #99, 12/14) SF* (CP)
"A Slow Unfurling Truth" by Aliette de Bodard (Carbide Tipped Pens, 12/14) SF* (RH)
"She Just Looks that Way" by Eric Choi (Carbide Tipped Pens, 12/14) SF* (DT, RH)
"Ambiguous Nature" by Carl Frederick (Carbide Tipped Pens, 12/14) SF* (DT, RH)
"Lady with Fox" by Gregory Benford (Carbide Tipped Pens, 12/14) SF* (DT)
"The Blue Afternoon that Lasted Forever" by Daniel H. Wilson (Carbide Tipped Pens, 12/14) SF* (DT)
"The Mandelbrot Bet" by Dirk Strasser (Carbide Tipped Pens, 12/14) SF* (DT)
"Recollection" by Nancy Fulda (Carbide Tipped Pens, 12/14) SF* (DT)
"Nkást íí" by Darcie Little Badger (Strange Horizons, 12-15/14) F/H* (NM, CP)
"Skin in the Game" by Sabrina Vourvoulias (Tor.com, 12/14) F* (CR)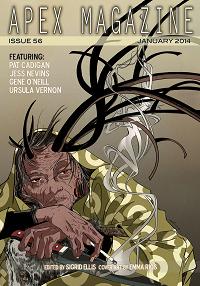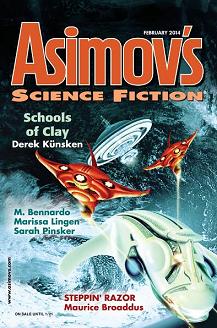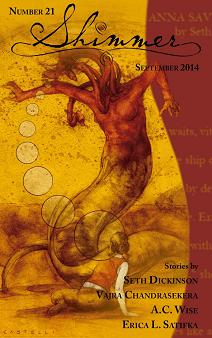 Short Stories Two Stars

"I Met a Man Who Wasn't There" by K J Parker (Subterranean Online, Winter 2014) F** (CR)
"The Thing About Shapes to Come" by Adam-Troy Castro (Lightspeed #44, 1-14) F** (CR)
"Imma Gonna Finish You Off" by Marina J. Lostetter (Galaxy's Edge #6, 1-2/14) SF** (CR)
"Through the Eons Darkly" by Brian Trent (Galaxy's Edge #6, 1-2/14) SF** (CR)
"The Innocence of a Place" by Margaret Ronald (Strange Horizons, 1-13/14) F** (JL)
"And Wash Out by Tides of War" by An Owomoyela (Clarkesworld #89, 2/14) SF** (LW)
"Mad Maudlin" by Marie Brennan (Tor.com, 2/14) F** (LW)
"Rubik's Chromsomes" by Megan Chaudhuri (Analog, 3/14) SF** (LW)
"Suteta Mono de wa Nai" by Juliette Wade (Clarkesworld #90, 3/14) F** (MR)
"The Mao Ghost" by Chen Qiufan (Lightspeed, #46, 3/14) F**(MB)
"Gray Ebenezer" by Brynn McNab (Penumbra #30, 3/14) H** (KR)
"Servant of the Aswang" by Samuel Marzioli (Penumbra #30, 3/14) H** (KR)
"The Breath of War" by Aliette de Bodard (Beneath Ceaseless Skies #142, 3-6/14) F** (SB)
"The Cuckoo" by Sean Williams (Clarkesworld #91, 4/14) SF** (CR)
"Scout" by Will McIntosh (Asimov's, 4-5/14) SF** (LW, DT)
"The Red-Headed Dead" by Joe R. Lansdale, (Dead Man's Hand, 5/14) F** (RH)
"Bookkeeper, Narrator, Gunslinger" by Charles Yu (Dead Man's Hand, 5/14) F** (CDL)
"The Man With No Heart" by Beth Revis (Dead Man's Hand, 5/14) F** (CDL)
"Another Man's Treasure" by Tom Greene (Analog, 5/14) SF** (LW)
"Gauntlet" by Shedrick Pittman-Hassett (On Spec #96, Spring 2014) SF** (CR)
"Unforeseen Soup" by Dave Cherniak (On Spec #96, Spring 2014) SF** (CR)
"The Bride of the Vampire" by Ron Goulart (Weird Tales #362, Spring 2014) H** (RH)
"Letting Go" by Jamie Lackey (Weird Tales #362, Spring 2014) H** (RH)
"The Impression" by Ramsey Campbell (Weird Tales #362, Spring 2014) H** (RH)
"To Thy Sylph Be True" by Danny Birt (Bad Ass Faeries: It's Elemental, 5/14) F** (CDL)
"The Face of the Serpent" by DL Thurston (Bad Ass Faeries: It's Elemental, 5/14) F** (CDL)
"Hatchet" by Clint Smith (Ghouljaw and Other Stories, 5/14) H** (KR)
"Origin Story" by Lindsay Morgan Lockhart (Penumbra #32, 5/14) F** (CR)
"A Gift in Time" by Maggie Clark (Clarkesworld #92, 5/14) SF** (WH)
"A Tank Only Fears Four Things" by Seth Dickinson (Lightspeed #48, 5/14) SF** (CP)
"Upright, Unlocked" by Tom Gerencer (Galaxy's Edge #8, 5-6/14) SF** (MR)
"The Shadow in the Corner" by Johnathan Andrew Sheen (F&SF, 5-6/14) H** (CDL, DT, MB)
"Sarah's Child" by Susan Jane Bigelow (Strange Horizons, 5/19/14) SF** (KR)
"Jay Lake and the Last Temple of the Monkey King" by Ken Scholes (Tor.com, 6/14) SF** (RH)
"The Turkey Raptor" by James Van Pelt (Asimov's, 6/14) SF** (DT, CR)
"Field of Gravity" by Jay Werkheiser (Analog, 6/14) SF** (CW, DT)
"Soul of Soup Bones" by Crystal Lynn Hilbert (Apex #61, 6/14) F** (HB)
"Cimmera: From the Journal of Imaginary Anthropology" by Theodora Gross (Lightspeed #50, 7/14) F** (MB)
"The Queen of Lakes" by L.S. Johnson (Fae, 7-14) F** (JS, CDL)
"The Cartography of Shattered Trees" by Beth Cato (Fae, 7-14) F** (JS, CDL)
"And Only The Eyes of Children" by Laura VanArendonk Baugh (Fae, 7-14) F** (JS, CDL)
"Insurrection in Silk" by Gillian Conahan (Apex #62, 7/14) F** (JL)
"Sadness" by Timons Esaias (Analog, 7-8/14) SF** (DT)
"Journeyer" by R. Garrett Wilson (Analog, 7-8/14) F** (MB)
"The Half-Toe Bar" by Andrew Reid (Analog, 7-8/14) F** (MB)
"Hark! Listen to the Animals" by Lisa Tang Liu & Ken Liu (Galaxy's Edge #9 7-8/14) F** (CR)
"The Goblin Hunter" by Chris Beckett (Solaris Rising 3, 8/14) SF** (DT)
"Faith Without Teeth" by Ian Watson (Solaris Rising 3, 8/14) SF** (DT)
"Resurrection Points" by Usman T. Malik (Strange Horizons, 8/4/14) F** (LW)
"Sister of Mercy" by Amanda Forrest (Apex #63, 8/14) SF** (KR)
"Vladimir Chong Chooses to Die" by Lavie Tidhar (Analog, 9/14) SF** (LW)
"Neep" by K. C. Norton (Galaxy's Edge #10, 9/14) SF** (MR)
"Covenant" by Elizabeth Bear (Hieroglyph, 9/14) SF** (DT)
"The Well" by Kenneth B. Chiacchia (Triangulation: Parch, 9/14) SF** (LW)
"Headache" by Julio Contazar, translated by Michael Cisco (Tor.com, 9-3/14) F** (MB)
"As Good As New" by Charlie Jane Anders (Tor.com, 9-10/14) F** (MB)
"When Gods and Vampires Roamed Miami" by Kendare Blake (Tor.com, 9-16/14) F** (MB)
"Super-Baby-Moms Group Saves the Day!" by Tina Connolly (UFO 3, 10/14) SF** (CP)
"Picture Perfect" by Matt Mikalatos (UFO 3, 10/14) SF** (WH)
"Into The Woods, With Zombunny" by Camille Griep (UFO 3, 10/14) F/H** (CDL)
"The Full Lazenby" by Jeremy Butler (UFO 3, 10/14) SF** (CDL, WH)
"The Door-To-Door Salesthing From Planet X" by John Vogt (UFO 3, 10/14) SF** (CDL, WH)
"The Dryad's Shoe" by T. Kingfisher (Fantasy #58, 10/14) F** (MB)
"The Scrimshaw and the Scream" by Kate Hall (Fantasy #58, 10/14) F** (MB, CP)
"Inhuman" by A. K. Lindsay (Forging Freedom: Dimensions, 10/14) SF** (RH)
"The Rainbow Children" by Leo Norman (Forging Freedom: Dimensions, 10/14) SF** (RH)
"The Pathless Skies" by Neil Weston (Forging Freedom: Dimensions, 10/14) SF** (RH)
"Santos de Sampaguitas" by Alyssa Wong (Strange Horizons, 10/6 & 10/13/14) F** (LW)
"Dream Cakes" by Kelly Jennings (Strange Horizons, 10/20/14) SF** (LW)
"Habeas Corpus Callosum" by Jay Werkheiser (Analog, 11/14) SF** (LW, DT)
"Who is Your Executioner?" by Maria Davahna Headley (Nightmare #26, 11/14) H** (LC)
"That's Entertainment" by Meda Kahn (Strange Horizons, 11/03/14) SF** (CP)
"Candy Girl" by Chikodili Emelumadu (Apex #66, 11/14) SF** (CP)
"Huxleyed Into the Full Orwell" by Cory Doctorow (Terraform, 11/17/14) SF** (CDL)
"Between the Eyes" by Guy Burtenshaw (Krampusnacht: The Twelve Nights of Christmas, 11/14) H** (MB)
"Peppermint Sticks" by Colleen H. Robbins (Krampusnacht: The Twelve Nights of Christmas, 11/14) H** (MB)
"A Whisper In the Weld" by Alix E. Harrow (Shimmer #22, 11/14) F** (HB)
"One Day, I Will Die on Mars" by Paul Ford (Terraform, 11/24/14) SF** (CDL)
"Feral Frolics" by Scott Baker (F&SF, 11-12/14) F** (CDL)
"The Bomb-Thing" by KJ Kabza (F&SF, 11-12/14) F** (CDL, DT)
"It Gets Bigger" by Gwendolyn Clare (Asimov's, 12/14) SF** (JL)
"Dino Mate" by Rosemary Claire Smith (Analog, 12/14) SF** (DT, CR)
"Mammals" by David D. Levine (Analog, 12/14) SF** (CR)
"Saboteur" by Ken Liu (Analog, 12/14) SF** (CR, DT)
"Kenneth: A User's Manual" by Sam J. Miller (Strange Horizons, 12-1/14) SF** (CP)
"Griefbunny" by Brooke Juliet Wonders (Apex #67, 12/14) F** (CW)
"Old Timer's Game" by Ben Bova (Carbide Tipped Pens, 12/14) SF** (RH, DT)
"The Circle" by Liu Cixin (Carbide Tipped Pens, 12/14) SF** (DT)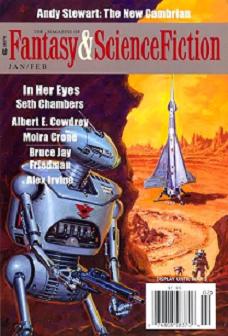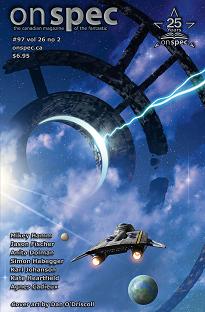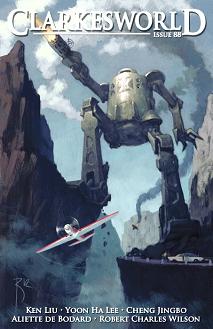 Short Stories Three Stars

"Hayfever" by Frances Hardinge (Subterranean Online, Winter 2014) SF*** (CR)
"Jackalope Wives" by Ursula Vernon (Apex #56, 1/14) F*** (SB)
"The Story-Teller" by Bruce Jay Friedman (F&SF, 1-2/14) F*** (CR, DT)
"The League of Lame Superheroes" by James Aquilone (Astronomical Odds: Third Flatiron Anthologies, Spring 2014) F*** (MB)
"Wedding Day" by Jake Kerr (The End Is Nigh, 3/14) SF*** (JS)
"The Final Girl" by Shira Lipkin (Strange Horizons, 4/14/14) SF*** (AC)
"The Talking Cure" by K.J. Zimring (Asimov's, 4-5/14) SF*** (LW)
"Second Hand" by Rajan Khanna (Dead Man's Hand, 5/14) F*** (CDL, RH)
"Hellfire on the High Frontier" by David Farland (Dead Man's Hand, 5/14) F*** (CDL, RH)
"Bamboozled" by Kelly Armstrong (Dead Man's Hand, 5/14) F*** (CDL, RH)
"Madam Damnable's Sewing Circle" by Elizabeth Bear (Dead Man's Hand, 5/14) SF*** (CDL)
"Falling Leaves" by Liz Argall (Apex #60, 5/14) SF*** (SB)
"Migratory Patterns of Underground Birds" by E. Catherine Tobler (Clarkesworld #92, 5/14) SF*** (WH)
"The Meeker and the All-Seeing Eye" by Matthew Kressel (Clarkesworld #92, 5/14) SF*** (WH)
"The Litany of Earth" by Ruthanna Emrys (Tor.com, 5/14) H*** (HB)
"The Fisher Queen" by Alyssa Wong (F&SF, 5-6/14) F*** (CDL, MB)
"Presidential Cryptotrivia" by Oliver Buckram (F&SF, 5-6/14) F*** (MB)
"From the Casebook of Dead Jack, Zombie P.I.: 'The Amorous Ogre'" by James Aquilone (Weird Tales #362, Spring 2014) H*** (RH)
"The Region of Jennifer" by Tony Ballantyne (Analog, 6/14) SF*** (HB, CW, DT)
"Clean Hands, Dirty Hands" by Emma Osborne (Aurealis #71, 6/14) SF*** (WH)
"Chopin's Eyes" by Lara Elena Donnelly (Strange Horizons, 7/7/14) F*** (LW)
"Seven Things Cadet Blanchard Learned from the Trade Summit Incident" by Annalee Flower Horne (F&SF, 7-8/14) SF*** (CDL)
"Roundabout" by Nathaniel Lee (IGMS #40, 7-8/14) F*** (HB)
"Oathbreaker" by Kate Marshall (Trust and Treachery: Tales of Power and Intrigue, 9/14) F***(MB)
"The Wrong Shoes" by Chang Terhune (Trust and Treachery: Tales of Power and Intrigue, 9/14) SF***(MB)
"The Floating Girls: A Documentary" by Damien Angelica Walters (Jamais Vu #3, Summer/Autumn 2014) SF/F*** (CW)
"Never the Same" by Polenth Blake (Strange Horizons, 9/8/14) SF*** (SB)
"The Newboy's Last Stand" by Krystal Claxton (UFO 3, 10/14) F*** (CDL)
"Why I Bought Satan Two Cokes On the Day I Graduated From High School" by Nathaniel Lee (UFO 3, 10/14) SF*** (WH)
"The Real And The Really Real" by Tim Pratt (UFO 3, 10/14) SF*** (CDL, WH)
"The Fate Worse Than Death" by Kevin J. Anderson and Guy Anthony De Marco (UFO 3, 10/14) F*** (CDL, WH)
"The Fourth Poet" by Val Muller (Forging Freedom: Dimensions, 10/14) SF*** (RH)
"This Chance Planet" by Elizabeth Bear (Tor.com, 10/14) SF***(MB)
"What Glistens Back" by Sunny Moraine (Lightspeed #54, 11/14) SF*** (CP)
"No Home for Us" by Meryl Stenhouse (Aurealis #76, 11/14) SF*** (WH)
"Faster Now" by Paul Di Filippo (Terraform, 12/29/14) SF*** (CDL, DT)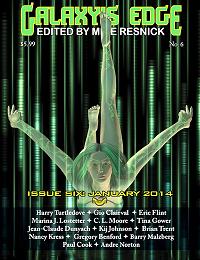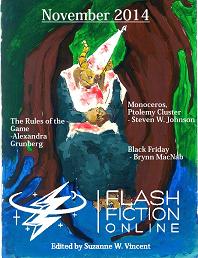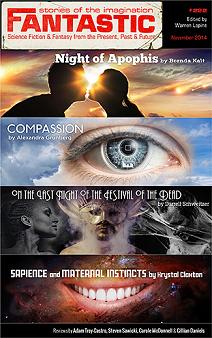 Novelettes
"Brood" by Stephen Gaskell (Extreme Planets, 1/14) SF (DT)
"Haumea" by G. David Nordley (Extreme Planets, 1/14) SF (DT)
"Giants" by Peter Watts (Extreme Planets, 1/14) SF (DT)
"The Year of Silent Birds" by Siobhan Carroll (Beneath Ceaseless Skies #138, 1-9/14) DF (DT)
"The Tansy Tree" by Rob Chilson (Analog, 1-2/14) F (LW)
"Cold War," by Adam Christopher (Tor.com, 2/14) SF (LW)
"The Days When Papa Takes Me to War" by Rahul Kanakia (Beneath Ceaseless Skies #141, 2-20/14) F (CR)
"Life Flight" by Brad R. Torgersen (Analog, 3/14) SF (LW)
"Draft 31" by Michael Libling (F&SF, 3-4/14) F (DT)
"A Fierce, Calming Presence" by Jordan Jeffers (Analog, 4/14) SF (DT)
"All Human Things" by Dave Creek (Analog, 4/14) SF (DT)
"A Slip in Time" by S. M. Stirling (Multiverse: Exploring Poul Anderson's Worlds, 4/14) SF (DT)
"Operation Xibalba" by Eric Flint (Multiverse: Exploring Poul Anderson's Worlds, 4/14) F (DT)
"Christmas in Gondwanaland" by Robert Silverberg (Multiverse: Exploring Poul Anderson's Worlds, 4/14) SF (DT)
"The Devil in America" by Kai Ashante Wilson (Tor.com, 4/14) SF (CW)
"Of Finest Scarlet Was Her Gown" by Michael Swanwick (Asimov's, 4-5/14) F (LW)
"Wilder Still, the Stars" by Kathleen Ann Goonan (Reach for Infinity, 5/14) SF (DT)
"The Inked Many" by Adam Callaway (Beneath Ceaseless Skies #150, 6-26/14) F (MR)
"Notes for 'The Barn in the Wild'" by Paul Tremblay (Children of Old Leech, 7/14) H (LC)
"The Triple Sun: A Golden Age Tale" by Rajnar Vajra (Analog, 7-8/14) SF (DT)
"Palm Strike's Last Case" by Charlie Jane Anders (F&SF, 7-8/14) SF (CDL)
"A Taste for Murder" by Julie E. Czerneda (Solaris Rising 3, 8/14) SF (DT)
"The Frost on Jade Buds" by Aliette de Bodard (Solaris Rising 3, 8/14) SF (DT)
"Thing and Sick" by Adam Roberts (Solaris Rising 3, 8/14) SF/H? (DT)
"The Howl" by Ian R. MacLeod & Martin Sketchley (Solaris Rising 3, 8/14) SF (DT)
"Placebo" by Nick Wolven (Asimov's, 8/14) SF (DT, CW)
"Plastic Thingy" by Mark Niemann-Ross (Analog, 9/14) SF (LW, DT)
"Beneath the Ice of Enceladus" by James C. Glass (Analog, 9/14) SF (LW)
"A Hotel in Antarctica" by Geoffrey A. Landis (Hieroglyph, 9/14) SF (DT)
"The Rider" by Jérôme Cigut (F&SF, 9-10/14) SF (DT)
"Avianca's Bezel" by Matthew Hughes (F&SF, 9-10/14) F (DT)
"Home is the Haunter" by Garth Nix (Fearsome Magics, 10/14) F (DT)
"Golden Girl" by Albert E. Crowley (F&SF, 11-12/14) SF/H (DT, CDL)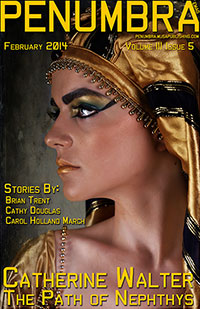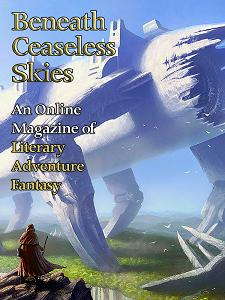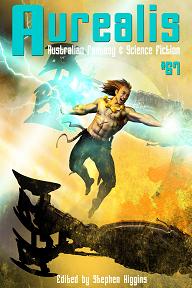 Novelettes One Star
"The Via Panisperna Boys in 'Operation Harmony'" Claudio Chillemi & Paul Di Filippo (F&SF, 1-2/14) SF* (CR)
"The Museum of Error" by Oliver Buckram (F&SF, 1-2/14) SF* (CR, DT)
"Sweetwater Notion and the Hallelujah Kid" by K.C. Ball (Beneath Ceaseless Skies #139, 1-23/14) SF* (JL)
"The Face in the Window" by Brian McClellan (Beneath Ceaseless Skies #140, 2-6/14) F* (CR)
"Jubilee," by Karl Schroeder (Tor.com, 2/14) SF* (LW)
"The Man Who Came Late" by Harry Turtledove (Multiverse: Exploring Poul Anderson's Worlds, 4/14) SF/F* (DT)
"The Fey of Cloudmoor" by Terry Brooks (Multiverse: Exploring Poul Anderson's Worlds, 4/14) SF/F* (DT)
"The Latecomers" by David Brin (Multiverse: Exploring Poul Anderson's Worlds, 4/14) SF* (DT)
"Golden Daughter, Stone Wife" by Benjanun Sriduangkaew (Beneath Ceaseless Skies #144, 4-3/14) F* (CA)
"Rules of Engagement" by Matthew Johnson (Asimov's, 4-5/14) SF* (LW, DT)
"Another Range of Mountains" by Megan E. O'Keefe (Writers of the Future 30, 5/14) F* (DT, CDL)
"Wrecking Party" by Alastair Reynolds (Dead Man's Hand, 5/14) SF* (CDL)
"Sundown" by Tobias S. Buckell (Dead Man's Hand, 5/14) SF* (CDL)
"The End of the Silk Road" by David Levine (F&SF, 5-6/14) SF* (CDL, DT)
"Shatterdown" by Suzanne Palmer (Asimov's, 6/14) SF* (DT, CR)
"The Journeyman: In the Stone House" by Michael F. Flynn (Analog, 6/14) SF* (DT, HB)
"Of a Thousand Cuts" by Cody Goodfellow (Children of Old Leech, 7/14) H* (LC)
"The Traveling Salesman Solution" by David Erik Nelson (F&SF, 7-8/14) SF* (CDL, DT)
"A Guide to the Fruits of Hawai'i" by Alaya Dawn Johnson (F&SF, 7-8/14) F/H* (CDL, DT)
"In the Sight of Akresa" by Ray Wood (Tor.com, 8/14) F* (RH)
"The Caravan to Nowhere" by Phyllis Eisenstein (F&SF, 9-10/14) F* (DT)
"Stars Fell on Alabama" by Gord Sellar (Asimov's, 10-11/14) SF* (HB, DT)
"Troop 9" by Dale Bailey (Asimov's, 10-11/14) H* (DT)
"Playing With Reality" by Kristine Kathryn Rusch" (Asimov's, 10-11/14) SF* (DT)
"Threshold" by Tony Ballantyne (Analog, 10/14) SF/H* (CW, DT)
"The Anomaly" by C.W. Johnson (Analog, 12/14) SF* (CR, DT)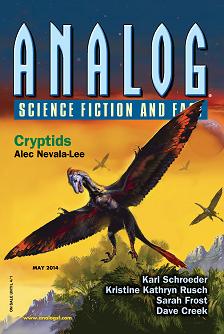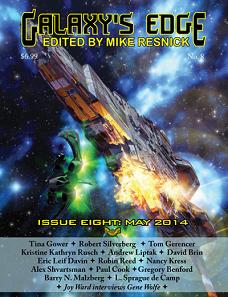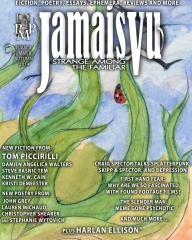 Novelettes Two Stars

"Primes" by Ron Collins (Asimov's, 1/14)SF** (CC, DT)
"Out of the Deep" by Albert E. Cowdrey (F&SF, 1-2/14) F** (CR, DT)
"The Man Who Hanged Three Times" by C. C. Finlay (F&SF, 1-2/14) F** (CR)
"Schools of Clay" by Derek Künsken (Asimov's, 2/14) SF** (LW, DT)
"Steppin' Razor" by Maurice Broaddus (Asimov's, 2/14) SF** (MR)
"Stonebones" by Nathaniel Lee (Beneath Ceaseless Skies #142, 3-6/14) F** (SB)
"The End of the End of Everything" by Dale Bailey (Tor.com, 4/14) SF** (CW)
"Strong Medicine" by Tad Williams, (Dead Man's Hand, 5/14) F** (RH)
"Stingers and Strangers" by Seanan McGuire (Dead Man's Hand, 5/14) F** (CDL, RH)
"The Pushbike Legion" by Timothy Jordan (Writers of the Future 30, 5/14) SF** (DT, CDL)
"Rooksnight" by Mark Laidlaw (F&SF, 5-6/14) F** (DT, MB)
"The Last Crossroads on a Calendar of Yesterdays" by Joseph S. Pulver, Sr. (Children of Old Leech, 7/14) H** (LC)
"Harry and Marlowe Versus The Haunted Locomotive of the Rockies" by Carrie Vaughn (Lightspeed #50, 7/14) F** (MB)
"Mind Locker" by Juliette Wade (Analog, 7-8/14) SF** (MB)
"The Rose Witch" by James Patrick Kelly (Clarkesworld #95, 8/14) F** (CR)
"Hero of the Five Points" by Alan Gratz (Tor.com, 8/14) F** (RH)
"Blood and Mirrors" by Brad R. Torgersen (Racers of the Night, 8/14) SF** (RH, DT)
"A Lullaby in Glass" by Amanda Forrest (Asimov's, 9/14) SF** (DT, LW)
"Quantum Telepathy" by Rudy Rucker (Hieroglyph, 9/14) SF** (DT)
"The Changeling" by James Bradley (Fearsome Magics, 10/14) F** (DT)
"I'll Follow the Sun" by Paul Di Filippo (F&SF, 11-12/14) SF** (DT)
"Thunderwell" by Doug Beason (Carbide Tipped Pens, 12/14) SF** (RH, DT)
"The Magician and Laplace's Demon" by Tom Crosshill (Clarkesworld #99, 12/14) SF** (CP)
"Father Christmas: A Wonder Tale of the North" by Charles Vess (Tor.com, 12/14) F** (CR)
"Burnt Sugar" by Lish McBride (Tor.com, 12/14) F** (CR)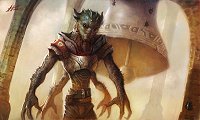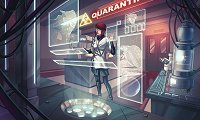 Novelettes Three Stars
"Where Do We Come From? What Are We? Where Are We Going? by Kathleen Ann Goonan (Tor.com, 2/14) SF*** (LW)
"Alvin and the Apple Tree" by Orson Scott Card (Dead Man's Hand, 5/14) F*** (CDL, RH)
"What I Assume You Shall Assume" by Ken Liu (Dead Man's Hand, 5/14) F*** (CDL)
"The Golden Age" by Walter Jon Williams (Dead Man's Hand, 5/14) F*** (CDL, RH)
"Shifter" by Paul Eckheart (Writers of the Future 30, 5/14) F*** (DT, CDL)
"Containment Zone: A Seastead Story" by Naomi Kritzer (F&SF, 5-6/14) SF*** (CDL, MB)
"Coven House" by David C. Smith (Weird Tales #362, Spring 2014) H*** (RH)
"Murder in the Cathedral" by Lavie Tidhar (Asimov's, 6/14) SF*** (CR, DT)
"The Unborn God" by Stephen Case (Beneath Ceaseless Skies #150, 6-26/14) F*** (MR)
"Code Blue Love" by Bill Johnson (Analog, 7-8/14) SF*** (DT, CA)
"Recapturing the Dream" by Brad R. Torgersen (Racers of the Night, 8/14) SF*** (RH)
"Amnesty Intergalactic" by Douglas W. Texter (Forging Freedom: Dimensions, 10/14) SF*** (RH)
"Persephone Descending" by Derek Künsken (Analog, 11/14) SF*** (LW, DT)
"A Guest of the Cockroach Club" by M. Bennardo (Beneath Ceaseless Skies #160, 11-13/14) F*** (CR)
"Kids These Days" by Vernon Hedrick (Asimov's, 12/14) SF*** (JL)
"A Long Spoon" by Jonathan L. Howard (Tor.com, 12/14) F*** (CR)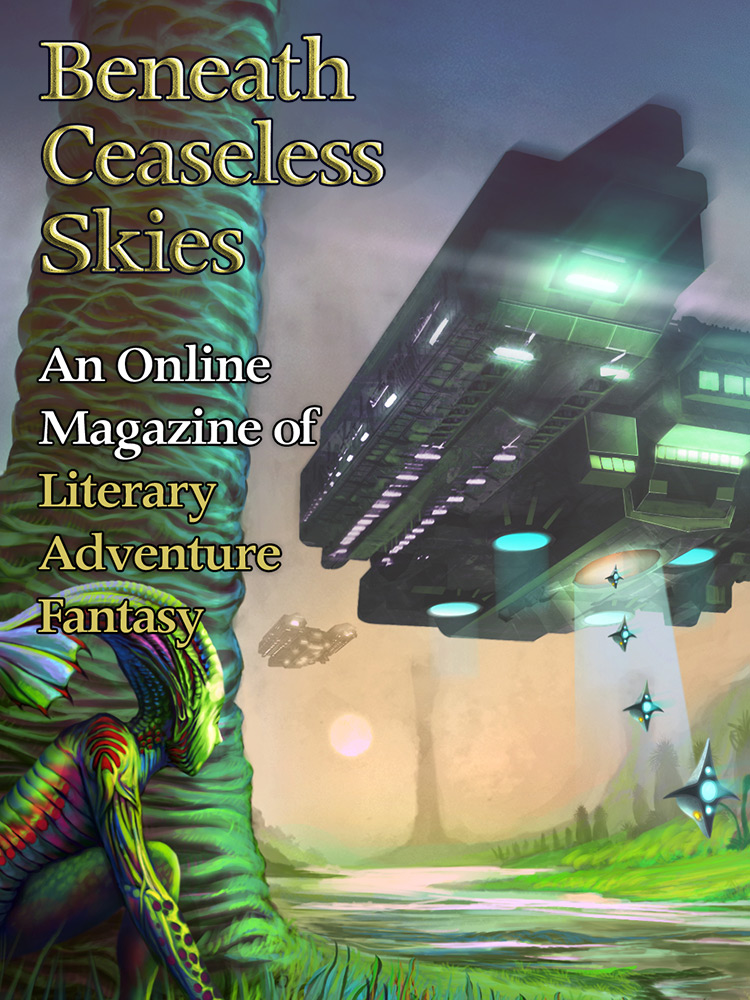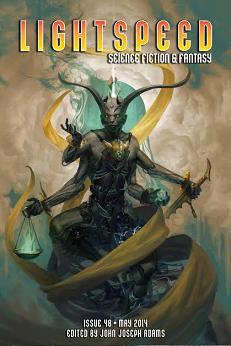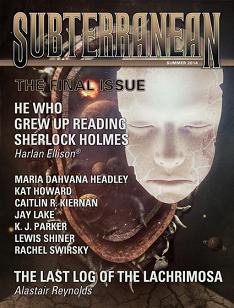 Novellas
"Pilgrims of the Round World" by Bruce Sterling (Subterranean Online, Winter 2014) F (CR)
"Three Lilies and Three Leopards (And a Participation Ribbon in Science)" by Tad Williams (Multiverse: Exploring Poul Anderson's Worlds, 4/14) F (DT)
"Championship B'tok" by Edward M. Lerner (Analog, 9/14) SF (LW, DT)
"Flow" by Arlan Andrews, Sr. (Analog, 11/14) SF (DT)
"Anomaly Station" by Tim Sullivan (Asimov's, 12/14) SF (DT)
"Hollywood North" by Michael Libling (F&SF, 11-12/14) F (DT)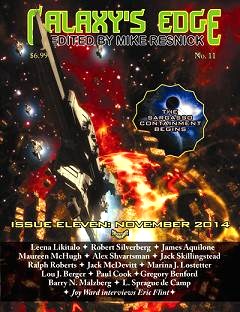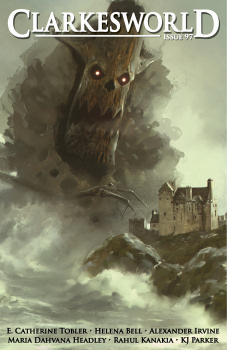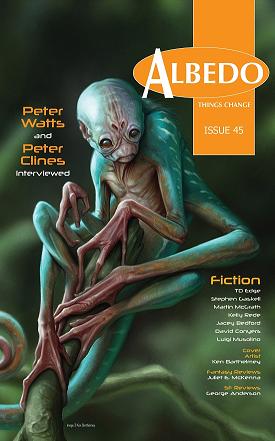 Novellas One Star
"The Lightness of the Movement" by Pat MacEwen (F&SF, 3-4/14) SF* (DT)
"Hath No Fury" by Kat Howard (Subterranean Online, Spring 2014) F* (HB)
"The Screams of Dragons" by Kelley Armstrong (Subterranean Online, Spring 2014) F* (HB)
"The Mothers of Voorhisville" by Mary Ricker (Tor.com, 4/14) SF* (CW)
"Of All Possible Worlds" by Jay O'Connell (Asimov's, 8/14) SF* (CW)
"Love in the Time of Zombies" by John F.D. Taff (The End in All Beginnings, 9/14) H* (SB)
"The Judging" by Rand B. Lee (F&SF, 11-12/14) SF* (DT, CP)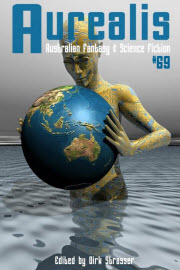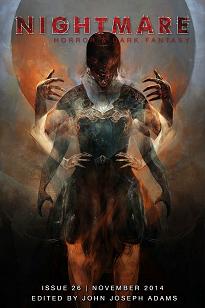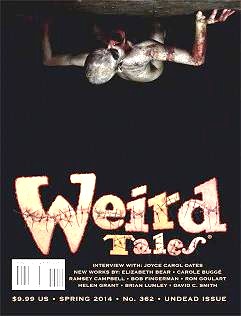 Novellas Two Stars
"Music to Me" by Richard A. Lovett (Analog, 1-2/14) SF** (LW)
"Each in His Prison, Thinking of the Key" by William Preston (Asimov's, 4-5/14) SF** (LW)
"The Legion of Tomorrow" by Allen M. Steele (Asimov's, 7/14) SF** (CW, DT)
"The Things We Do For Love" by K. J. Parker (Subterranean Online, Summer 2014) SF/F** (MB)
"What There Was to See" by Maria Dahvana Headley (Subterranean Online, Summer 2014) SF/F** (MB)
"Grand Jeté (The Great Leap)" by Rachel Swirsky (Subterranean Online, Summer 2014) SF/F** (MB)
"The Man Who Sold the Moon" by Cory Doctorow (Hieroglyph, 9/14) SF** (DT)
"The Long, Long Breakdown" by John F.D. Taff (The End in All Beginnings, 9/14) H** (SB)
"Object Permanence" by John F.D. Taff (The End in All Beginnings, 9/14) H** (SB)
"The Prodigal Son" by Allen M. Steele (Asimov's 10-11/14) SF** (DT)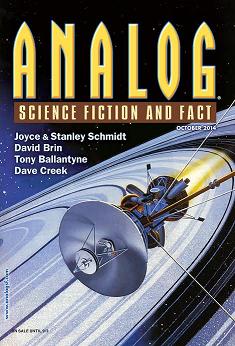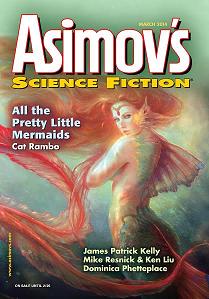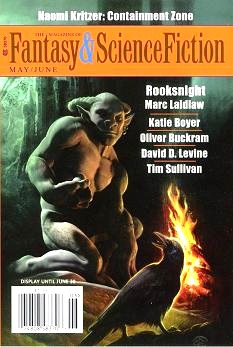 Novellas Three Stars
"In Her Eyes" by Seth Chambers (F&SF, 1-2/14) SF*** (CR, DT, CA)
"The Last Log of the Lachrimosa" by Alastair Reynolds (Subterranean Online, Summer 2014) SF*** (MB)
"Visitation" by John F.D. Taff (The End in All Beginnings, 9/14) H*** (SB)
"What Becomes God" by John F.D. Taff (The End in All Beginnings, 9/14) H*** (SB)
"The Beauty" by Aliya Whiteley (Unsung Stories, 9/14) SF*** (CR)
"Where the Trains Turn" by Pasi Ilmari Jääskeläinen (Tor.com, 11/14) SF*** (MR)